We all were left heartbroken in 2015 after Maggi got banned due to the presence of excessive lead. While the decision was taken to ensure the citizens' safety and the food standards, we were forced to wish we had our own Pablo Escobar, who could hide from the hawk's eyes and help us in hoarding our favourite snack. While numerous Chinese dishes are consumed in huge quantities, nothing could replace the good old Maggi Noodles coming with the unique spice that has ruled on generations' taste buds. Thankfully, the ban didn't last long, and our favourite Maggi entered the market again in just a few months.
Maggi returned and returned in style. Maggi entered the Indian market in 1983 and became a household product by the 2000s. By 2010, the Indianisation of Maggi had happened, and the Swiss product was no more Swiss. Even the Swiss wouldn't believe the extent to which the snack's taste has been enhanced by the Indian cooks. From street corners to restaurants and households, Maggi is there to be found everywhere. 
The main reason for the popularity of Maggi is that it is extremely easy to make. Also, you can give it the flavour you want. If you are one of those who can't live for more than a week without eating Maggi, you might've already tasted 3-4 versions of Maggi. We've compiled a list of some mouth-watering Maggi recipes that you must try.
Cheese and Egg Maggi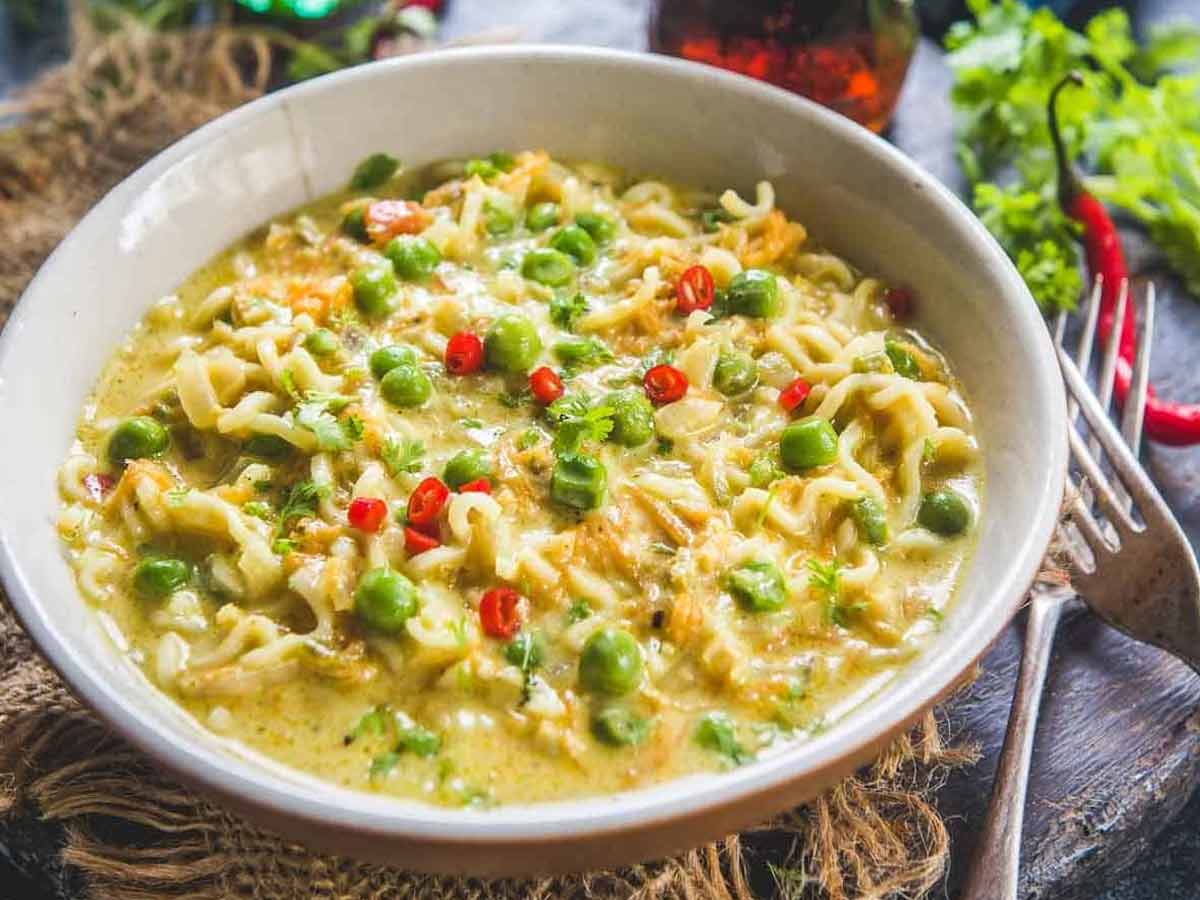 Whether it's pizza, sandwiches or noodles, we just can't do without the cheese. It improves the texture of a dish and enhances the taste as well. Cheese and Egg Maggi is one of the most popular Maggi recipes and you can find it in almost every Maggi stall across the country. All you need to cook this delicious Maggi is an egg and half a cup of grated cheese. This is a very easy recipe that can be prepared in just 5 to 10 minutes. Boil a packet of Maggi as usual and add the egg to it after beating it properly. Let it cook for 1-2 minutes and top it with grated cheese before serving.
Bakes Cheese and Corn Maggi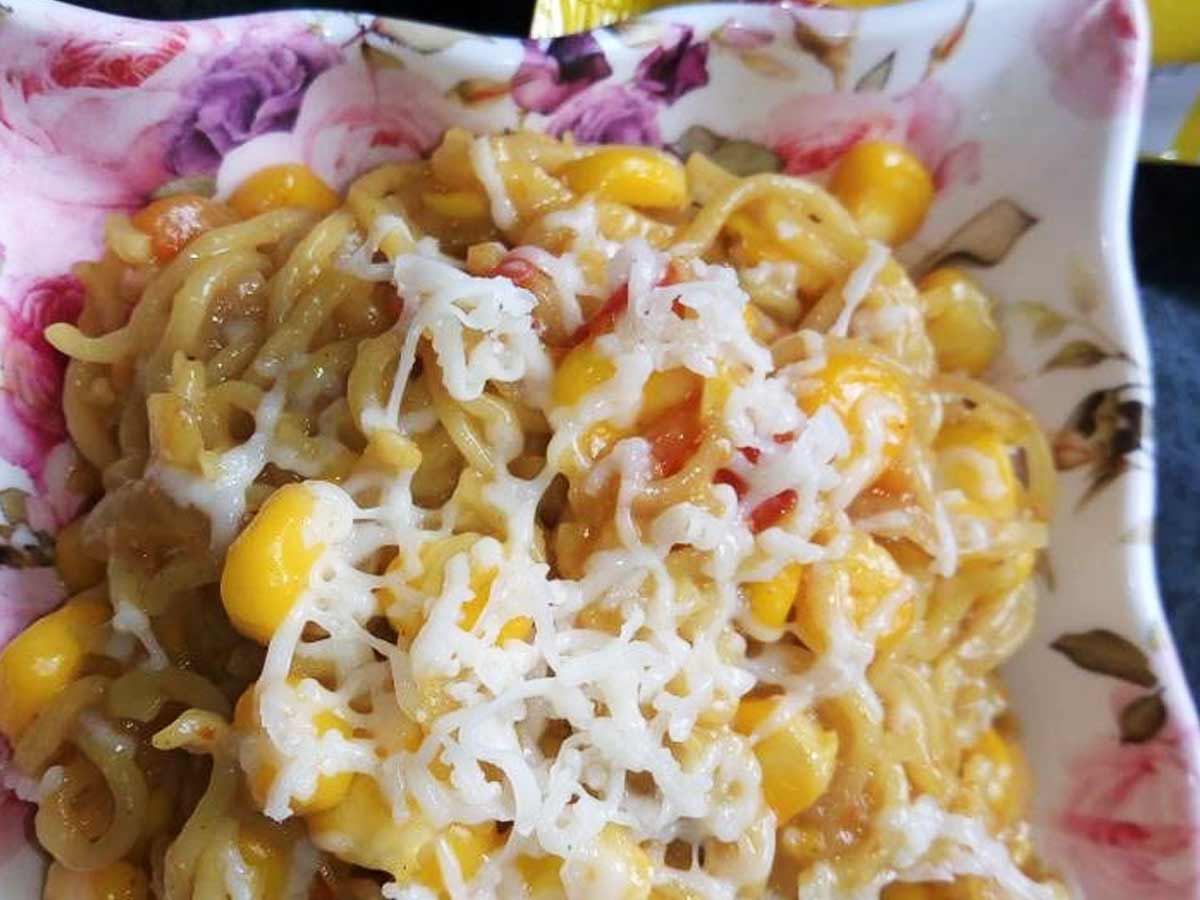 This recipe is Maggi gone Italian. It's like having a combo of noodles and pasta. As the name suggests, you need to have corn and cheese with you to prepare the dish. Boil a packet of Maggi for 2 to 3 minutes along with corn. Not take a baking tray and spread butter over it. Then spread the cooked Maggi on the tray and top it with grated cheese. Bake it for 4 to 5 minutes. You don't need to mix cheese manually as it will automatically find its way down as temperature rises. 
Maggi Veg Omelette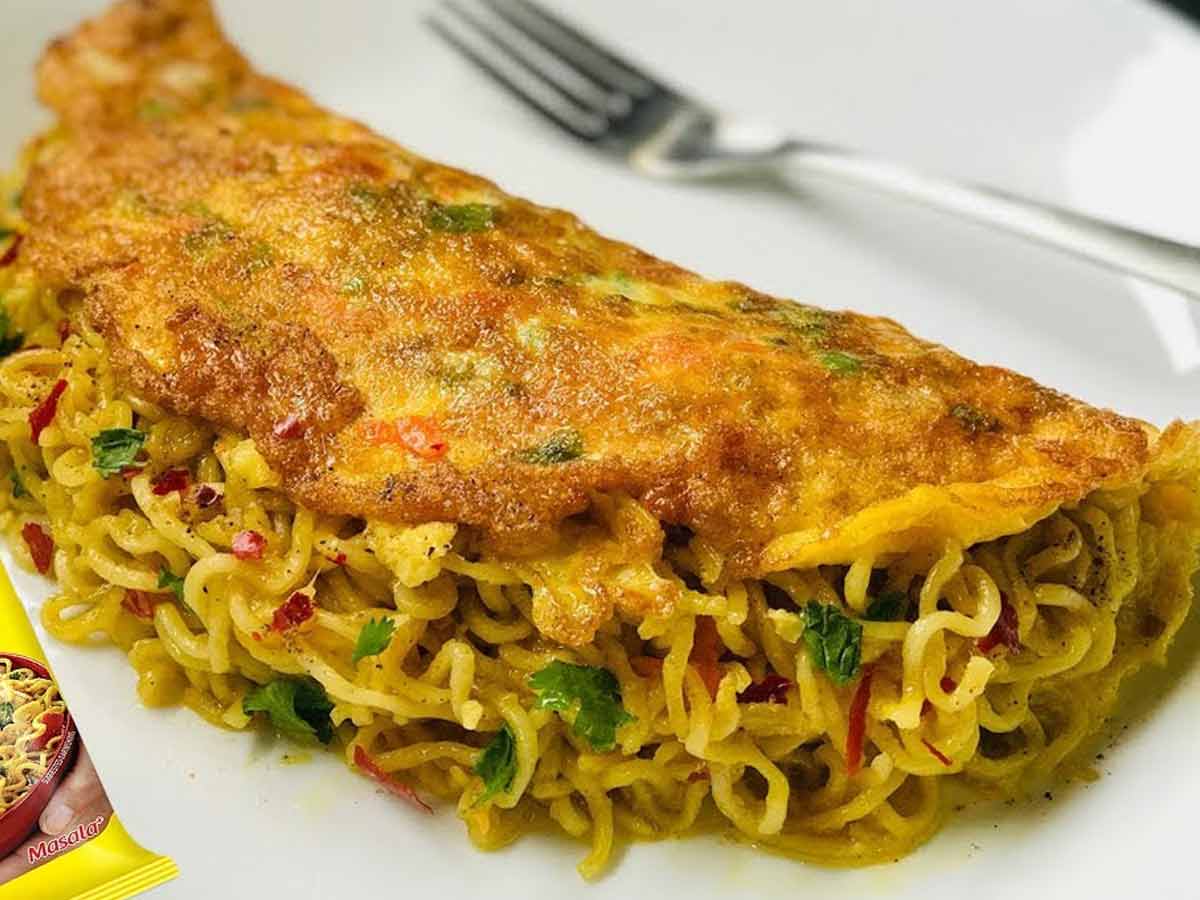 Vegetarian people can't have omelette? Well, they absolutely can as long as they have a packet of Maggi with them. You need gram flour, ginger and sooji to prepare this dish. Boil a packet of Maggi on one side and prepare a mixture using gram flour, ginger and sooji. After the Maggi is cooked, mix it with the flour mixture and spices to prepare a batter. Now heat a pan and spread the batter on it. After one side is cooked, flip it and take it out after both sides are cooked.
Maggi Poha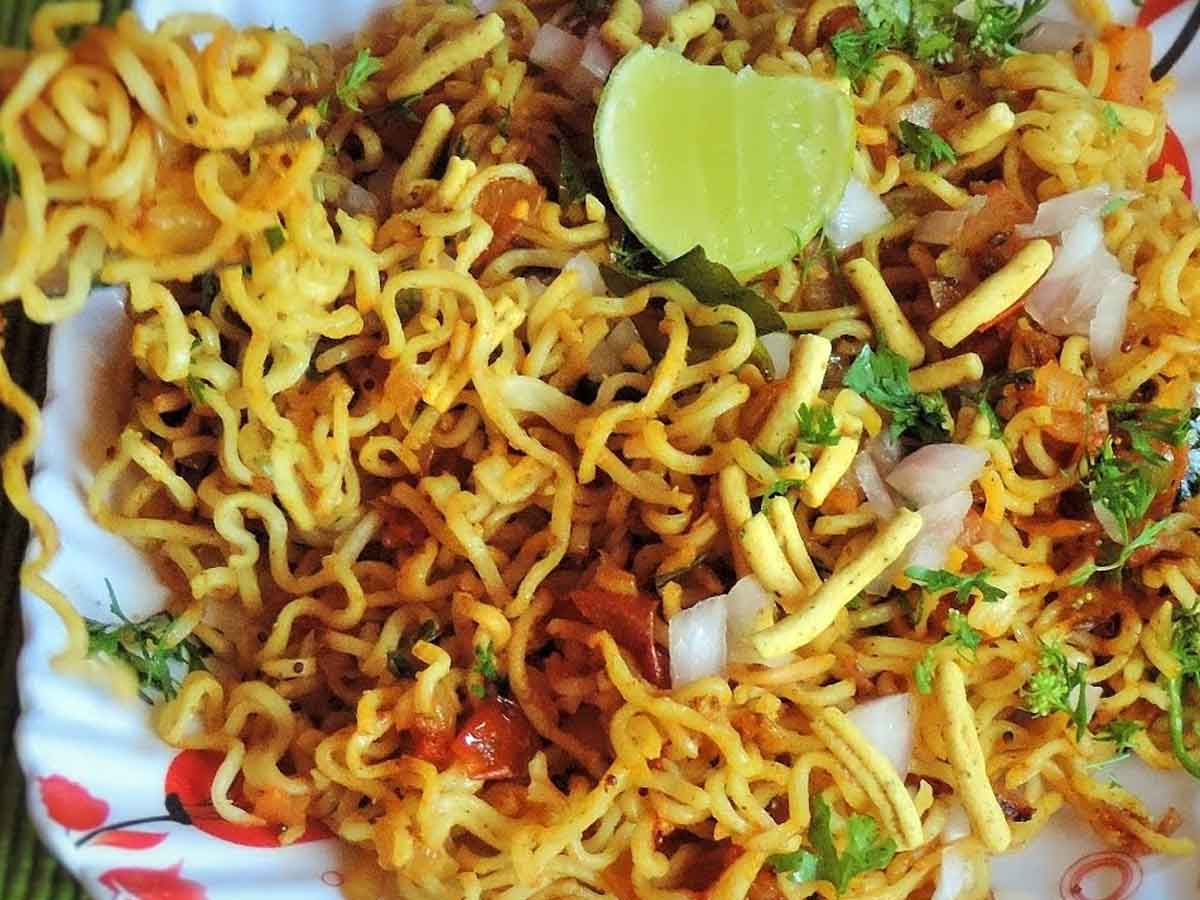 Confused between Maggi and Poha for breakfast? Why not have both? First, boil a packet of Maggi without adding the tastemaker that comes along with it. Remove the excess water from it once the Maggi is cooked. On the other side, heat oil in a pan and add mustard seeds, curry leaves and onions to it. Add other spices and chilli to it. Now add the cooked Maggi and tastemaker and fry it for 5 to 10 minutes. Your combo of Maggi and Poha is ready. Can it get any better?
Spicy Masala Maggi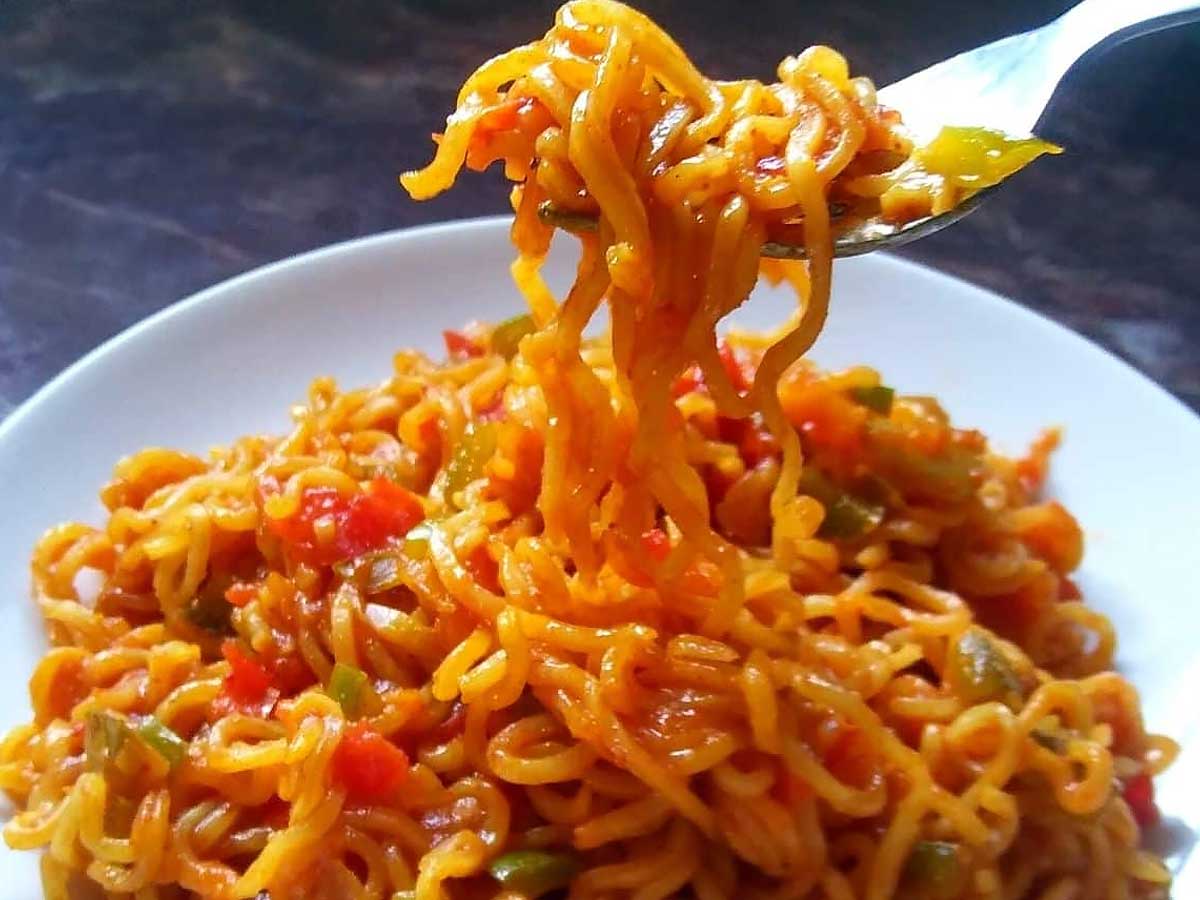 Nothing can beat the original spicy flavour of Maggi. This is the traditional way to cook it. All you need is some finely chopped tomatoes and onions, chilli powder, ginger garlic paste and some regular spices like coriander to prepare this recipe. Heat oil in a pan and add chopped onions, tomatoes and ginger garlic paste to it. Saute it for a few minutes and add a pinch of salt, chilli powder and coriander. After a couple of minutes, add water and Maggi to it along with the tastemaker. Cover the pan with a lid for 3-4 minutes. Simmer it occasionally and serve hot.
Italian Maggi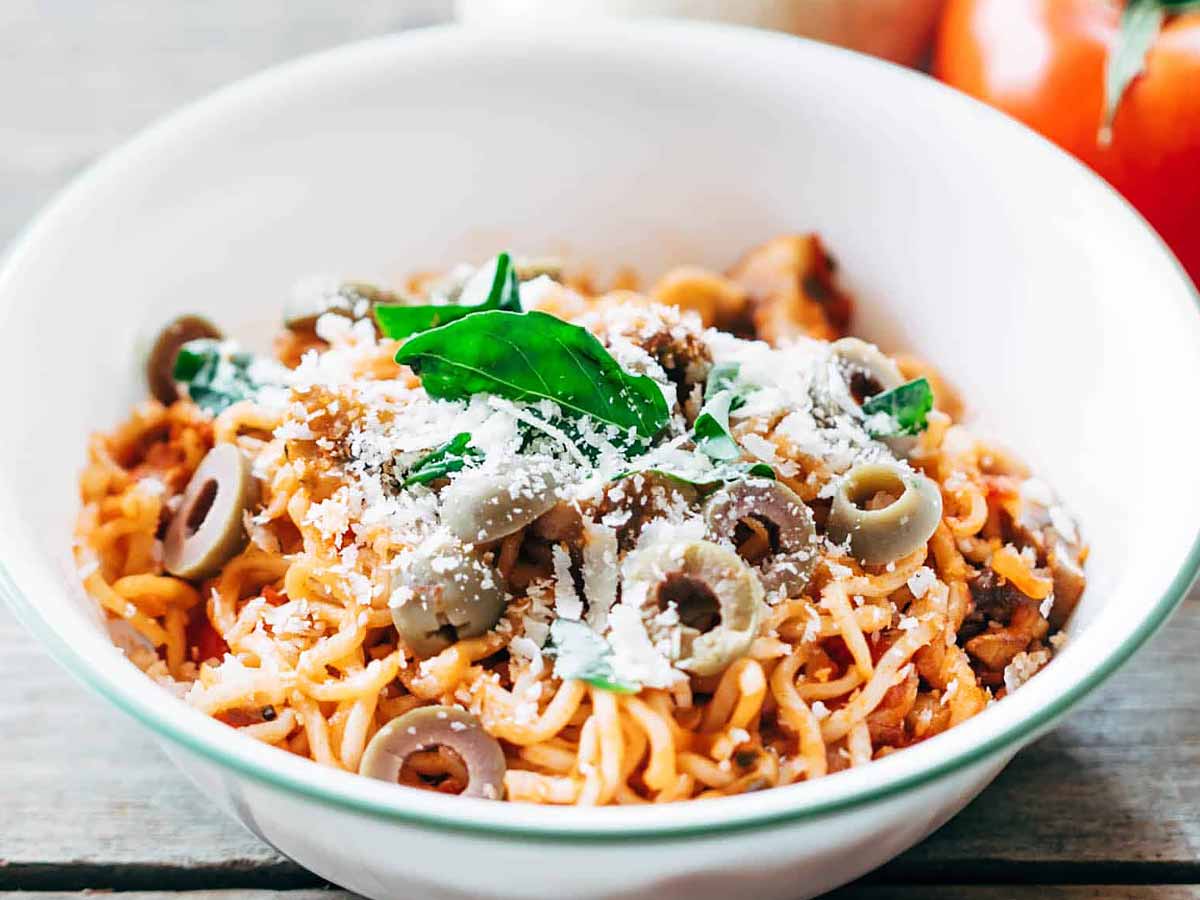 If you want to have some Italian food but don't have the energy to go to a restaurant, you can simply cook it at home within a few minutes. All you need is some mushroom, red pasta sauce, olives and oregano. Cook Maggi without adding the tastemaker. Heat oil in a pan, saute some finely chopped garlic and add mushroom to it. Now add pasta sauce and oregano and cook for a few minutes. Finally, add Maggi noodles and top it with olives after cooking.
Maggi Fritters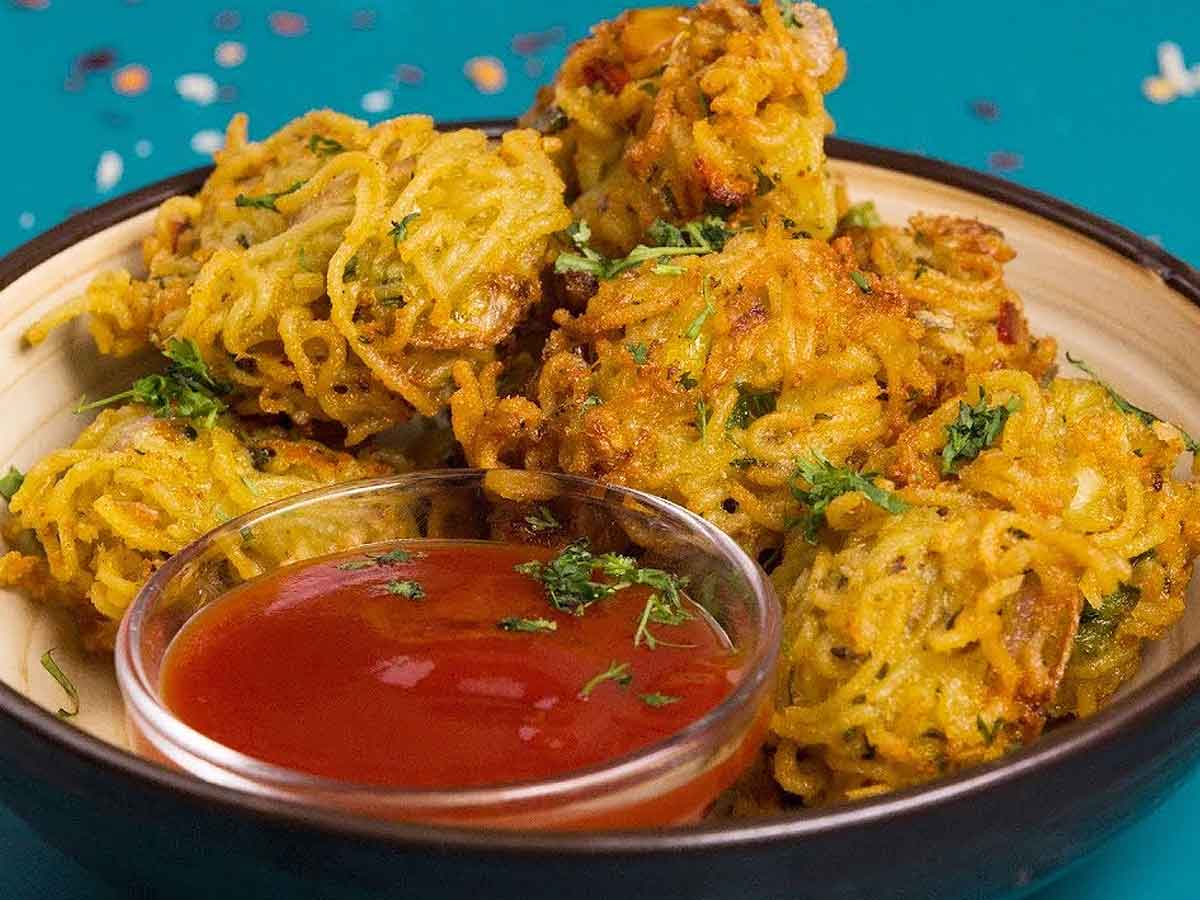 When you don't want to have boiled Maggi, have it fried. You can easily prepare Maggi fritters for a change. First, boil a packet of Maggi as usual and allow it to cool down. Now prepare a mixture using cornflour, oregano and herbs of your preference. Add a pinch of salt to the mixture. Add Maggi to the mixture and mix it well. Heat oil in a pan and put the mixture into the pan using a spoon. Take them when the colour turns golden brown. 
Open Maggi Sandwich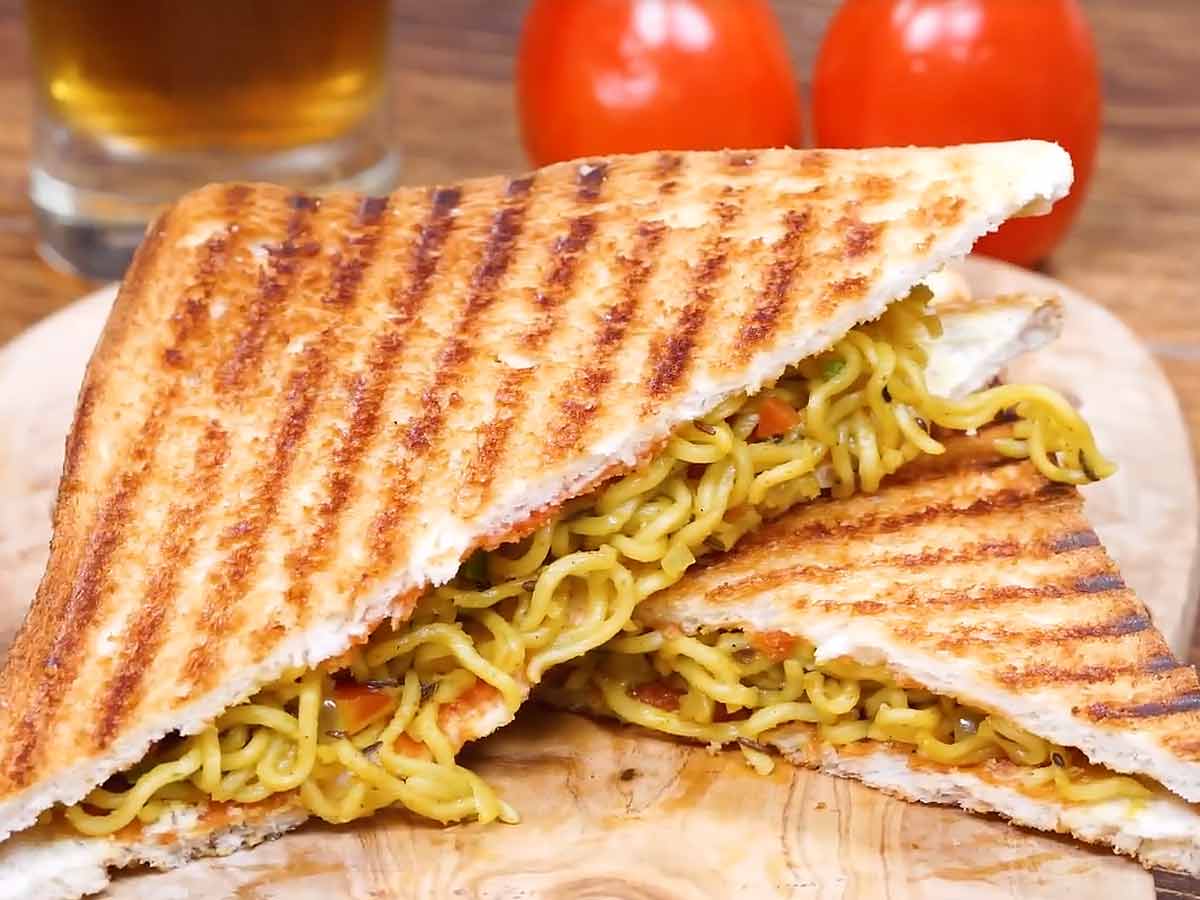 There's no limit to the experiments you can do with a sandwich. Maggi is no different. This is one of the easiest Maggi recipes. Boil a packet of Maggi along with the tastemaker as usual. Take a slice of bread and put a portion of Maggi over it after adding oregano. Add chilli flakes and cheese to it and spread it over the bread slide. Put the other slice of the bread over it and put it inside the sandwich-maker. Enjoy it with your favourite sauce.