Restaurants have dealt with mandated closures, limited capacity limits, rowdy diners, and shifting laws during the last almost two years. When combined with the already difficult nature of the sector, staying in business became a difficult task, and survival became the new standard for success. 
Plenty of fantastic places have closed, and we'll all pour one out for our departed faves. But here, we're honouring ten great places that are still around—places that help define Texas' incredibly diverse dining scene, ranging from high-end hotspots to old-school icons. The criterion is straightforward: we adore them.
Here are the best restaurants in Texas you must eat at…
1. Flora Street Cafe, Dallas 
Welcome to Stephan Pyles' personal Texas. The Dallas chef has walked an extraordinary tightrope throughout his three-decade career, preserving his West Texas heritage while embracing complicated contemporary cuisine. Flora Street Cafe, a glittering jewel box of a location in the Dallas Arts District managed by chef de cuisine Peter Barlow, has achieved its peak as a meeting ground for high style and homestyle. 
"Even if it's only a chile or a bit of smoke," Pyles says, "every meal has a Texas element." Some of the linkages are obvious, such as the ribeye with a shimmering bone-marrow custard. Others, like the pozole, are a gastronomic puzzle, with a pinch of hominy and an alabaster fillet of citrus-marinated blackfish basking in a dusky broth enlivened by shishito peppers. Pyles began as one of three Texas architects of Southwestern cuisine in the 1980s. His brilliance back then was in taking Texas, Mexican, and Southern concepts to areas they'd never been before. Flora Street Cafe is the continuation of that brilliance.
2. Otoko, Austin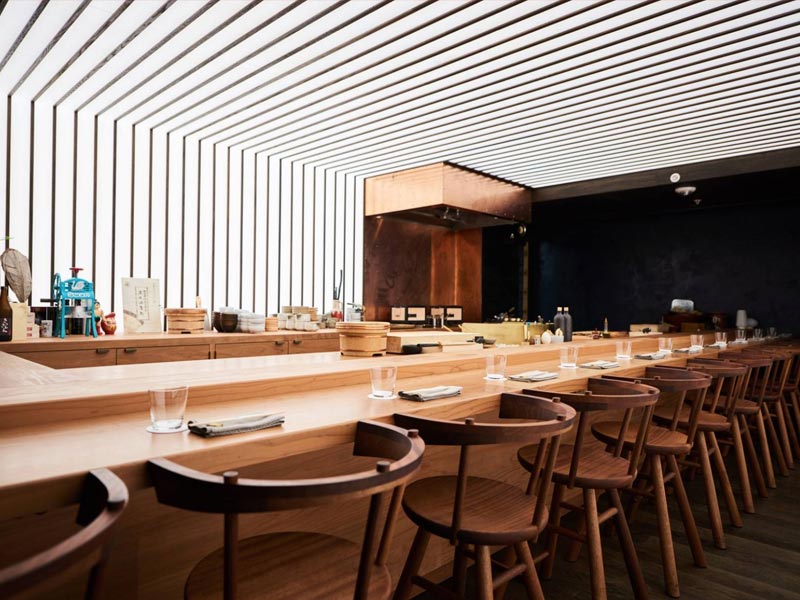 A dozen lucky folks make their way to an aerie above South Congress Avenue four days a week. Yoshi Okai, a young sushi chef, and his merry band are waiting for them, ready and eager to slice the tastiest fish in town. Nothing has been left to chance, not even the intimate space with its gorgeous illuminated black and white stripes, the sense of drama, or the intriguing music (although Queen's "Fat Bottomed Girls" may not be everyone's cup of green tea). There are two menus available: globally sourced sushi and sashimi on Wednesdays and a mix of fish and beef on other nights. Begin with a mini-salad of fried shiitakes and the unearthly crunch of jellyfish.
3. Sprezza, Dallas 
Julian Barsotti, a Dallas chef and restaurateur, took a trip to Rome before building his modern trattoria Sprezza. He took three of them. "I went to investigate Roman street food," he explains. "I realized I couldn't reproduce the dish" because the basic ingredients are different. Still, I could stay loyal to its essence," she says.
As a result, Sprezza's food is rustic, spicy, and comforting, directed by chief chef Ryan Ferguson. The freshness of the milk it was created from is preserved in the house-made fior di latte mozzarella. Lamb meatballs with currants and pine nuts, tossed in a tzatziki-like yoghurt sauce, with an Eastern Mediterranean flair.
4. Signature, San Antonio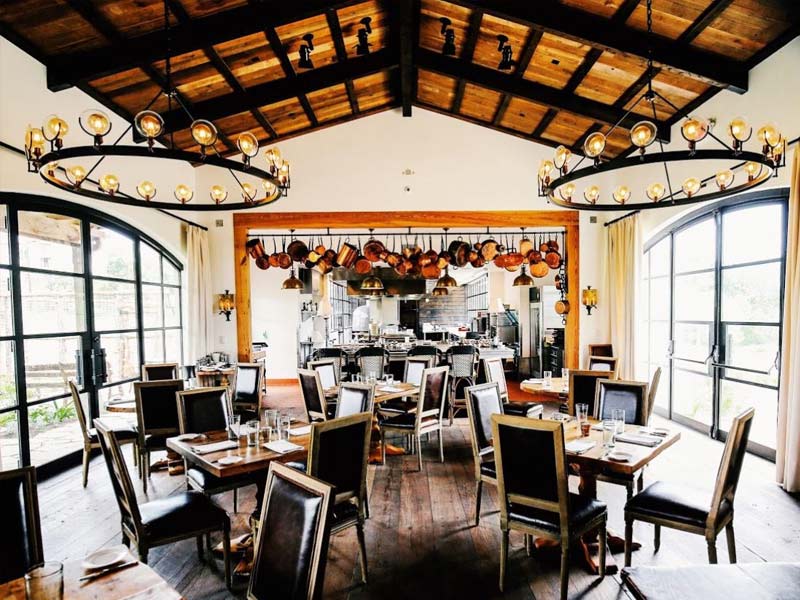 When chef-owner Andrew Weissman closed Le Rêve in 2009, foodies all over Texas wept. For eleven years, the little restaurant had been lauded by Gourmet and the New York Times as the most proficient French restaurant in Texas. The economy then handed it a fatal blow. Weissman has developed an upscale osteria, a fine fish house in recycled shipping containers, a falafel business, and a quick-service restaurant. He's returned with his most opulent attempt yet. The stunning interior design evokes a south-of-France lodge. 
Signature's extravagant presentations dazzle diners as though they've just seen Botticelli's Venus or Beyoncé. The restaurant was just a few weeks old and still fine-tuning its menu when I arrived. Still, magnificent sauces, like the wine-and-mushroom-rich reduction over the sweetbreads, were already exceptional. The opening dishes, which include butter-poached lobster and duck foie gras torchon, sparkle, and Weissman, assure that the best is still to come—please, please, please.
5. Dallas' Montlake Cut 
"I've always wanted to develop a tiny restaurant that solves my homesickness," says chef-owner Nick Badovinus, who has lived in Dallas for 25 years but misses Seattle. This aim is realized at Montlake Cut, a restaurant where white tablecloths cohabit harmoniously with nautical tchotchkes abound. The restaurant's name refers to the river that connects Puget Sound and Lake Washington, and the cuisine features seafood. Are you looking for something unprocessed?
There's a rotating menu of oysters, ceviches, and crudos, with a platter of exquisite yellowtail with a copper-toned ponzu-dashi broth standing out. Try the Parmesan-crusted sole with lemon and capers for something fried but light.
6. Ritual, Houston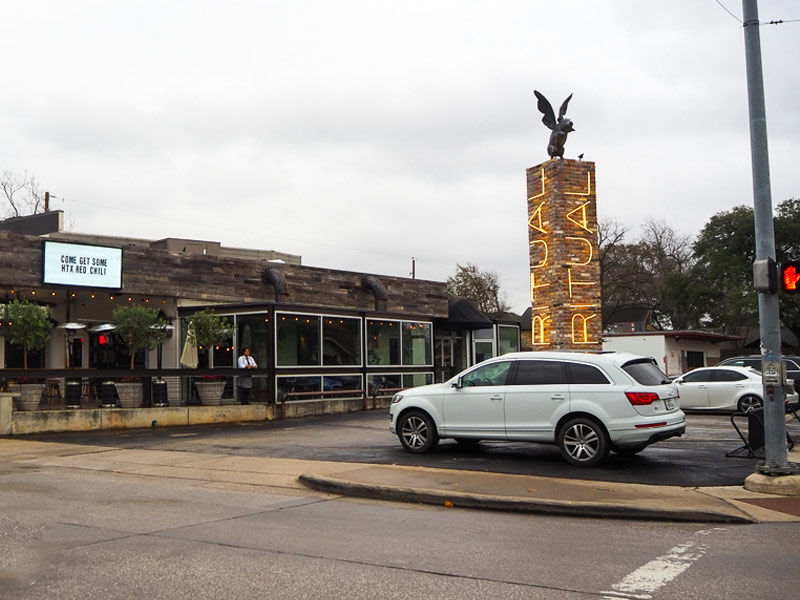 The flying pig statue next to my chair and the wall of sound provided by a DJ creeping around on a catwalk high above the huge warehouse did not promise well for a serious dining experience. But after a few tastes into the mound of food we'd ordered, I was sold. Against all odds, Ritual's all-but-the-kitchen-sink strategy works.
My red beans and rice was a heroic dish of legumes in a rich ham-hock stew, topped with Texas Gouda risotto and garnished with finger-size house-smoked kielbasa sausages. On top were molasses-glazed baby carrots, with a golden round of cornbread on the side.
7. Top Knot, Dallas 
Top Knot is the kind of establishment where you go for cocktails after work and unintentionally end up staying for dinner. It's a sibling of Uchi, which is downstairs, but it's less serious here, in a glass-walled hideaway with bright pink-and-orange artwork on one wall. Begin with a Mezcal Mule and a bowl of fried yuca chips with creamy labneh yoghurt for dipping.
When your friendly server asks if you're ready for another round, say yes. Then order the Scallop Crudo with blood orange slices. Thirty minutes later, you're ravenous, so you turn to your buddies and say, "Let's divide the steak," referring to a Japanese Miyazaki A5 strip loin.
8. Pepper Twins, Houston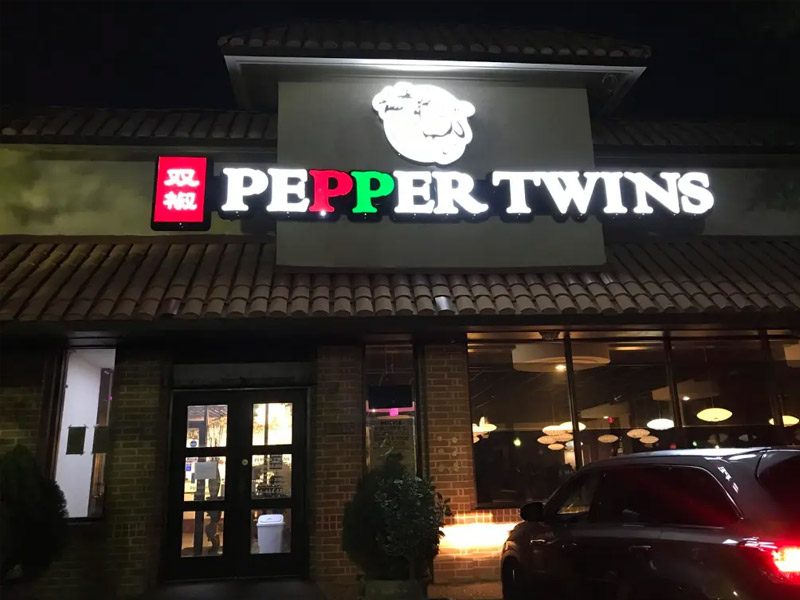 Some people prefer it hot, and they're in luck at this well-designed strip mall cafe in red and black. As the name implies, peppers are available in two forms: as a slew of fiery Chinese chillies and as Sichuan peppercorns. They complement each other, with the chiles providing heat and earthy flavour and the peppercorns tingling your tongue and lips while making other flavours shimmer.
Mountain City Noodle, a black broth, a swim with bok choy, and a tonne of peanuts and scallions showcase the full effects. Those who prefer it moderate should not be concerned. Golden Egg & Sweet Corn with a sprinkling of a salty preserved duck egg is classic comfort food.
9. L'Oca d'Oro, Austin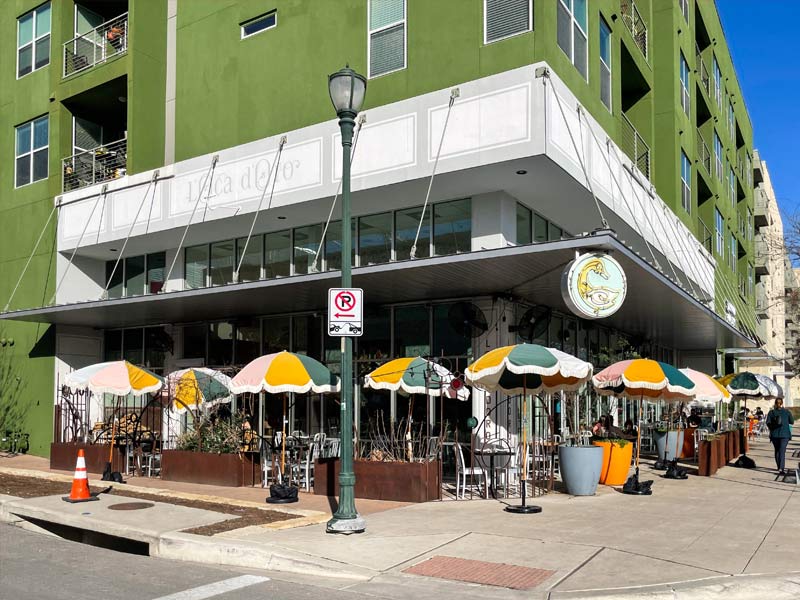 Chef and co-owner Fiore Tedesco creates a lasagna in a glass-enclosed venue with a pleasant counter up front and a loud dining room in the rear. Instead of noodles, tomato sauce, and meat, his more northernly inspired version incorporates delectably crisped spaghetti sheets with a wealth of cheeses and a forest's worth of mushrooms. The finishing touch is green-onion puree rather than red sauce.
The tradition-changing doesn't end there. He wraps a pork cutlet in the puffiest of fried-batter jackets to create an updated Milanese that Texans could refer to as Italian chicken-fried steak.
10. Red Ash Italia, Austin 
Is there anything that distinguishes Red Ash from the pack, given that there was barely enough room to squeeze another steakhouse into downtown Austin? The answer is an Italian accent. And, judging by the number of orders of pappardelle with wild-boar Bolognese flying out of the kitchen, the concept is working.
It certainly doesn't hurt that the decor deftly blends sophistication (flower towers) and sarcasm (a graffiti mural). Executive chef and owner John Carver, on the other hand, is well aware that his consumers are, first and foremost, carnivorous. He satisfies them with dishes like pink wood-grilled lamb steaks and red snapper Livornese with kalamata olives, capers, and roasted tomatoes.