Consider a world without chefs. There are no chefs and restaurants, and we have lately experienced this tragedy due to the present pandemic. Chefs are as essential to the survival of any cuisine as sunlight is to vegetation. There are numerous criteria of a great chef, but one of the most important is how they give back to their home cuisine.
Here is a list and description of the top ten cooks in India. They have assisted people in improving the quality of their kitchens.
These well-known Indian chefs have also won several competitions and honors.
Sanjeev Kapoor 
Sanjeev Kapoor is the most well-known and admired face among the top ten Indian chefs. Today, he is well-known in Indian cuisine. He is a professional chef who works on the popular TV channel' FoodFood.' Sanjeev Kapoor is one of India's most popular top 10 chefs. He is the author of several best-selling cookbooks, the proprietor of a well-known restaurant, and the winner of several cuisine competitions. His ambition is to make Indian food the most visible in the world and engage Indians via cooking for them to have independent lives.
Sanjeev Kapoor is recognized as India's "Best Chef." The Government of India has bestowed this honor onto him.
The most popular chef among the top ten Indian chefs has been designated as the Indian ambassador for the United States Clean Cookstoves for fashioning nations.
Vikas Khanna 
Vikas Khanna has made a comeback after winning a Michelin star culinary expert competition and ranking second among the top ten in India. In the culinary world, he is known as the humble chef. He began his journey in Amritsar, in his grandmother's kitchen. Khanna has collaborated with some of the world's top chefs, including Gordon Ramsey and Bobby Flay. In addition, he owns and operates his own restaurant in New York called "Junoon." Khanna's has also planned a meal for US President Barack Obama. People Magazine named him the "Sexiest Man Alive" in 2011.
He began his culinary career inspired by his grandmother. He went on to become the first Indian to acquire a Michelin star. Chef Vikas is also no stranger to the realm of philanthropy, as his most recent "Feed India" effort resulted in the distribution of 20 million meals to Indians who were quarantined during the Coronavirus outbreak. He has frequently stated that if he were not a chef, he would become a farmer. We have no complaints.
Ranveer Brar
Ranveer Brar, a cooking specialist, is the youngest chef in the top 10 Indian Chefs. At 25 years old, he was the youngest official culinary specialist to have ever worked with a five-star hotel in India. He is currently the Novotel Mumbai, Juhu Beach's senior official culinary specialist. He is in charge of the Dosa Factory and Shalimar in Cambridge and Mantra in Boston.
His most well-known program on Zee Khana Khazana is 'Health Bhi Taste Bhi,' which features creative and simple recipes. As one of the top ten Indian chefs, he offers his experiences, knowledge, cooking background, and formulae for the festive season.
He is also well-known for his participation as a judge on MasterChef India Season 4, with chefs Sanjeev Kapoor and Vikas Khanna. The show is an Indian counterpart of MasterChef, the British competitive cookery game show.
He cooked for several Hollywood and Bollywood superstars in both the United States and India. Come Into My Kitchen, his debut book was released in 2016. In December 2016, he also founded "TAG Gourmet Kitchen," an all-vegetarian fine-dining restaurant in Mumbai. The acclaimed chef has received several honors and is regarded as one of the top India chefs.
Madhur Jaffrey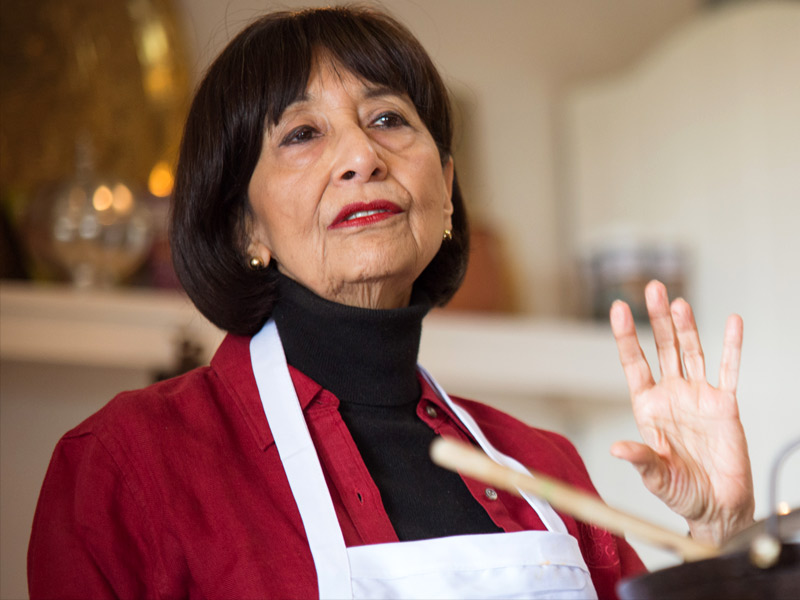 Madhur Jaffrey was born in Delhi, but she learned to cook when she moved to the United Kingdom in the mid-1950s to study at the Royal Academy of Dramatic Arts (Rada). The award-winning author has written more than 15 cookbooks and is well-known. Madhur resides in New York with her second husband, the renowned American fiddler Sanford Allen, and has three grown-up daughters with her first husband, the performer Saeed Jaffrey.
She is the author of several well-known culinary books. As a result, she has easily risen to the ranks of India's top 10 cooks.
An Invitation to Indian Cooking, for which she received a James Beard Award. Several cookbooks, culinary shows, including a BBC program on Indian cooking, and teaching at the James Beard School of Cooking are among her many accomplishments. She is known as the Julia Child of Indian cuisine, having introduced the western world to the art of Indian food.
Instantly Indian Cookbook: Modern and Traditional Meals for the Instant Pot, Madhur's 30th cookbook, was launched in 2019 and provided easy and classic recipes that can be prepared for an American family using an Instant Pot including our comfort meal dal and rice. We decided to honor her by making Carrot Poriyal, a traditional dish made with carrots and coconut.
Harpal Singh Sokhi
Chef Harpal Singh Sokhi's combination of Indian and international cuisine has earned him a place among the top ten Indian chefs. He's well-known in the Indian food industry. Chef Harpal is a music aficionado who speaks English and five Indian regional languages: Hindi, Punjabi, Bengali, Oriya, and Telugu.
Sokhi received his bachelor's degree in cooking from IHM Bhubaneswar in 1987. He began his career as a professional cook at The Oberoi in Bhubaneswar. He became an official culinary specialist when he was 27 years old.
Chef Harpal Singh Sokhi has gained success in the hospitality sector by building his own footprint by bringing in the Fusion of Indian food with world cuisine, which has earned him a name to be reckoned with in the hotel sector. Chef Harpal is from North India, which is rich in culture and cuisine like the rest of India. He mastered the art of Indian cuisine and carved out a niche for himself by studying real Hyderabadi cuisine under Ustad Habib Pasha.
Anjum Anand 
Anand was born in the city of Kolkata. She was more interested in music than cooking. She worked as a drummer in a few rock bands before embarking on his culinary career. She attended a cooking school in Trivandrum and worked day and night to become one of the top 10 Indian chefs. She began working at Taj Group as a student. Anand eventually left the Taj Group to pursue a professional degree in Bangkok, where he started working at Red. In this restaurant, he spent time studying more Indian cuisine.
She worked as the key Indian cuisine specialist with Ferran Adrià's staff at el Bulli and began working at several Bangkok restaurants. Anand's was a letdown because the organizations "really didn't require anything other than regular lunches." This disappointment compelled her to suggest to a few friends that she create his own restaurant, Gaggan. She is now regarded as one of the top 10 Indian chefs.
Hari Nayak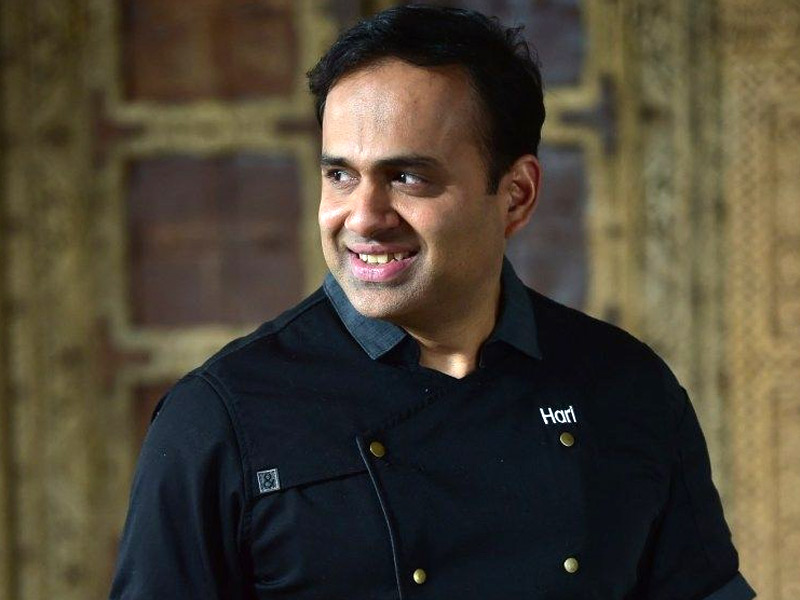 Hari Nayak is an Indian chef, restaurateur, and inventor ranked among the top 10 Indian chefs. He is also a cooking instructor. He is the author of the book "Present Day Indian Cooking." Hari Nayak, a cooking specialist, has ushered in a new age of Indian cooking with his most recent cookbook, co-authored with Chef Daniel Bolud. The Los Angeles Times ranked it the finest of the season.
Tuttle Publishing published Hari's most recent book, My Indian Kitchen, which explains how to prepare delicious Indian meals without fear or fuss. Hari also founded America's first frozen yogurt patisserie, Halo Fete, in Princeton, New Jersey. On February 8, 1974, he was born.
Nita Mehta
Nita Mehta is a well-known Indian chef, author, restaurateur, and media personality famous for her cookbooks, cooking workshops, and role as a VIP judge on cuisine-related network shows. He was ranked eighth among India's famed finest top ten chefs.
Mehta has written more than 400 cookbooks, with over 6 million copies sold worldwide. At the World Cookbook Fair in Paris in 1999, she won the Best Asian Cookbook Award for her book Flavors of Indian Cooking.
She also teaches cooking in various nations, and her culinary school in Delhi, Nita Mehta Cooking Classes, is quite popular.