Makhanas is also known as lotus seeds or fox nuts. They are used as a component in various Indian meals and sweet dishes. Some even consume them during fasting periods. In addition to being an incredibly popular ingredient in numerous dishes, fox nuts can also be utilized as a healthful snack that one may munch on at any time of the day.
Additionally, they have also been used for therapeutic purposes since medieval times. They also include several micronutrients that are critical for human health. The Euryale Ferox plant produces Makhana, which is a type of seed. These seeds are also known as fox nuts or lotus seeds. Makhanas are abundantly grown throughout Asia and are frequently used in traditional medicine to cure various ailments. They're also roasted and eaten as a savory snack or used in curries, side dishes, and desserts.
How "Healthy" is Makhanas/Foxnuts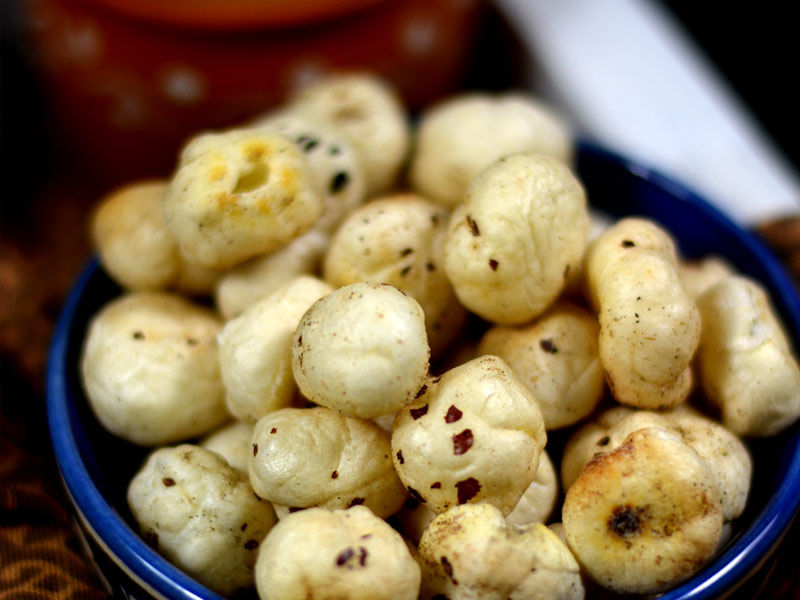 Lotus seeds are cholesterol-free, saturated-fat-free, and sodium-free. As a result, they are also beneficial to the heart. Magnesium, potassium, manganese, protein, and phosphorus are all abundant in Lotus seeds. They are an exceedingly healthy snacking option due to their high vitamin content. They also help the body in a variety of ways. Makhanas help you lose weight since they're low in calories and high in calcium, which is great for your bones. These seeds also aid in blood pressure regulation, bodily purification, and enhanced digestive health. Their anti-aging effects also aid in the slowing of the body's aging process.
Health Benefits of Makhana
Antioxidant-Rich
Makhana is very high in antioxidants. Makhana, in particular, contains antioxidants such as gallic acid, chlorogenic acid, and epicatechin. AntioxidantsAccording to research, antioxidants are thought to play a role in various areas of health, including the prevention of chronic diseases such as heart disease, cancer, and type 2 diabetes. Antioxidants can also help with inflammatory disorders such as rheumatoid arthritis, gout, psoriasis, and inflammatory bowel disease by reducing inflammation.
Nutrient-rich
Makhana is a perfect supplement to a healthy, well-balanced diet. Each meal has substantial carbs and is high in various micronutrients such as calcium, magnesium, iron, and phosphorus. Calcium, in particular, has been demonstrated to promote bone health, lower blood pressure, and lower cholesterol. On the other hand, magnesium is required for a variety of metabolic activities in the body, including protein synthesis, muscle contractions, neuron function, and more.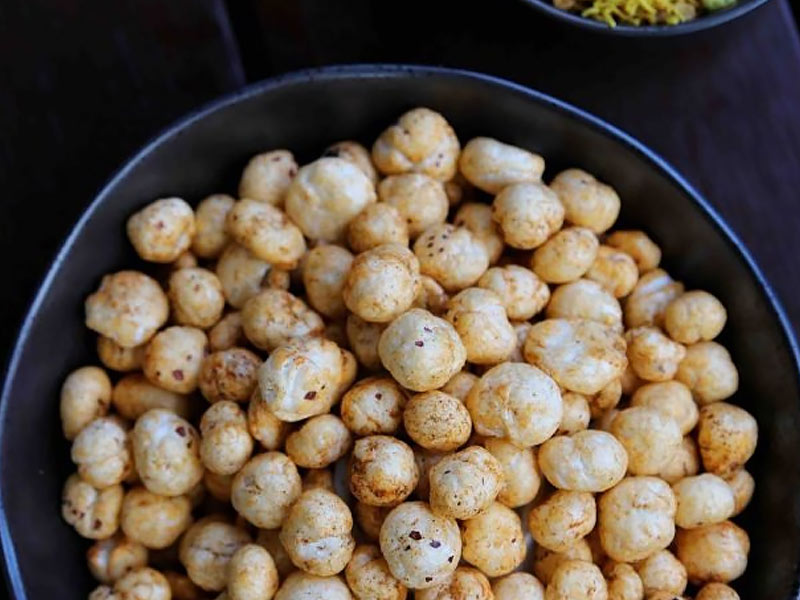 Anti-aging properties
According to several studies, some chemicals discovered in Makhana may have potent anti-aging benefits. According to one review, in reality, Makhana contains several amino acids renowned for their anti-aging benefits, including glutamine, cystine, arginine, and methionine. Proline is an amino acid contained in collagen, a molecule that supports skin moisture and elasticity, and glutamine is utilized to make it. Creatine, a molecule that has been found to have anti-aging properties in various older studies, is similarly made up of methionine and arginine. Makhana is also high in antioxidants, which can improve skin health and reduce the aging process.
Heart Health
Makhanas have a low salt content and a high potassium content. The high potassium content helps hypertension sufferers lower their blood pressure. Because they're low in sodium, they're great for keeping blood pressure under control. Magnesium, which is plentiful in makhanas, increases the quality of blood and oxygen in the body. The folate and magnesium content of fox nuts can improve one's heart condition by lowering the risk of disorders associated with coronary heart disease.
According to one animal study, giving makhana extract to rats with nonalcoholic fatty liver disease for four weeks reduced high cholesterol and triglyceride levels, both common risk factors for heart disease. Another animal study found comparable results, with makhana extract lowering cholesterol and triglyceride levels in diabetic rats. Furthermore, makhana extract was proven to protect the heart from injury and to help neutralize damaging free radicals in an older animal study.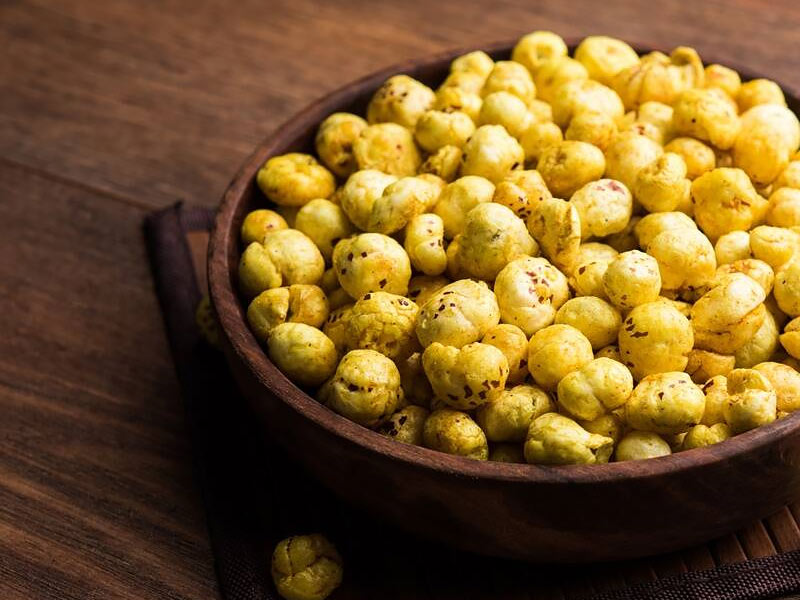 Weight loss benefits 
Because these nutritious snacks contain a substantial quantity of protein, they keep you fuller for longer after you consume them as a snack. This helps to keep you from overeating. Furthermore, makhanas are low in calories, making them an excellent weight-loss snack. They are much better for the body because they contain very little saturated fat. Including makhana seeds in your diet is a terrific way to increase your protein and fiber intake. These two important nutrients can help you lose weight. Protein, in particular, has been demonstrated to help manage your appetite and lessen food cravings. On the other hand, Fiber passes slowly through your digestive tract, keeping you full throughout the day.
Bone Strength 
Calcium is an important mineral that is necessary for good bone health. People who would like to strengthen their bone strength have to consume enough calcium to sustain the bones. Consuming makhanas can help strengthen one's bones by providing a good source of the mineral.
Blood Sugar
Makhanas are high in protein and carbs. Fox nuts, being low glycemic foods, can help manage blood sugar levels. They have a lower glycemic index than several common foods. Makhanas are an excellent food for preventing diabetes and obesity due to their low salt and high magnesium content. They can help manage blood sugar levels if taken in the proper amount and in the right way.
Makhana is a variety of seed that is widely utilized throughout Asia. It's high in antioxidants and micronutrients. It could help slow down the effects of aging while also supporting heart health, blood sugar control, and weight loss. 
It's also adaptable and simple to use in various recipes, including snacks, main courses, and desserts. So, allow these "foxnuts" to assist you in being smarter and healthier!