The temperature is rising, and it's time to put your style on autopilot. Leave your bulky jackets and winter boots at home since it's "summer, summertime." Are you looking for summer 2022 men's fashion trends to freshen your wardrobe? We did the legwork, so all you have to do is sit back, relax, and enjoy the sun. Here's our fashion-forward advice on what to wear this summer. Is it getting hot in here, or is that just your summer fashion? Yes, it is unmistakably you.
Preparing for Preppy Style: Men's Summer Fashion Trend 2022 Spotlight 
Looking to spice up your routine this summer? We say unequivocally yes. This all-American vibe is incorporated into one 2022 summer fashion trend for men carried over from springtime. Men's preppy fashion includes fitted blazers, polo shirts, chino shorts, and anything striped or checkered.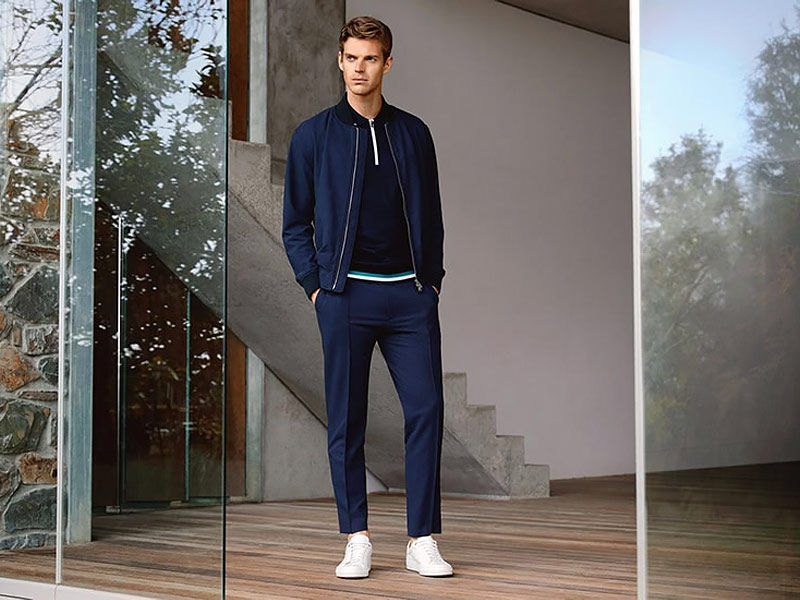 Use sun-washed colors to give these vintage pieces a summery feel. Not sure what the term "sun-washed" means? Consider the brightest colors of summer being washed several times in the washing machine. The color has been faded for a throwback California flavor, and the fabric is sumptuous and lived-in.

Taking it easy? Wear a sun-washed striped polo shirt with a pair of light-colored shorts. With a pair of immaculate, white shoes, you'll look like the poster child for prep. For more formal occasions, such as summer weddings, effortlessly upgrade your preppy style. Wear a button-down oxford shirt with a seersucker jacket and coral chino slacks. The dress you wear to your next summer function will even influence Ralph Lauren.
Men's Summer Fashion 2022 Trend Highlight: Go Outdoors in Gorpcore Style 
If fashion meets utility is your aesthetic, the boys' gorpcore trend is tailor-made for you. This spring sartorial style is still going strong as a men's summer fashion trend in 2022. This twist on street style is excellent for going from a coffee shop to trekking in a flash. Did you know that "gorp" stands for "good ol' raisins and peanuts" in gorpcore? To fuel yourself for your outdoor escapades, keep a bag of trail mix in your cargo pockets.
Do you want to know how to include gorpcore into your summer wardrobe? It's really no big deal.
Choose breathable textiles throughout the summer months because the temperature tends to rise.
Your best bet is to use performance textiles that are moisture-wicking, lightweight, and provide UV protection. In jogger trousers, a performance top, and sneaker-style hiking boots, you can easily transition from the couch to the street. To be covered, carry a long-sleeve T-shirt or thin jacket in your backpack along with a container of sunscreen. Turn on some music and you'll be walking in sunlight in no time.
Spotlight on Men's Summer 2022 Fashion Trends: Comfortable Workwear can help you crush your 9-to-5
In terms of fashion, the work-from-home style trend we refuse to abandon is comfy workwear. This "business comfort" perspective, also known as the work leisure style, is still popular in summer 2022 men's fashion. Just because you're going back to work doesn't mean you have to sacrifice your comfort for your profession. What exactly is working leisure or comfy workwear? We're here to help you understand. At its essence, "work leisure is gear that combines the ease and practicality of leisurewear with a professional presentation." Consider structured jogger trousers, thick T-shirts, and polished sneakers coexisting with traditional business attire.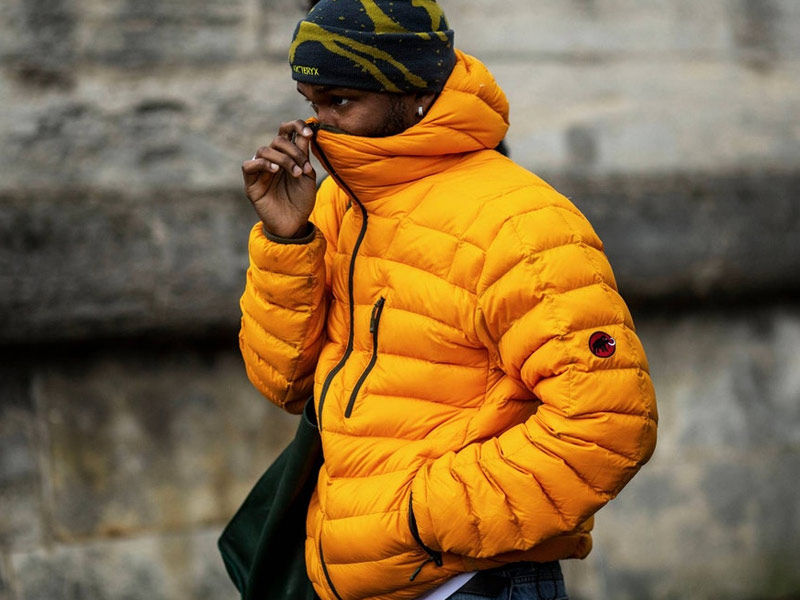 Leave the sweatpants-style joggers at home and opt for a pair in raised cotton or linen fabric. These textiles, as well as hybrid-fabric joggers, double as fashionable summer apparel. Don't be afraid to pair them with the workday workhorse, the button-down shirt with the sleeves pulled up.
Now is the time to experiment with prints (if your business outfit dress code permits it) and replace traditional checks with something more conversational. Choose a micro-floral print or a stylish tropical pattern to evoke memories of days spent on the beach. Ties are not permitted here. You'll want to maintain a comfortable yet professional appearance from head to toe. Finally, wear sport-sole oxfords or loafers with no-show socks. You'll be the talk of the town.
Styles for Outdoor Activities in Men's Summer Fashion 2022 
Summer's lengthy days mean you'll have a lot more time for activities. Take it outside and enjoy the sunshine. Considering what men's summer clothing to wear in 2022? Always wear clothing that is appropriate for the activity. Are you going on a trek or hitting the golf course to connect with nature? Perhaps your day would be better spent obtaining some vitamin D and then taking a plunge in the ocean? Whatever your summertime trip, we've got you covered. We assure you that a terrible summer is not in your destiny.

Hike the Trails in Men's Summer Wear 
A summer day excursion to the mountains provides cooler temperatures and shade from a mature tree canopy. It's no surprise that hiking is a popular outdoor pastime all year. Hiking in the summer requires a little more preparation. You'll want to know your trail route inside and out and have plenty of water on hand. Don't forget about the GORP.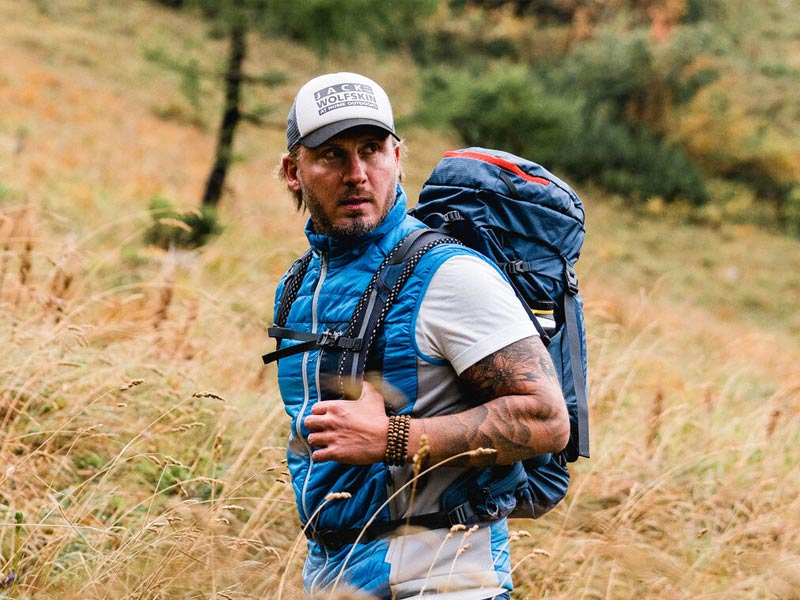 Now that you've covered the necessities, it's time to concentrate on your men's summer fashion 2022 hiking attire. Not sure what to wear for a hike? Pants are usually a safe bet. Is the trail overgrown, or is it notorious for annoying pests or itch-inducing plants? It might be best to cover your legs. If you don't want to take a bag to higher elevations, cargo pants are a practical solution.
Deep-pocket pants can hold your keys, phone, munchies, and sunscreen. You might even be able to fit a bottle or two of water inside one of the compartments.
Wear your jeans with a solid belt, a moisture-wicking top, and your most comfortable trail shoes with adequate traction. Gather your friends and prepare to hit the ground running, or should we say hiking?

Men's Golf Attire: Looks That Will Get You a Hole in One 
Summer is an excellent time to try out new hobbies, and golf is a popular choice. Whether you're a seasoned birdie hunter or this is your first time on the green, we invite you to play. Cruise from hole to hole in a golf cart, jamming to tracks that give you "Good Vibrations." Add friends or family to the mix, and you're sure to have a good time. Men's summer fashion 2022 golf clothing is as impressive as the sport itself. Do you know what golf attire is? Consider the finest of prep combined with comfy activewear. Let's get a handle on what to wear to golf.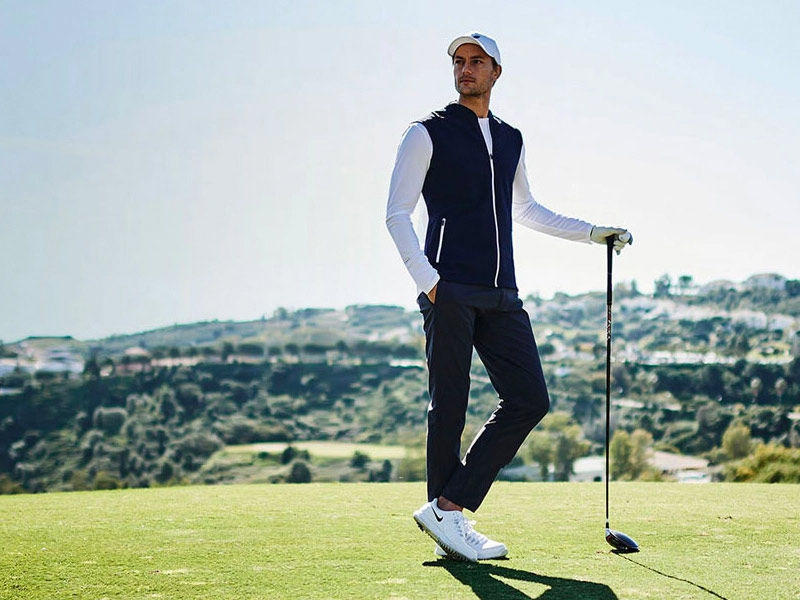 Many golf courses have a strict dress code, so dress appropriately. Most classes will likely require you to wear a collared shirt and chino-style shorts or pants. Golf shoes will help you gain a grip on the green and improve your game, but they are not always required. If you intend to play more than once, get a moisture-wicking polo shirt. This will assist you in beating the heat, particularly during mid-day games. Golf gear may be varied, so don't be afraid to try on new hues. Plaid pants or shorts with a funky print are usually a good idea. Bring a hat to shield your face and eyes from the sun. 
To Catch a Wave, Men's Beach Wear 
Summer days are ideal for packing a cooler full of drinks and heading to the beach. We'd be remiss if we didn't include beach clothing in our selection of 2022 men's summer fashion. After all, spending time on the water, whether surfing in the ocean or boating on the lake, is a summertime need. Choose stylish summer outfits while selecting men's beach gear. What exactly does that entail? Quick-drying and breathable board or swim shorts shirts Choose flip-flops as your footwear. Bring an extra layer for when the days transform into breezy summer nights. Prepare to pack your beach bag and dig your toes into the sand.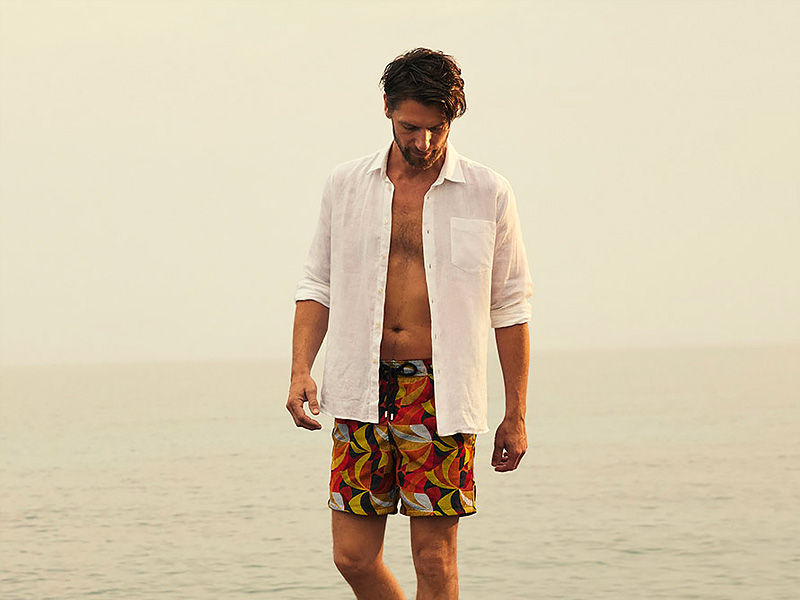 Also read: Summer 2022 Fashion Trends (Girls): Don't miss these awesome trends this summer
There are numerous activities available at the beach. If you intend to soak up some rays, bring an extra-large beach towel and mat. Do you want to play a competitive game of volleyball? Make sure your bathing shorts have a little stretch to them. They will follow you as you dive into the sand to make a save. Wear your shorts with a tank top or a UV-protective rash guard. Keep sunscreen on hand, and water is the best way to remain hydrated in the sun.
Styles for Seasonal Events in Men's Summer Fashion 2022 
Summer is unquestionably the season when your social calendar quickly fills up. You'll need a range of men's summer wear styles to choose from for anything from graduations to holidays and vacations. Stock up on seasonal basics. Whatever the occasion, you'll be ready in a flash. Let's have a look at some of the best men's summer clothing for this season.
Toss Your Cap in Style: What to Wear to Graduation 
This one's for you, dads, and graduates. Graduation is a significant life event, whether you are the one receiving the diploma or cheering from the audience. Are you thinking about what to dress for graduation, guys? Here is some men's summer 2022 trendy items to remember the occasion with. Take things a level up from casual if you're sitting on the sidelines with pride for your grad.
Try pairing your shorts with a long-sleeve button-down and cuffed sleeves. If you want, you may layer up by leaving the shirt undone and tossing it over a solid T-shirt. Loafers will give you a spring in your step. Change from shorts to pants for interior ceremonies with the A/C blasting. Chukka boots will complete your look.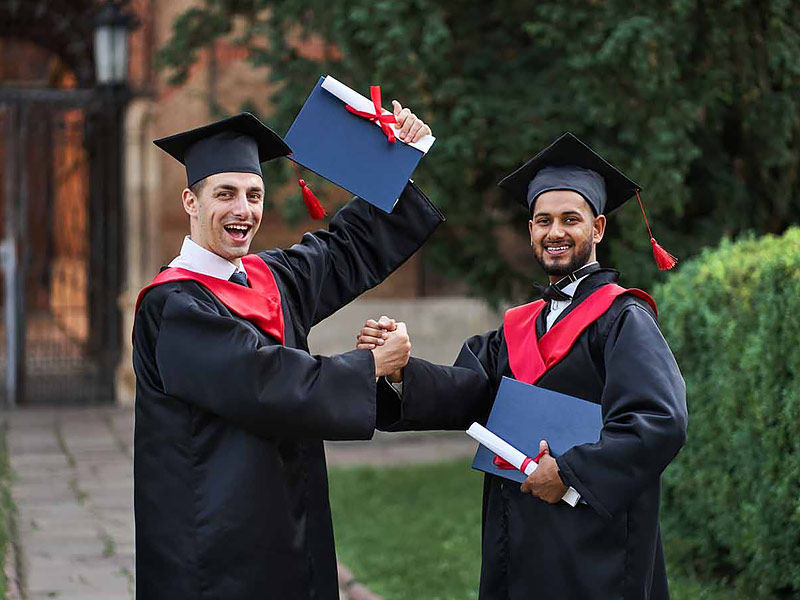 Grads, put on your most confident face because there's a lot to celebrate. If it's an outdoor ceremony, go for something light and airy. Put on pants, a short-sleeved button-down shirt, and sneakers. Choose a vibrant design in a rainbow of colors to personalize your look. Furthermore, by keeping your garments breathable, you won't overheat in your cap and gown. Prepare to pop the streamers, both for your achievements and for your fashionable men's graduation dress.