The Asola-Bhati Wildlife Sanctuary, which spans 32.71 km on the Southern Delhi Ridge of the Aravalli hill range on the Delhi-Haryana boundary, is located in southern Delhi as well as in northern Haryana districts of Faridabad and Gurugram. Ridge's biodiversity value stems from its intersection with the Indo-Gangetic plains, since it is part of the Northern Aravalli leopard wildlife corridor, which runs from Rajasthan's Sariska National Park via Haryana's Nuh, Faridabad, and Gurugram districts and terminates at Delhi Ridge.
This protected region is home to one of the few surviving parts of the Delhi Ridge hill range, as well as its semi-arid forest ecosystem and animals. The Delhi Ridge was formerly entirely wooded, but urbanisation has ruined most of it. Surajkund and Anangpur Dam (both in Haryana), Tughlaqabad Fort and Adilabad Ruins (both in Delhi), and Chhatarpur Temple are all historical sites near the sanctuary (in Delhi). Several hundred lakes have arisen in and around the refuge due to abandoned open pit mining. It is near the seasonal waterfalls in Faridabad's Pali-Dhuaj-Kot villages and the holy Mangar Bani.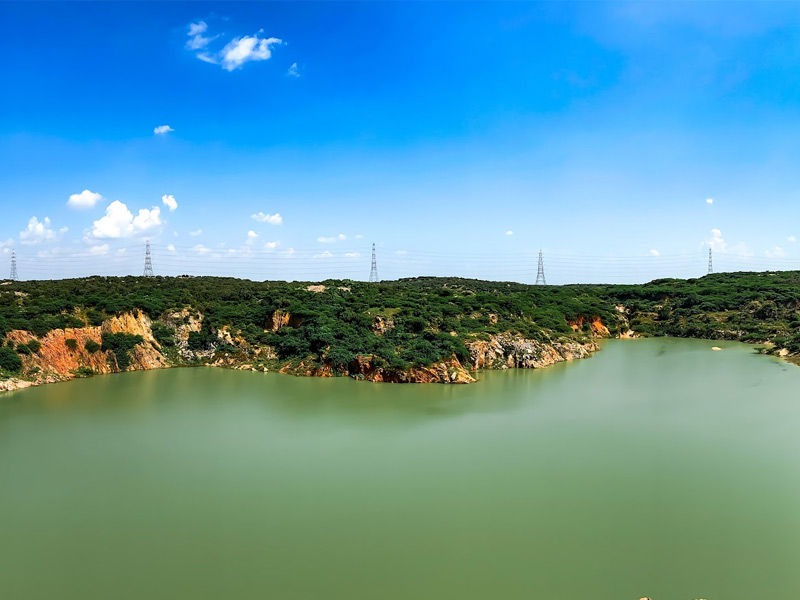 More than 80 species of butterflies, hundreds of other insects, and mammals such as leopards, nilgai (blue bull, the largest antelope in the country), blackbuck (fastest land animal surviving in the wild in the country), black-naped hare, Indian crested porcupine, small Indian civet, golden jackal, and jungle cat have all been reported from Asola.
The Delhi Ridge is the northernmost continuation of the Aravalli range, which begins in Gujarat near the Great Rann of Kutch and is one of the world's oldest mountain systems. In terms of biogeography, it is an outlier of the Aravalli Mountain Range among India's protected areas. It offers a great deal of potential for conservation education and natural interpretation. It serves as a carbon sink, a source of groundwater recharge, and a buffer against aridity in the Delhi-NCR region.
For the Indian leopard, this is an essential habitat. The sanctuary is home to endangered species such as the red-headed vulture and the egyptian vulture, and the Haryana government has a vulture conservation programme in place. The painted stork, white-faced ibis, and European roller are all near-threatened species. The black francolin and grey-headed fish eagle are both rare birds.
Several lakes in and around the sanctuary are being restored as wetland habitat. They are all abandoned minepits from Bhati mines. Bhardwaj lake, Death Valley lake (also known as "CITM lake 2"), CITM lake 1, Dolphin lake, Nallah lake, Zile Singh lake, Sangam Vihar lake, Mahamai lake, Radhe Krishan lake, and numerous more are among these lakes. To the south, the sanctuary is bordered by Surajkund, Lake Peacock, and Badkhal Lake.
A journey to the Asola Wildlife Sanctuary in South Delhi on a weekend may be quite freeing for the trekker at heart. It is a wooded region on Delhi's outskirts, with Kikar or thorn bush trees dominating the landscape. A lovely man-made lake exists within the sanctuary's limits, which has remained undiscovered for many years until it acquired appeal with bikers, hikers, and casual explorers recently. This gorgeous blue lake is reached via a few small pathways.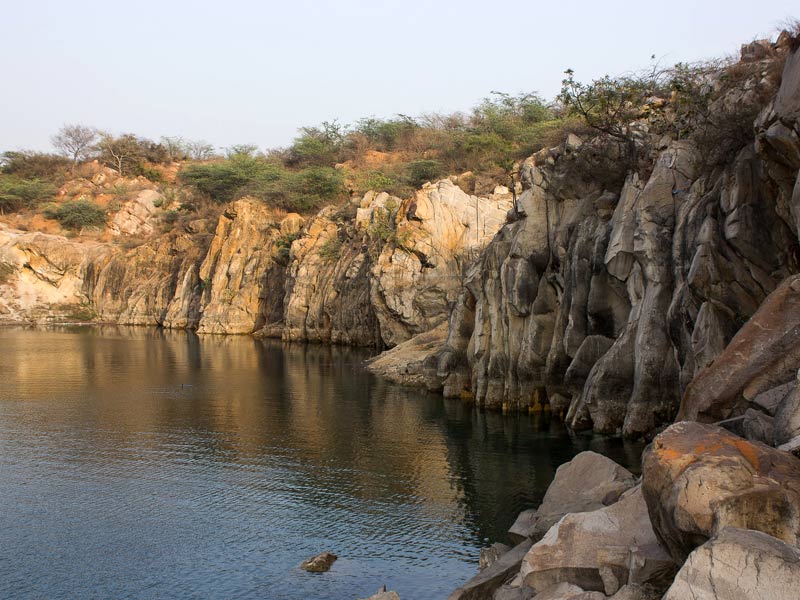 Unchecked mining of sandstone, lime, and Badarpur sand in the vicinity resulted in the formation of the lake. These lakes used to be big open pit mines a few decades ago. The adjacent hills were transformed into troughs by large-scale dynamiting. These lakes were produced as groundwater seeped in and precipitation gathered.
The Aravali International School on the Delhi-Faridabad border is the starting point for a trip to Bhardwaj Lake. Visitors to this place may anticipate to see a lot of butterflies, feathery companions, rabbits, and antelopes in addition to rocky surfaces, pebbles, sand, and gravel (blue bulls). Wild creatures are also said to abound in this woodland, albeit they rarely show themselves.
Bhardwaj Lake, which was named for a mining contractor rather than an old sage, is around 8 kilometres in length. Some people arrive with enough food and drink to last 3 to 4 hours.
How to Get to Lake Asola Bhardwaj
This lake is a popular picnic site and hiking destination. The Asola Wildlife Sanctuary is close by. If you're considering a journey here for a one-day vacation, you'll need to know how to get to Bharadwaj Lake Asola.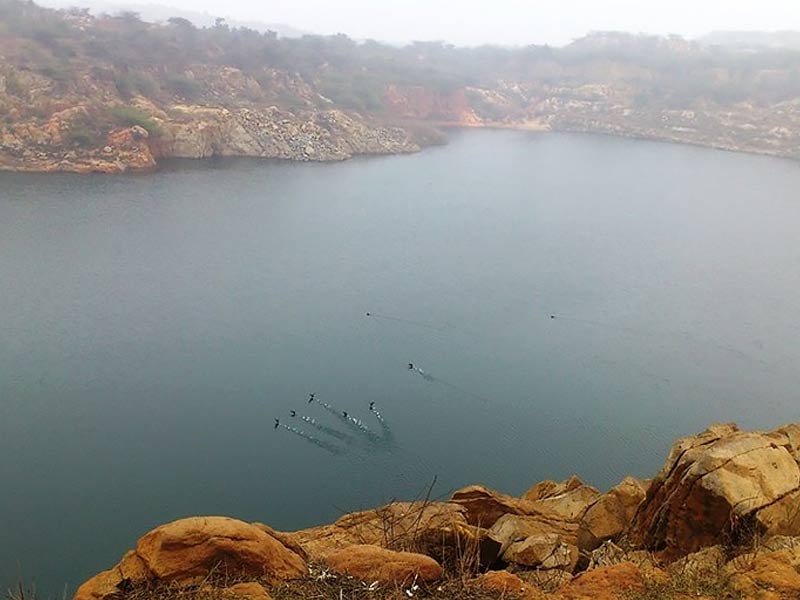 Badarpur Border Violet Line is the closest metro stop to Bharadwaj Lake. The distance between the lake and the Asola Wildlife Sanctuary is 12 kilometres from here. You may take a cab or an auto-rickshaw to the lake after arriving at the metro station. Make Camp Wild Dhauj your base camp if you're visiting Bhardwaj Lake; it's a terrific adventure camping with plenty of facilities. Camp Wild is 22 kilometres away from here. A 45-minute drive from the camp will get you there.
Bhardwaj Lake is an UNEXPLORED and UNTOUCHED place located at a distance of 2 hours, right in the heart of the ARAVALLI RANGES. The Aravalli Hills are one of India's oldest and most beautiful tourist destinations, particularly for novice trekkers.