Dayara Bugyal is a Bugyal (Himalayan Alpine Meadow) in Uttarakhand's Uttarkashi district. Dayara Bugyal is a well-known trekking and camping location. The Bugyal is around 40 kilometres from Uttarkashi and has an average height of 3639 metres. Dayara Bugyal is rich in flora and wildlife and is snuggled between Deodar and Rhododendron trees.
Dayara Bugyal is also a popular trekking and camping site. In the spring, the grasslands' greenery contrasts with the red and pink rhododendrons. In the winter, the Bugyal transforms into a snowy landscape suitable for skiing and other snow activities. Except for the monsoon season, the trip is available all year. Dayara Bugyal offers views of the Garhwal Himalayas, including Nanda Devi, Bandarpunch, and Swargarohini.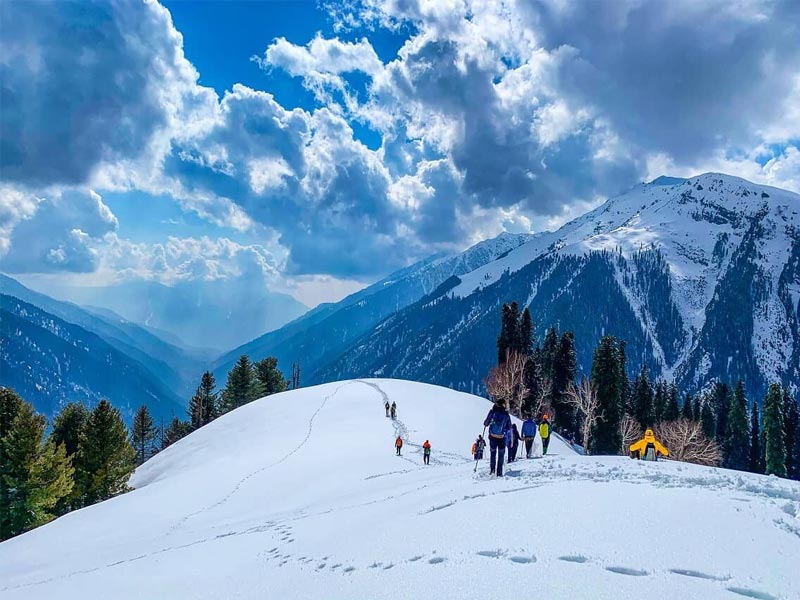 The Dayara Bugyal Trek is a wonderful and lovely Bugyal. The Dayara Bugyal Trek is located in the Uttarkashi region of Uttarakhand, India, and the highest point in this Bugyal. 11,181 feet It begins in the little town of Barsu. Amazing mountain vistas, exhilarating walks, and some of Uttarakhand's most beautiful alpine meadows. Beautiful campsites, old towns, and high spots abound in this magnificent wooded area.
The Dayara Bugyal Trek is regarded as one of the top hikes in Uttarakhand. The huge meadows of Uttarkashi district, Uttarakhand, range in elevation from 10,000 to 11,181 feet.
This lovely location is nestled between towering snow-capped hills, which provide for an impressive spectacle. The meadows, on the other hand, are still snow-covered. As a result, it turns out to be the best winter hike in Uttarakhand. In addition, it is a fantastic skiing location. Dayara Bugyal covers an area of 28 to 30 km2.  The Bedni Bugyal enclosure in Dayara Bugyal Uttarakhand is also the largest Bugyal. The weather in these mountains is continually changing, and the temperature of Dayara Bugyal fluctuates with time.
Dayara Bugyal Trek offers breathtaking Himalayan views and surroundings.
The undulating meadows of Dayara are a trekker's paradise. It is a fantastic journey that can be done in both winter and summer! Many people from all over the world are drawn to this journey because of its beauty and tranquil atmosphere.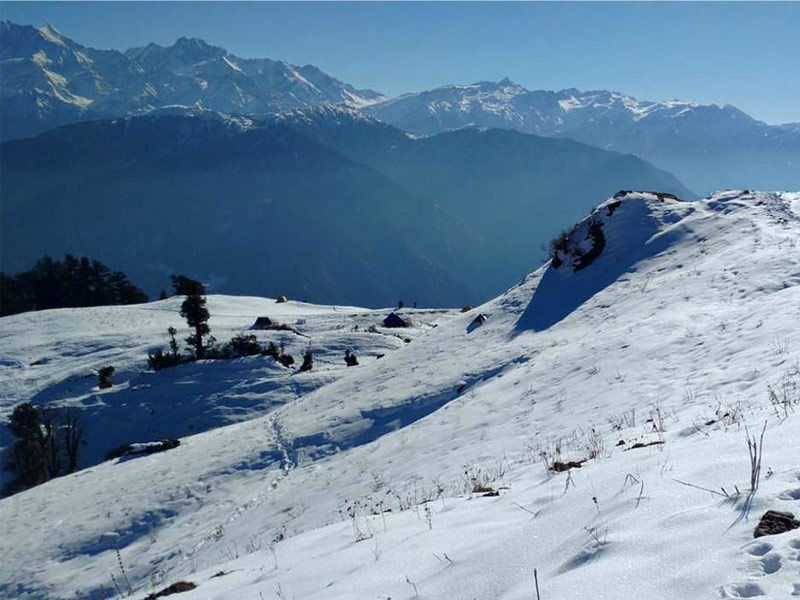 The white sheet of snow in winter allows trekkers to go "Skiing" here, while the blossoming meadows become a visual feast after the snow melts.
As a result, the Dayara Bugyal and Bakaria Top provide breathtaking vistas of high Himalayan peaks! The peaks seen from Dayara Bugyal meadow include -, Rudregaira, Gangotri I, II, & III, Jaonli, Draupadi ka Danda I & II, Black peak, Bandarpoonch, and many other nameless summits. However, don't forget to take in the breathtaking dawn and sunset sights along the way.
This lovely valley also draws trekkers from all around the world. The carpeting wildflowers grow simultaneously, creating a lovely view. The peaceful surroundings and wandering beneath the shadow of trees provide a sense of comfort. As a result, it is a wonderful Winter and Summer Trek with spectacular vistas and environs.
Barsu is a tiny hamlet in the Uttarkashi district located at an elevation of 2,240 metres. Barsu is a tiny community with a GMVN Guest House and a few hotels. In the lovely village, there are also several house stays. Because of the abundance of ground birds, this location is ideal for bird viewing. People here are extremely kind and helpful; they constantly provide a warm welcome to visitors
What can you see and how will it feel from Borasu to Barnala?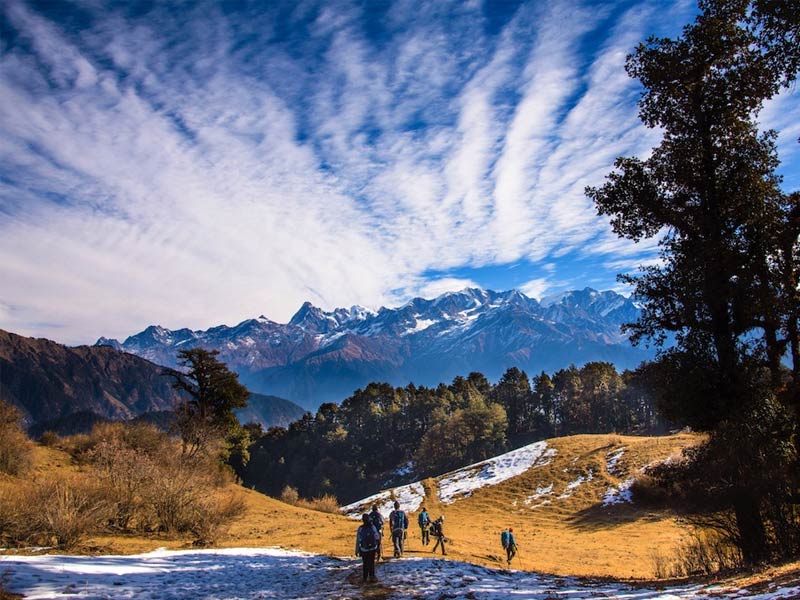 Bakariya has a maximum elevation of 12698 feet and is a standard step ascent until Barnala. We go through a magnificent countryside lined with Rhododendrons, Silver Oaks, and Deodar. Barnala is the starting point for Dayara's beautiful meadow.
Miles of lush undulating meadows spanning as far as the eye can see are a sight to see. The Barnala and Dayara ridges may be viewed from the Barsu lawns. It's a simple-moderate ascent with some rough edges in between. On top of the first ridge sits Barnala, a little meadow. Take the path that runs beside the wall as you travel through the village fields.
Within five minutes of starting up, the fields give way to forests. When the leaves sparkle in the early sun, the trees, a combination of native deciduous species, oak, and rhododendron, provide a stunning blend of hues.The Barnala meadows are crossed on the way to the high alpine meadow Dayara Bugyal. The scenery is beautiful, and the deep trees provide a glimpse of the larger Himalayas. The huge meadow opens in front of you as you reach the summit of Dayara.
Dayara Bugyal Trek Celebrates Holy Festival of Butter and Milk
Every year, residents from Dayara Bugyal, Barsu, and Raithal Villages, as well as trekkers from all across India, visit the Uttarkashi Gangotri region. Took part in the annual 'Butter Festival,' which celebrates the Butter and Holy Festival with tremendous pomp and circumstance.On this day, the locals celebrate Lord Krishna, and everything is done to make him pleased. This butter festival is held in the heart of Dayara Bugyal, which is a breathtakingly gorgeous and fascinating place.
Level of Difficulty
The Dayara Bugyal Trek is a very beautiful winter or summer climb and an uphill trek in the Uttarakhand Himalayas. The Dayara Bugyal Trek is ideal for individuals who have a strong passion for mountaineering and see it as a specific purpose in their lives. Despite the top's modest elevation, we urge physical endurance and a solid fitness record.
How to reach Dayara Bugyal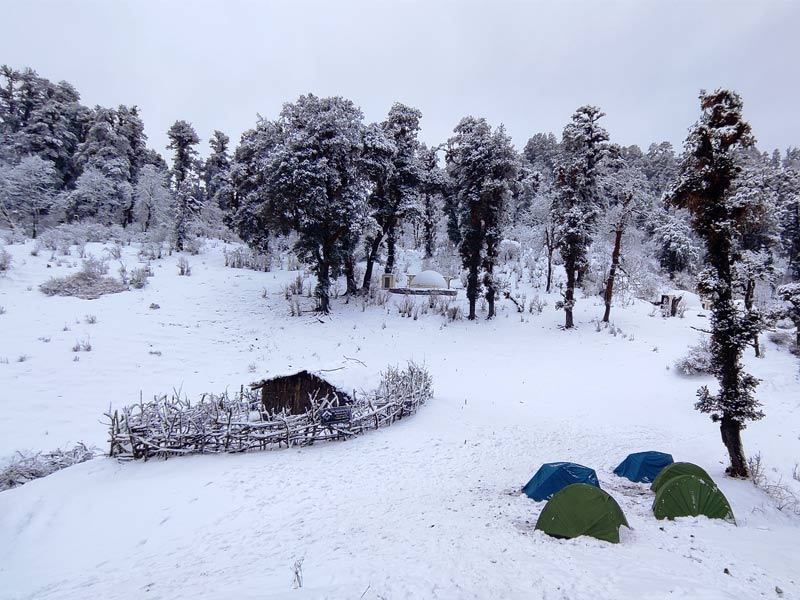 By Train 
Take both overnight trains Dehradun to from New Delhi-Dehradun Special A/C train from Hazrat Nizamuddin railway station. If you meet with our office member – joining to our forthcoming batches and Group – the train arrived at Dehradun railway station between 5:45 and 6:30 a.m.
By Air 
The nearest airport to Dehradun is Jolly Grant. Dehradun is roughly 27 kilometres away. There are flights from all other states to Dehradun; you may purchase your tickets online. These are simple methods for you to follow, and you will save time as well. Taxis are accessible from the airport to Dehradun at all times and cost Rs. 1000/* one-way.
By Bus
You may take a bus from Delhi to Dehradun; board it at (Delhi) ISBT, Kashmiri Gate if you have reserved seats.