The Har Ki Dun trek or Har Ki Doon trek is one of the most complete treks in India. Har Ki Dun is actually a cradle-shaped hanging valley in the Garhwal region of Uttarakhand. The majestic green Bugyals surround the entire region. The entire region is guarded by snow-laden peaks and mesmerizing alpine vegetation. Har ki Dun is connected to Baspa Valley. The adventurous Borasu Pass connects Har Ki Dun with Baspa Valley. Located at an altitude of 3556 meters, it is a heaven for adventure lovers. The scenery in the region is something else during the winters as the mountain ranges are covered with snow between October and March.
The word Har is related to Hari, which means god. This is the reason that the trek is also known as the valley of gods.
It is one of the most adventurous and popular treks in India. From a majestic view of mountains to vast meadows and grasslands and from a gorgeous alpine lake to mesmerizing rivers and streams, there's no shortage of natural beauty in the region.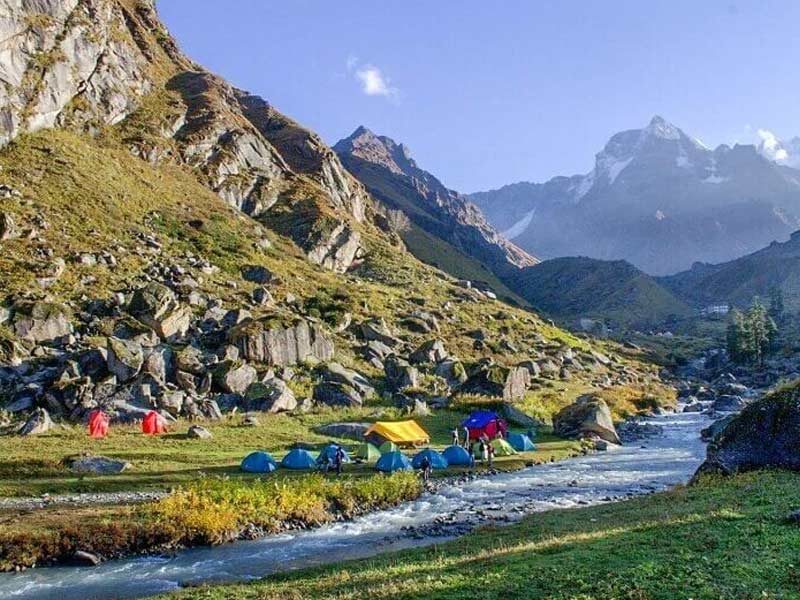 Club Ruinsara Tal trek with Har Ki Dun takes the adventure to the next level. It is a moderate trek and can be completed with minimum difficulty. 
Har Ki Dun Trek is known for its unique culture and history. 
How To Reach?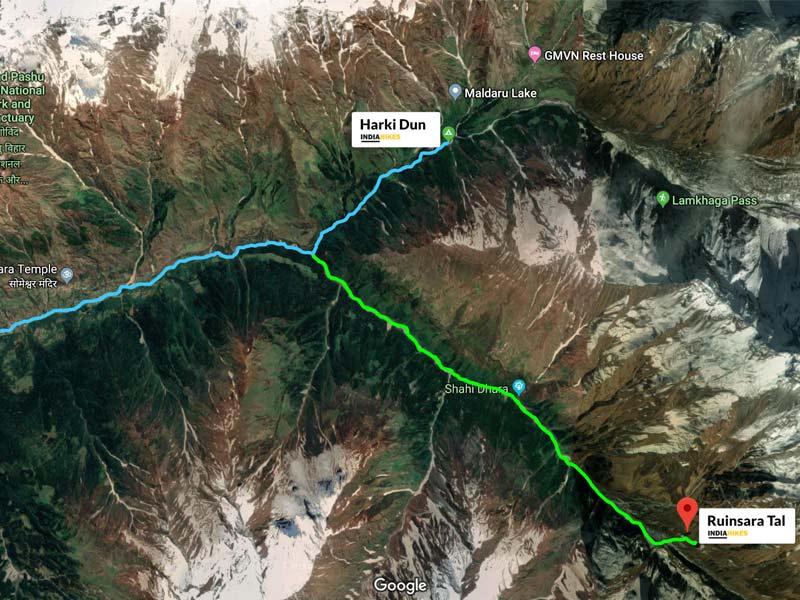 Har Ki Dun trek starts from Taluka village, which is nearly 200 km from Dehradun. To reach Taluka, you'll have to reach Kotgaon via road. You can either take a public bus or travel in your own vehicle. From Kotgaon, you'll have to hire a private taxi up to Taluka. Your trek to Har Ki Dun will start from Taluka itself, so pack your bags and get ready.
If you are traveling on your personal vehicle from Dehradun to Kotgaon, you'll come across Mussoorie, Nowgaon, Purola, and Mori. 
You must be watchful while traveling from Kotgaon to Taluka as the region is prone to landslides, and the route has some dangerous curves that require careful driving.
The Har Ki Dun trek, when clubbed with Ruinsara Tal Trek, is nearly 70 km long. Kotgaon is at an altitude of 6,455 ft, whereas Har Ki Dun is located at an altitude of 11,700 ft. The Ruinsara Tal is at an altitude of 11,811 ft. The Ruinsara Tal is the highest you can go on this trek.
Despite the distance and high altitude of the trek, the difficulty level of the trek is easy to moderate. 
However, you'll need to maintain good stamina as the trek requires you to walk 8-10 km every day. You will need to carry one government-approved identity document. You will be required to submit to the forest department to receive permission for the trek. 
BSNL is the only telecom network that you will find during the trek, and that too can only be used for calling.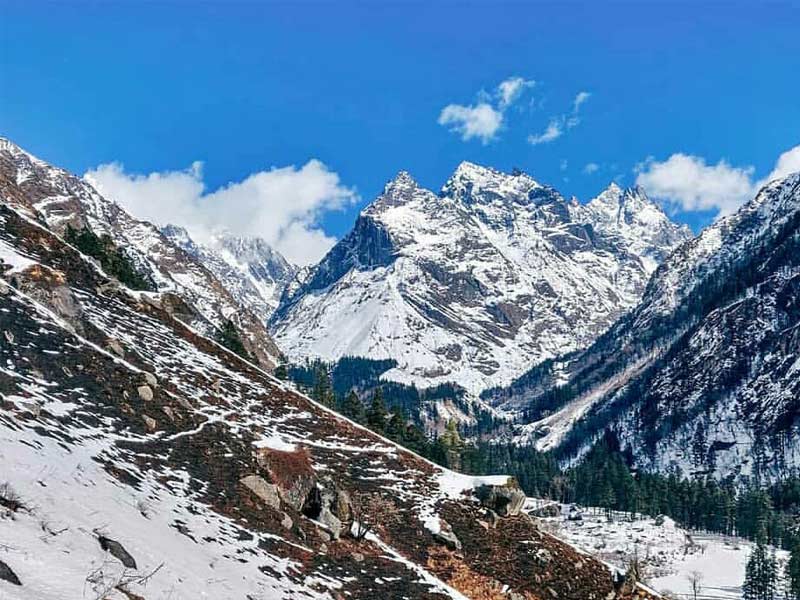 If you like to click pictures and record videos, make sure that you have additional batteries. Kotgaon is the last point where proper electricity is available. The golden rule for any trek is to pack light and have some cash with you, as the last point where working ATMs are available is Purola.
The great thing about the trek is that it runs along the Thamsa river and the Ruinsara gad. You'll be accompanied by a river or a stream throughout the trek. 
The Har Ki Dun is not like any other trek. You'll have to cross several rivers and streams using wooden and cement bridges, which takes the level of adventure to the next level. It is a lifetime experience where you come across the locals who live peacefully without worrying about the luxuries of life. 
There are occasions when some wooden bridges get washed away due to extremely fast river currents. In such cases, you have to cross the rivers using a rope and pulley system.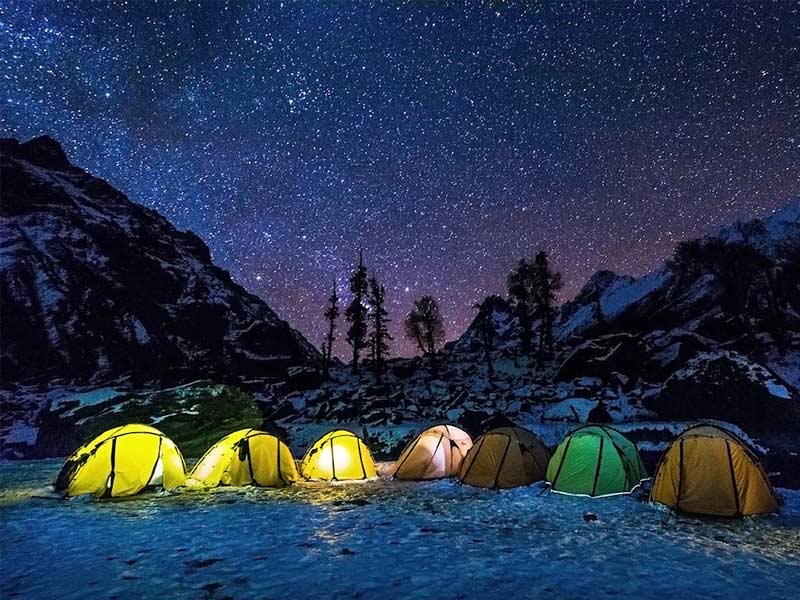 The Ruinsara river will not leave you alone even if you are trekking solo, and the melody of flowing water will make you fall in love with the place as you make your way through the heavenly trails. You need to be extra careful in the snow season as several trails get covered by snow at times, making you prone to slips.
It is advisable to get complete information about key routes and bridges when you are traveling solo. If you find that a bridge has been washed away and there are no ropes and pulleys available to cross a stream, do not attempt the crossing as it may prove to be a dangerous mistake.
Avoid carrying plastic with you as you don't want this mesmerizing place to get polluted. Also, carry some packed food, chocolates, and light snacks to keep yourself energized throughout the trek.
Once you reach the Har Ki Dun peak, all the tiredness and fatigue will disappear. It's more beautiful than your imagination.