Karnataka, blessed with many natural resources, attracts a large number of tourists each year. Karnataka was named the third most popular tourist destination in India in 2014. Coorg, Nandi Hills, and Chikmagalur are just a few of the fascinating hill stations in Karnataka. People looking for clean beaches may visit the famed Blue Lagoon Beach and Ladies Beach in Karwar, studded with Casuarina trees. Karnataka also has UNESCO World History Sites like Hampi and Pattadakal, which are perfect for heritage trips.
Another 752 monuments are protected by the State Directorate of Archaeology and Museums, while another 25,000 monuments are still to be protected. Ancient sculpted temples, contemporary towns, hill ranges, woods, and beaches are popular tourist destinations. North Karnataka, Hill Stations, Coastal Karnataka, and South Karnataka are the four geographical zones in which tourism thrives. The Golden Chariot, a railway connecting famous tourist attractions in Karnataka and Goa, was recently launched by the Karnataka government to promote the tourism industry.
Top Karnataka Tourist Places
Being a place with both Urban and Country appeal, Karnataka tourist places are abundant and versatile. There are lush green forests and huge concrete jungles that one can enjoy to the fullest. 
Here is a list of the best Karnataka tourist places…
1)Mysore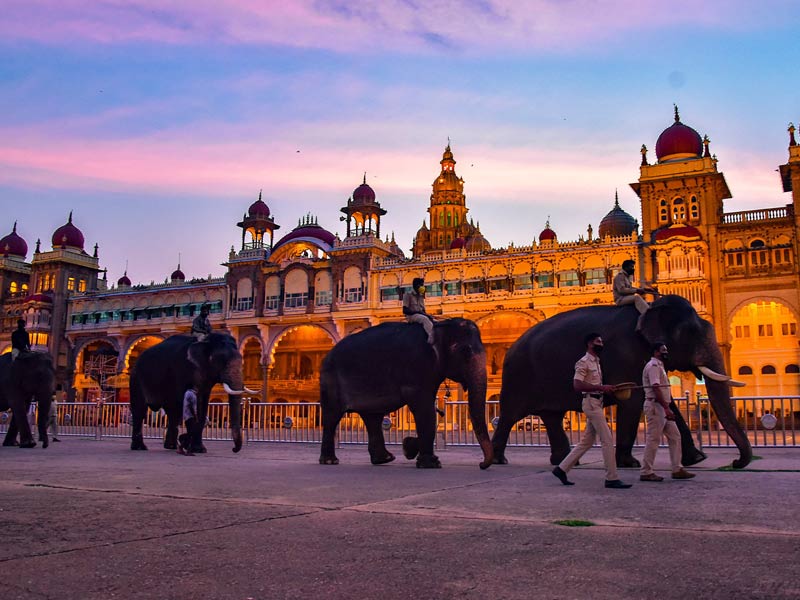 The Mysore Maharajas governed the Mysore State from 1399 and 1947, and Mysore was their former capital. Coorg Tour Packages also include a stop at Mysore. With its palaces, heritage buildings, customs, and temples, Mysore preserves its old-world beauty. It is known as the City of Palaces because it is located at the height of 763 meters and is surrounded by hill ranges.
Mysore Palace is a must-see attraction in any Mysore tour package. Palaces, museums, temples, gardens, and other tourist attractions may be found in Mysore. The most well-known sights to visit in Mysore include the Mysore Palace, Chamundi Hill Temple, and Mysore Zoo. Srirangapatna and Brindavan Gardens are also popular tourist destinations near Mysore. Mysore may also be included in Wayanad trip packages and Ooty tour packages. 
The nearest airport is Bangalore Airport, which is around 184 kilometers from Mysore. Major railway stations are all well-connected by train to Mysore Junction. Direct bus connections exist as well.
2)Hampi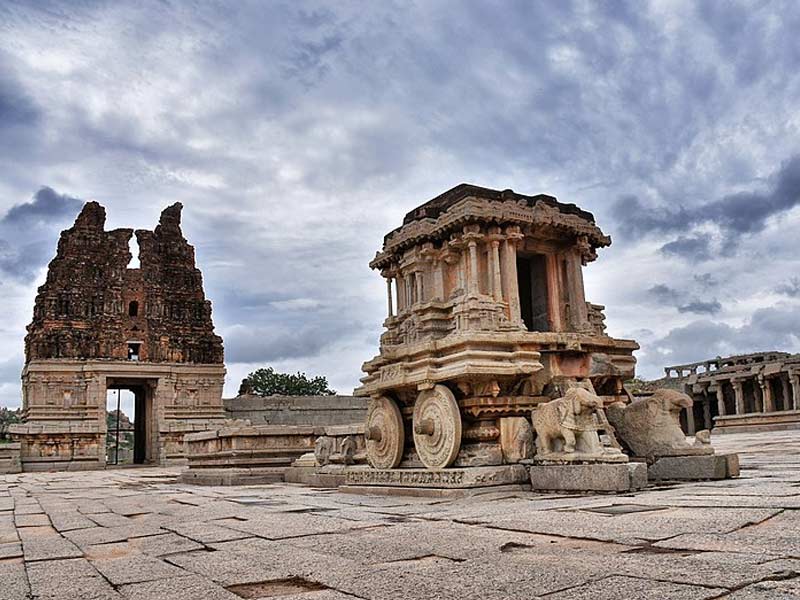 The hamlet of Hampi is located among the ruins of Vijayanagara, the Vijayanagara Empire's ancient capital. It is a well-known UNESCO World Heritage Site and one of the greatest heritage destinations around Bangalore. It is one of the most famous tourist attractions in South India that you should not miss on your trip. The most popular tourist attractions in Hampi include the Virupaksha Temple, Vittala Temple, and Hampi Bazaar.
Hubli Airport is the closest airport to Hampi, India, at a distance of 166 kilometers. The nearest train station is Hospet Railway Station, which is 13 kilometers from Hampi. Bangalore, Hyderabad, Hubli, Chennai, Vijayawada, Tirupati, Panjim, Kolkata, Mysore, Ajmer, Jodhpur, Kolhapur, and Shiridi are all accessible from Hospet. KSRTC bus services connect Hampi to the rest of the world. Regular bus service is available from Bangalore, Hubli, Goa, and Karwar. Walking or riding a bike are the finest ways to see Hampi.
3)Chikmagalur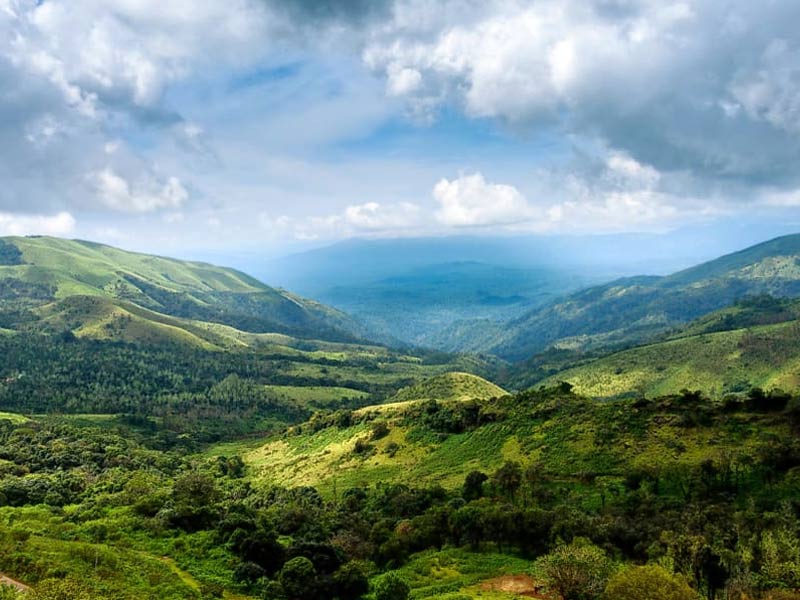 Chikmagalur is a city in Karnataka's Malnad area, located on the Deccan plateau. This is where the Western Ghats begin. The Yagachi River gets its name from the hills that surround it. Chikmagalur is known for its tranquil atmosphere, beautiful green woods, and towering mountains. The must-see locations in Chikmagalur Tour Packages are Baba Budangiri, Mulliyangiri, and Kemmanagundi. Chikmagalur means "Land of the Younger Daughter" in Sanskrit.
It is supposed to have been given as a dowry to Rukmangada, the mythical Sakrepatna ruler. There is also a location named Hiremagalur, Land of the Elder Daughter, which is now a part of Chikmagalur town. According to ancient inscriptions, these two locations were once known as Kiriya-Muguli and Piriya-Muguli. Chikkamagaluru is also known as the "Coffee Land of Karnataka" because of its coffee culture. It was here that India's first coffee plantation was established. In 1670, a Muslim saint named Baba Budan delivered coffee seedlings from Yemen. When Europeans arrived in India, they gained control of the plantations and began selling coffee and tea.
4)Bangalore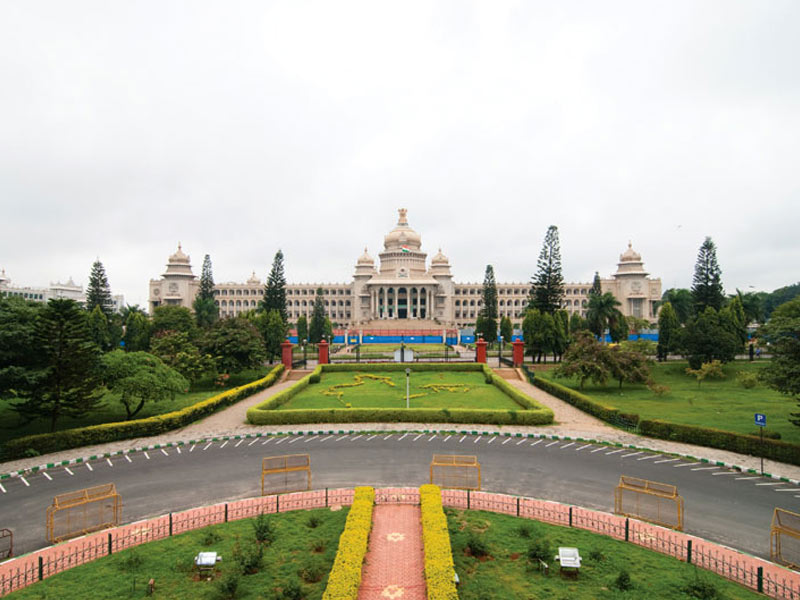 Because of the high number of technology firms that have set up shop in Bangalore, it is sometimes referred to as India's Silicon Valley. Bangalore is one of the must-see destinations in Karnataka Tour Packages. Several attractions are nearby and ideal for day trips and excursions. There are a variety of attractions to visit, including palaces, parks, museums, and temples. Bengaluru gets its name from the Kannada phrase 'Benda Kalluru,' which translates to "land of cooked beans.
"Kempe Gowda, the Vijayanagara Chieftain of Yelahanka, created the present city of Bangalore almost 400 years ago. Bangalore Airport, which is roughly 36 kilometers from City Junction, has excellent air connections. It has flights from all major commercial cities regularly. Bangalore has direct flights to Sri Lanka, Muscat, Dubai, Singapore, the United States, and Europe. Many foreign planes use it as a stopover. Bengaluru City Railway Station and Yeswantpur Junction are two significant railway stations in Bangalore.
5)Sakleshpur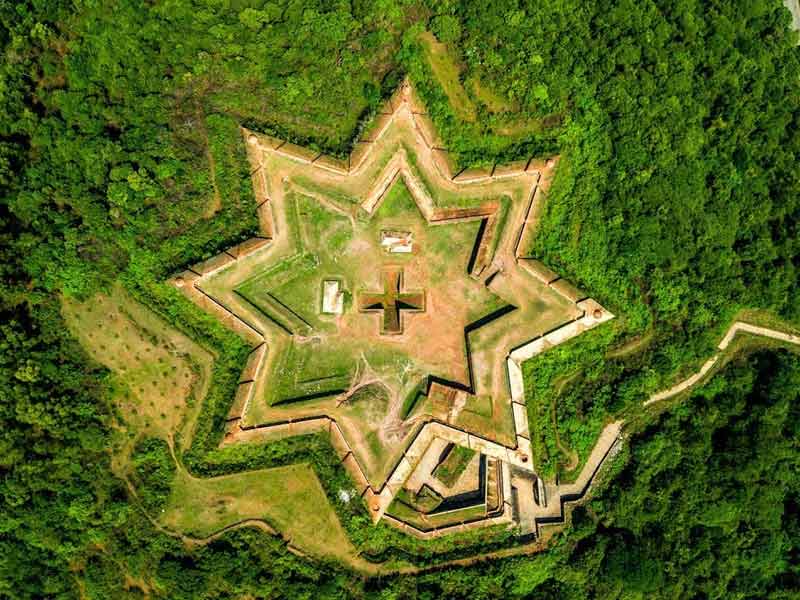 Sakleshpur is one of India's main coffee and cardamom growers. It is a beautiful town nestled in the Western Ghats on the Bangalore-Mangalore Highway. This mountainous station's beauty has earned it the moniker "Poor Man's Ooty." This lovely hill station is well-known for its intriguing mountains, visual splendor, and nice weather. Sakleshwara Temple, Magajahalli Waterfalls, Betta Byraveshwara Temple, and Agni Gudda are just a few prominent attractions in Sakleshpur.
Furthermore, this lesser-known hill town in the Western Ghats is well-known for hiking activities that allow visitors to discover the area's abundant biodiversity. Sakleshpur offers a diverse selection of lodging alternatives, from mid-range hotels to homestays, resorts, and budget motels. Homestays in Sakleshpur are ideal for travelers who want to feel at ease while on vacation. Sakleshpur has a chilly, misty environment all year. Still, October to April is the greatest time to visit this charming hill station since the weather is nice and ideal for touring. Sakaleshwara Swami's Ratha yatra, which takes place every year in February, is also well-known.
6)Pattadakal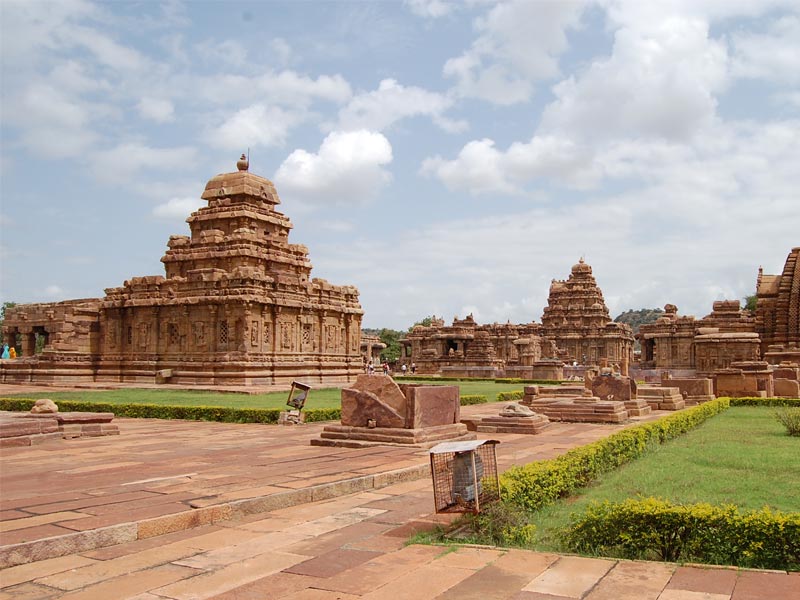 The Chalukyan Group of Monuments includes Pattadakal, Badami, and Aihole, all of which are UNESCO World Heritage Sites. It is one of Karnataka's most popular historical sites. The crowning of Chalukyan kings took place at Pattadakal. Pattadakal is regarded as the cradle of South Indian temple building, alongside Aihole. The main complex contains around ten temples that are must-see attractions in Pattadakal. Between the 6th and 9th centuries, the monuments at Pattadakal were built.
Compared to the early-stage temples of Aihole, the temples in Pattadakal are bigger and more majestic, with more elaborate artwork. The Chalukyas appear to have improved their temple-building abilities due to their trials at Aihole since they erected bigger temples at Pattadakal. The temples are constructed in various architectural styles, including Dravidian, Nagara, Phamsana, and Gajaprastha.
7)Shivanasamudra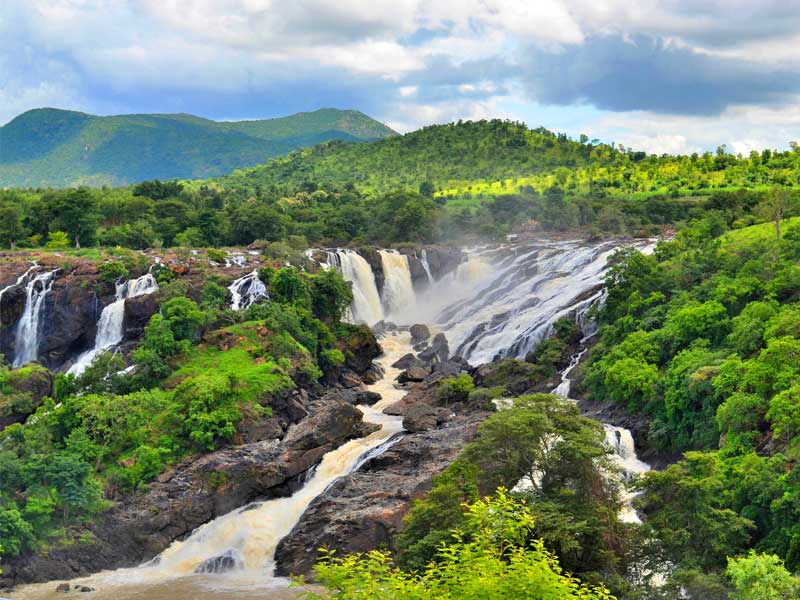 Shivanasamudra is one of Karnataka's most renowned tourist destinations. The island of Shivanasamudra splits the Kaveri River into two halves, resulting in two waterfalls: Gaganachukki and Bharachukki. Gaganachukki and Barachukki Falls are known together as Shivanasamudra Falls. However, Gaganachukki is the most well-known of the two. During the monsoon season, this location provides spectacular views.
Gaganachukki has a massive horsetail-shaped waterfall that cascades down from a height of 90 meters and two big parallel streams that flow down from a height of nearly 320 feet via a stony bed. The gorge is extremely deep, and the currents are quite powerful. As a result, swimming is not authorized. In 1905, Asia's first hydroelectric power station was built downstream of the falls. The electricity generated here was first used in the Kolar Gold Fields. The power station is close to a Dargah, from where you can get a great view of Gaganachukki from the other side. The ideal time to visit Sivanasamudra Falls is from July to January. The peak season is from August to October.