Kaza is a calm and tranquil location in the Spiti Valley, tucked away in a corner of the lovely Indian state of Himachal Pradesh. This idyllic location is nothing less than a heaven on earth, filled with towering mountains covered with snow, roaring rivers, breathtaking scenery, and glistening streams. 
Kaza's entire town may be divided into New Kaza and Old Kaza. Government offices are located in the latter, and the former houses the king's palace. This picturesque town has a certain mystique to it because of the historical treasures, monasteries, and gompas that are there. The Himalayan town of Kaza now boasts a unique fusion of old culture and modernity that is likely to completely astound and spellbind any traveller.
From the Kinnaur Valley and Lahaul Valley, one may reach Kaza. The earlier route only opens during the summer season, whilst the later route is available all year. This destination's winter season is marked by exceptionally low temperatures, which make the town's climate exceedingly chilly. The residents prefer to stay indoors during this period and only leave the house if it is necessary. They always have enough food on hand for this time of year, and they spend the entire time indoors crafting.
The town of Kaza is provided with a wealth of respectable lodging options and dining establishments, assisting visitors in having a relaxing trip. Together, these factors enable tourism to thrive in this little Himalayan town.
Kibber
Kibber Hamlet, which is located at an elevation of 4,270 metres, is the most populous in the state of Himachal Pradesh. The similarity of the buildings' designs and architecture, which adds to the village's overall attractiveness, is one of its distinctive features.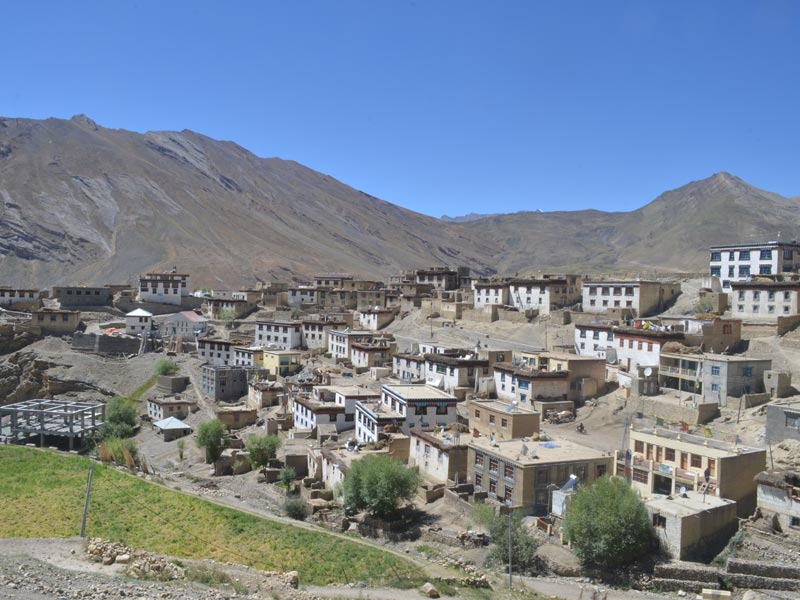 Despite its isolated location, Kibber Village has a post office, telegraph office, high school, and hospitals. Many travellers from across the world are drawn to the village's simple appeal. Parang La Trek and Tso Moriri Lake are some of the area's top tourist attractions.
Tabo
In the Indian state of Himachal Pradesh, at a height of around 3050 metres, sits Tabo, a stunning and calming tourist attraction. Tourists may view genuinely scenic and beautiful scenery in the town. The famed Tabo Monastery is the most well-known of the city's many intriguing and attractive tourist attractions, surrounded by steep brown hills.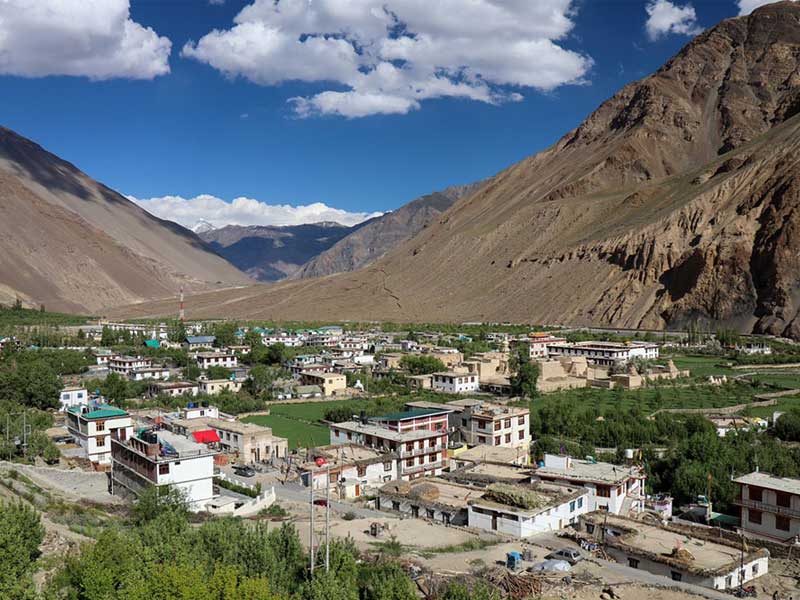 This monastery, which dates back nearly a thousand years, is part of the largest royal complex in Spiti Valley. The monastery houses 9 temples and 23 chortens in all, and it receives a lot of visitors all year long.  
Monastery of Dhankar
One of the finest sights in Himachal Pradesh is the Dhankar Monastery, which is located at a height of roughly 12,774 feet. This monastery, which has been there for over a thousand years, provides a breathtaking panoramic view of the Spiti Valley. The Dhankar monastery is one of the major centres of Buddhist culture and art and is included among the top 100 most endangered structures in the world.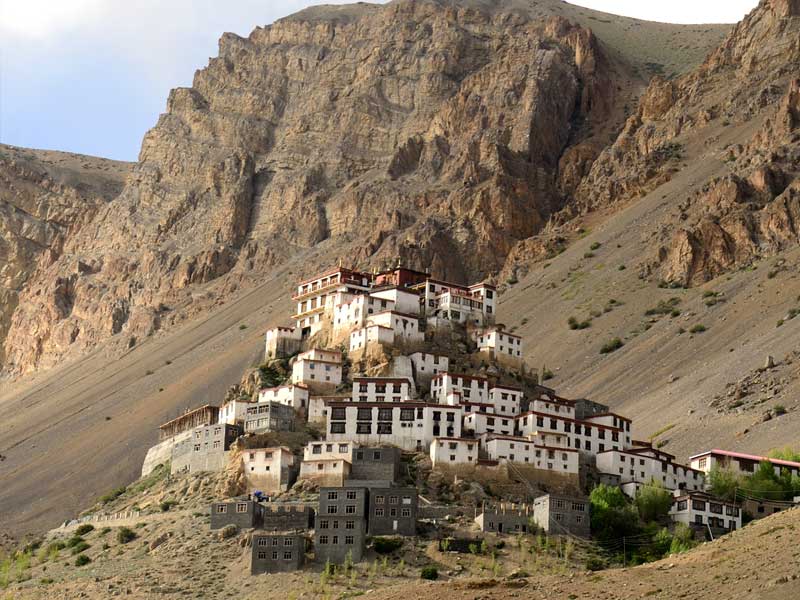 The monastery houses a lovely museum and a statue of the Dhyana Buddha. Visitors may also see the stunning Dhankar Lake, which is approximately 2 km away.    
Kunzum la
Kunzum La or Kunzum Pass, which is located at a height of around 4551 metres, is a well-liked entryway to Spiti Valley. Visitors may get a breathtaking 360-degree view of the gorgeous Shigri-Bara Glacier, a seductive look at the Spiti Valley, and an exciting look at the magnificent Chandrabhaga Range from this pass.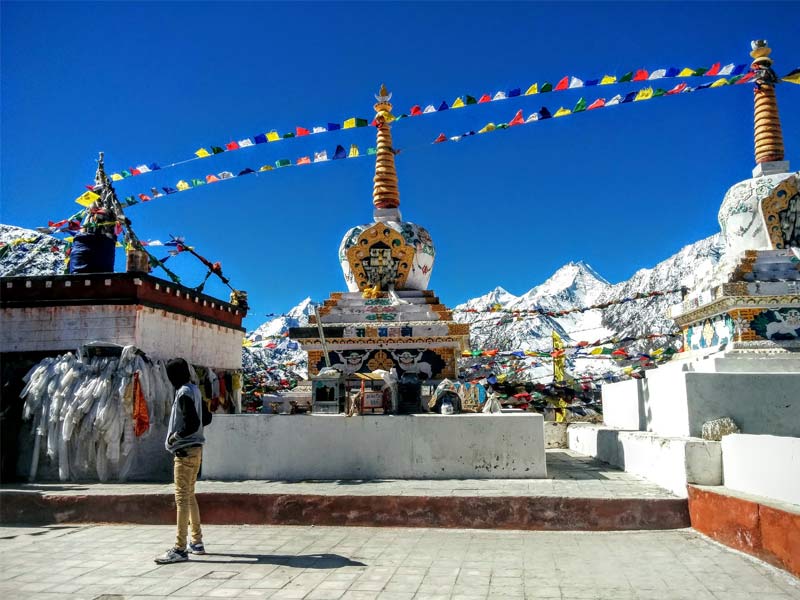 The 15-kilometre hike from Kunzum Pass to the well-known Chandratal Lake is popular with tourists. Trekkers frequently stop at Kunzum Devi and offer prayers to the goddesses for assistance in navigating this dangerous terrain successfully.
Lake Chandratal
At a height of around 4300 metres, Chandratal Lake creates a haven for hikers and campers. Today, the region welcomes a large number of adventure seekers from all over the world. It was once thought of as a home for the Tibetan traders who travelled via Spiti Valley and Kullu Valley. Due to its devotional importance, the location draws numerous Hindu pilgrims all year long.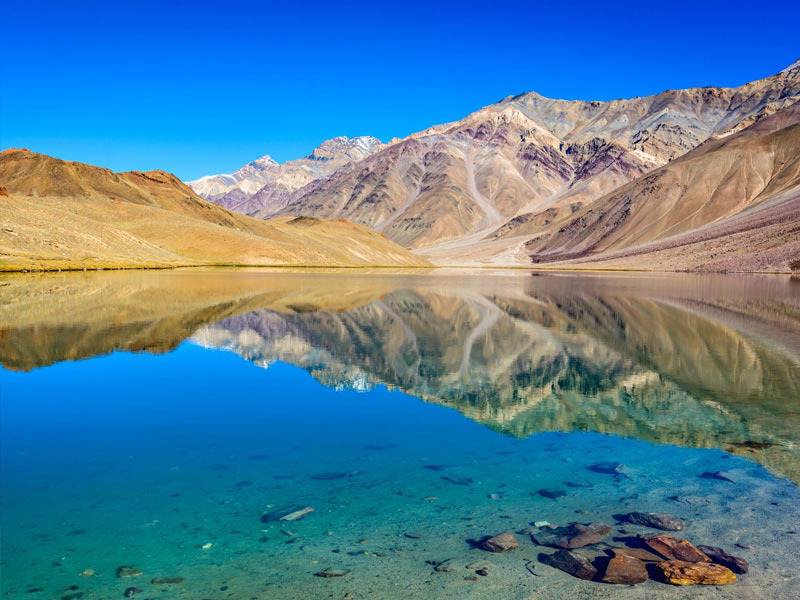 Camping and hiking are popular activities for visitors to Chandratal Lake during the beautiful weather. At the location, they take landscape photos as well.
Via Road
Roadways easily link the town of Kaza to all the significant geographic regions of the nation. Government buses are often available to and from Kaza. Two buses go daily from Shimla to Kaza, one leaving at dawn and the other at sunset. Two HRTC buses run daily between Manali and Kaza, both of which typically depart early in the morning. 
via Air
Unfortunately, there are no flights that go directly to the city. The airport at Bhuntar, which is around 250 kilometres away from the town of Kaza, is the one that is closest to it. You may take a bus to get to Kaza once you've landed at this airport.
via rail
There are no direct trains from other regions of the nation to Kaza. 365 km away, Joginder Nagar, is the nearest railway station to the town. You may board a bus to Kaza after arriving here.