Rajasthan, a land of culture and traditions, is known for its enchanting beauty. And this state of Rajasthan has a tiny hamlet hidden that is known for its Nagpur festival. It is a perfect getaway in winter for a relaxing weekend. However, the village is famous for its Nagpur festival in which people from all over India come and trade for cattle in bulk.
Besides it, so many activities too, such as camel racing, tug-of-war and so on. Moreover, the red chili market is also set up during this time and is famous on the whole continent of Asia. The village is something that is interesting to explore and involves so many tourists attractions. So, let's know a little more about this tiny hamlet, Khimsar.
HOW TO REACH KHIMSAR?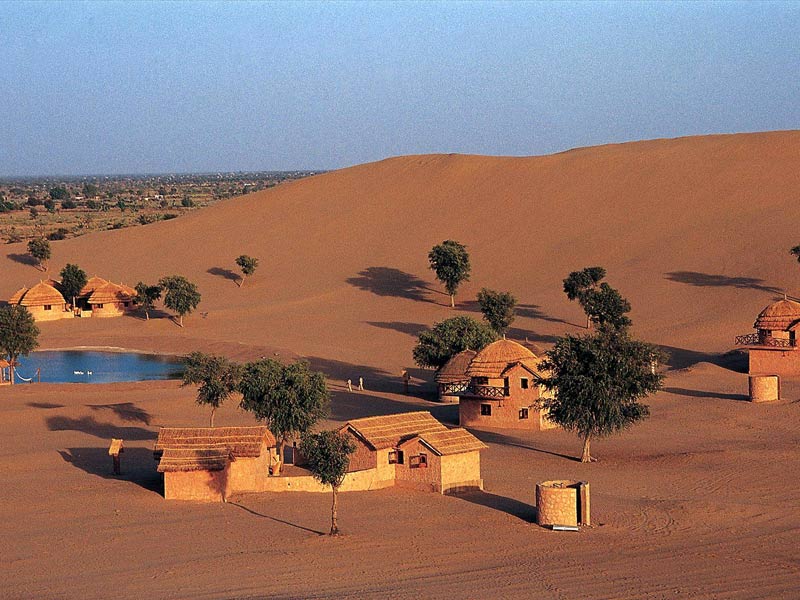 There are multiple ways to reach this hidden gem of Rajasthan, Khimsar, and these ways include-
By Flight: The nearest airport to Khimsar is in Jodhpur. The airport is 90 kilometers away from the Khimsar and from here you can easily reach Khimsar.
By Buses: Buses can also be an option to reach Khimsar. As there are regular buses available from the important cities such as Jaipur, Bikaner, and Jodhpur that will directly drop you to Nagaur. From Nagaur, you can hire a cab or a taxi to reach your desired destination, Khimsar.
By Train: You can also opt for a train to reach Khimsar. The nearest railway station that lies to Khimsar is Nagaur railway station. Trains are easily available at this station and from here you can take a taxi or cab to reach Khimsar.
PLACES TO VISIT IN KHIMSAR
Sand Dune Village, Khimsar: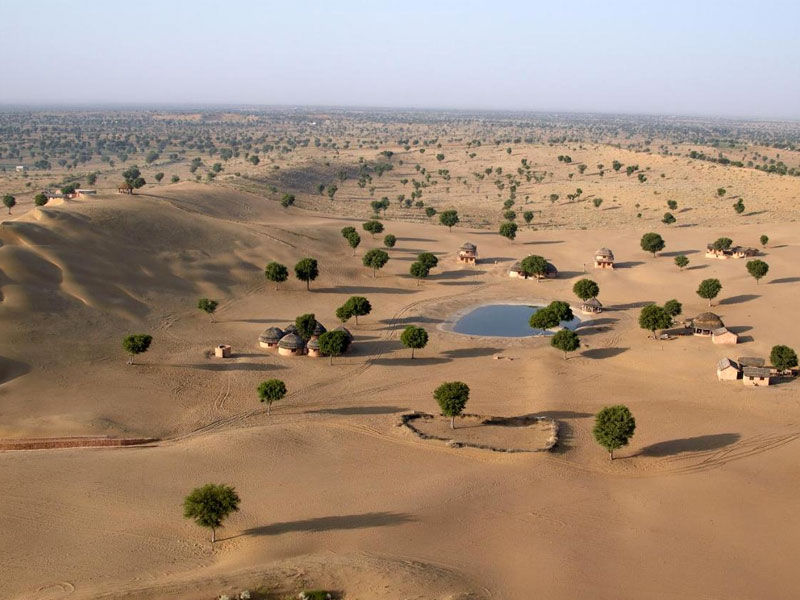 However, this is a separate village but deserves to be explored if you are in Khimsar. This is really an incredibly amazing place to witness. The village lies in the middle of an endless expanse and here you can spend the whole of your time just exploring the different shades of sand. Here, the camel safari is just worth it and is a great experience.
The village is only accessible by jeep, camel, or horseback. The rustic surroundings of the village have huts made in the middle that blend perfectly in the tranquil atmosphere of the village. Here one can attain a certain level of serene and calm atmosphere. Here, spending a night below the stars with a borne fire is an intense romantic experience. And yes! Do be part of folk dance and music to enlighten up the evening.
Khimsar Fort: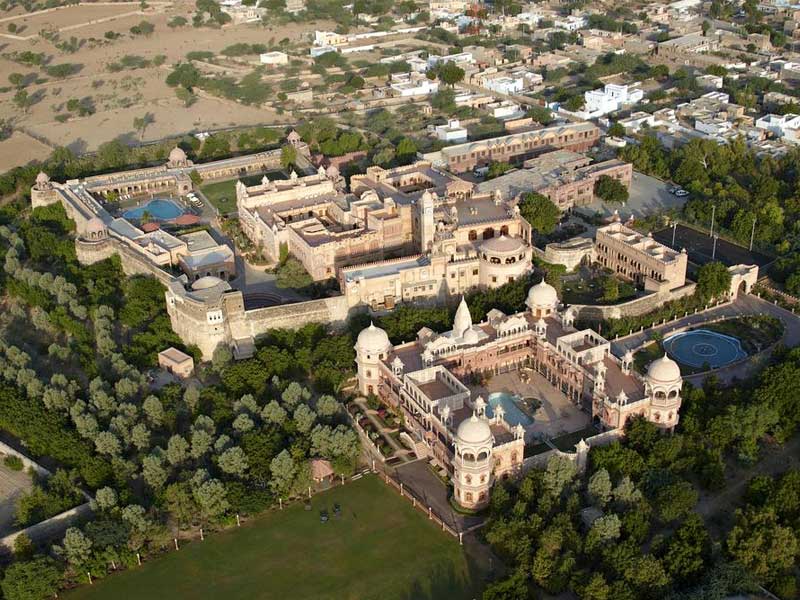 Nobody can miss this historical wonder in Khimsar at all. The fort has its origin in the 16th century and is owned by the Karasmot dynasty and was constructed by Rao Karamsiji, the eighth son of Ro Jodhaji, and the founder of Jodhpur. Just because of its striking beauty, the fort is now converted into a hotel and a part of it is occupied by the descendants of the royal family. The fort offers an enthralling experience to all its visitors.
The marvelous architecture and splendor of the fort make it one of the most beautiful forts in the whole state of Rajasthan. This fort is a must-visit monument in the state of Rajasthan. The fort speaks the splendid history of the Rajasthan.
The Village: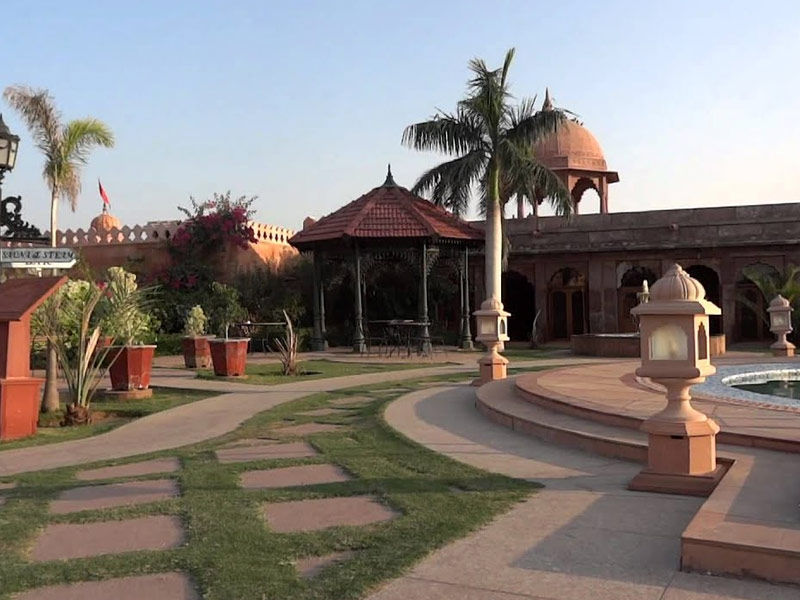 Khimsar Dunes Village and Khimsar Fort, compliments well to each other. The availability of adventure, history, leisure, historic sightseeing, wildlife safaris, sports, and desert adventure makes it a perfect, complete package to stay. Explore the beauty of the village and its rural life that appears to be so romantic. Moreover, the village has some luxurious huts designed in eco-friendly clusters and with rustic surroundings. Here you can also savor the tranquillity of the Thar desert in all its golden glory. Do explore it.
Nagaur Fort: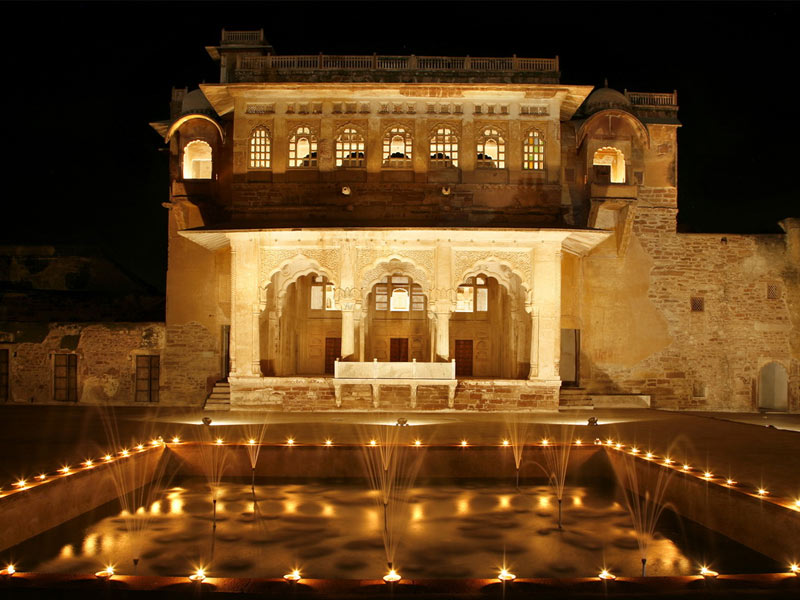 Also known as Ahhichatragarh Fort, is an ancient historical fort that is situated in the Nagaur district in Rajasthan. The Nagaur fort has been built by Mughal rulers Shahjahan and Akbar under the Kshatriya rulers. The fort is famous for its striking architecture and its big campus and high walls. The fort has witnessed several historic battles, and that is why it has a special place in the history of Rajasthan.
Currently, this fort has been converted into a heritage monument and serves as one of the tourist attractions in the city. The Nagaur fort has so many attractions for the tourists such as big campuses, gorgeous fountains, rustic temples, and a serene atmosphere. The highlights of the Nagaur fort include Amar Singh Mahal, Akbari Mahal, Amar Singh Mahal, and Rani Mahal. Moreover, a part of the fort has now been converted into a heritage hotel and offers a luxurious stay and services to its visitors.