Mandawa is a charming little town in Rajasthan's Jhunjhunu district, best known for its popular Mandawa Fort. Also, the town is known as the Open Art Gallery because it is full of paved archways and fortresses and magnificent havelis. The town is located in the heart of the Shekhawati region and is peppered with palaces and magnificent mansions (havelis). The aura and vibe of the location reflect the social and cultural environment of the era.
Because of its royal appearance, it is also a popular location for filming and is frequently visited by the media. Mandawa is a beautiful town located in the heart of the Shekhawati region. Often referred to as an open art gallery, Mandawa is a good getaway for people who enjoy art and culture.
Mandawa, like the rest of the Shekhawati region, is an ancient and one of the oldest cities in the region, and it is well worth a vacation. This city, which has a number of palaces, havelis, and forts, was an important stop for traders and merchants who exchanged goods via the silk route back in the day.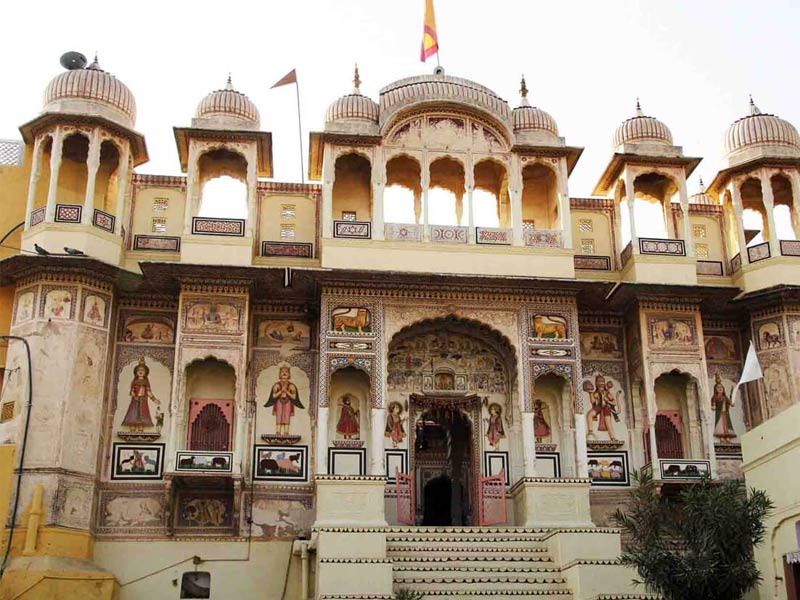 Because they grew up in a culturally rich environment, the locals appreciate art and are involved in artistic endeavours such as painting, craft handicraft, and so on. Mandawa can be easily reached by road and serves as a perfect place to sit back and relax while your eyes witnesses and your brain appreciates art.
BEST TIME TO VISIT MANDAWA
Mandawa, like most of northern India, has an extreme climate. Summers can be extremely hot, with temperatures reaching 40.5°C, while winters can be cold, with temperatures dropping below 10°C. Winter, from October to March, is the best time to visit this area. Annual precipitation ranges from 45 to 60 cm. Summer attire should be light tropical, and winter attire should be light woollen.
HISTORY OF MANDAWA
The dominant merchant families of the region settled and fortified Mandawa, a compact and bustling little market town, in the 18th century. Many havelis and baolis were built by the village's wealthy businessmen, and their walls were decorated with colourful paintings. Following the migration of these merchant families, their old settlements fell into obscurity, with no one to care for them. Despite the passage of time and widespread ignorance about these visual and architectural marvels, their allure has not faded, and they are now among the top attractions for visitors to Rajasthan.
PLACES TO VISIT IN MANDAWA
There are so many places to witness in Mandawa and here is the list of some of them-
Castle Mandawa-
Castle Mandawa is a stunning palace that is now turned into a hotel that stands tall and proud as a testament to the beautiful and colourful city of Mandawa. Located in the desert state of Rajasthan, Mandawa has a stunning castle. This Castle Mandawa is located in the Shekhawati region, which blooms in a variety of colours amidst the golden desert. Castle Mandawa was originally a palace and fortress, but has since been transformed into a luxurious heritage hotel. It is true regality at its finest.
The regal royal family of Mandawa generously decided to share the redefined elegance and mighty glory of this stunning and amazing work of art with the world by converting it into a luxurious and lavish five-star hotel where visitors can avail of modern amenities and admire its palatial architecture.
Castle Mandawa is a member of the Mandawa hotel group, a well-known hotel chain. The idea of reviving the opulence of the royalties in the form of an ornate and lavish hotel that drips with elegance and style is a very innovative one. This destination, embellished in what can only be described as the most exquisite designs, murals, and paintings, offers a luxurious and cutting-edge stay.
This destination, which is equipped with all the latest comforts and technologies, is an elegant blend of the past and the present. It is certain to make every guest feel special and cared for, and it will undoubtedly compel them to fall in love with its incomprehensible grandeur.
Havelis, Mandawa-
Mandawa, like any other township in the Shekhawati region, has a number of havelis. There is nothing special or exciting about havelis, but there are stories and art to appreciate if you have the eyes to see them. In Mandawa, you should go to Hanuman Prasad Goenka Haveli, Double Haveli, and Jhunjhunwala Haveli.
Open Air Art Gallery-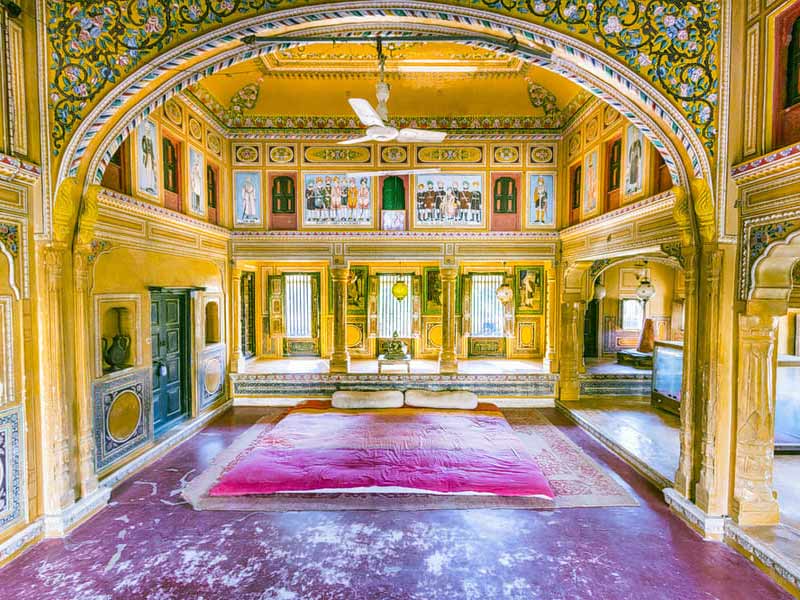 It is not a specific location, but the entire city can be described as one large open air art gallery. Mandawa was a popular stopover for merchants travelling along the Silk Road in ancient times. As some of them established themselves in the area, they built massive mansions for themselves and their families (Havelis). These havelis were not only large and beautifully designed, but they also featured frescoes and paintings.
With the arrival of Britishers, as this city was occupied by them, it saw the rise of contemporary art, which was similar to traditional Indian art forms. Over time, the world witnessed the fusion of two art forms, and Mandawa, with its palaces, designs, architecture, and frescoes, became popularly known as the Open Air Art Gallery.
Go for shopping in Mandawa-
Mandawa is a shopping and art lover's paradise. You have the option of shopping at government emporiums or on the street. Paintings, cloth art, brilliantly carved wood art, metal utensils, and bangles are all must-see items.