Mawlynnong Community, India's cleanest village, is also known as God's Own Garden with good cause. Mawlynnong was named the cleanest village in Asia by Discover India in 2003. Along with cleanliness, the hamlet has accomplished a great deal, such as a 100% literacy rate or a women empowerment scenario that the rest of the world can only dream of.
But are these reasons compelling enough to organize a trip to this mystical paradise? If you haven't already, these are the top reasons why this small community deserves a lot more visitors.
Best time to Visit Mawlynnong
Mawlynnong's weather is pleasant throughout the year. Monsoon is still the ideal time to visit Mawlynnong, Meghalaya. During the rainy season, the village and its environs grow lush green and hence incredibly beautiful.
Behdienkhlam in July, Wangala between September and December, and Nongkrem Dance Festival in October or November are the primary events observed in and around Mawlynnong Village.
What is the point of visiting Mawlynnong Village?
Mawlynnong Village is well-known for being one of India's cleanest communities. Because of how well the hamlet is kept in hygiene and cleanliness, it has earned a place on India's list of clean villages. There are numerous reasons why you should visit the village and some of the nearby tourist attractions. The town's intriguing elements and facilities, such as functional toilets, bamboo dustbins, and a ban on plastic bags and smoking, to name a few, make it a village worth seeing.
The inhabitants' way of life in Mawlynnong is quite polished, contributing to their capacity to keep the area clean. Not to mention the tribal cuisine, which allows you to experience something different.
Where to stay in Mawlynnong?
Some beautiful homestays in Mawlynnong allow you to remain close to nature while still having a good time with the locals. Some homestays are traditional huts, while others are concrete structures. Accommodation at Mawlynnong is simple and comes with basic amenities.
Ila Jong Homestay, Bangladesh View Homestay, Hala Tyngkong, Epiphany Society Guest House, and Sahpyngngad Homestay recommended Mawlynnong guesthouses/homestays.
The average cost per night is INR 2000.
How To Reach Mawlynnong, Meghalaya?
Mawlynnong became a renowned tourist destination after being named Asia's Cleanest Village. Mawlynnong is easily accessible by road from large cities such as Shillong and Cherrapunji. Here are the several routes to the village:
By Road: The roads leading to Mawlynnong are mostly in decent shape. Buses frequently go between the village and adjacent locations such as Cherrapunji and Shillong.
By Air: The nearest airport to Mawlynnong is Shillong, which is 78 kilometers away. From Kolkata, there are direct flights to Shillong. However, traveling from another city, like Delhi, you will need to take a connecting flight. When you arrive at the airport, you can take a taxi or a bus to Mawlynnong.
Rail: The nearest major railway station to Mawlynnong is Guwahati, which is 172 kilometers away. To get to the village, take a bus or a taxi from the station.
5 Best places to visit in Mawlynnong
1. Mawlynnong waterfall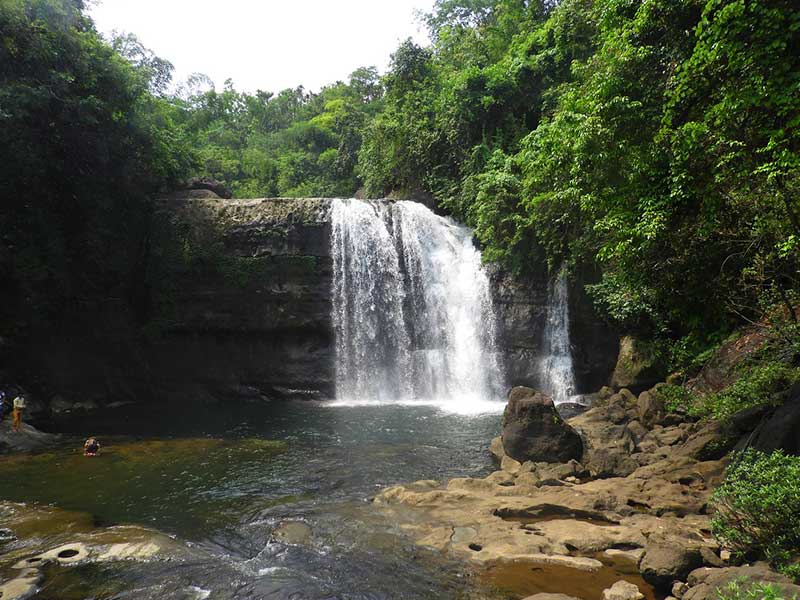 The magnificent Mawlynnong waterfall may be found as you travel through the trees from Dawki to Mawlynnong settlement. The gorgeous location with the shimmering waters has remained undisturbed. It continues to be void of human intervention, and it is easily a sight for sore eyes. The atmosphere created by the flowing waves and gorgeous surroundings will captivate you. The Mawlynnong waterfall's water flows into the same river that separates India and Bangladesh. The falls also have two bridges that are suitable for both automobiles and pedestrians.
2. Jingmaham Living Root bridge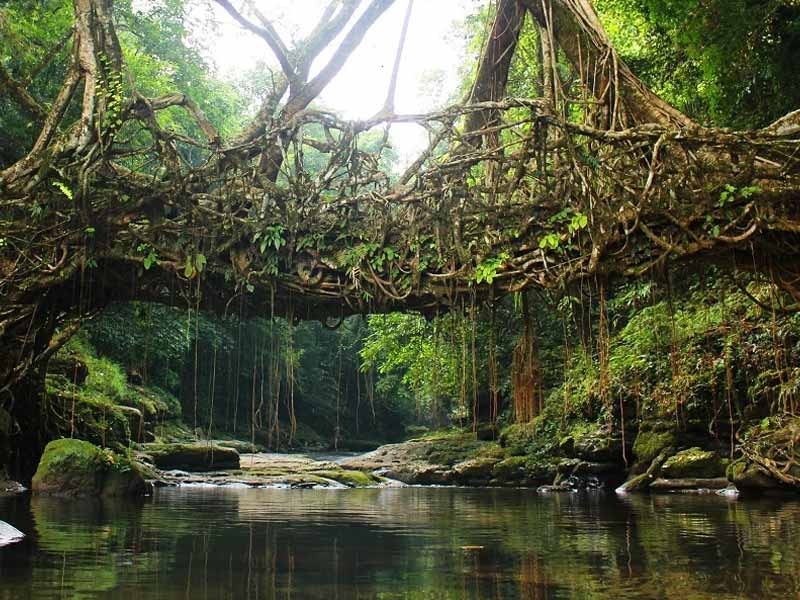 The Jingmaham Living Root Bridge is a UNESCO World Heritage Site and a well-known attraction that you should not miss in Mawlynnong. It is around 3 kilometers from Mawlynnong Village and is unquestionably one of the nicest spots to visit in Mawlynnong Village. The single-decker bridge was built across a brook some 300 years ago by connecting aerial roots of rubber and betel tree trunks. The roots have continued to intertwine and fortified with sticks, stones, bamboos, and leaves. The hamlet has maintained the live root bridge for hundreds of years and is a popular tourist destination near Mawlynnong Village.
3. Dawki-Shnongpdeng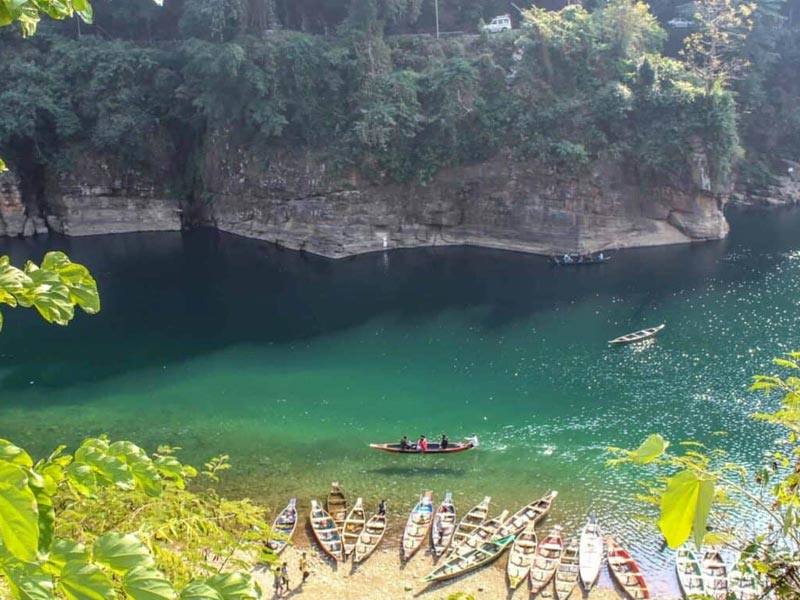 Dawki, in the West Jaintia Hills, is about 30 kilometers from Mawlynnong hamlet. The town has a sliver of a view of the magnificent emerald Umngot river. In fact, you can see the International Radcliffe Line border, which runs between India and Bangladesh. While driving from Mawlynnong to Dawki, you will be able to observe the breathtaking Bophill Falls. The roads only add to Meghalaya's splendor, and Mawlynnong hamlet deserves some credit for existing in such a beautiful setting. While enjoying the charming town of Dawki, you can reserve a room at the Shnongpdeng village, which is only a few feet away.
4. Mawlynnong Sacred Forest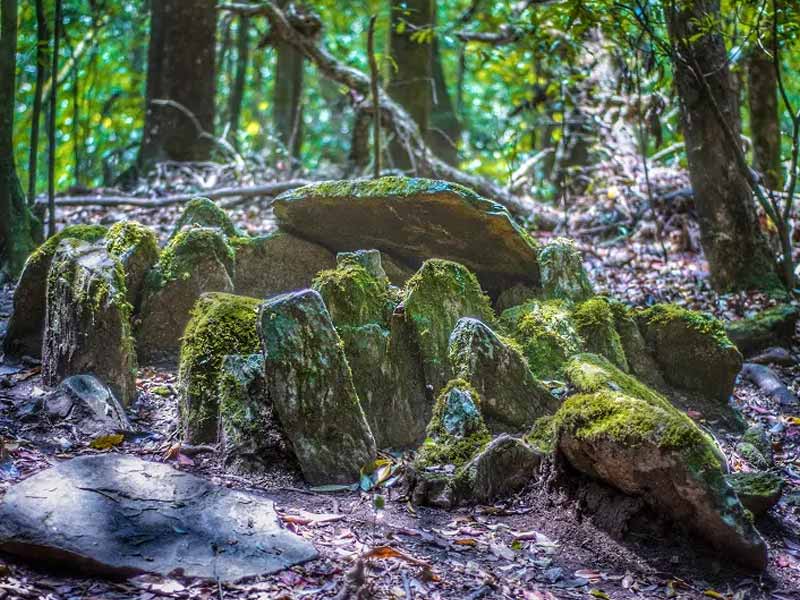 The gorgeous Mawlynnong Sacred Forest is one of the most popular tourist attractions and top locations to visit in the Mawlynnong hamlet, located in the East Khasi Hills. The woodland is referred to as sacred since it is home to medicinal plants. The Khasi tribe, who worships the forest, treasures the plant grove. It is also said that tribal members execute animal sacrifices and burn the bodies of the dead in their tribe. A fascinating Khasi Heritage Village, next to the sacred forest, consists of many styles and shapes of faux tribal homes. It is one of the best sites to visit in Mawlynnong because you will learn about tribal customs, biodiversity, and the environment.
5. Sky Walk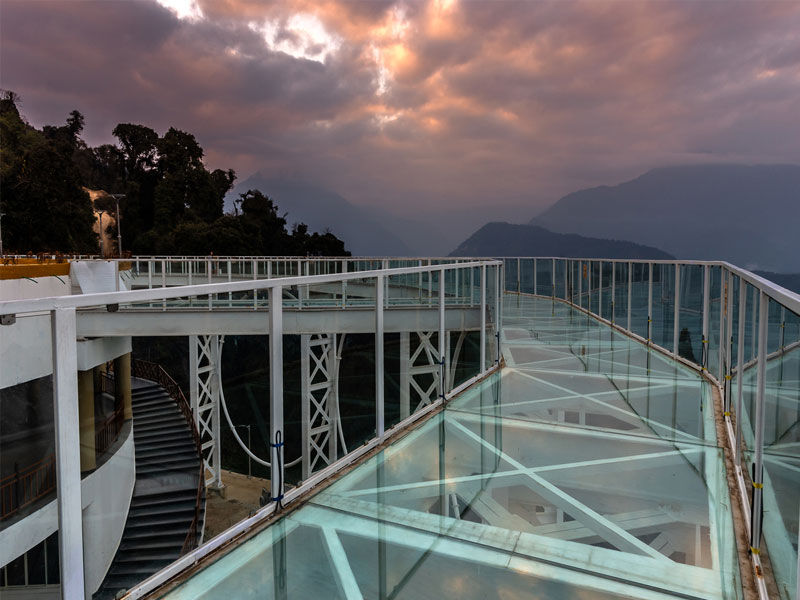 Sky Walk is a lovely treehouse located about 2 kilometers from Mawlynnong Village. It is also known as Northwest Viewpoint, and it is undoubtedly one of the nicest sites to visit in Mawlynnong. You may make the most of Meghalaya's natural splendor by taking in the views from the Sky Walk. It is around 85 feet tall and is an eco-friendly ladder-like structure made entirely of bamboo poles connected to a tree. The bamboo have been bound with jute and bamboo ropes rather than ropes. Tourists are permitted to ascend the Sky Walk for a bird's eye view of the beautiful Mawlynnong village and the Bangladesh plains.