For Pamukkale, we can't ourselves from picturing it in our minds as a beautiful cotton castle, velvety white rocks, a paradise with all white, magical hot water springs, and so on. It gives a proper glimpse of a fairy-tale-like land to every person visiting Pamukkale or even reading or imagining about it. This absolutely gorgeous natural site in Turkey, i.e. Pamukkale, is the heart of Southwestern Turkey.
Pamukkale is best known for its carbonate mineral that has been left by the flowing water. And over thousands of years, there this mineral has formed white water pools, that are known for their healing properties all over the world. But trust me! Pamukkale is much more than just these hot waters. Here's a perfect guide for the people who want to or are about to visit Pamukkale and this will surely guide you with its best, so keep scrolling!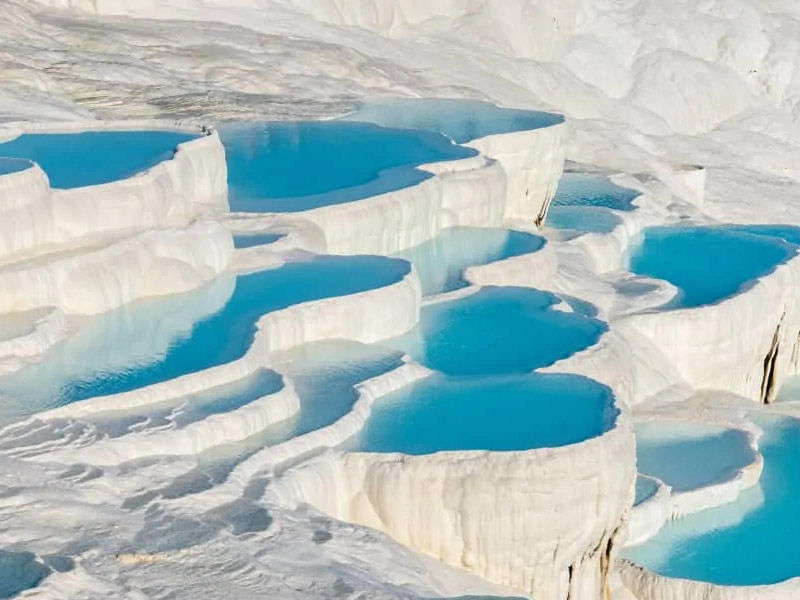 LOCATION OF PAMUKKALE
The beautiful site of Pamukkale is tucked away in the magnificent hills of the Denizli Province in southwestern Turkey. It's about 19 kilometers from the city of Denizli. In the inner Aegean region of Turkey, in the River Menderes valley, the site has a nice and pleasant temperature for most of the year. Turkey being an enormous country and the country that is visited by so many people from all around the world, still the hot pools of Pamukkale remain unexplored as it's located a little farther from the capital of the country.
REASONS TO VISIT PAMUKKALE
There can be ample reasons to pay a visit to Pamukkale, as it is worth visiting. The foremost thing that attracts so many visitors is its magnificent visitors and the mystery surrounding Pamukkale. For ages, the hot waters of Pamukkale hot waters are said to have some amazing healing properties. Legends even tell a story related to this amazing site and i.e. there was a young, ugly girl who lived in the small village near Pamukkale. She was so ugly that no one wanted to be with her and hence she became so desperate and lonely that she wanted to kill herself.
She, therefore, jumped off the highest cascade, but instead of being crushed to death, she fell into one of the water pools. The magical and mystical powers of the water washed away all her sorrow, and she became an attractive girl. When he climbed up from the water, she met Lord Denizli and he got mesmerized and awestruck by her beauty and fell in love with her. After that, he asked her to marry him and after that; they lived happily ever after.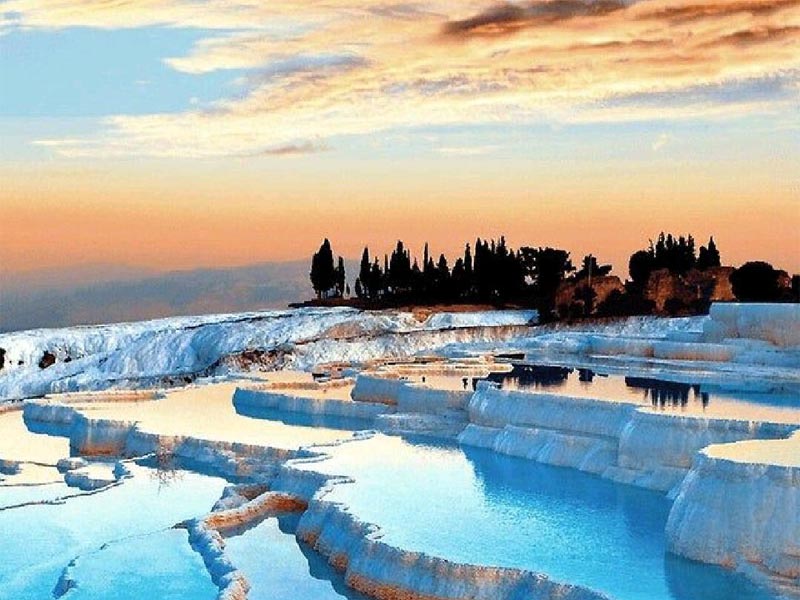 This can be one reason Turks say that bathing in the pools of Pamukkale cures illnesses such as chronic disorders and nutritional too. Even the problems related to digestive and circulatory problems also can be cured by taking a bath in the waters of Pamukkale. Hence, since ancient times, Pamukkale has been a flourishing spa resort, and even Cleopatra bathed in these healing pools. Now, thousands of people flock here to heal themselves with the healing water.
This city has, however, faced so many earthquakes in recent 100 years and the city has still not recovered but is still an amazing, beautiful and stunning place to pay a visit.
THINGS TO DO IN PAMUKKALE
Pamukkale has some super amazing and interesting activities to perform that keep the visitors busy and engaged here and give them a whole full bucket of memories. So, here is the list of such amazing things to do in Pamukkale-
Visit The Ruins Of Hierapolis-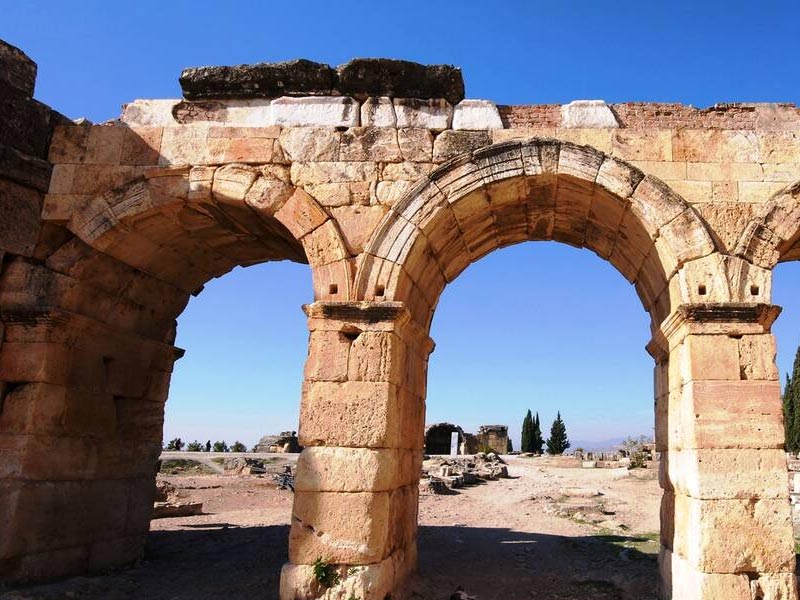 Hierapolis, a Greek colony founded by King Eumenes II of Pergamon in about 190 BC. However, this city was once a military outpost but is now transformed into a spa center. Even the ruins of this beautiful city are a great delight to see. There are long roads that are surrounded by towering columns. Here you can soak up in the beauty of the ruins of Hierapolis. Also, there is a Necropolis in the northern part of the ruins and a Byzantine church at the Southern end.
Bathe in Pamukkale's Antique Pool Near the Temple of Apollo-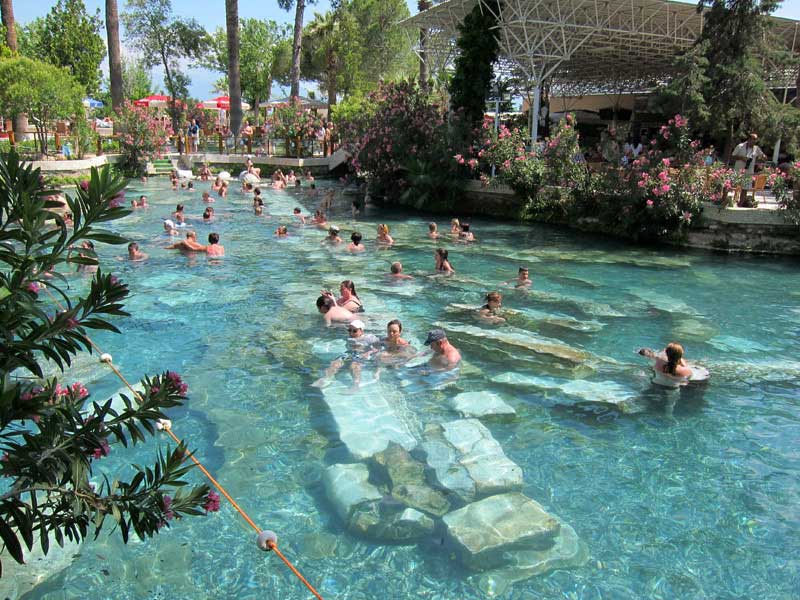 How can you explore Pamukkale without taking a bath in the antique pool near the temple of Apollo. It is very unlike the natural travertine pools. It is carved into the rock by Romans. A unique hot experience with submerged columns and marble pieces of the temple scattered in the water. You can even swim in the pools. However, the pool is open from April to October from 8 am to 9 pm.
Sit in the theatre of Hierapolis-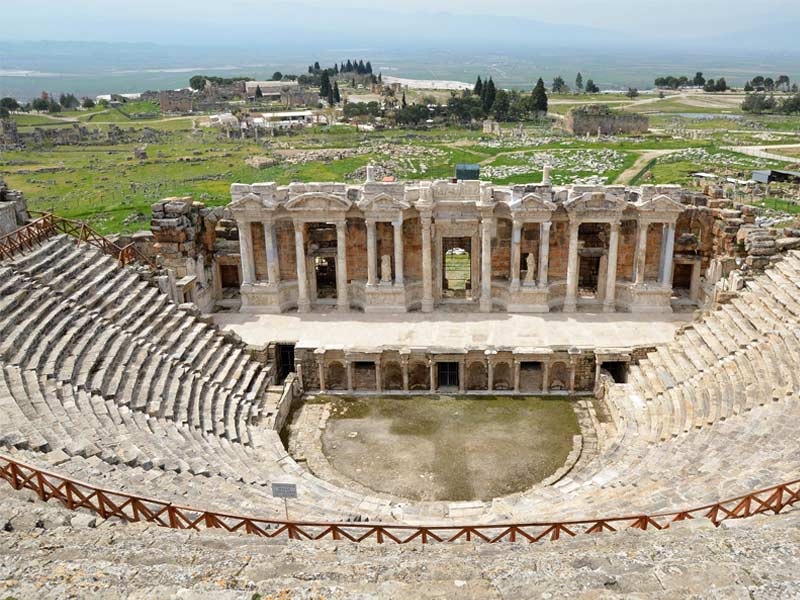 Theatre is the major attraction of Hierapolis. This amazing theatre stands on the top of the hill and overlooks the rest of the ancient colony of Greek. From the ruined city, it only takes 10 minutes to reach this amazing theatre. The theatre is incredibly well-kept and still reflects and keeps its original detail. Sit at the top of the theatre and you will have the perfect and stunning glimpse of the entire city.
Pay a visit to the museum of Hierapolis-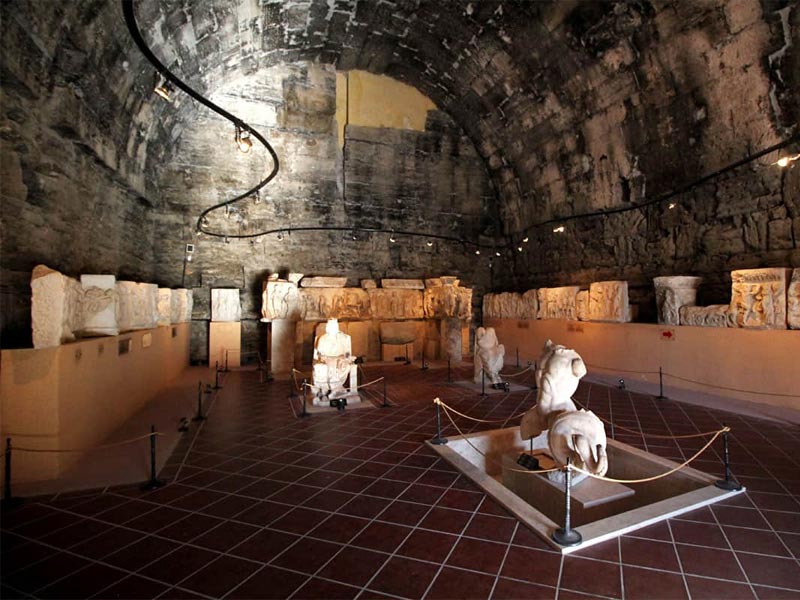 A small museum that has a great antique collection of antiquities from Hierapolis is a great place to pay a visit to Pamukkale. The museum is in a former Roman bathhouse. This museum will totally bring Hierapolis back to life and showcase some amazing arts, ancient sarcophagi, stone reliefs, and sculptures from the nearby site of Aphrodisias.