Rishikesh, the famous city and popular pilgrimage destination, is located in the Himalayan foothills. Rishikesh is located in the Uttarakhand district of Dehradun and is surrounded by low hills and forests. Temples, yoga and meditation centers, and ashrams dot the city's alleys. The river rafting at Rishikesh is a significant attraction that draws people from all over the world.
The city has a diverse mix of pilgrims and visitors looking for adventure. The city has its own buzz, complete with fruit and flower vendors and internet cafés on nearly every street corner. This is the city where spirituality and adrenaline thrill coexist.
Is white water river rafting India's most popular adventurous water sport? Yes, YES, Rishikesh's white water river rafting has captured the hearts of visitors from all over the world. This adventurous activity is popular with local travelers and international visitors from Japan, Korea, and Europe. True, it has now caught the itinerary of leisure travelers, who may be divided into students, families, and corporate travelers. Rafting at Rishikesh has increased Uttarakhand tourism, along with a variety of other activities.
With a rising number of adventurers engaging in Rishikesh whitewater river adventures, Uttarakhand adventure tourism has established a variety of beach camps and forest camps for the convenience of visitors camping in Rishikesh. That seems like a great vacation in Rishikesh, the Garhwal Himalayan foothill town known for pilgrimages and yoga centers.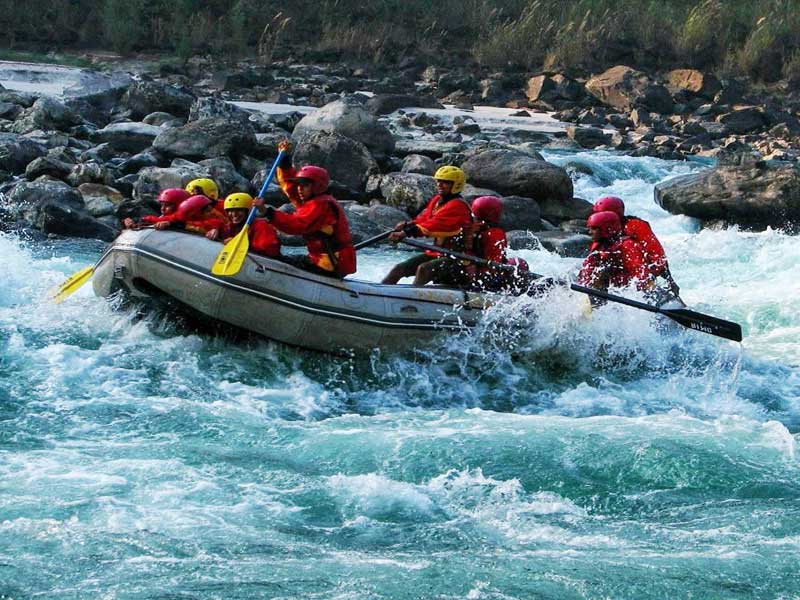 Rishikesh's major section of White Water River Adventure
The primary route of white water rafting at Rishikesh begins in Kaudiyala, some 40 kilometers up the road from Rishikesh.
Rafting isn't the only thing you can do in Rishikesh; you can also go camping, hiking, and do other activities. River rafting at Rishikesh, known for many other things, is something you must try at least once in your life. Rishikesh is a great weekend gateway destination for those living in and around Delhi. With so many visitors to Rishikesh each month, the Rishikesh tourism board has taken great care to meet the demands of every type of traveler and tourist.
The distance between Kaudiyala to Laxman Jhula in Rishikesh by boat is 36 kilometers. The route winds past renowned sandy beaches such as Byasi, Marine Drive, Shivpuri, and Brahmpuri and has many whirlpools. When you go white water rafting on the Ganges, you will encounter irregular waves, rocks, and a variety of other difficulties.
Denial Dip, The Wall, Black Money, CrossFire, Three Blind Mice, Return to Sender, Roller Coaster, Golf Route, Club House, Double Trouble, Hilton, and Terminator are among the 13 significant and hard rapids on the course, which range in difficulty from grade II to IV+.
How much time does it take to go from Kaudiyala to Rishikesh?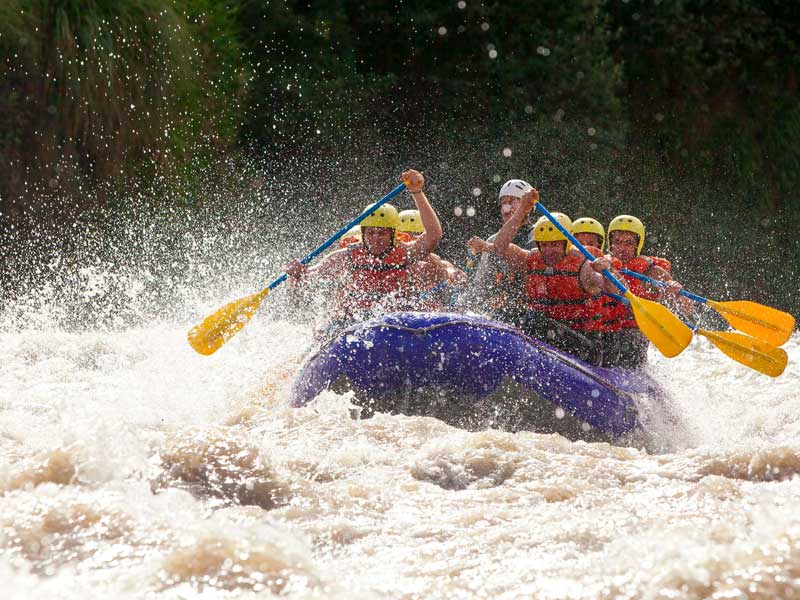 Rafting from Kaudiyala to Laxman Jhula in Rishikesh is not an easy feat, especially the stretch from Kaudiyala to Marine Drive. Combating all 13 big rapids and other difficulties takes roughly 8-9 hours. To complete the length in a single day, you must be an expert.
When is the ideal time to go on a Rishikesh Rafting Adventure?
Except during the monsoon season, which lasts from mid-June to September, river rafting at Rishikesh is highly demanded. February, March, April, May, October, and November see the greatest influx of rafters from across the world. Several rafting trips take occur throughout these months.
No vacation to Rishikesh is complete without a dip in the river. Rishikesh tourism boasts a plethora of operators who can arrange for good and reasonably priced river rafting programs. While you may be wondering what all the fuss is about with river rafting at Rishikesh? 
We give you some compelling reasons why Rafting at Rishikesh is a once-in-a-lifetime event.
The advantageous location
The greatest ever form of the Ganga may be seen in the Himalayan foothills. Whitewater rafting is a thrilling adventure activity that will pump up your adrenaline. The pure adrenaline rush of this activity is best experienced in Rishikesh. There's nothing like rafting across the pure white waters of the Ganges to witness its untamed waves. Except for the monsoons, the rivers are exactly right for making river rafting at Rishikesh a memorable experience. The rafting season in Rishikesh runs from September to June. Monsoon water currents are sharp and unpredictable.
Pure Adventure
Rishikesh rafting has grown in popularity and acclaim due to its long stretch of river. As it flows, the Ganges is about 37 kilometers long. The Himalayan rivers provide travelers with an excellent opportunity to see Rishikesh rafting, where the waters' wild currents may delight everyone, from experienced rafters to novices. The rapids here are well titled, with titles like "The Wall," "Initiation," and many others. Rishikesh rafting is regarded as among the greatest in the country. As a result, river rafting at Rishikesh is on everyone's bucket list.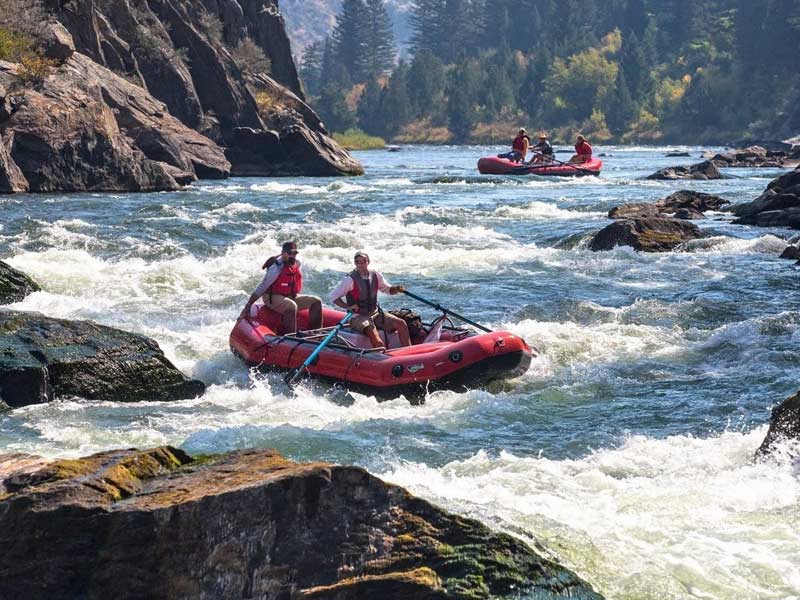 The Enticing Ganges
River Rafting at Rishikesh is a dream for many. It's not simply the excitement and thrills that will take your breath away, but the gorgeous Ganges will as well. Rafting packages in Rishikesh differ according to rafting level. The levels begin with beginner and go to advanced. You can pick the intermediate levels if you are not a newbie or an expert rafter. There is something here for everyone.
While the beginning places along with the Ganga change, the Laxman Jhula's terminus remains constant.
The River Rafting Pathway
Rishikesh river rafting is more than just another experience. The best place for rafting at Rishikesh is Kaudiyal. It is mostly aimed towards advanced or professional rafters. This tough 8-9 hour journey follows the banks of Shivpuri, Bramhapuri, Marine Drive, and Byasi. The route is riddled with whirlpools, and rafters must contend with 13 large rapids, as well as additional obstacles like boulders and steep windings.
The simplest way is from Bramhapuri to Rishikesh, which is around 9 kilometers from Rishikesh. This is the most commonly utilized track for novices since it is the lowest point and has a quick tempo of 1 or 2. To reach the finish line, rafts must navigate rapids such as Terminator and Hilton.
Camping beneath the stars is the best part of a Rishikesh river rafting trip.
After white water rafting, camping in Rishikesh is one of the greatest things to do. It's a fantastic camping spot because of the lovely surroundings and gorgeous vistas. The Rishikesh rafting season attracts rafters and campers who like seeing the stars dance in the nighttime. Rishikesh is also well-known for its original native cuisine, which will satisfy your taste buds with simple yet exquisite dishes.
Overcome your fears.
A journey to Rishikesh will be more than simply a trip for individuals attempting to overcome their worries. Whether you are afraid of water or of heights, the adventure sports available here will help you overcome your fears in the best way possible. After all, facing fear is the most effective approach to overcome it. River rafting at Rishikesh may appear frightening to some. Still, with the proper safety gear and training, this trip may be a once-in-a-lifetime event.
Click here for more details, such as price and booking.