Varkala is a town in Kerala, a southern Indian state. It is located on the Arabian Sea and is famous for Varkala Beach, which is flanked by palm-covered red cliffs. Papanasam Beach, just south, is said to have holy waters. The ancient Janardanaswamy Temple, located on a nearby hill, is a Hindu pilgrimage destination dedicated to Vishnu. The Sivagiri Mutt monument, located further inland, honors the social reformer Sree Narayana Guru, who is buried here.
Check out the top spots to visit in Varkala, from beaches to lakes, temples to backwaters, that will never fail to cast a magical spell on you! Choose the best ones for your trip and take photos to remember them. Make many memories on your trip to this lovely location and explore the sites to visit in and around Varkala.
1. Varkala Beach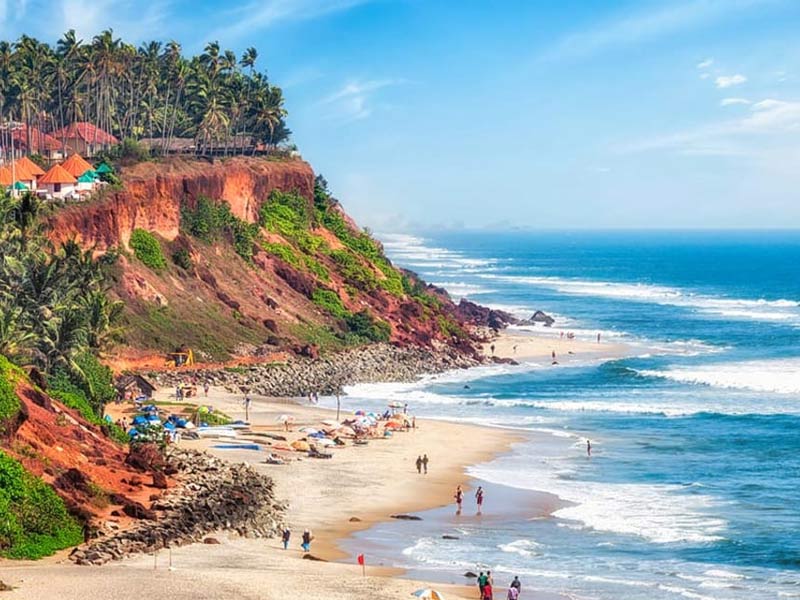 A vacation to Varkala tourist attractions must begin with a visit to Varkala Beach, one of the town's most popular attractions. The stunning cliffs that surround one end set it apart from other beaches. In fact, the town is the only one in this section of Kerala with cliffs overlooking the Arabian Sea. The Varkala Formation is the name given to the eye-catching formation. Aside from the breathtaking view from the summit, there are baths and water spouts to discover that are thought to be sacred and healing.
Other attractions at Varkala Beach include the Janardana Swami Temple, a 2000-year-old religious institution dedicated to Vishnu, and the Sivagiri Mutt, an ashram constructed more than 100 years ago by Sri Narayana Guru. This is also one of the most popular Varkala tourist attractions.
Activities include sightseeing, swimming, and boating.
2. Ponnumthuruthu Island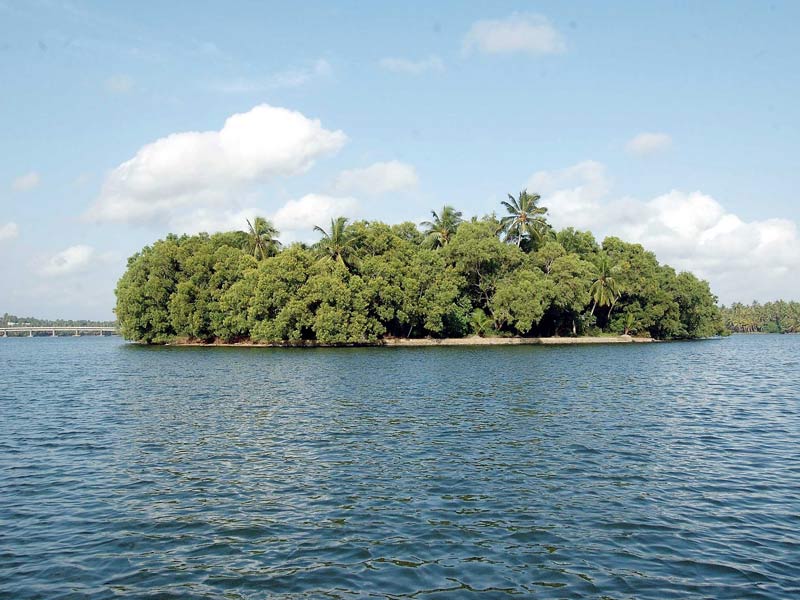 Ponnumthuruthu Island, 20 kilometers from Varkala, is an undeveloped green space ideal for nature treks and bird watching. It is one of the most popular tourist destinations in and near Varkala. Migratory birds stop here, and if you enjoy watching them, bring a pair of binoculars and enjoy watching them go about their business. The island also features a century-old Shiva and Parvati temple.
You can only reach here by hiring a boat from Nedunganda Village. You can plan a day trip to the island and spend several hours exploring and picnicking before going to Varkala.
Activities include boat trips and bird-watching.
3. Anchuthengu and Anjengo Fort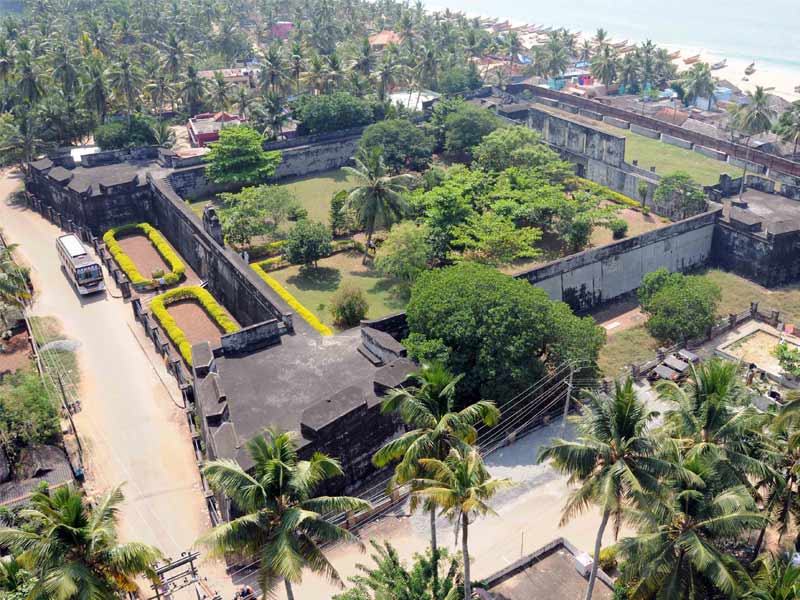 Anjengo Fort, which is centuries old and rich in history, was erected by the East India Company in the late 17th century. The Queen of Attingal gave it to the corporation. According to local folklore, the British could not pronounce the town of Anchuthengu, where the fort was built, and instead dubbed it Anjengo. This location is also bordered by some of Kerala's most beautiful islands.
Anchuthengu and Anjengo Fort are two of the most prominent Varkala tourist attractions today. The village has historic structures such as a century-old convent and soldier tombs. Walking through the streets, it's easy to feel as if you've gone back in time. The old-world charm is palpable!
Historical tours are among the things to do.
4. Kappil Lake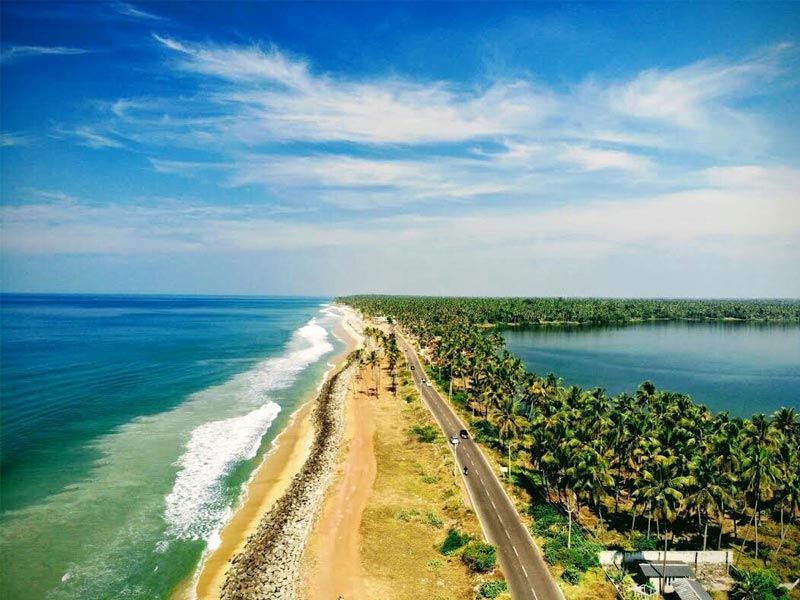 Kappil Lake is a must-see attraction in Varkala, Kerala. It's peaceful and picturesque, with coconut palms and calm seas providing an instant escape. It's only about six kilometers (Km) from Varkala town, so come here whenever you need to escape the crowds and when you are free.
There are boats for rent, allowing you to explore the gorgeous waterway. Carry a camera and photograph the palm trees nearby. You should also walk across the lake on the bridge that has been built. The views of the lake stretching into the horizon are breathtaking, making it one of the top Varkala tourist attractions.
Activities include boating and sightseeing.
5. Kappil Beach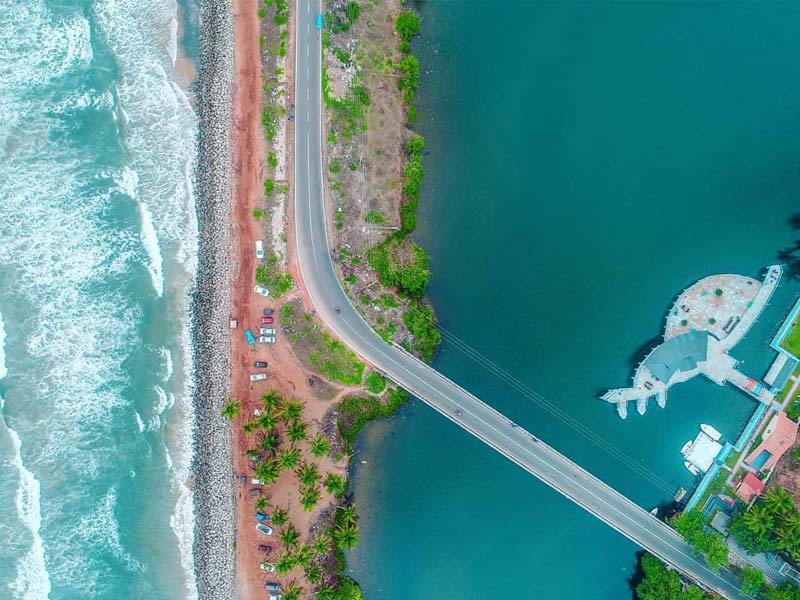 Kappil Beach, where Kappil Lake meets the Arabian Sea, is one of the nicest spots to visit in Varkala. The lake lies directly across the street, separated by a metaled road. The beach isn't very big, but the rocks and palm palms form tiny heaven and provide many photo chances for shutterbugs.
Look for photographs with a bird's eye view to better understand how beautiful Kappil Beach and Kappil Lake are. The contrast between the serene lake on one side and the seething sea on the other is breathtaking. After you've explored both sides of the area, head to Vettekkada Beach, which is only a short distance away. It's beautiful and isolated, making it ideal for tourists searching for some "me" time.
Activities include coastal walks, boating, and a picnic by the water.
6. Janardana Swami Temple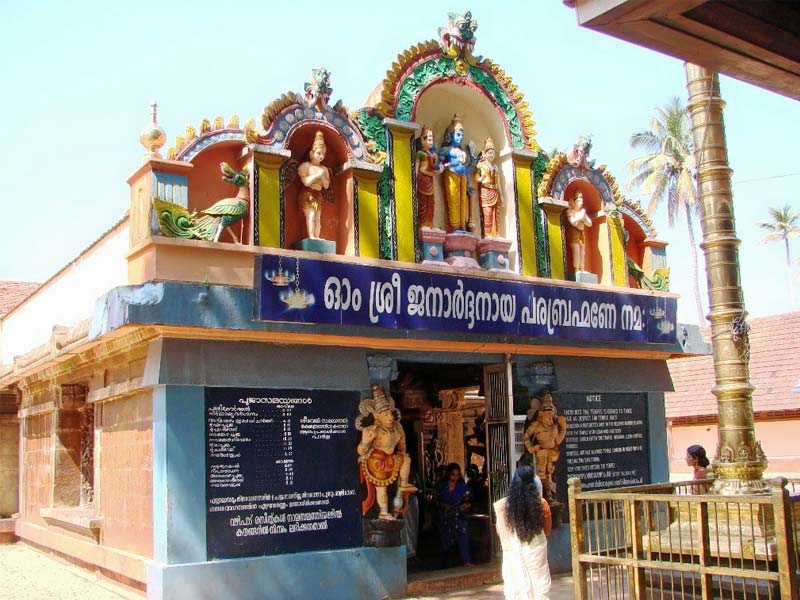 Janardana Swami Temple, almost 2,000 years old and still standing, is a center of worship for Vishnu devotees. It is known as the Varanasi of the South and is located on a hill near Varkala Beach. It is one of the top Varkala sightseeing spots. You can stop by on your route. On the premises of this Varkala temple, a banyan tree sits with idols beneath it. Non-Hindus are not permitted into the inner sanctuary. However, they are welcome to explore the grounds and view the temple's exterior.
7. Sivagiri Mutt – Calm Your Senses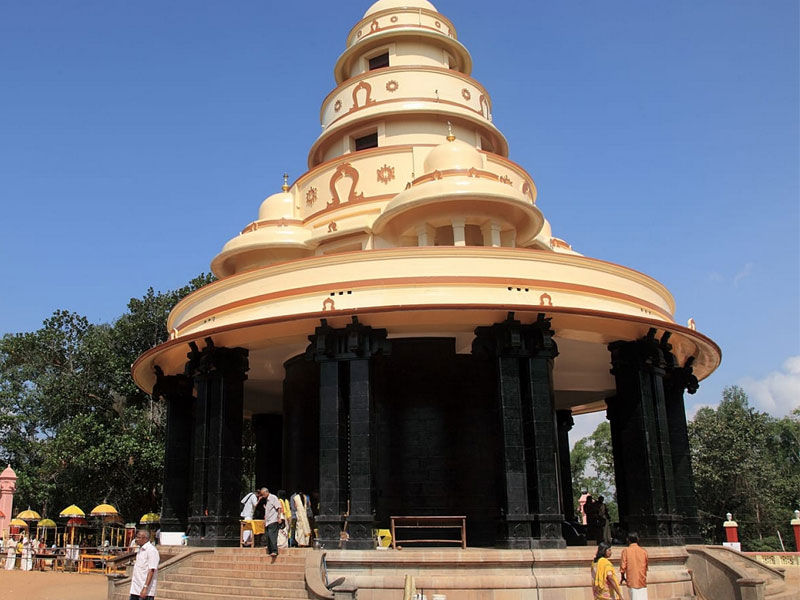 Sivagiri Mutt, Sri Narayana Guru's ashram, and mausoleum areas are located atop Sivagiri Hills and major Varkala tourist attractions. It is thought that this is where the social reformer attained enlightenment. During the Sivagiri Pilgrimage, which takes place from December 30th to January 1st, you may expect to observe a continual stream of devotees that rises to thousands.
The rites observed during the period are distinct from those practiced during other religious pilgrimages. Devotees must purify themselves according to Buddha's mind, body, food, word, and deed principles.
Religious observances are among the activities available.
8. Odayam Beach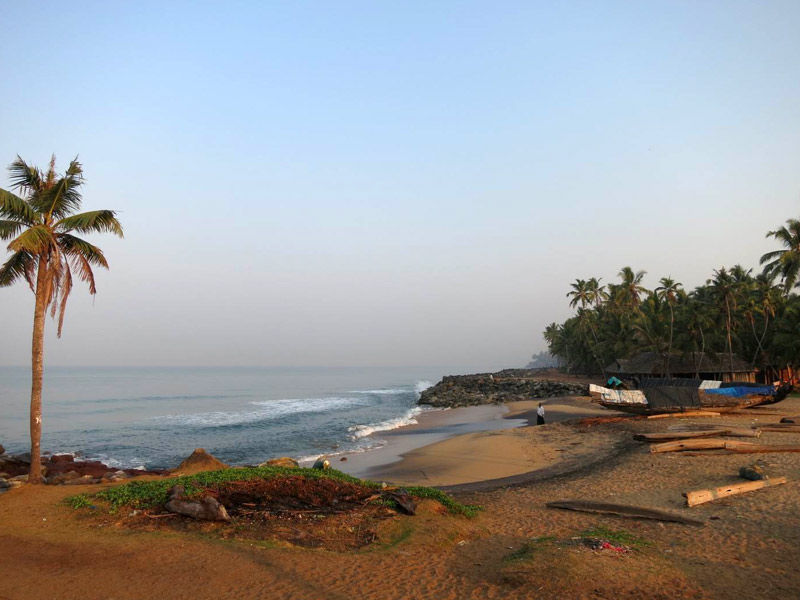 Odayam Beach, located just a few kilometers away, is a clean stretch of soft sands between the magnificent Thiruvambadi beach and the Cliff beach. Odayam Beach is one of the best places to visit in Varkala because it allows visitors to enjoy the quiet side of this coastal town. And for those eager to explore Kerala's hippest side, this is the place to be.
Activities include boating and swimming.
9. Varkala Lighthouse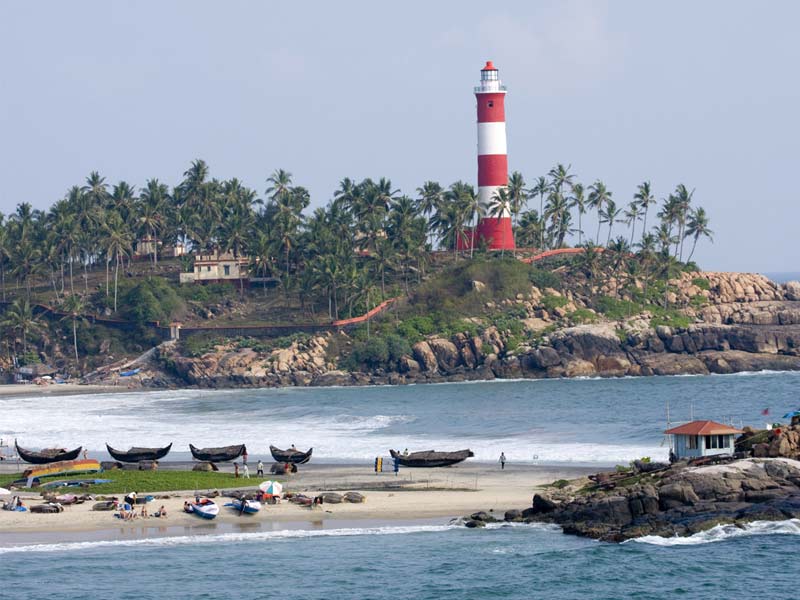 Varkala Lighthouse, built-in 1684 by Britishers to aid ships sailing from Britain, is a well-known landmark in the seaside town and one of the top locations to see in Varkala. The lighthouse tower, which stands 130 meters tall, provides spectacular bird's eye views of the coast. People come here to enjoy a pleasant evening or a picnic. It is also a popular location for photographers and video shooting. Bring your DSLR camera when you visit Varkala Lighthouse.
Sightseeing and historical tours are among the activities available.
10. Vishnu Temple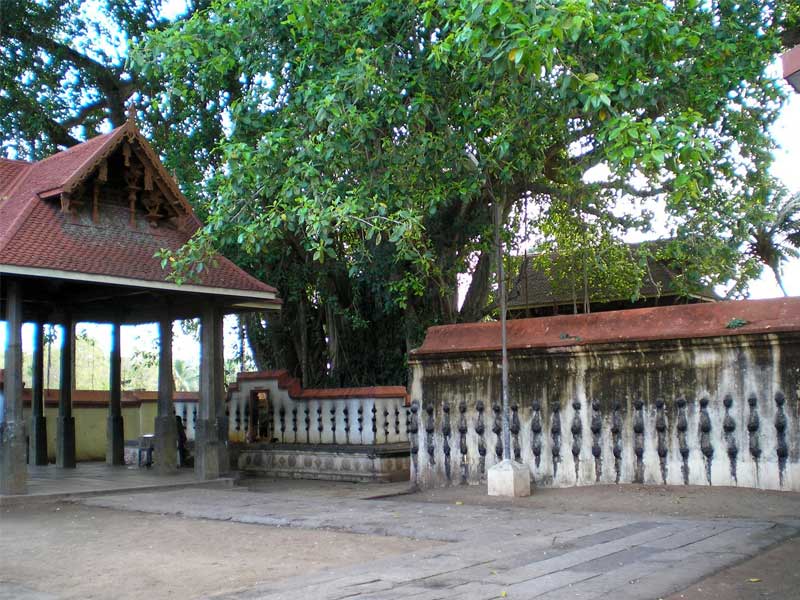 This old temple, a renowned religious destination in Varkala, dates back to 2000 years. The shrine is fairly close to Varkala beach. As a result, it is very easy and convenient to spot. People come here to pay homage to Lord Vishnu. If you're walking near the shore, you can stop by the temple for a quick visit. It is one of the best unusual Varkala tourist attractions that you should see.
Activities Include: Religious Observation