KFC is a must-visit for all chicken lovers and one of the world's most popular fast-food restaurants. KFC was formerly known as Kentucky Fried Chicken till the year 1991, is a fast-food restaurant that specializes in delicious fried chicken and also sells a variety of other snacks. After McDonald's, KFC is currently the world's second-largest restaurant chain.
The fast-food hub, which is present in 123 countries, is a popular choice for young people and families looking for a delicious, filling, and affordable fast food. The QSR chain's menu is constantly being updated, and some of the dishes have developed a cult following over time. Chicken buckets, chicken drumsticks, chicken burgers, and chicken popcorn nuggets are all delicious. Every chicken lover's dream comes true when they visit KFC.
The extensive selection of KFC's chicken snacks will undoubtedly leave you wanting. Customers can also enjoy a variety of beverages and desserts at the outlet. Fried chicken recipes of KFC have now become a sensation worldwide, and if you're a lover, here's the lowdown on KFC's unique menu, and history. Prepare to be wowed by a slew of delectable treats.
HISTORY OF KFC
Colonel Harland Sanders founded KFC, and the company has come a long way since then. Colonel Sanders faced a difficult task in breaking through hamburger dominance in the fast-food scene during the Great Depression. During the Great Depression, Colonel Sanders started selling fried chicken from a roadside restaurant in Corbin, Kentucky. Soon, people of all ages began to sign up. The first "Kentucky Fried Chicken" franchise opened in Utah in 1952, recognizing the potential of his delicious chicken and the change it can bring about in a restaurant franchising concept.
KFC gradually introduced new snacks that experimented with foods other than chicken. The American favorites such as mashed potatoes,  potato wedges, Mac and Cheese, green beans, and sweet kernel corns are also available. A healthier grilled chicken is also one of the most popular menu items for those who prefer their food to be lower in calories. Those who enjoy spicy and flavourful food can enjoy their iconic Nashville chicken, which is chicken sautéed in a rich and spicy sauce and served with coleslaw and a biscuit.
MOST UNIQUE ITEMS FROM KFC MENU AROUND THE WORLD
The Philippines
In the Philippines, the Double Down Dog is the most eye-catching menu item. The item is a cheese-stuffed frankfurter with a fried chicken fillet serving as a hot dog bun. The advertisements do everything in their power to make it appear appealing. The Chizza, a ham and pineapple pizza with a fried chicken base instead of dough, was first introduced by KFC Philippines in 2015. Because the novelty item was so well received, it was also introduced in Singapore.
China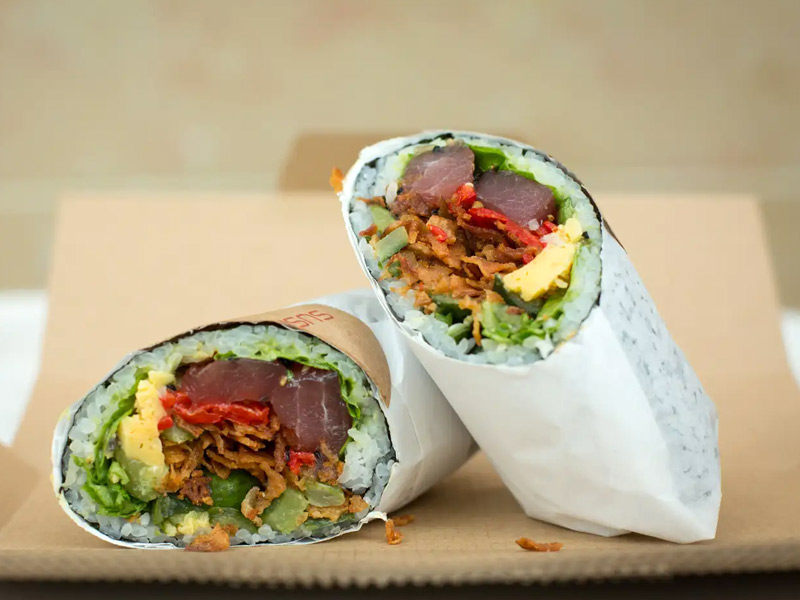 KFC is the most popular fast-food chain in China, having opened their first store there in 1987, two years before McDonald's. Their range contributes to their success. KFC's menu in China is much larger and more complex than in Australia or the United States. A chicken and seaweed rice bowl, peach tea, congee (or rice porridge), and breakfast sushirittos, a hybrid of sushi and burritos, are on the menu. A dragon twister and a Peking Duck-styled with chicken wrapped in a thin pancake along with spring onions, with cucumbers, and sweet bean sauce, is also available. Also, curries with rice, soup, and a shrimp burger with whole delicious prawns packed into a breaded pattie are available here.
Thailand
A shrimp donut is a prawn breaded in a ring shape and deep-fried item on the menu at Thailand's KFC. Egg tarts, tuna corn salad, two spicy fish rice bowl options, or a plate of plain rice are also available.
Japan
KFC Japan introduced a deep-fried corn soup in 2013, which sounded impossible for Western ears. On the outside, the limited-edition item resembled a chicken nugget, but when bitten into, it oozed corn soup. KFC is a Japanese institution that has successfully marketed itself to become a popular Christmas destination.
South Korea
Due to Korea's long and proud history of fried chicken, KFC had a more difficult time establishing itself there. But that doesn't mean KFC has been stingy with its menu options. The Ginger Double Down consists of a hash brown, two slices of cheese and bacon, and two fried chicken patties. One Ginger Double Down contains 95% of the daily recommended saturated fat allowance and 97% of the daily sodium allowance. It goes well with hot chocolate, a café latte, or a cold beer.
Saudi Arabia
In the Kingdom of Saudi, prawns play an important role in the KFC menu. The Zinger Shrimp Supreme contains deep-fried prawns in a bun, along with a lot of lettuce and mayonnaise. The Ramadan deal also comes with a box of ten Krispy Kreme donuts and a bucket of rice.
Russia
Breakfast at a fast-food restaurant is rarely the healthiest option, but KFC customers in Russia can order oatmeal. Hot dogs, curd cakes, tangerine lemonade, and beer are also popular options.
India
In India, where 40 percent of households do not consume meat, there are many vegetarian options on the menu. The Veg Zinger, a fillet of vegetables topped with lettuce and eggless mayonnaise, is available in addition to the standard KFC menu. Rice bowls, with chicken or deep-fried vegetable strips served on a bed of rice, are the main difference between India and Australia.
Brazil
This has got to be one of the oddest. In Brazil, KFC created a chicken burger topped with creamed corn. Philadelphia cream cheese was used to make the creamed corn.