What strikes in your mind when you think about Mediterranean cuisine? Is it moussaka, a famous Greek dish? Or Hummus, börek, tabbouleh, and baba ghanoush are also some of the options probably had at least one of those dishes. And you have probably tried at least any one of them. There are numerous ingredients and dishes that are distinctively and iconically in the Mediterranean, ranging from loaves of bread to vegetables to oils.
However, there are so many delicious dishes that are truly Mediterranean as a true Mediterranean cuisine encompasses the Mediterranean basin, which includes several vastly different geographical areas such as Greece, Spain, Italy, Turkey, Egypt, and Syria, among many others. Olive oil, wine, bread, and dried spices are all important components of Mediterranean cooking. Now, let's dive deep into the blog and know about Mediterranean Cuisine that will get you some good cravings…
WHAT IS MEDITERRANEAN CUISINE?
GREEK FOOD
The first thought that hits the mind of the people when they hear the phrase "Mediterranean cuisine" is typically Greek food. However, much of Greek cuisine is influenced by Turkish, Persian, and Arabic foods and ideas. Along with so many other Greek neighbouring countries and hence it is unavoidable! For example, Tzatziki may appear to be authentically Greek, but it has its roots—right down to the name—are Turkish. Greek cuisine dates back several thousand years and is deeply ingrained in Greek culture as a whole.
Among many other ingredients, modern Greek cuisine relies heavily on olive oil, vegetables, fresh seafood, wine, lamb, beef, lemon juice, and cheese. There are so many regions within Greek cuisine, like Macedonian, Cypriot, and Cretan, but for the sake of convenience, let's look at some iconic, traditional Greek dishes!
Pita Bread
We've all had pita bread, which is a Greek staple. Since the time of 1100s, pita has been an integral part of Greek cuisine. Pita bread is not eaten often in pieces alongside the meals in Greek cuisine, as so many Americans are accustomed to. Pita bread is majorly used in the Greece as a sandwich pocket for gyro, souvlaki, and other sandwich/condiment combinations.
Dolmades, or stuffed grape leaves
Dolmades are grapevine or cabbage leaves that have been stuffed with rice and herbs and boiled until the leaves are fork-tender. The term "dolmades" is unique and different to Greece, but the concept of "dolma" can be easily found in many other Mediterranean cuisine, and its leaves can be stuffed with onion, tomato, or minced meat.
Gyro
A gyro is one of the most well-known Greek dishes in the United States, and it is made from meat cooked on a vertical rotisserie spit. The origin of gyro can be traced back to the time of doner kebab, and has now become a popular fast food option in Greece. Gyros made from pork or chicken are common in Greece.
TURKISH FOOD
In the United States, Turkish food is not as popular as Greek food, but their cuisine are very similar. However, unmistakably Turkish, foods such as yogurt-based sauces,  kebab, and pide cross borders with other neighbouring cultures and cuisine.
Kebabs
We could go on and on about the importance of kebabs in Turkish cuisine, as they refer to not only meat on a stick but also meat wrapped in bread, casseroles, and stews. There are numerous meat-based dishes that embody Turkish cuisine and are still prepared today, ranging from döner kebab to kagit kebab (a mixture of meats and vegetables that is baked in a paper pouch) to shish kebab (the skewered grilled meats and vegetables).
Menemen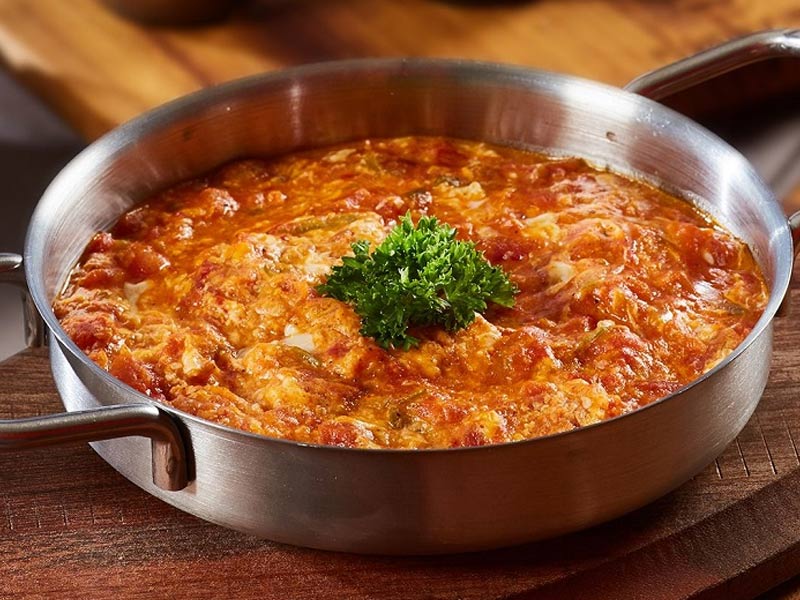 Menemen is an egg dish with green peppers, tomatoes, and ground pepper. Before cooking, fresh herbs can be mixed into the scrambled egg mixture. Menemen is commonly served for breakfast in Turkish cuisine, accompanied by bread for dipping and a variety of side dishes (In Turkey, breakfast is typically a heavy meal.). It's served in the same pan that it cooks in, as with many other Turkish dishes, allowing for additional cooking after the heat is turned off.
Desserts
Turkey is responsible for many world-famous desserts! Turkish delight, baklava, and halva are just a few examples of Turkish desserts that are popular in the United States and continue to be popular in Turkey. Baklava is made with pistachios, almonds, or walnuts and can be made in a variety of ways. To make a lighter preparation, several variations substitute milk or fresh cream for the syrup or honey traditionally used.
SYRIAN FOOD
Syrian cuisine has evolved dramatically over time, but many of the recipes that are still used today date back thousands of years. Syrian food is one of the most vegetable- and lentil-heavy cuisine in the Mediterranean, relying heavily on eggplant, cabbage, cauliflower, chickpeas, pistachios, and a variety of other vegetables and legumes.
Meze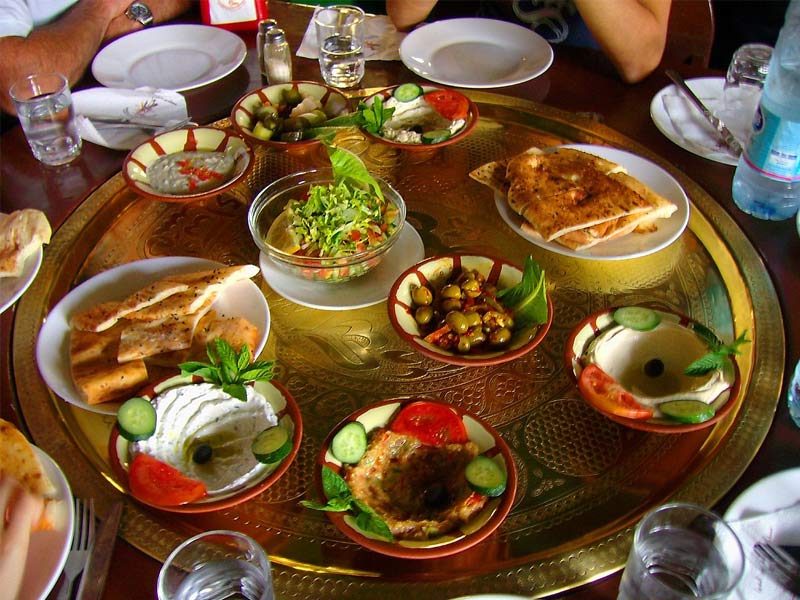 Before the main course, meze is traditionally served with bread in Syrian culture. Hummus, baba ghanoush, kibbeh, and muhammara are popular Syrian dishes.
Shawarma
Shawarma, arguably one of the Syria's most popular street food, contains of bread that is stuffed with shaved meat (beef or chicken) and is served with hummus, onions, pickles, and occasionally French fries. Shawarma is served on a platter along with hummus, salad, pita, garlic sauce, and rice in a sit-down restaurant setting.