Navratri brings new hope, enthusiasm, and a great sense of excitement with itself. It is just like a fest in India and every household gears up with excitement and devotion to celebrate it with utmost sincerity. Navratri spans for nine to ten days and during these days, there is a great sense of joy and excitement in everybody's heart.
This festival is celebrated to pay respect, prayers, and gratitude to the Goddess Durga. It is celebrated with great fervor and pomp throughout the entire country of India. It is essentially a festival that is dedicated to the feminine power who is regarded as Shakti in Hinduism. Navratri marks the importance and potential of women and is a reminder for society to treat them well and with the utmost respect.
As we are gearing up to celebrate Navratri, it becomes important to know more about it. So, let's begin this Navratri of ours with some amazing facts and information about Navratri that will help us all in celebrating this Navratri with double devotion, enthusiasm, and excitement.
NAVRATRI: MEANING AND HISTORY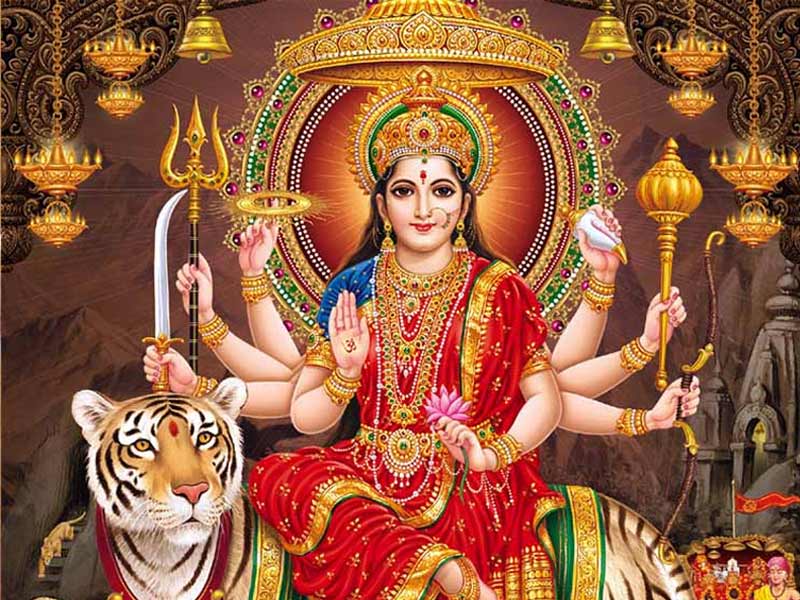 Navratri is a Sanskrit word that literally translates into nine nights and is one of the most important festivals of the Hindu tradition. However, there are four seasonal Navratri and this one is known as Sharda Navratri and is going to begin from October 7th and will last till October 15th.
It is celebrated in the bright half of the Hindu Lunar Month, Ashwin. It is the most celebrated Navratri and comes every year. It begins on the first day of Shukla Paksha and then continues to Ashvin Shukla, i.e. end of the ninth day from the beginning. During these nine days, different incarnations of Goddess Durga are worshiped, and that too with great devotion and sincerity.
THE NINE INCARNATIONS OF GODDESS DURGA
The nine incarnations or nine forms of Goddess Durga are as follows-
Shailputri:
The very first sacred day of Navratri is dedicated to Goddess Shailputri, who is always mounted on a bull. She is the dear daughter of the King of the Mountains and hence; she is named Shailputri. She is depicted holding a trident in her right hand and a lotus in her left. Her forehead is adorned with a crescent. She is also referred to as Vrisha Roodha and, interestingly, who was Sati in her previous birth? She represents Mother Nature and also governs the moon. She is worshiped by the people to get them rid of the ill effects of a celestial body.
Brahmacharini:
The second day of Navratri celebrated Goddess Brahmacharini and, as her name suggests, she is an ascetic. Portrayed in a white saree, holding a Kamandal in one hand and Japmala in the other. She is believed to rule Mangal or Mars and bless her devotees with good fortune.
Chandraghanta:
On the third sacred day of Navratri, Goddess Chandraghanta is worshipped. As a crescent moon on her head resembles a bell, she is referred to as Chandraghanta. Mounted on a tiger, she is depicted with ten hands, holding a trident, a mace, a sword, a kamandal on her left side, and a kamandal, a lotus, a bow, and an arrow in her right. Also, she holds the Vara and Abhaya Mudra in her other two hands, respectively. She is believed to govern Shura, of the Navgrahas and bless her devotees to protect them from evil.
Kushmanda:
On day four of Navratri, Goddess Kushmanda is worshiped. She stands for energy and radiates the brightness f the sun and is seen mounted on a tiger and is depicted with eight hands. On her right, she holds a lotus, a bow, an arrow, and a kamandal and on her left, she holds a discus, a mace, a japmala, and a pot. This incarnation of Goddess Durga is the source of all the beings and cosmic powers. She is considered as the one who created this entire universe and is hailed as Adishakti and Adhiswarup.
Skandamata:
The mother of Skanda or Lord Kartikeya, Skandamata, is worshipped on the fifth day of Navratri and can be seen seated on a lion. She has a baby in her lap and is depicted with four hands. She holds lotuses in two of her hands. And one of her hands is in Ashirwad mudra while the other one holds her baby Skanda. She is believed to govern planet Budha and is said that she has the powers to grant salvation, treasures, and prosperity to her devotees.
Katyayani:
Goddess Katyayani is worshipped on the sixth day of Navratri, She is seen carrying a sword, a lotus flower and keeps two of her hands in Varda and Abhaya mudras. She is seen mounted on a lion and is considered being the daughter of Sage Katyayana. She has been blessed with the powers of devas to kill Mahishasur.
Kalratri:
On the seventh day of Navratri, Goddess Kalratri is worshiped and is considered the fiercest form of Goddess Durga. Can be seen seated on the donkey and is portrayed with four hands. The right-side hands are in Abhaya and Varada Mudra, whereas the left side of her hands hold a sword and an iron hook. Goddess Durga took this form to kill Shumbha and Nishumbha, two forms of demons.
Mahagauri:
The eighth day of Navratri or Asthami is dedicated to Goddess Mahagauri. She is portrayed as a four-armed deity riding on a bull or white elephant. She can be seen carrying a Trishul and a damru in her hands. She is known as Mahagauri because of her fair complexion.
Siddhidatri:
The ninth and final day of Navratri is dedicated to Goddess Siddhidatri. She is portrayed as a four-armed deity, sitting on a lotus and holding a mace, disc, and a book and lotus in her hands. She is the epitome of perfection and blesses her devotees for the safety and security from unnatural happenings. She is the manifestation of the formless Adishakti and is worshipped by Lord Shiva himself.
HOW ARE THE GRAND 9 DAYS OF NAVRATRI CELEBRATED?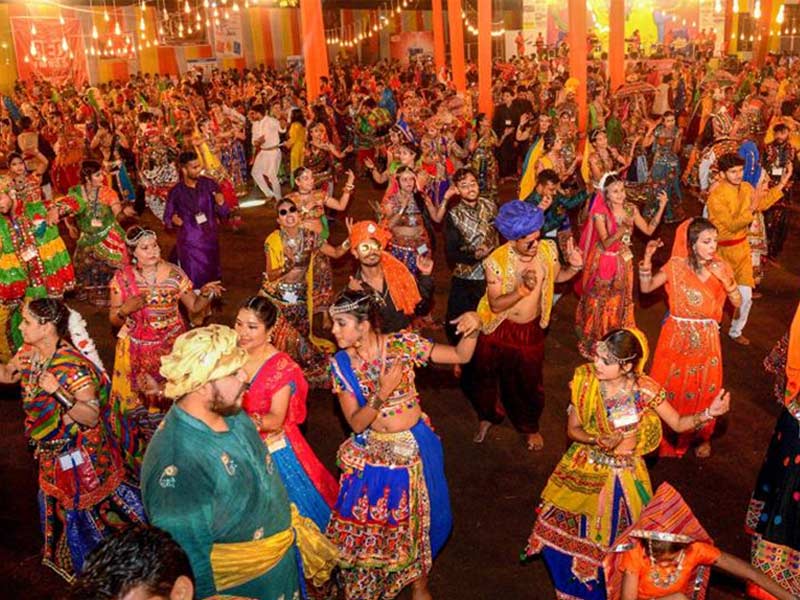 As diversity thrives in India and hence it makes everything different and unique, be it culture, language, food, customs, traditions, or even attire. Hence, it is of no surprise that there are varied ways of celebrating Navratri.
Navratri Celebration in Northern India- In Northern India, Navratri marks the victory of good over evil as Lord Rama killed the evil king Ravana. It involves the celebrations of Ramlila, which are enacted ceremoniously during Dussehra. And on the tenth day of Navratri, the effigies of Ravana and Kumbhkarana mark the victory of good over evil.
The nine days of Navratri in Northern India are filled with so many special pujas, yagnas, fasting, meditations, dancing, singing, and honoring the mother Divine. The most interesting part of the celebration of Navratri in Northern India is its Kanya Poojan. On the ninth day of Navratri, people invite girl children and offer them gifts and worship them like Goddess Durga.
Navratri Celebration in Western India- In the western part of India, particularly in the state of Gujarat, Navratri is celebrated with Garba and Dandiya-Raas dance. During the whole Navratri period, i.e. of nine days, people from nine in the evening play dandiya and Garba till 4 in the morning. People decorate themselves with pretty and colorful dresses with amazing jewelry and celebrate Navratri with great joy and enthusiasm.
Navratri Celebration in Eastern India- Navratri is an important festival in Eastern India too. It is celebrated as Durga Pooja in West Bengal with great devotion. The last five days of Sharad Navratri are celebrated as Durga Pooja and during this Devi Durga is shown with various weapons in her hand and riding on a lion. Incredible idols of Goddess Durga are prepared and are set up. The planning of Durga Pooja begins much earlier and the pandals where the idols are kept are decorated with such a great effort that it is a sight to behold.
Navratri Celebration in Southern India- Navratri, in South India, is the time to invite neighbors, relatives, and friends to look at the Kolu. Kolu is basically an exhibition of various figurines and dolls. In Kannada, this exhibition is known as Bombe Habba, Bommai Kolu in Tamil, Bomma Gullu in Telugu, and Bomma Gullu in Malayalam. Dasara in Karnataka, as Navratri is called, their marks a night-long dance as epic dramas from Puranas are enacted for the nine nights of Navratri. Moreover, Ayudha Puja is conducted in so many parts of South India on the Mahanvami day with so much fanfare.
No matter how Navratri is celebrated in different parts of India, it really reconnects people from all over the world, irrespective of creed, caste, and color. These nine days of Navratri marks spiritualism and help people to reconnect with their core values and traditions.