A great and exemplary piece of architecture Undavalli Caves is in the city of Guntur, Andhra Pradesh. Undavalli caves are one of the best examples of monolithic Indian rock-cut architecture. The caves date back to 4th and 5th centuries and is carved out of a solid sandstone on a hillside that serves as a heaven for lovers of history. Undavalli caves are one of the most preserved monuments and are of great national importance too. These caves originally belonged to Jains, but later were converted into a Hindu temple.
These caves are treated as one of the greatest examples of great Gupta architecture and has capability to leave its every visitor in awe and amazement with its marvellous architecture and design. When looked from outside, caves resemble a structure where rows of cells arranged in unique positions. The structure arises great curiosity in its visitors. The caves comprise three levels. Third level of Undavalli Caves resembles the Jain abode with several chambers and Tirthankara Sculptures. Second level comprises reclining God, whose identity is not known yet. But as per the locals, that statue is of Lord Vishnu.
The beauty of Undavalli Caves is enhanced by sculptures of Elephant and Lions on the walls of caves. From top of Undavalli caves, one can witness some breath-taking views of majestic hills and lush-green surroundings. River Krishna flows behind Undavalli caves. In the river, tourists can go for a boat ride and enjoy the magical beauty of nature all around caves. Undavalli caves serve a perfect blend of historical significance and amazing architecture. Undavalli caves can swoon anyone with its grandeur and charm.
HISTORY OF UNDAVALLI CAVES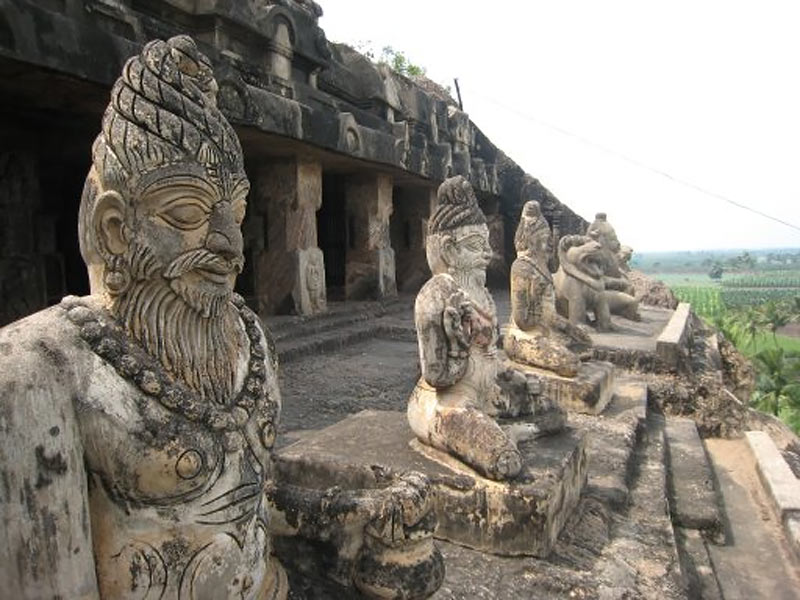 Every glorious thing has a history that says a lot about it, and so does the history of Undavalli caves. Four-storey Undavalli caves are believed to be found in the 7th century. These caves are associated with the Vishnukundin Kings of AD 420-AD620. These amazing and exotic caves are believed to be dedicated to Narismhaswami and Anantapadmanabha.
As historical evidences says, Madhava Reddy ruled this region as a subordinate under Reddies of Kondaveedu gave these caves as a gift to the temple of Anantha Swamy. Also, some people believe these caves were used by the Buddhist monks as a rest houses. Undavalli caves exhibit the conversion of Buddhist Stupas into Hindu Temples. Initially, these caves belonged to Jains with a beautiful and intricate architecture of Khandgiri and Udayagiri. And first floor of the caves still keeps Jain style.
ARCHITECTURE OF UNDAVALLI CAVES
Undavalli caves exhibits exemplary, unique and finest architecture and is also one of the best examples of rock-cut architecture. These caves are spread 29 metres and 16 metres in breadth. Every floor of the caves possesses different heights. First floor of Undavalli caves is a low-pillared hall having seven door openings and eight pillars. The first storey of these caves has shrines dedicated to Trimurti- Brahma, Vishnu and Shiva.
Walls of the first floor of Undavalli caves are decorated with frescoes reflecting and depicting scenes from amazing mythological stories. Second storey of caves has a beautiful shrine of Lord Vishnu in a rectangular pillared hall. The statue of Lord Vishnu is, however, the major attraction of this floor and comprises a single granite block. On the walls, there are sculptures from Chalukyan Period and of Vishanava deities can be witnessed. The most awe striking and interesting feature of Undavalli caves is its five metres long reclining Buddha statue.
BEST TIME TO VISIT UNDAVALLI CAVES
Ideal or best time to pay a visit to Undavalli caves is when weather of the caves remains cool and pleasant, i.e. during winters. So, from October to February, these caves can easily be explored as during these months, temperature of Undavalli Caves lingers around 30  degrees Celsius. In Vijayawada, summers are unbearably hot as temperature rises to 40 degrees, which makes it difficult for the visitors to manage. And monsoons can interrupt the outdoor plans. Hence, it is advisable to visit Undavalli Caves during winters.
HOW TO REACH UNDAVALLI CAVES
Undavalli caves are on Penumaka-Vijayawada road, near Prakasam Barrage, Guntur, Andhra Pradesh. Caves are well-connected via the network of roads to all the major cities of Andhra Pradesh and as well as with neighbouring states. Andhra Pradesh State Road Corporation and several private travel services connect Undavalli caves with other prominent cities of Andhra Pradesh and other states. Even after reaching Vijayawada once, you can easily find autorickshaws, local buses or taxis to reach these exotic caves.
NEARBY ATTRACTIONS OF UNDAVALLI CAVES
Amravati-
Amravati is a small town that is on the bank of river Krishna. Town of Amravati holds a special importance. It was once a site of Buddhist settlement. The stupa at this site was said to be bigger than that at Sanchi and was built during the reign of Ashoka. It is one of the major attractions near Undavalli Caves.
Kondapalli Fort-
Kondapalli is another amazing town to pay a visit near Undavalli Caves. It is best known for Kondapally toys. This place was once used as a military fortification for the British Empire.
Mangalagiri-
Madalagiri is another town to visit near Undavalli Caves. This town is believed to be existed since 225 B.C. The town is famous for the temple of Sri Panakala Lakshmi Narasimha Swamy. The interesting feature of this temple is that devotees here pours, Jaggery water to the conch and the idol actually drinks it as the gargling sound can be heard.