The cuisine of Venezuela is influenced by European as well as West African and indigenous traditions. Venezuelan food differs tremendously depending on where you are in the country. Corn, rice, plantains, yams, beans, and a variety of meats are all mainstays. In the Venezuelan cuisine, potatoes, tomatoes, onions, eggplants, squashes, spinach, and zucchini are all typical side dishes.
Most recipes call for aj dulce and papelón. Stews typically include Worcestershire sauce. Venezuela is also recognised for its huge variety of white cheese (queso blanco), which is generally called for the geographical location where it is produced.
The majority of meals are made with simple components like as maize, plantains, black beans, and meats, which give Venezuelan cuisine its distinct and delicious flavour.
Arepas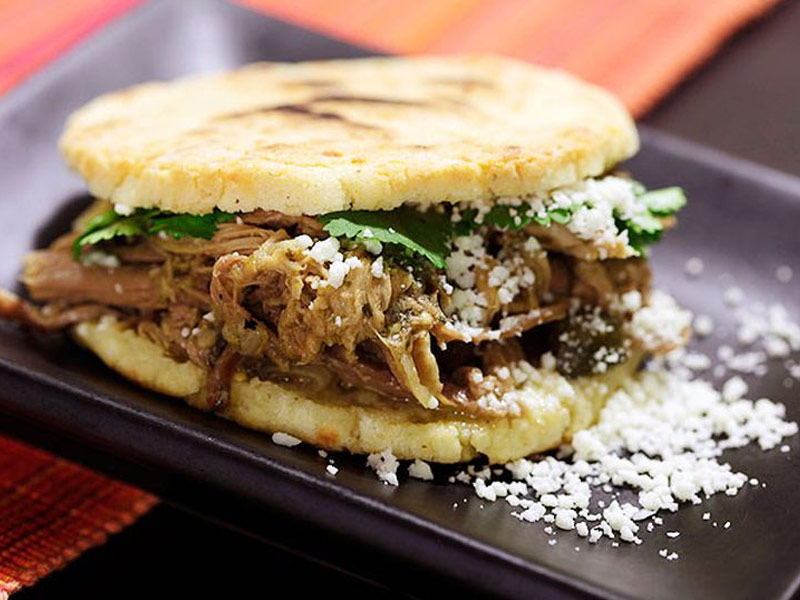 "There's nothing more Venezuelan than an arepa," as the popular adage goes. This corn-based "bread" is the quintessential Venezuelan cuisine, which may be served as a main course or a side dish. Arepas are unleavened maize flour patties that are flat and circular. It can be grilled, roasted, or fried. Depending on the location and the cook's approach, arepas can be filled with a variety of items. It's incredibly adaptable since you may customise the dough to your liking. Some individuals prefer to add shredded carrots or beets to add extra taste. Chia seeds, oats, and flaxseeds can be added to make them healthier.
Pabellón criollo:a rice, plantain, beans, and beef:
The criollo pabellón is one of Venezuelan cuisine's most iconic and traditional dishes. It's the country's official national cuisine, and it symbolises the country's many ethnic groups coming together. Its origins, however, are unknown. Pabellón has been popular since the end of the nineteenth century, according to historians. It's vibrant and flavorful, and even if it varies somewhat across Venezuela's area and regions, the core of it has been preserved.
White rice, shredded beef, black beans, and fried ripe plantain make up pabellón. Fried eggs are another option for some. It's a popular meal in traditional Venezuelan restaurants and kitchens.
Hallacas–Meat tamales:
Hallacas is maybe Venezuelan cuisine's most intricate dish. People, on the other hand, only cook them around December, particularly for Christmas dinner. Because it is a deeply ingrained custom, they are vital on that day.Venezuelan families reconnect each December, and they all work together to prepare as many Hallacas as possible to consume over the month. Hallacas are also commonly exchanged among family, friends, and neighbours. Pork or beef stew, olives, and pickled capers are the most essential elements in this traditional meal, which differ depending on area.
Bollo pelón: corn dough filled with beef stew
Bollos pelones are impossible to resist. It's a genuine explosion of tastes on your tongue. They're popular throughout the year for a variety of reasons: they're a complete lunch meal, and two or three bollos pelones will suffice. It's also a quick and easy meal that takes less than an hour to prepare. The most vital factor, though, is that both children and adults enjoy this dish, and it makes them happy.
Bollo pelón is a maize dough ball that is usually filled with beef stew, although it can also be filled with chicken stew. The bollos pelones are then cooked before being served with a tasty tomato sauce and grated cheese. They aren't usually served in restaurants, unfortunately.
Pisca Andina: egg and milk soup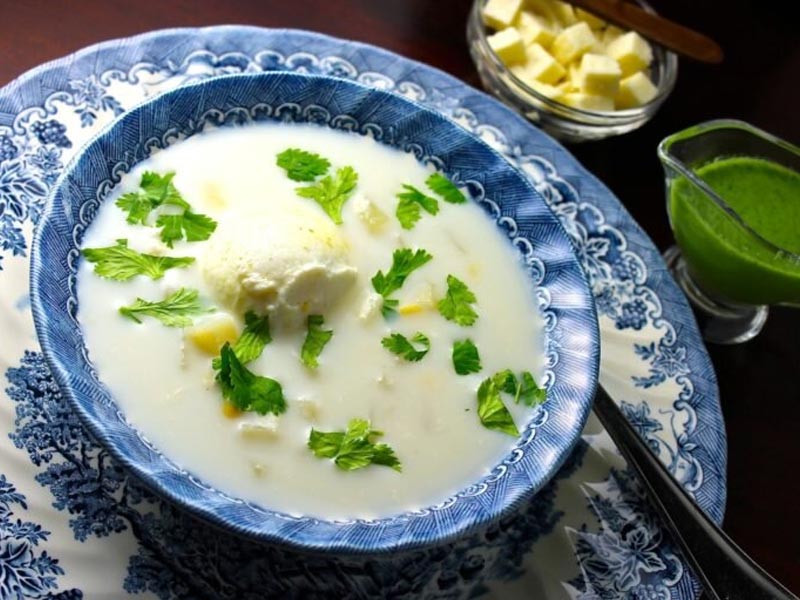 Pisca Andina is the most popular and ancient meal from the Venezuelan Andes. Because the Andes are a very frigid location, this soup is often served for breakfast to help people warm up in the morning. Pisca Andina is also a great way to get rid of a hangover!
This soup has a straightforward recipe based on coriander and green onion, which gives it a distinct and magnificent scent.
Despite this, the potatoes, eggs, and milk give it a sweet and delicate flavour. It's usually served with white cheese and Andino bread. Chili is one of the many variants, which is great for spicy cuisine fans. Pisca Andina is now a part of Venezuela's cultural heritage.
Tequeos are a type of cheese roll
Tequeos are Venezuela's most popular canapés and appetisers. Every day, hundreds of thousands of people consume food. Tequeos are becoming increasingly popular in various nations. Everyone agrees that the host must provide tequeos at a party, a gathering, any social occasion, and even weddings. Otherwise, the incident would be regarded as uninteresting. Tequeos can be eaten as a breakfast, a snack, a canapé, or an appetiser, and people of all social classes eat them.
What is this scrumptious and appetising snack comprised of? Inside is fried wheat flour with feta or white cheese. That concludes our discussion. They come in a variety of sizes, but on average, they're 10 centimetres long. You may eat them with ketchup or tartar sauce, among other things.
Patacón zuliano: a beef-stuffed plantain
In Venezuela, junk food is as oily, and fatty as it is varied and innovative! Patacón zuliano is an example of this. Patacón is a popular side dish in Latin America and the Caribbean. People in Venezuela, particularly in the Zulia area, devised a form of Patacón as a quick (and excellent) meal. It's readily available at practically every food vendor and at the majority of small restaurants.
It's made up of two fried green plantain slices. People put shredded meat or chicken, salad, grated cheese, boiled eggs, occasional veggies, and a lot of mayonnaise and ketchup in the middle. It resembles a hamburger, except instead of bread, it is made with plantain.
Mandocas are fried corn bread with a variety of flavours.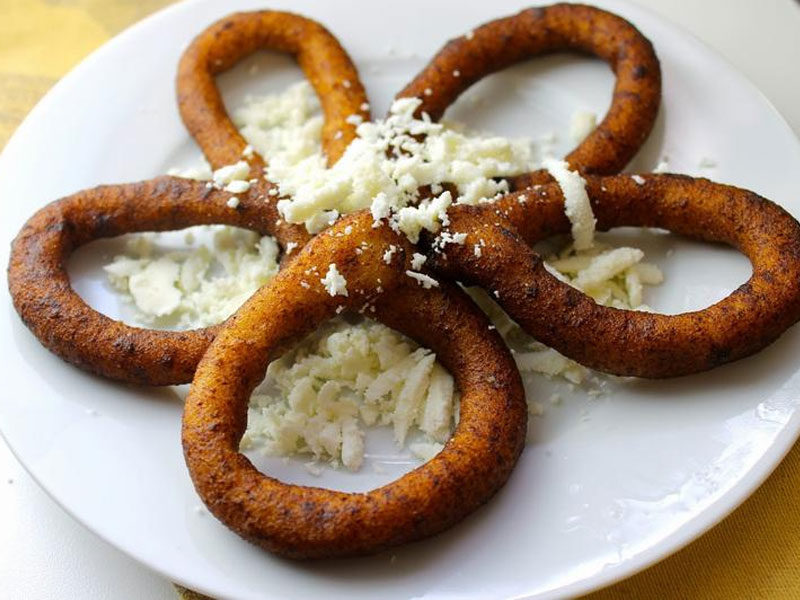 Mandocas are another tasty fried snack. This variety of "donut" originates in Venezuela's west, namely the Zulia area. They are, nonetheless, well-liked throughout the country. Children adore them, and moms frequently prepare Mandocas for them as a snack or breakfast to take to school. Several delicious and notable local components, such as extremely ripe mashed plantains, anise seeds, grated cheese, and raw cane sugar, are included in the corn dough.
When cooked, the latter is magical since it turns the dough sweet and dark brown. All of these ingredients are combined in a bowl, kneaded, and formed into a horseshoe before being cooked in a large amount of oil. Despite the fact that they aren't particularly nutritious, they are undoubtedly yummy!