Dapoli is a Coastal Hillstation and a city in Maharashtra's Ratnagiri district. It's 215 kilometres (134 miles) south of Mumbai, the state capital. Dapoli is also known as Camp Dapoli since it is where the British established their encampment. This village has the tombs of several high-ranking British commanders. An abandoned church from the British Raj may also be seen in the city. Dr. Balasaheb Sawant Konkan Krishi Vidyapeeth, one of India's largest agricultural universities.
Dapoli Municipal Council is in charge of the city's administration. The Khed taluka separates Dapoli from the Sahyadri range. The seashore spans over 50 kilometres (31 miles) from Velas, Maharashtra Velas – Kelshi in the north, to Dabhol in the south. The shoreline is similar to the rest of the Konkan, in terms of general features. Coconut fields comprise a large portion of the area. Bharja in the north and Vashishthi in the south are the two main rivers. The Arabian Sea is fed by the Jog River, which runs through Bandhativare, Sarang, and Tadil.
Places to Visit
Anjarle beach 
Dapoli is 14 kilometres away from Anjarle Beach. This beach has white sand and is surrounded by palm trees and plants. The 'Kadyawarcha Ganpati' of Anjarle is famous all over the world. It is an important element of the list of things to see in Dapoli Beach.
Murud beach 
This beach may be found at a distance of 10 kilometres from Dapoli. It is not the same as the Murud-Janjira beach in Alibaug, hence it is referred to as Murud-Harnai occasionally. Murud Beach has fine sand, a lengthy stretch of beach with swaying palm trees, and an amazing Durga Devi shrine. It's a well-protected and well-kept beach. Murud is the birthplace of Bharat Ratna Maharshi Dhondo Keshav Karve and is a great destination to visit while visiting Dapoli Beach.
Suavarnadurg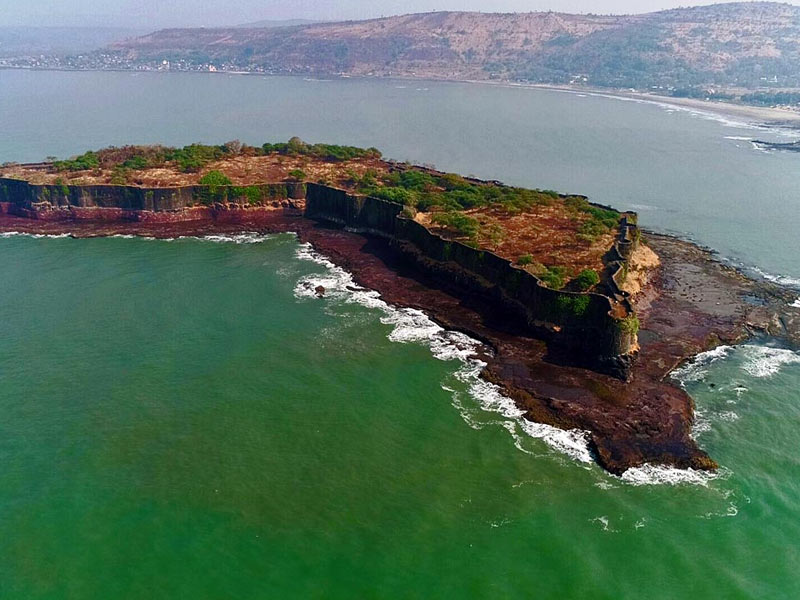 Suvarnadurg, also known as the Golden Stronghold, is a beach fortress surrounded on all sides by the sea. In the year 1660, Chatrapati Shivaji Maharaj conquered this castle. Suvarnadurg Fort is stretched out over eight parts of land, separated by a tall barrier. The Maratha war fleet's boat-building factory was based at Suvarnadurg Fort.
Harnal port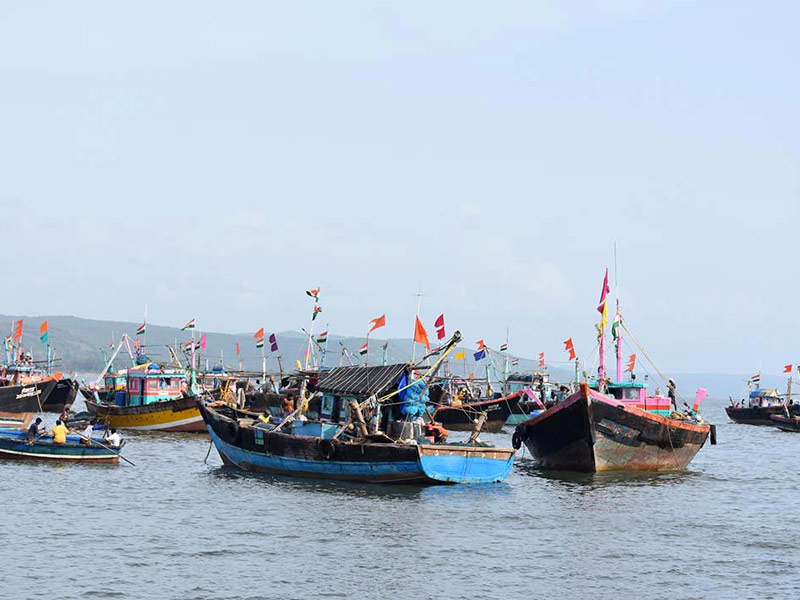 Harnai Port is 15 kilometres from Dapoli. It is well-known for its day-to-day fish closeouts. Suvarndurg, Fatehgad, Kanakdurg, and Goa fortifications are among the fortifications found in Harnai. In addition, a beacon is located near the port. An historic beacon stands on one of Kanakdurg Fort's most stunning vantage points, offering views of angling pontoons, fish barters, Suvarnadurg stronghold, and the spectacular evening. The Goa Fort is located on the route to Harnai Port. It was easily identified by its massive black stoned partition. It is one of the most beautiful sights on Dapoli Beach.
Panhalekaji caves
This is a well-known mediaeval man-made cave located 40 kilometres from Dapoli. There are in each of Panhalekaji Caverns' 29 rock-cut caves. Models of Ganesh, Saraswati, and scenes from the Ramayana and Mahabharata may be found in these caverns. Here you may savour your angling and swimming expertise.
Kelshi 
Kelshi is a small town located on the outskirts of the Raigad area. Because it is surrounded by water, this town seems to be an island. It is home to a famous Mahalaxmi temple, a Ganesh temple, and a beautiful beach.
Unhavare
Unhavare is well-known for its regular boiling point of water springs, making it one of Dapoli Beach's many attractions. There are a few visitors passing by who want to have a shower in this unique boiling hot water spring. Slopes, vast wilderness, and rolling homestead property surround it. The hot spring wellspring is revered as a sacred site that must be visited without shoes.
Konkan Krishi Vidhyapeeth University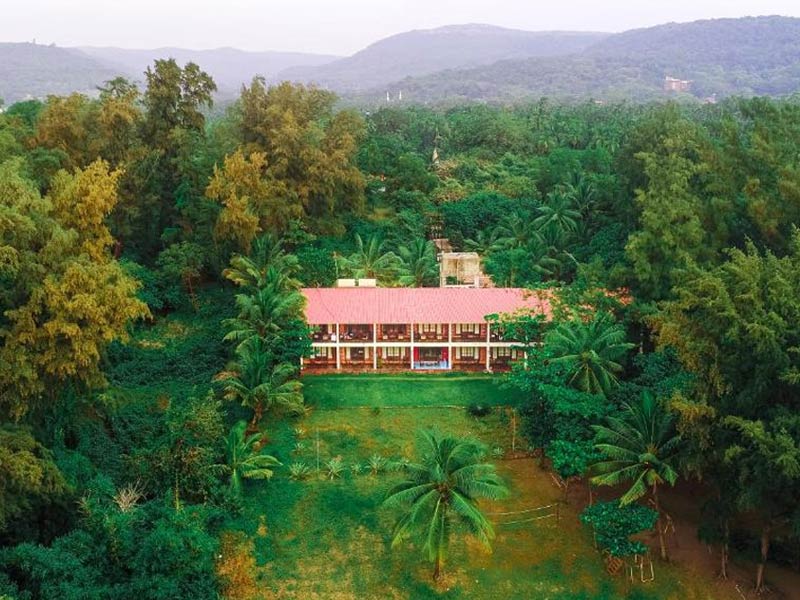 The Konkan Krishi Vidyapeeth (University) of Dr. Balasaheb Sawant is located 5 kilometres from Dapoli. The purpose of this college, according to the boss, is to provide agricultural education and exploration. On February 12, 2001, Konkan Krishi Vidyapeeth was renamed Dr. Balasaheb Sawant Konkan Krishi Vidyapeeth. Despite its simplicity, this antique structure has become the principal tourist attraction of Dapoli Beach.
Weather of Dapoli 
Dapoli is known as the "Mini Mahabaleshwar" because it maintains cold throughout the year. Maharshi Dhondo Keshav Karve, a social reformer and Bharat Ratna awardee, was born in Dapoli. The greatest time to visit is from the end of October to the middle of February. However, visiting this beauty during the monsoons is suggested, since the scenery is beautiful and the terrain is truly spectacular.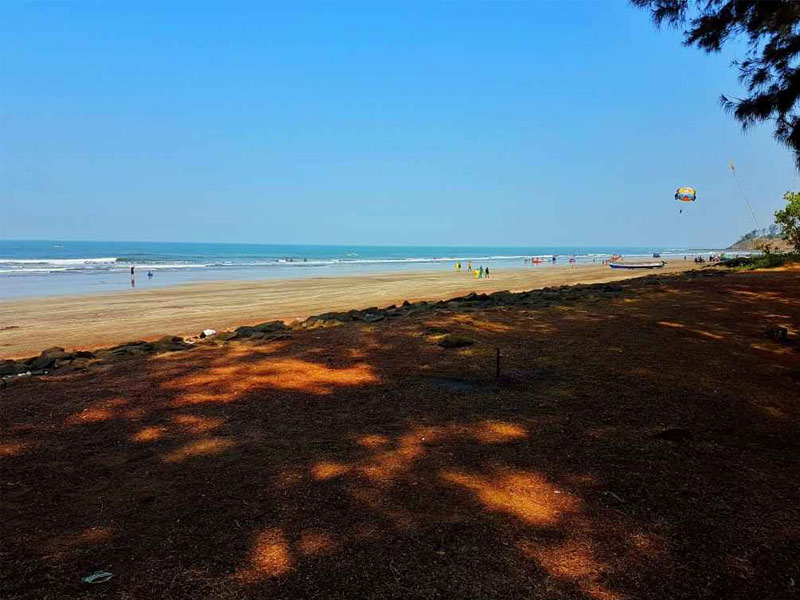 How to reach Dapoli
By Air: The closest airport to Dapoli is Mumbai's Chhatrapati Shivaji International Airport. It is 230 kilometres away from Dapoli. From Mumbai, you may take a cab till here.
By Train: The nearest train station to Dapoli is Khed. It is 29 kilometres away from Dapoli.
By Road: Mumbai – Rasayani – Kolad – Mangaon – Dapoli via the Bangalore-Mumbai Highway/Mumbai Highway/Mumbai-Pandharpur Road/ Mumbai-Pune Highway This is a 225-kilometer journey that takes 4 hours and 48 minutes to complete.