Neemrana is an ancient historical town in Rajasthan, India, situated on the Delhi-Jaipur route, 84 kilometres from Gurgaon, 122 kilometres from Delhi, and 150 kilometres from Jaipur. Between Behror and Shahajahanpur, it is located midway. Neemrana is a significant industrial hub. It is the site of a 15th-century hill fort that the Chauhans occupied until 1947. Prithviraj Chauhan is thought to be the direct descendant of the previous royal family. Kesroli, in the Alwar region, is a short distance from Neemrana and is one of the state's oldest cultural sites.
It was first mentioned in the Mahabharata's Matsya Janapada, according to historians. Visit the oldest Buddhist Vihara at Viratnagar, where the Pandavas spent the last year of their exile in secret; Pandupole, which has the only reclining statue of Hanuman; and Bhartrihari's samadhi in Kesroli.
Things to do and see in Neerana
 Neemrana fort 
It was built in 1464 and became the king's successor's third capital. The magnificent fort nearly encompasses ten hectares of land on top of the hill.
Neemrana Fort, a 15th-century mansion, is an embodiment of tremendous beauty. It is found in the Aravalli ranges, the world's oldest fold mountains. The fortress, which is now a luxury resort, was previously the residence of Rajput Maharaja Prithvi Raj Chauhan III. It has a puzzling blend of styles, Rajasthani and contemporary interior decorating. The palace has become a popular weekend getaway spot since it first opened its doors to the public. It attracts visitors from both places due to its good placement on the Delhi-Jaipur highway. The Palace's Rajasthani and French dishes have earned it a stellar reputation.
Zip linning 
Thrill seekers, rejoice! The Neemrana Fort, on the outskirts of Delhi, provides zip lining over its mesmerising landscapes, combining exhilarating adventure and historical sightseeing. This encounter is an exhilarating escapade, flying high at a speed of 40 kilometres per hour. You will zipline over five different hills while ziplining, with the full path reaching over the majestic Neemrana Fort. There's no better way to appreciate the grandeur of this location than ziplining directly through it!
Baori 
Neemrana is complemented by a stunning multi-story edifice that is centuries old. It has 170 stairs, and the structure appears to get smaller as we descend. The charm of antique architecture is reflected in Neemrana baori.
From the inside, this is chilly and wet. This baori is still in use today, for both water use and irrigation.
Sariska National Park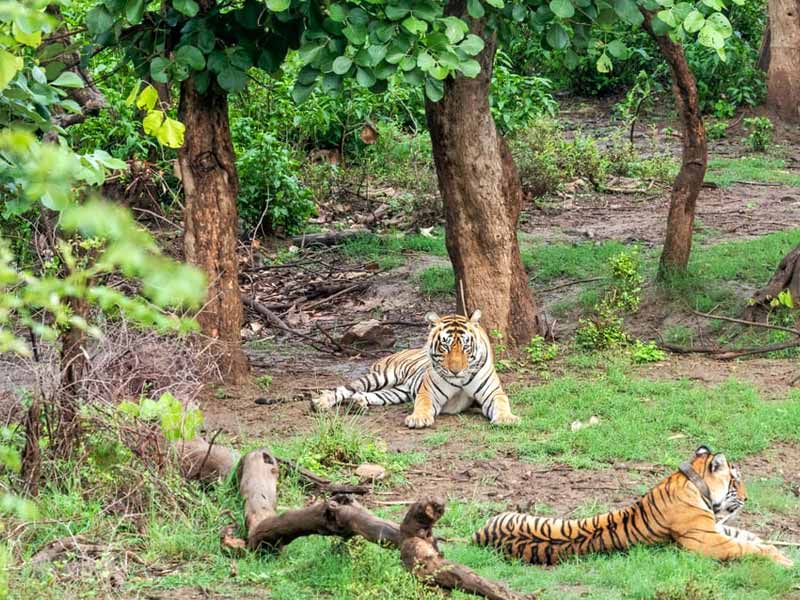 The Sariska National Park, currently known as the Sariska Tiger Reserve, is located in the Aravali Hills and spans an area of around 800 square kilometres, with grasslands, dry deciduous trees, cliffs, and rocky terrain. The Maharaja of Alwar used to have his hunting preserve here. The Reserve is well-known for the majestic Royal Bengal Tigers that live there. In 1982, it was designated as a national park.
The Aravali Range and the Kathiawar-Gir dry deciduous forests ecoregion are both home to the protected area. It was designated as a Tiger Reserve under Project Tiger in 1978. It is the first tiger reserve to successfully relocate Tigers (from Ranthambore). It has an abundance of mineral resources, including as copper, because it is nestled in the Aravali Hills.
Neemrana's Best Season
Winter is the finest time to visit Neemrana. The weather is pleasant, making it ideal for exploring Neemrana's monuments and other points of interest. September-March is the finest time to visit.
Neemrana's Winter Season
Winter arrives in November and lasts until February in Neemrana. The temperature ranges from 5°C to 27°C, making for a nice climate.
Neemrana's Summer Season
Neemrana's summers are scorching hot and tiresome. In the months of April to June, the temperature ranges from 32°C to 45°C. Visiting Neemrana during these months is not recommended.
Neemrana's Monsoon Season
The monsoon season in Neemrana begins in July and lasts till September. During this season, sporadic rains transform Neemrana into a stunning sight.
How to reach? 
How to get to Neemrana from the road
Neemrana is 37 kilometres from Rewari, 73 kilometres from Alwar, 99 kilometres from Gurgaon, 146 kilometres from Jaipur, 199 kilometres from Hisar, 270 kilometres from Sirsa, 275 kilometres from Ajmer, 345 kilometres from Bikaner, and 477 kilometres from Jodhpur.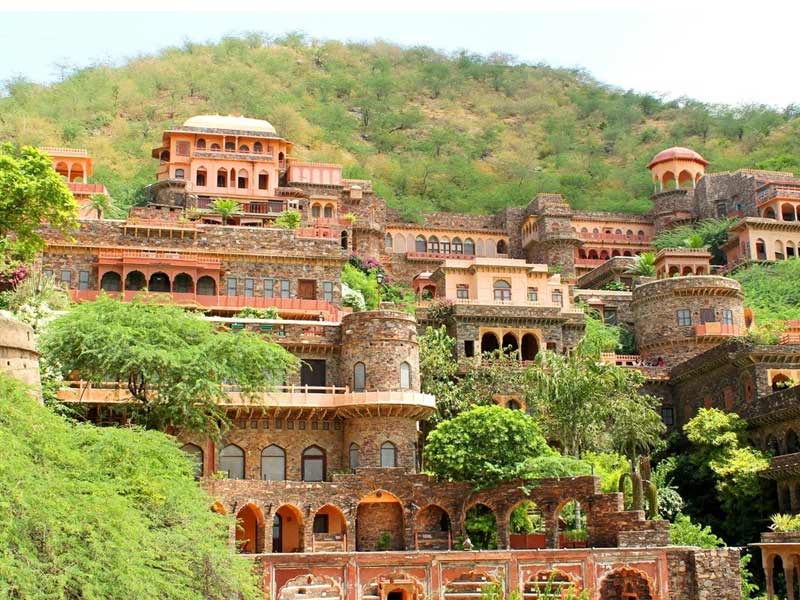 Neemrana is accessible via air.
Indira Gandhi International Airport in New Delhi, which is about a two-hour drive from Neemrana, is the nearest international airport. Several national and international destinations are served by frequent flights from here.
Neemrana Rail Station
Alwar Railway Station, located 71 kilometres from Neemrana, is the nearest railway station. New Delhi, Bareilly, Ahmedabad, Jaipur, Jammu, and Ajmer are all well-connected from here. The major trains that pass through the route of Alwar include the Ajmer – Jammu Tawi Express, Ajmer Shatabdi, Ala Hazrat Express, Delhi Sarai Rohilla – Bandra Garib Rath, and Ashram Express.