Kumarakom is a settlement on Vembanad Lake in Kerala, India's backwaters. It is connected with canals through which houseboats cruise the waters. Many species live in Kumarakom Bird Sanctuary, including cuckoos and Siberian storks. The Bay Island Driftwood Museum is nearby and features wooden sculptures. Pathiramanal Island in the lake is a sanctuary for uncommon migrating birds. East of Kumarakom is the ancient Thazhathangady Mosque.
If your vacation is long overdue and you want to stretch and unwind on your long-awaited vacation, you should go to Kumarakom. The competitive world takes its toll, and everyone enjoys taking a break. While some people choose action-packed vacations, others prefer to be in nature and feel one with it. If you want to take a break in a place that is both attractive and naturally lovely, it is a must-see.
Kumarakom is a collection of charming islands encircling the beautiful Vembanad Lake. The town is nature-rich, with everything in it appreciating nature's wealth. Because the soil is so fertile, the terrain is densely forested, with paddy fields, coconut groves, and mango orchards. With its lush greenery and backwaters in a scenic environment. It was named one of the world's 25 isolated and exotic places by the travel magazine Condé Nast Traveller in 1998. While Kumarakom is stunning in every way, these are the top eight locations to visit in Kumarakom.
1. Vembanad Lake
Vembanad Lake, the meeting point of ten rivers, is the city's crowning attraction. The never-ending hypnotic backwaters and stunning lake background tempt you to stay in this city indefinitely. Vembanad Lake is great for a romantic break; simply rent a houseboat, explore the lake's vista, and enjoy a lovely romantic time with your lover. The instant you arrive, you will realize that this is one of the top tourist destinations in Kumarakom. Every year in August, the legendary Nehru Trophy Boat Race takes place in the flowing water of Vembanad Lake.
Hours of operation: 10 a.m. to 6 p.m.

There is no entry cost.

All days are open.

Well Known for Nehru Trophy Boat Race
2. Kumarakom Bird Sanctuary
The Kumarakom Bird Sanctuary, as the name suggests, is a birdwatcher's paradise located among the picturesque backwaters. It is located in the Kottayam district, close to the Vembanad Lake, another popular attraction in Kumarakom. Visit the lush green Kumarakom Bird Sanctuary to meet migrating birds such as the Siberian Stork and Kingfisher. A 10-minute boat ride from this sanctuary takes you to Pathiramanal Island, commonly known as the Sand of Midnight. This is one of the top things to do in Kumarakom in a single day.
Tip: The best time to come is from June to August; nevertheless, to see migratory birds, go between November and February.
Timetable: 6.30 a.m. to 5 p.m.

Entry fee: INR 50-100 per person 

Open days: All days

Bird watching is well-known in this area.
3. Aruvikkuzhi Waterfall
This exhilarating waterfall, surrounded by rubber plantations, will undoubtedly rejuvenate and relax your tired soul. The Aruvikkuzhi Waterfall is a visual treat and an excellent picnic and trekking location. Imagine a thundering waterfall concealed within the tranquil atmosphere and beautiful green rubber plantation – no photographer would want to miss out on this experience. It is popular among photographers and among young people seeking a respite from the stresses of everyday life. Trek to the top of the waterfall to visit St Mary's Church, one of Kumarakom's most important religious sites.
Hours of operation: 6 a.m. to 10 p.m.

There is no entry cost.

All days are open.

Known for: Refreshing retreat
4. Kumarakom Beach
The famous Kumarakom Beach, considered a lively spot, is an adventurer's paradise. You can attempt various water and air adventure activities such as water skiing, windsurfing, boating, and parasailing. Besides, it's too tempting to take some time off, sit back, and enjoy the peace and quiet. The beach is one of the main destinations to visit in Kumarakom. It also has many exquisite resorts, such as Kumarakom Lake Resort, right on the beach. Get a room in any of them and enjoy the beauty of nature.
Tip: Don't miss out on the museum along the seashore.

Timetable: Throughout the day

There is no entry cost.

All days are open.

Famous/Well Known for Exquisite beauty
5. Kumarakom backwaters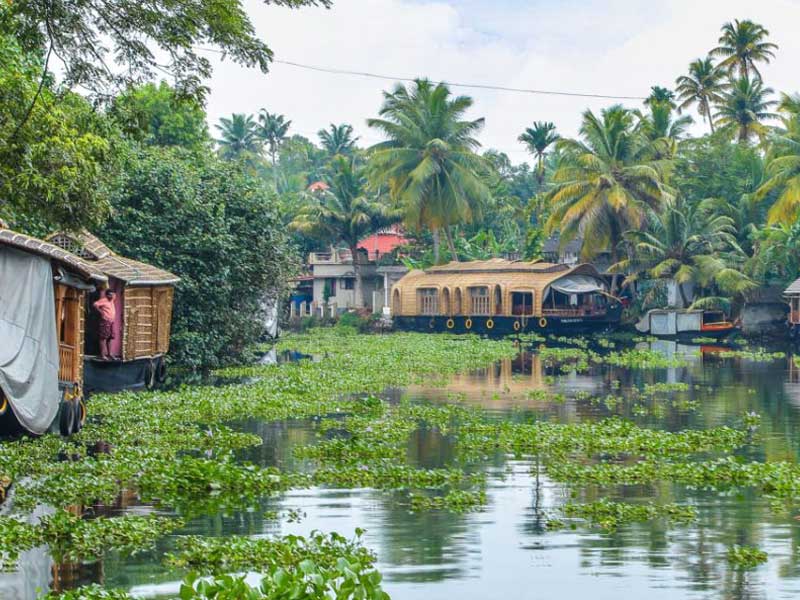 Kumarakom backwaters are one of the most important locations to visit in Kumarakom. It alone accounts for 60% of the city's tourism. With their serene beauty, blue water, and heritage boathouse, Kumarakom backwaters are a wonderful escape from the normal traditional vacation. Rent a boathouse and head towards the horizon with your loved one as the sun sets in the west for an unforgettable experience. This is one of the best spots to visit in Kumarakom, Kerala.
Timetable: Throughout the day

There is no entry cost.

All days are open.

Famous for: Relaxing vacations
6. Thanneermukkom Bund
It was constructed to obstruct the tides and is the largest Indian mud regulator. This barrier divides the water into two halves, which explains why each side is a different color. This is a sight to behold. You can either travel the adjacent road or go for a boat ride to get a better perspective of the entire sight. This is one of the rejuvenating Kumarakom tourist attractions.
Timetable: Throughout the day

There is no entry cost.

Days of operation: Every day

Famous for: Being the largest Indian mud regulator.
7. Toddy Shopes
Toddy, an alcoholic beverage, is also famous in Kumarakom. The beverage is made from fermented coconut palm tree sap. Its preparation is an art form in and of itself. After extraction, it is fermented for a day to develop alcoholic qualities and a moderate scent. This beverage is available in various establishments, including Pallipadam Toddy Shop, The Kumarakom Toddy Parlour, Kokkothottam Toddy Shops, and others.
Timetable: 6.30 a.m. to 5 p.m.

Entry fee: INR 50-100 per person Opening hours: Every day of the week from 6.30 a.m. to 5 p.m.

Known for: Unusual flavor
8. Bay Island
Bay Island Driftwood Museum is a one-of-a-kind museum in India, propelled by a novel concept. It displays the carvings and complex woodwork on driftwood or other water-recovered wood. This kind of art, which was started by a schoolteacher named Raji Punnose, has fans worldwide fans. Even those who are unfamiliar with the complexities of the art will be impressed by the realistic woodwork.
Hours of operation: 10 a.m. to 5 p.m.

The entry cost is INR 50.

Tuesdays through Sundays are the days when the store is open.

Famous for: Carving collections and elaborate woodwork on driftwood