Most of the uncommon fruits that are gathered from the wild in India are consumed by the people. The exotic fruits we'll discuss in this essay will transport you to a whole other universe.
Many of us are aware that exotic fruits may be found all over the world. But did you know that India is home to many rare fruit kinds?
They are either constrained by mass production or area restrictions. Both circumstances cause them to become unusual and occasionally divert people's attention.
Jungli Jalebi/Kodukkapuli (Camachile)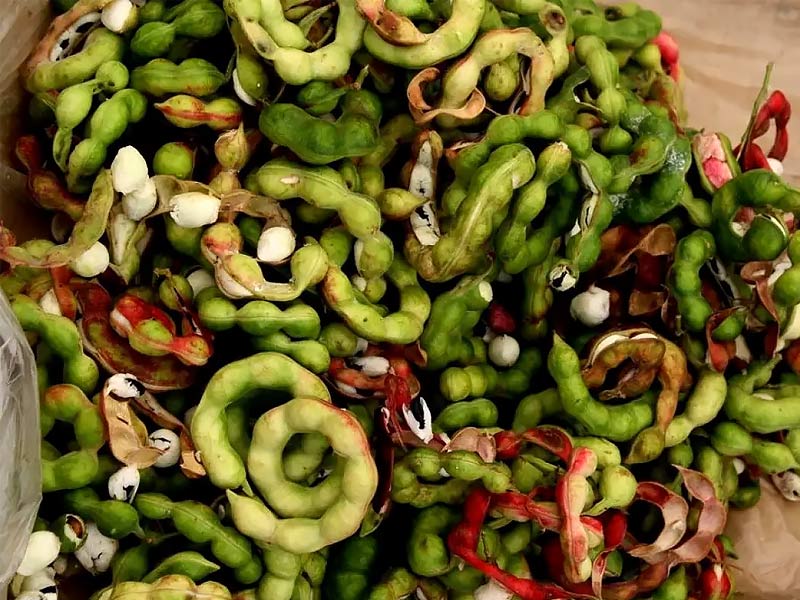 The kodukkapuli, also known as jungli jalebi, has spiraling green-pink pods with six to ten glistening black seeds enclosed in a thick, delectable edible pulp. The pulp can be consumed raw or made into a drink that tastes like lemonade, whereas the acidic seeds are used in curries. Because the fruit resembles the Indian delicacy jalebi, the plant is also known as jungli jalebi.
Buddha's Hand (Fingered Citron)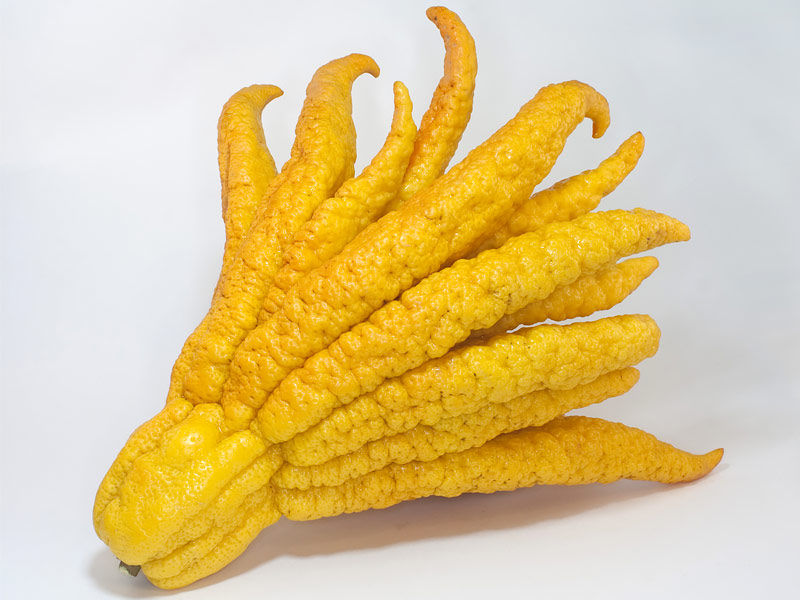 Buddha's hand is a beautiful fruit with protruding, long golden tentacles that resemble wrinkled human fingers. It looks like a rough lemon. Buddha's hand has a deliciously aromatic flavor that is mild yet zingy and is reputed to fill areas with the aroma of new blossoms. Botanists disagree on whether the fruit is native to India or China, where it is believed to have originated in the lower Himalayas. According to some researchers, the fruit was brought to China by migratory Buddhist monks in the year 400 AD from India.
Langsah/Lotka (Langsat)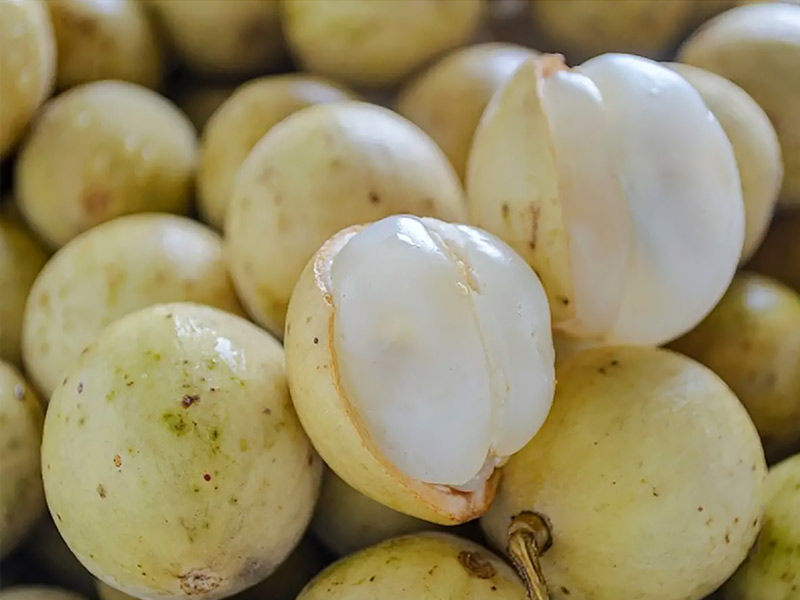 The orb-shaped langsah fruit, which is small and transparent, is most frequently found in South India. When they are unripe, they can be very sour, but when they are ripe, they are pleasantly sweet and have a flavor that is similar to a bittersweet grapefruit. Although there is a high demand for this fruit throughout its season, it is only grown in a few southern regions.
Mangustaan (Mangosteen)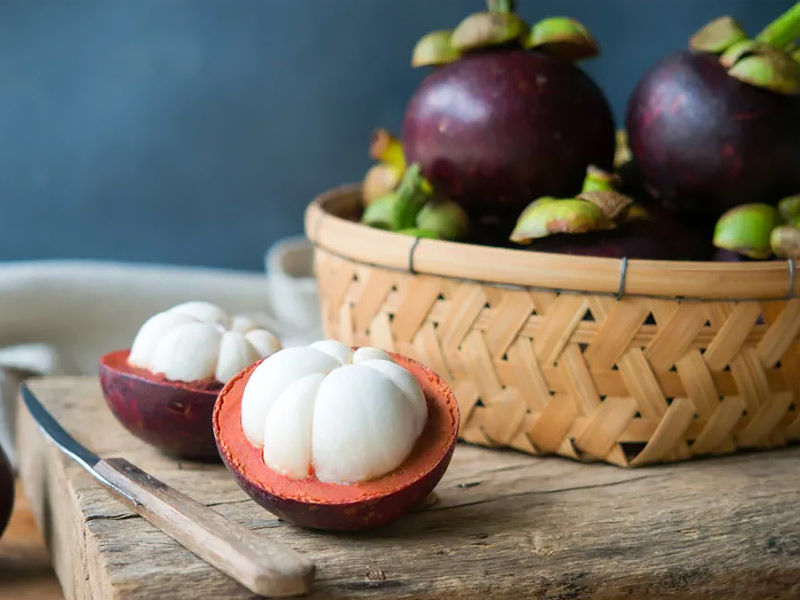 Mangustaan, which is about the size of a tiny orange, is an aromatic tropical fruit with moist, delectable flesh inside that is snow-white in color. Although it is the national fruit of Thailand, it is believed that southern India had many trees of this fruit during the 18th century. Mangustaan is similar to a mango in flavor—mellow and earthy—and is only fully ripe when the woody, leathery purple peel yields to moderate pressure.
Falsa (Indian Sherbet Berries)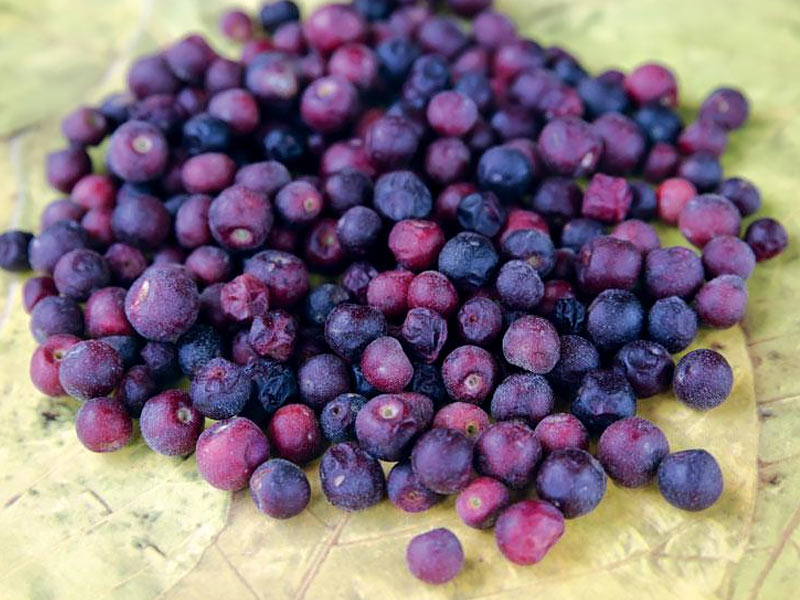 Buddhist specialists believe that it was initially discovered in Varanasi and subsequently spread throughout Asia and the rest of the world. Falsa is grown for its tart, sweet, and sour flavor and is available for purchase throughout the summer on the market. The fruit pulp is combined with sugar to create a refreshing sherbet or squash.
Japani Phal (Persimmon)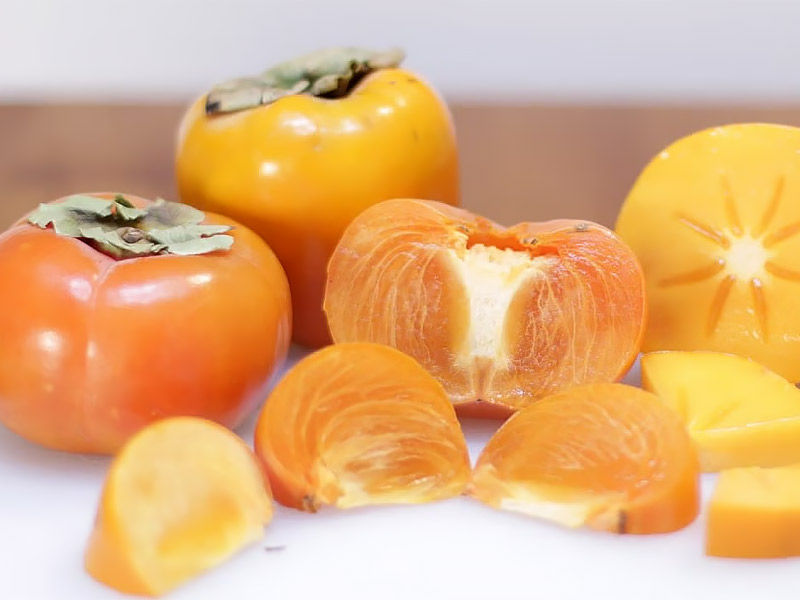 The singular, vibrant orange-red, and delicious persimmon is referred to as "Jamai phal" locally in Himachal, a phrase used to denote a temperate fruit. A fully ripe japani phal tastes smooth, sweet, and tasty, and bears striking similarities to a tomato. Early in the 20th century, European immigrants first carried the fruit, which is a native of China, to India. Later, it moved to Japan and Korea.
Ambarella (Indian Hog Plum)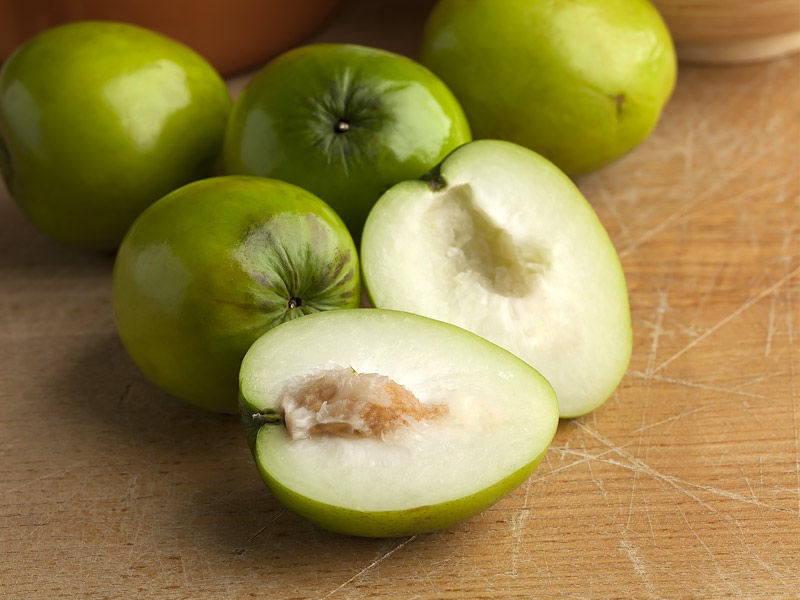 Ambarella is a mature plant that is often referred to as wild mango. It has the moderate sweetness of a pineapple with the puckering acidity of an unripe mango. Ambarellas can be enjoyed as a juice, a pickle, a fruit cocktail flavoring, or as simple slices coated with salt plus red chili powder. They come in every imaginable shape.
Chalta (Elephant Apple)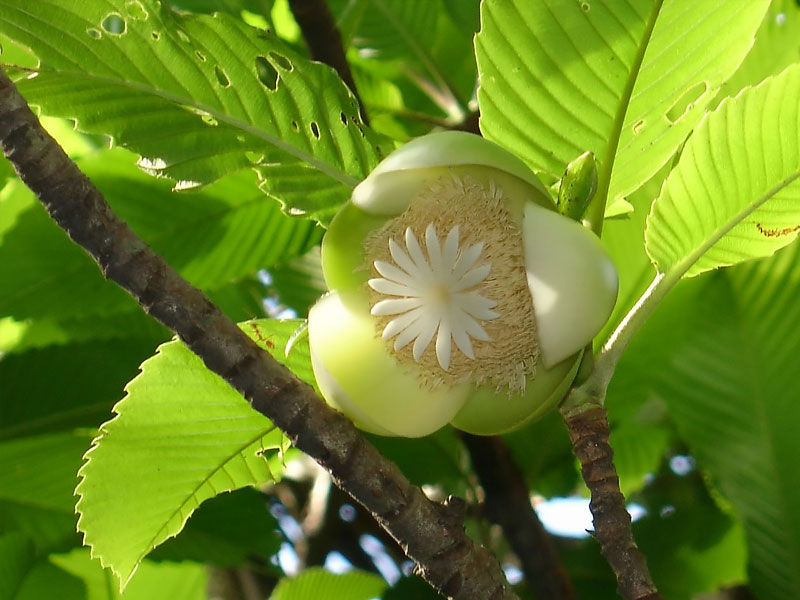 Chalta, a fruit that flourishes in swamps and semi-tropical forests' wet soil and oppressive atmosphere, is one of the fruits which wild elephants eat. Growing in the Kumaon to Garhwal sub-Himalayan region, as well as Assam, Kolkata, Bihar, and Odisha. When fully developed, the knobby, grapefruit-sized, yellow-green fruits have leathery brown skin. The jelly-like flesh of elephant apples, which the majority of locals consider to be somewhat sweet and sour, is not as revered as the fruit's crunchy outer petals. Chutneys and pickles are typically made with unripe fruits. Since they are an essential food source for deer, elephants, and monkeys, taking them from the center of the forest is prohibited.
Bilimbi (Tree Sorrel)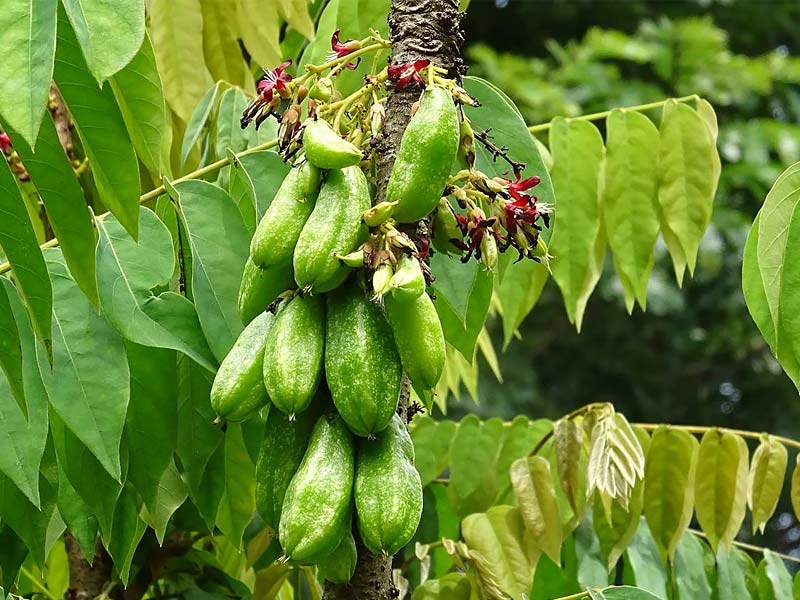 Initially, bright green and rigid, bilimbis, a fruit related to the star fruit, ripens to become yellowish, glossy, and soft. The sour, tangy, acidic, and sharp flavors of bilimbis in Indian cuisine are intense. To take leverage of these cooling properties, many fans of bilimbi brew a beverage that is similar to lemonade. The fruit is typically poked first and quickly immersed in salt water to reduce its acidity before being used in chutneys, pickles, and jams.
Targola/Taal (Ice Apple or Sugar Palm fruit)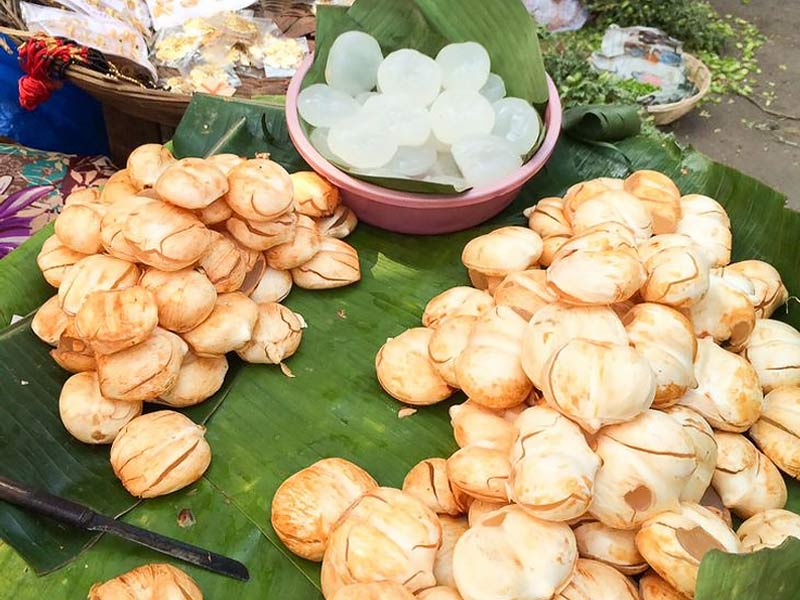 The targola, also known as the taal, is a cluster-forming palm fruit with a jelly-like inside and stiff, brown exterior. Each fruit has a fragile, off-white exterior that turns light brown when exposed to air, along with segmented seeds that resemble jelly when cut open. Removing the thin skin may be difficult, but it is definitely worth the effort. Targolas is a refreshing treat in the sweltering summer because biting into one releases the chilly, sweet fluid that is kept in the center of each segment. The fruit is additionally used to make the local alcoholic beverage toddy.