Gujarat is well-known for its food. The people who live there enjoy cooking. If you live in Gujarat and do not like eating, you are not a real Gujarati. Gujarati dishes are distinguished by the use of sugar in each dish. The dishes, like the people of Gujarat, are good.
There is a wide range of street food and food that can be served at any time. Ahmadabad, Gujarat's capital, is also well-known for its food. Ahmadabad residents enjoy eating at all hours of the day and night. In reality, when Gujaratis fly, they do not eat fast food; instead, they pack their own food and bring it with them. Let's take a look at some of the most well-known Gujarati dishes.
Gujarati dishes, which is predominantly vegetarian, is one of India's oldest culinary gems. It serves a wide range of vegetarian meals, each with its own distinct cooking style and various types of pickles, farsans, chutneys, and foods that are often high in nutritional value. However, the true essence of Gujarati dishes lies in the inventive use of popular vegetables and mild spices. It's a delectable taste combination.
Gujarat's coastal climate is mainly hot and dry, which is why sugar, onions, and lemon are commonly used to keep the body hydrated. Another distinguishing feature in Gujarati dishes is the mouthwatering blend of sweet and sour flavors.
Many of us equate Gujarat with dhokla, khakhra, and the delectable Gujarati Thali. But there's more to Gujarati dishes than that. North Gujarat, Kacch, Kathiyawad, and Surti Gujarat are the four main regions of Gujarat, and each brings its own flavor to Gujarati dishes.
Here are 8 Gujarati dishes you might never hear of, but you should and must try for sure…
Sev Tamatar Nu Shaak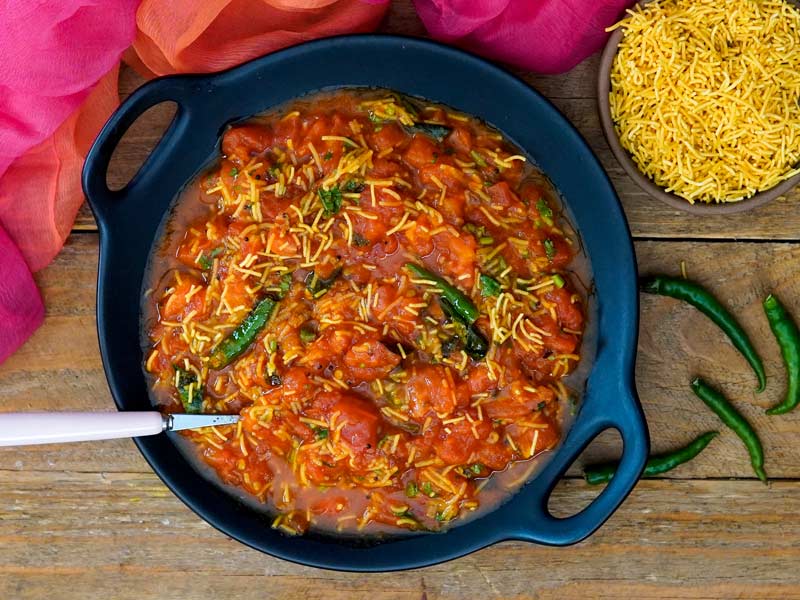 Sev Tamatar Nu Shaak is a Gujrati sabzi served as the main course, especially at lunch. The dish is made of tomato and onion puree, which is stirred for a long time to ensure that the flavor of Indian spices is well blended. When the puree is primed, the sev, which is readily available in the market, is dipped into it. And served with Bhajra Roti, a Gujarati bread consisting of various types of atta. It is a common and appealing Gujarati main course dish.
Undhiyu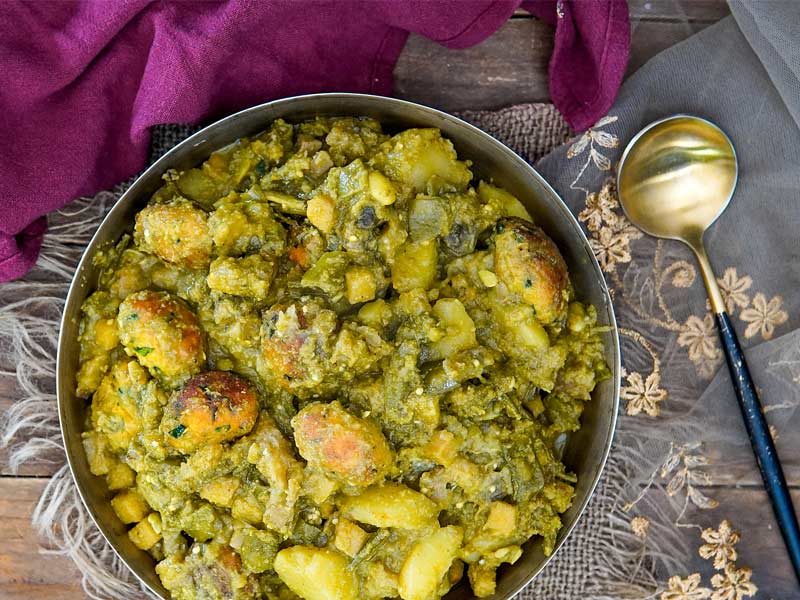 Gujarati cuisine's king Undhiyu (and, of course, Uttarayan) is the reason a Gujarati looks forward to winter. It gets its name from the Gujarati word undhu, which means "inverted," and it is a traditional Gujarati dish cooked in an inverted clay pot. It is a rare seasonal delicacy made from the finest fresh produce available during the winter season. Slow-cooked to perfection with buttermilk, coconut, and spices, eggplant, crunchy muthiyas (fried chickpea flour dumplings), potatoes, yam, green peas, bananas, and beans are popular ingredients. Undhiyu eaten with puris and shrikhand is a common dish at Gujarati weddings.
Muthiya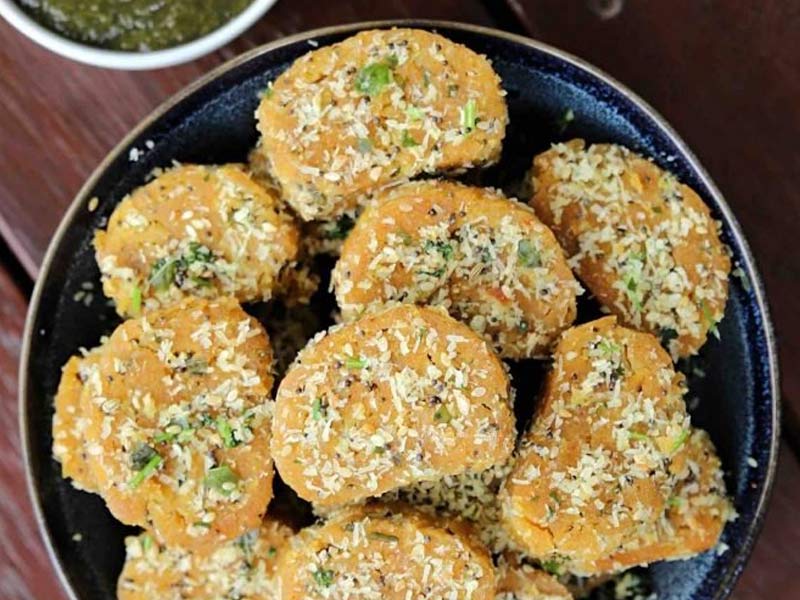 These fist-cakes, named for the movement used to mold the dough, are a delicious breakfast or evening snack. A mixture of chickpea flour, bottle gourd, and spices is cooked, steamed, pan-fried, and seasoned to make these. It becomes a perfect meal for health-conscious people if the pan-frying is skipped. Other options include lettuce, fenugreek, amaranth, and bitter gourd.
No one will ever say no to a bowl of muta hiya, which is juicy and fluffy on the inside and golden and crispy on the outside. This dish is best enjoyed with a splash of mint-coriander chutney or ketchup and a cup of steaming hot tea. To find out what all the fuss is about, try this Gujarati dish.
Khichu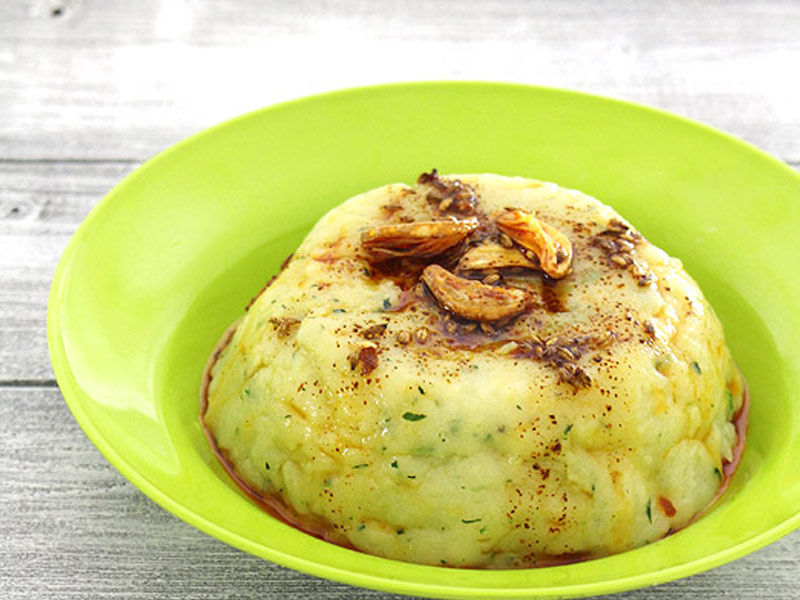 What began as a dough for the tasty khichiya papads evolved into a delectable dish in its own right. It is a dough made from rice flour applied to boiling water alongside green chilies, cumin seeds, and sesame seeds, then fried in steam and flavored with groundnut oil. It is commonly seen around food stalls in many Dandiya and Garba venues during Navratri. The seasoning of groundnut oil adds a gourmet touch to this plain, wholesome dish. While rice flour is widely used, other flours such as wheat flour, nachani (ragi) flour, bajri flour, and jowar flour are also used.
Its wet, fluffy, and gooey texture makes it a popular evening snack for both children and adults during the colder months.
Handvo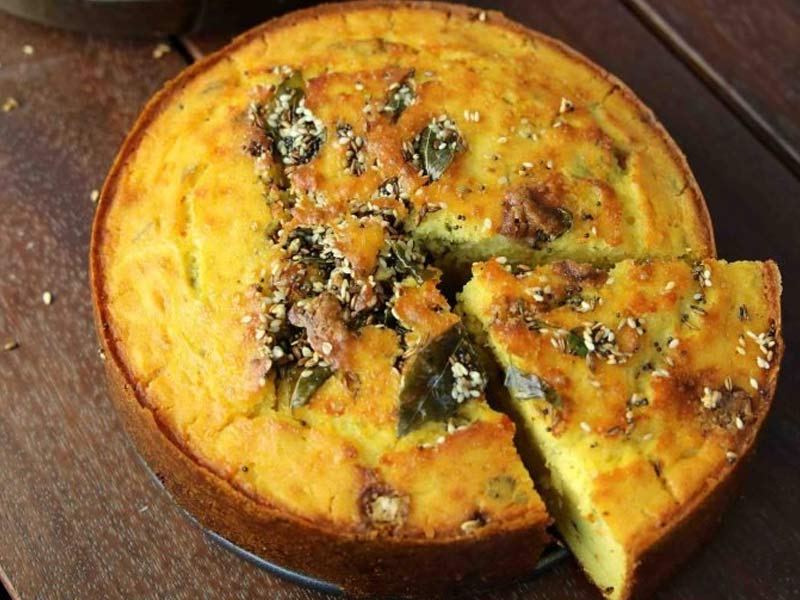 Handvo is a savory cake that is traditionally cooked over charcoal or in a pressure cooker. Handvo is made by preparing a batter of lentils and rice, fermenting it overnight, and then baking it. They are often pan-fried to make them crispy and golden, and the sesame seed seasoning makes them absolutely delicious! In Gujarati households, these nutritious pan-fried or baked lentil cakes are a common one-dish meal. They go well with tangy green chutney and a hot cup of tea, much like any other Gujarati snacks.
Lilva Kachori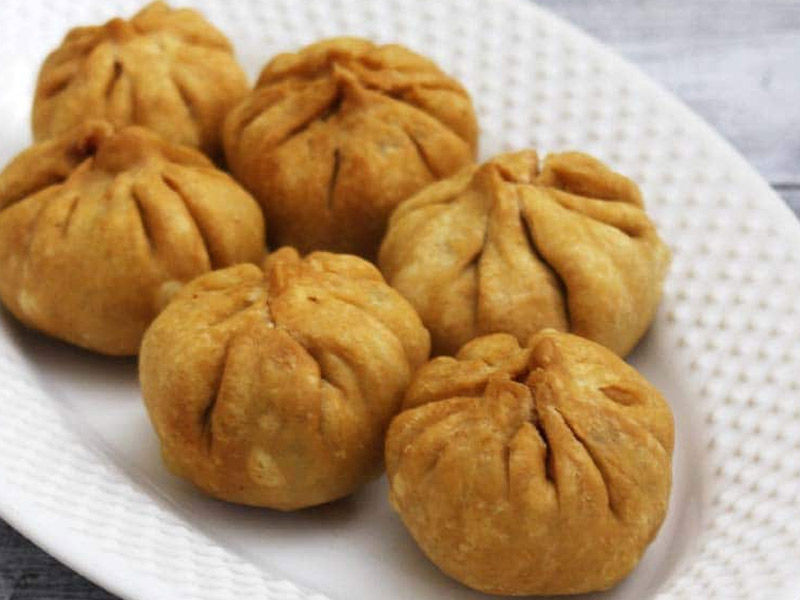 Kachoris are flour balls that can be filled with any filling of your choosing and are a perfect winter and monsoon tea-time snack. They are a common delicacy in India's western and northern regions. Lilva Kachori is a Gujarati dish made with pigeon pea filling. Make these, make a kachori dough out of white flour and semolina, roll it out, fill it with the lilva mixture, roll it into balls, and fry it. This crunchy, tasty snack, served better with tangy chutney or sauce, can make cold evenings brighter and more enjoyable.
Gota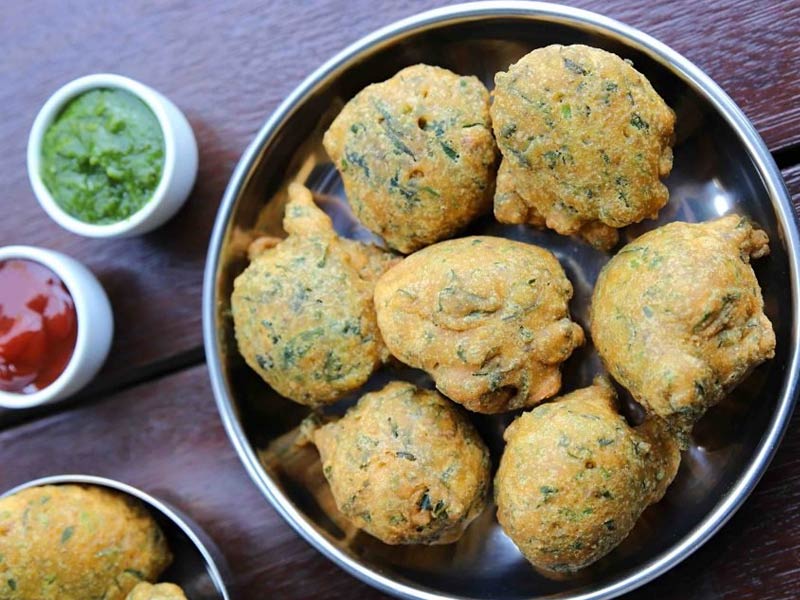 Like any other state in India, Gujarat has its own variant of the golden, crispy, and delicious pakodas (fritters). Gujarat's own pakoda dish, gota, is made from gram flour and fenugreek leaves. Gota is a traditional Gujarati dish that originated in the village of Dakor in Gujarat. It is a special delicacy during Holi. It's quick and easy to cook. With a soft texture, it's also a tasty evening snack, particularly when it's raining outside. Enjoy with ketchup or a soft and tangy chutney made from dates and tamarind.
Murghanu Shaak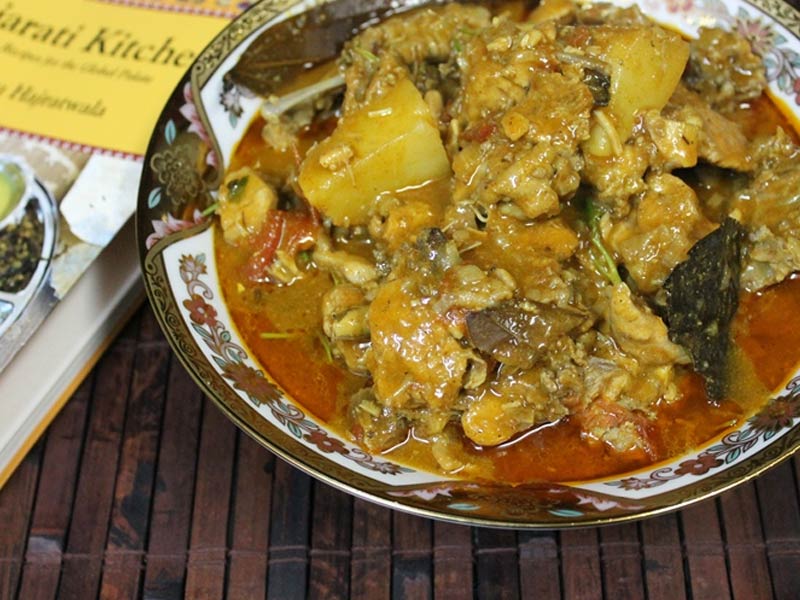 A metaphorical slap in the face of someone who thinks Gujarati dishes are just for vegetarians. Murghanu Shak is a distinct Gujarati flavor that celebrates the authentic Gujarati flavors of the drumstick, potatoes, and Gujarati masala in this warm, sour, and tangy chicken dish. The chicken is marinated in a combination of fat, yogurt, and spices before being fried in a delicious gravy of onions, garlic, ginger, chili powder, garam masala, and any other vegetables you need. It is a tasty, fast, and simple recipe for making delicious Gujarati-style chicken at home.
Ghari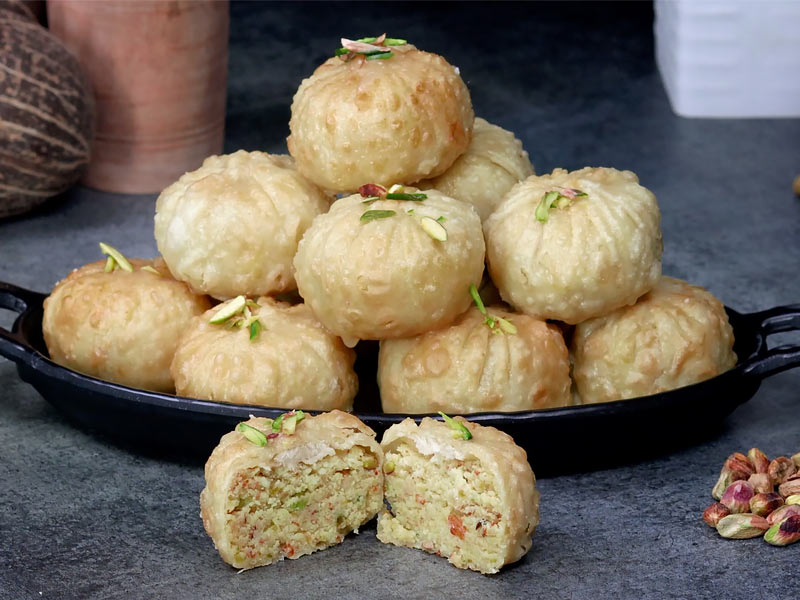 Surati Ghati, as it is commonly known, is a sweet dish so named because it is primarily prepared in Surat, Gujarat, for consumption during the Chandani Padva festival, which is actually formed around the dish itself. Ghari was originally cooked by the cooks of Tatya Tope (freedom fighter) in 1857 on a moon day to give extra strength to the freedom fighter's troops. Every year on Chandani Padva, Suratis eat approximately 100,000 kg of Ghari. Ghari is milk, ghee, and puri batter filled with sweet fillings that are molded into circular shapes. They are also available in a variety of flavors, such as pistachio, almonds, and others.