On September 17, Prime Minister Narendra Modi turned 73. As birthday greetings from the political world came in, images of a skydiver with the PM's face on the map of India circulated on social media. Jyotiraditya Scindia, the Union Aviation Minister, released a video of the man's exhilarating skydiving from a great height on Sunday.
"The affection and esteem that Indians have for Prime Minister Sh Narendramodi Ji is truly unique." Scindia wrote on X, previously Twitter, "Congratulations to Sudeepkodavati Ji for the extraordinary greetings from the US!"
Additionally, birthday greetings for the prime minister came from throughout the nation. Several prominent figures, including party leaders and members of the Union Cabinet, gave him their blessings of good fortune and health.
With his long-term perspective, President Droupadi Murmu wished PM Modi well and expressed her hope that he would pave the road for India's entire prosperity in the "Amrit Kaal."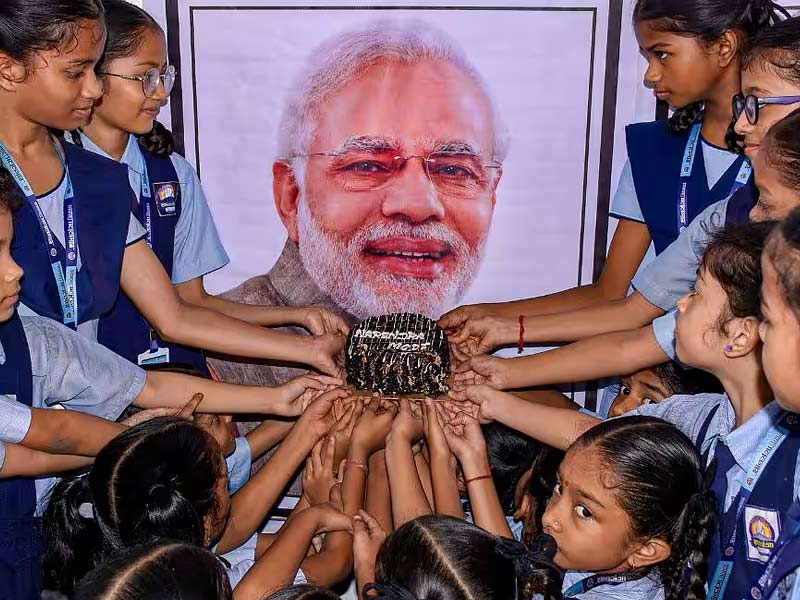 Amit Shah, the Union Home Minister, referred to PM Modi as the "architect of new India." He stated, "Modi ji, the architect of the new India, has strived to construct the solid foundation of a big and independent India based on the foundation of our country's historic legacy.
We all take inspiration from Modi Ji's maxim that "national interest comes first," whether we work for an organization or a government. Being able to serve the nation under the direction of such a remarkable leader is an honor for me.
The Prime Minister, according to BJP President J P Nadda, has given the international renown of Indian culture a concrete form.
The nation as a whole was asked by the minister of external affairs to participate in PM Modi's birthday festivities.
Yogi Adityanath, the chief minister of Uttar Pradesh, wrote in a birthday message, "Happy birthday to the great devotee of Maa Bharati, the architect of 'New India,' the dreamer of 'Developed India,' the committed to 'One India – Best India,' the famous Prime Minister of the country Shri Narendra Modi ji.
Happy birthday to the world's most popular leader and visionary leader of Bharat, PM Shri Narendra Modi Ji, said Union Minister Bhupendra Yadav in a heartfelt message.