Busan, South Korea, has approved plans for an ambitious new ocean town, with construction on the first suburb slated to begin next year. According to its creators, the planned "floating metropolis," which comprises a series of interconnected platforms, may eventually hold 10,000 people, providing coastal towns with a radical answer to the problem posed by rising sea levels.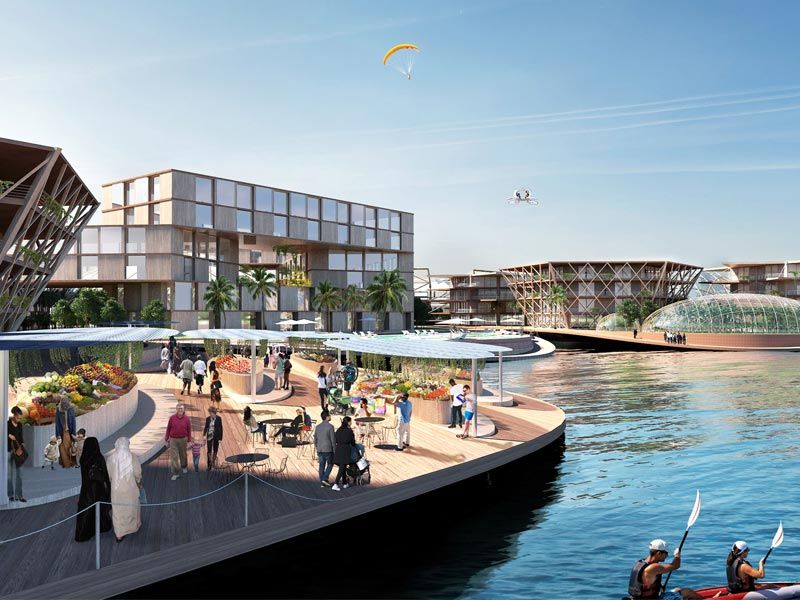 The proposal, called Oceanix City, comprises buoyant islands packed together in groups of six to form settlements. These clusters would then be replicated in multiples of six to make a 12-hectare village for 1,650 people, and then again to construct an archipelago for 10,000 people.
BIG has created a proposal for a 10,000-person floating metropolis that might aid cities affected by harsh weather events and increasing sea levels. BIG creator Bjarke Ingels introduced the plan Wednesday at the United Nations' New York headquarters during a round-table debate on floating cities.
Lets Read more about OCEANIX City 
OCEANIX CITY is a vision for the world's first resilient and sustainable floating town for 10,000 inhabitants on 75 hectares, in support of UN-New Habitat's Urban Agenda. The design is based on the Sustainable Development Goals, and it channels energy, water, food, and waste flows to produce a plan for a modular marine city. OCEANIX CITY should expand, alter, and adapt naturally over time, progressing from neighbourhoods to villages to cities with the ability to scale.
Modular neighbourhoods of up to 2 hectares in size produce vibrant, self-sustaining communities of up to 300 members with mixed-use space for living, working, and socialising during the day and night. To ensure a low centre of gravity and to withstand wind, all structures developed in the area are kept below 7 storeys tall. Every structure fanning out to self-shade internal rooms and the public realm, giving comfort and reducing cooling costs while increasing roof surface for solar collection. Every platform is built on communal gardening, which allows people to embrace sharing culture and zero waste methods.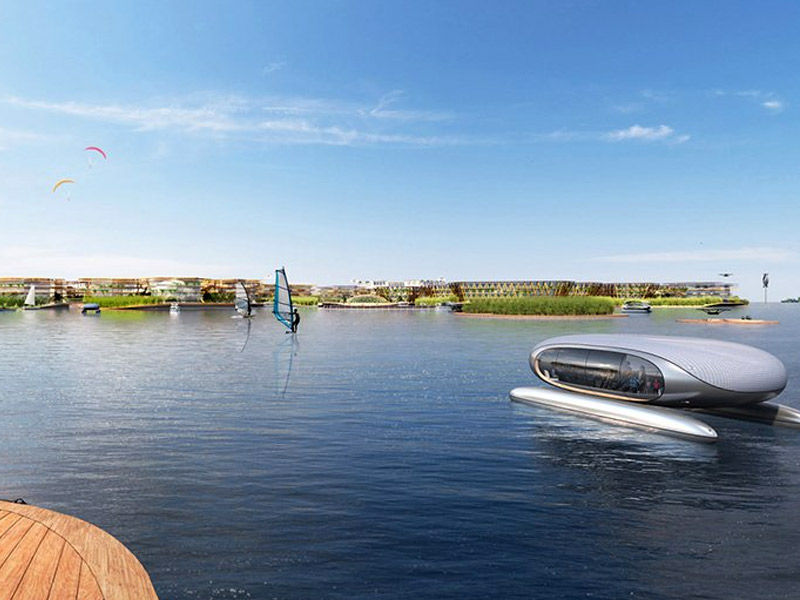 Larger towns of 12 hectares may house up to 1,650 persons by clustering six neighbourhoods around a protected centre port. To encourage inhabitants to assemble and move throughout the town, social, recreational, and economic activities are positioned around the covered inner ring. Residents can easily navigate the city by foot or boat. Six villages combine to form a city of 10,000 inhabitants with a strong feeling of community after aggregating to achieve a necessary density.
In the centre of the city, a bigger protected harbour is formed. Floating destinations and art, including six specialised landmark neighbourhoods with a public square, marketplace, and centres for spirituality, learning, health, sport, and culture, create destinations that draw residents from all over the city while anchoring each neighbourhood in its own distinct identity.
All communities, regardless of size, will emphasise locally sourced materials for building construction, such as fast-growing bamboo, which has six times the tensile strength of steel, a zero carbon footprint, and can be grown on the grounds of the communities themselves. Floating Cities can be built on land and towed to their ultimate location, lowering building expenses. This, along with the cheap cost of leasing oceanfront space, results in a more inexpensive way of life. Because of these qualities, inexpensive housing can be quickly supplied to coastal megacities in desperate need.
Also Read, Oxagon: The World's First Floating City in the World
The ocean covers two-thirds of the earth's surface. It is a big resource that can aid in resolving the complicated difficulties that coastal cities face. We design for individuals who wish to live sustainably in areas such as energy, water, food, and waste. We make smart things, but we establish a vibrant community of people that care about the world and all of its living forms.
How OCEANIX City came into Inception?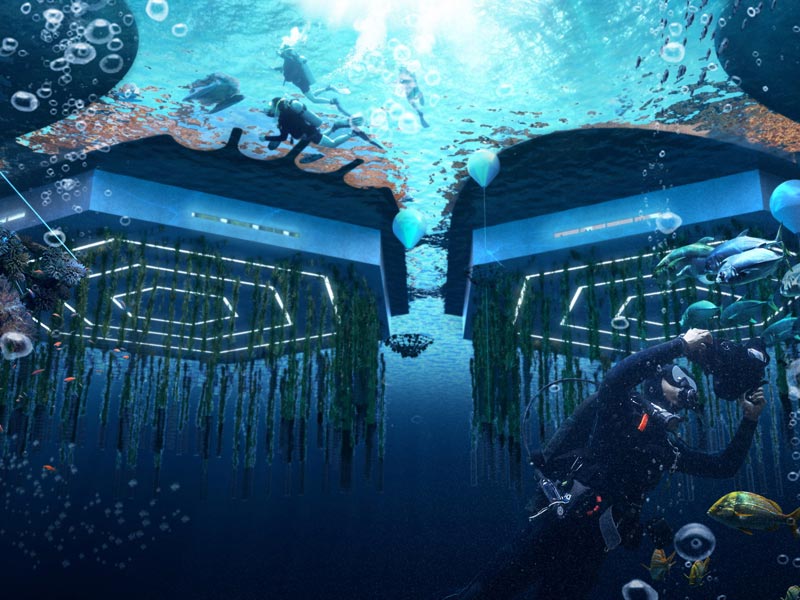 Oceanix, a firm that finds innovative methods to build on water, commissioned BIG to create the design, which was developed in collaboration with MIT's Center for Ocean Engineering and Oceanix. The plan was announced during the First United Nations High-level Roundtable on Sustainable Floating Cities, which Oceanix co-organized with MIT, the Explorers Club, and UN-Habitat, a UN agency tasked with city building.
Oceanix City creates a livable off-shore environment with rising sea levels, which are predicted to impact 90% of the world's coastal towns by 2050. Each module would be erected on land and then dragged to sea, where it would be moored. The small islands are also built to withstand a category five storm.
The arrangements would be flexible enough to allow the cities to be moved if water levels grew too low. The structures atop will be made of locally available "replenishable" materials like wood and fast-growing bamboo, which will also provide "warmth and softness to touch."
A variety of renewable energy resources, such as wind and water turbines, as well as solar panels, are also included. Food production and farming would be linked, with a zero-waste policy in place. Every island will include 3,000 square metres of outdoor agriculture, which will also be intended to be enjoyed as open space.
Structures filling the modules will be low level, rising four to seven levels to maintain the centre of gravity. According to the renderings, the buildings will taper out towards the top to provide shade and more roof space for solar panels.
Each mini-village will include a community structure for living, such as water baths, marketplaces, spiritual and cultural centres, but BIG wants Oceanix City to be adaptable to "any culture, any architecture."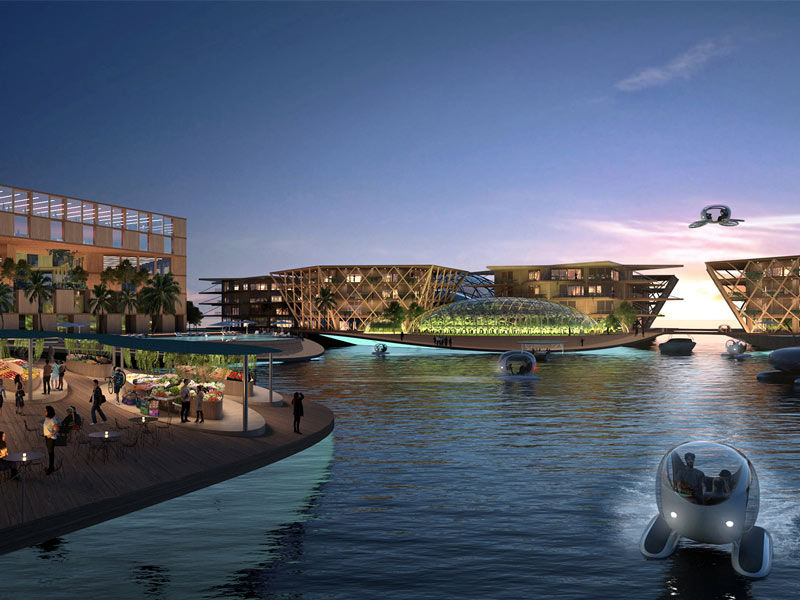 Another significant advantage of the floating city is that it is an example of a low-cost construction that might provide a solution to displaced societies.
Oceanix City is created first in sub-tropical and tropical locations most vulnerable to floods, but it might eventually provide a more appealing living environment.