Meghalaya is a state in India that is located in the country's northeast. It is bordered on the north and northeast by the Indian state of Assam and on the south and southwest by Bangladesh. The state capital is Shillong, a hill town in east-central Meghalaya. The majority of Meghalaya's residents are Tibeto-Burman (Garos) or Mon-Khmer (Khasis) ethnic groups. Their languages and dialects reflect this. Meghalaya is rich in tribal culture and folklore. Religious events and social functions include drinking and dancing to the accompaniment of music played on Singas (buffalo horns), bamboo flutes, and drums.
How to get around
For the sake of convenience, any trip to Meghalaya should begin in Shillong or Guwahati. Several sections of Meghalaya and other North-East locations are connected by local non-AC buses and share sumos. These buses are inexpensive, but they are rare and inconvenient for both domestic and international tourists. The best option is to book a taxi for the day and go between your destinations.
As of November 2008, ordinary Maruti 800 cabs cost around $1200 (including petrol) for normal day excursions (Mawsynram, Cherrapunjee, Nartiang). If you want to see somewhere other than the usual tourist traps, bargain. Shillong City Tour costs between 500 and 700 rs.
Because Meghalaya is such a small state, places on the traditional tourist circuit are not far apart, thus keeping a car is not a cost-effective option. Cars are not readily available from Orchid Lake Resort or Cherrapunjee Resort, which are off the beaten path. So it is best to plan your itinerary ahead of time and make arrangements for pick-up from the resorts on the return leg from Shillong. You might have to wait if you don't. Because tourist initiatives are mostly focused on Shillong and the East Khasi Hills, visitors to the Garo Hills (Tura, Williamsnagar), Jaitia Hills (Jowai), and West Khasi Hills (Nongstoin) should arrange their route/itinerary accordingly.
Top 10 Meghalaya Tourist places you must visit once
1)Balpakram National Park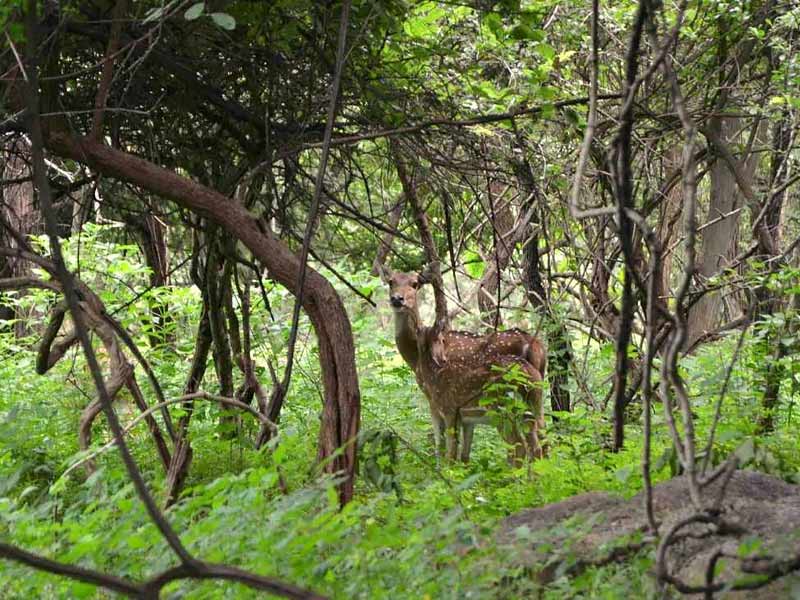 Balpakram, meaning "the Land of Perpetual Winds," is unknown outside of Garo mythology. Still, it is a significant component of it. Its uncharted forests, massive cliffs, and powerful rivers have spawned a slew of ghostly tales, including one about a stalking 'mandeburung,' or jungle man, straight out of a cryptozoologist's guidebook. Balpakram National Park is home to diverse animals and plants, including the critically endangered wild water buffalo.
Local legend has it that Balpakram is the country of the spirits, and a Balpakram experience combines the natural with the mystical. The scenery is defined by the huge Simsang River. You must obtain permission from the park administration at Chitmang House, located on the edges of the forest, to enter the park. Safari jeeps are available to transport you to the most popular tourist attractions.
From the plateau's vantage point, you'll have sweeping views of the National Park's main canyon and the numerous waterfalls cascading down the cliff face. Balpakram is considered the last stronghold of the world's most endangered plant and animal species despite its modest size. Winter is a great time to see creatures like elephants, and it's also the time for ground orchids to blossom.
2)Cherrapunji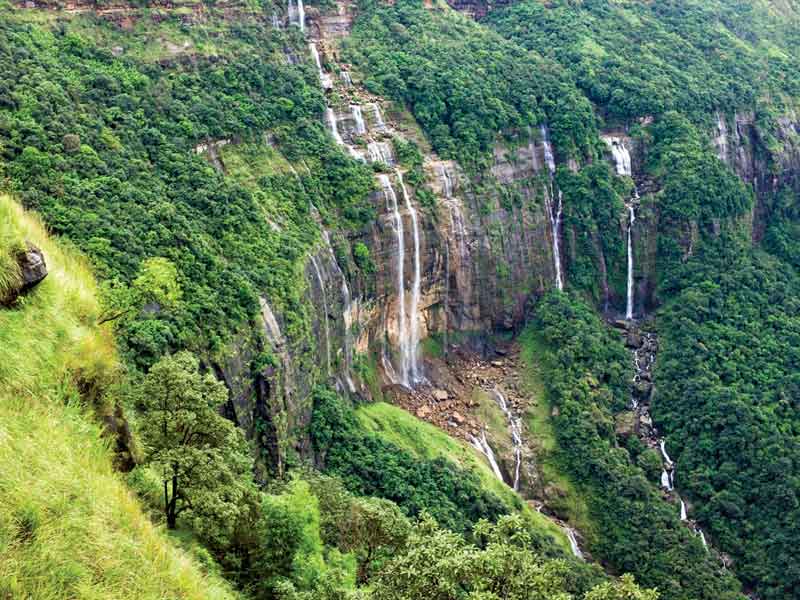 Cherrapunji is among the world's wettest places. It is also the location in India with the most rainfall. The Dain-Thlen, Kynrem, and Nohkalikai waterfalls are among Cherrapunji's most popular tourist destinations, attracting thousands of visitors each year.
Cherrapunji may be the only spot in India where there is only one season: monsoon. Rainfall ranges in intensity from heavy to medium to moderate, although no month goes by without rain. Another interesting aspect of Cherrapunji is that it mostly showers at night. Therefore, the rain has little effect on day-to-day activities. Cherrapunji is 58 kilometers from Shillong, Meghalaya's capital. A steep motorable road runs up to Cherrapunji, nearly always shrouded in mist as it rises upwards on the last circuit. From Shillong, buses and taxis run to Cherrapunji. 
Tourism-of-India.com has all the information you need about Cherrapunji and tourism in Cherrapunji. Tourism-of-India.com provides a variety of tour packages to make your trip more enjoyable. You can select the option that best matches your needs.
3)Shillong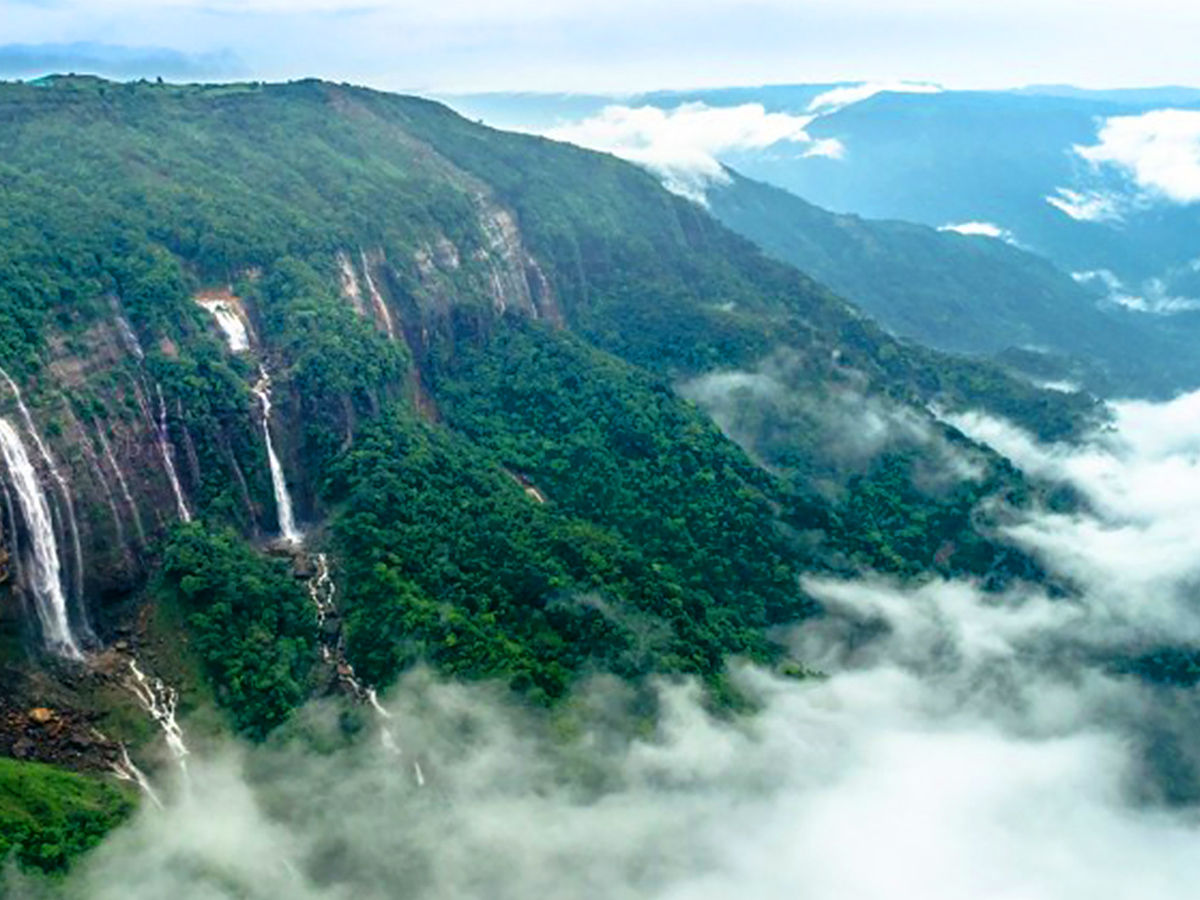 Shillong is affectionately referred to as the "Scotland of the East." It is one of Meghalaya's most popular tourist destinations, and it should be on everyone's bucket list. It features forested hills, a comfortable climate, and picturesque splendor that draws many tourists and trekkers worldwide. Shillong gets a lot of rain during the monsoon, and the rainy season lasts a lot longer than it does in the rest of India.
As a result, an umbrella is a must-have when packing your bags. Although most people avoid the rainy season, it is usually when the city is spotless, and the waterfalls are at their most powerful. Khyrim, Mylliem, Maharam, Mallaisohmat, Bhowal, and Langrim are some of the Shillong tribes. Shillong Peak, Elephant Falls, Lady Hydari Park, Wards, Lake, and the Don Bosco Museum are just a few of the city's well-known tourist attractions. 
Shillong is a popular entry point to Meghalaya because it is home to the state's primary airport. There are many things to do in Shillong to make your vacation unforgettable.
4)Elephant Falls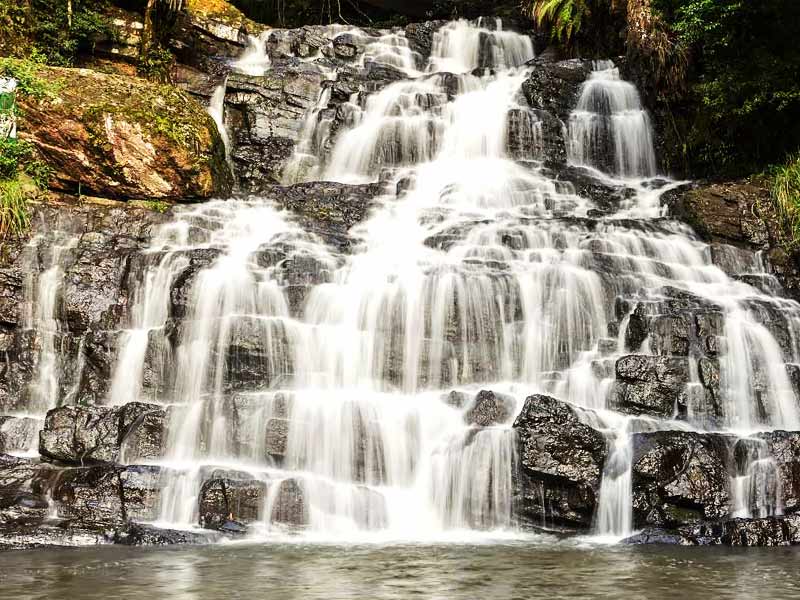 The evergreen woods of Meghalaya are found all over the state. The state of Meghalaya is also recognized for its spectacular waterfalls. Elephant Falls is a must-see in Meghalaya. It was given the name Elephant Falls because it features an elephant-like stone at its foot. This is one of the most popular falls in the North-East and one of Meghalaya's most captivating locations. The Khasi people refer to the magnificent Elephant Falls as 'Ka Kshaid Lai Patang Khohsiew.' It translates to 'The Three Step Waterfalls,' as this waterfall comprises three separate yet equally beautiful falls.
5)Living Root Bridge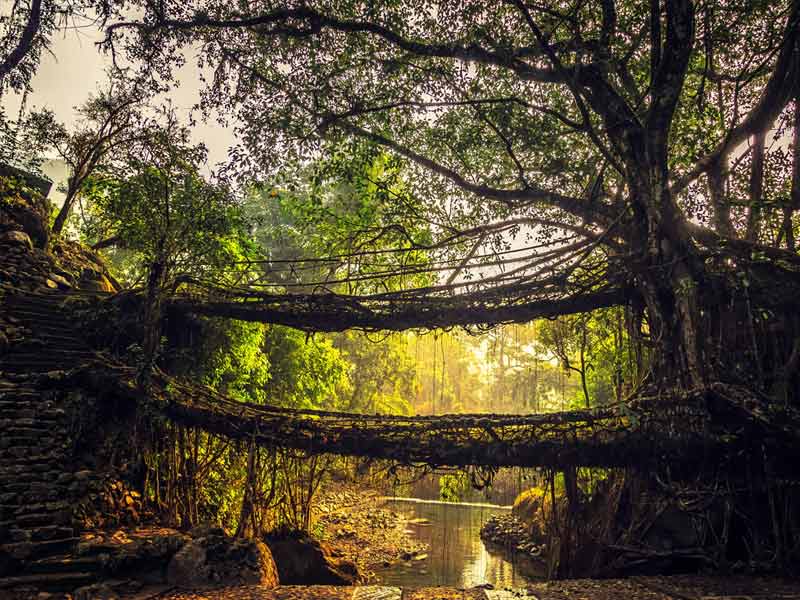 The Living Root Bridge is a very well-known bridge formed of the roots of an Indian rubber tree that is one of Meghalaya's most popular tourist attractions. This bridge, located near Cherrapunji, is 3 kilometers long and stands at 2400 feet. The Living Root Bridge, built roughly 200 years ago, is the oldest natural bridge. Enjoy the scenery of the Umshiang river flowing beneath the bridge as you walk over the bridge. It is a beautiful hike in North East India. If you're on your honeymoon, don't forget to stop by this Meghalaya location.
6)Mawlynnong Village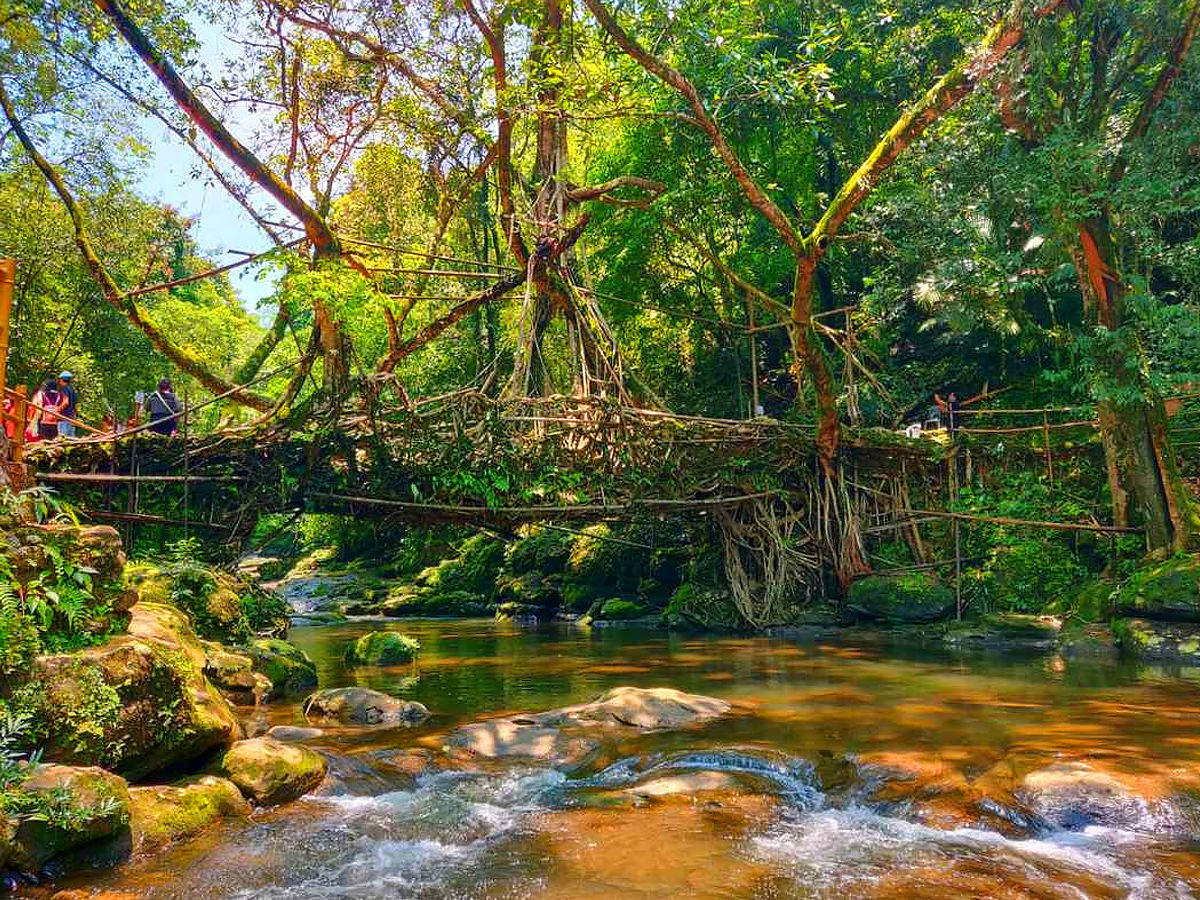 The Mawlynnong village, located in the East Khasi Hilla, takes pride in being Asia's cleanest village. It is one of Meghalaya's most exotic spots. This village welcomes you with all you need to make your Meghalaya adventure important, from beautiful waterfalls and root bridges to a clean environment and breathtaking outlook. Aside from that, there are several bamboo cottages where you must spend at least one night. In Meghalaya, this village is a must-see. It will astound you with how clean it is.
7)Nohkalikai Falls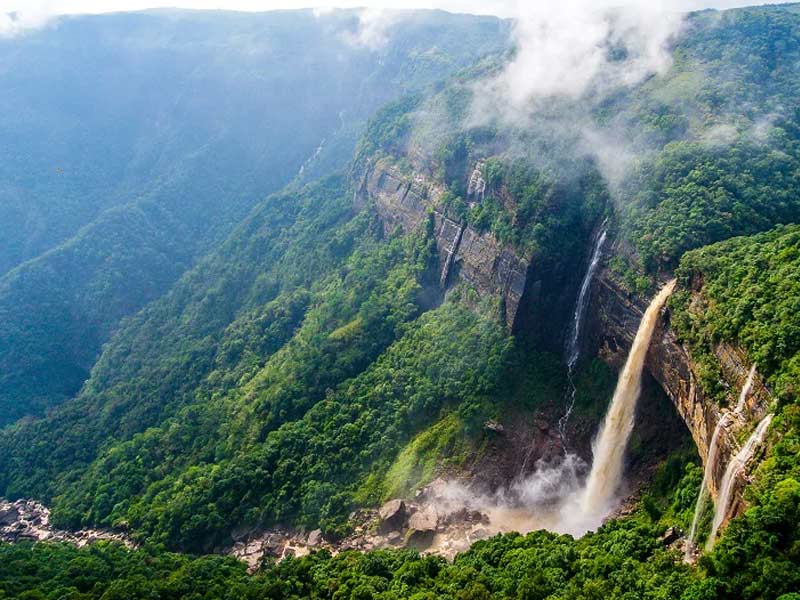 The Nohkalikai Waterfalls are the world's fourth most famous waterfalls. It cascades down 335 meters from a lush cliff to the earth and into a tidal pool, evoking a massive and astonishing heavenliness. This waterfall is Meghalaya's pride and one of the country's most beautiful and spectacular falls. This waterfall is one of Meghalaya's most beautiful.
8)Tura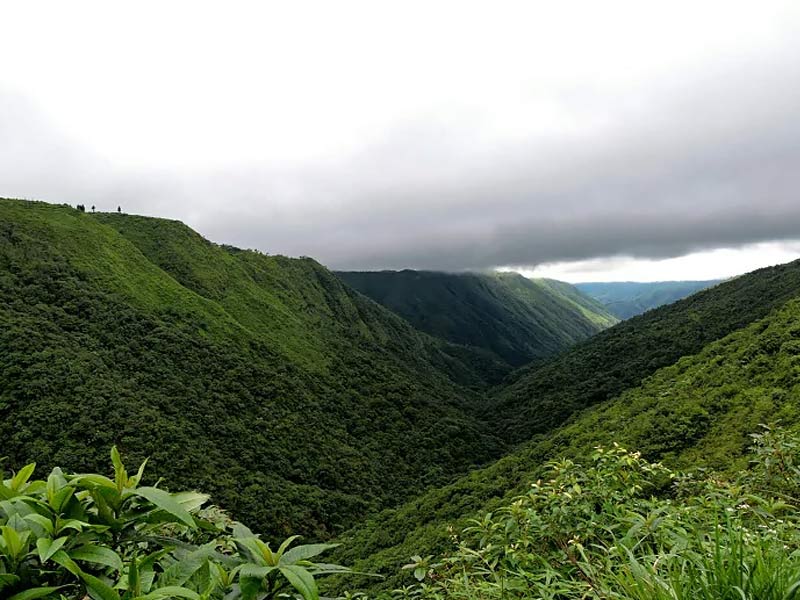 Tura is one of Meghalaya's most popular tourist destinations, owing to its tranquil setting. It is located in the Garo Hills and has many interesting sites to explore. Tura is a haven for nature lovers and animal enthusiasts. It is surrounded by the scent of mountains and vegetation and has untouched biodiversity.
9)Kyllang Rock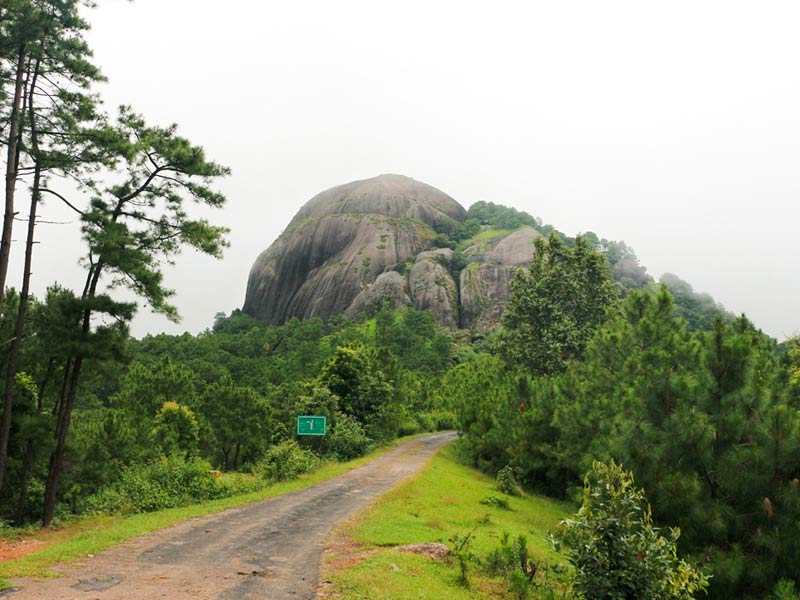 This incredible red-stone gigantic rock is around 78 kilometers from Shillong. Kyllang Rock, at 5400 feet above sea level, is located in Meghalaya's West Khasi Hills. It is a massive square of granite stone with a width of roughly 1000 feet. Climbing to the top of Kyllang Rock allows you to take in the breathtaking view of the surrounding area.
10)Umiam Lake
Umiam Lake, about 15 kilometers north of Shillong, is a beautiful man-made lake. A dam was built to provide hydroelectric power, and the lake was constructed as a result. The beautiful Umiam Lake is surrounded by lush green East Khasi slopes, providing an all-encompassing view for nature lovers. The daybreak at the lake is a sight to behold with your own eyes and should not be missed. You can also enjoy a long boat trip on the lake and drifting and various water activities.
Don Bosco Museum, Baghmara, Mawsmai Cave, Umiam Lake, Jowai, Nongpoh, Dawki, and Williamnagar are among the other locations to visit Meghalaya. Meghalaya is the ideal place for those who enjoy mountains and those looking for some inner calm. If you want to relax amid the snow-capped mountains, Meghalaya is a great place to visit.