Kalpa is a small yet beautiful village in Kinnaur district of Himachal Pradesh. Situated in the Sutlej River valley, the village is just above Reckong Peo. Known for its scenic landscapes and apple orchards, the village has emerged as a popular tourist destination, especially among backpackers. People of both Hinduism and Buddhist faith live in Kinnaur and Kalpa houses temples related to both the faiths.
An epitome of multiculturalism, Kalpa is also the home to Shyam Saran Negi, the first ever voter of India. Situated at an elevation of 2,960 meters, Kalpa is 265 km from Shimla. The village also serves as the base to the glorious Kinnaur Kailash ranges, a place that is blessed by a 20,000 ft high Shivling atop the mountain.
Kalpa is a religious hub for Hinduism as well as Tibetan Buddhism. It also serves as a base for the journey towards Spiti. The place is full of adventures and everything here is without any filters. From the gorgeous looking snow-capped mountains to white desert towards Spiti, the landmass in and around Kalpa is really diverse. Despite being at such a high altitude, the weather in Kalpa is favourable to tourists for most of the year. It is during the winters when one requires heavy woolen clothes to protect themselves from bone-chilling cold.
How To Reach Kalpa?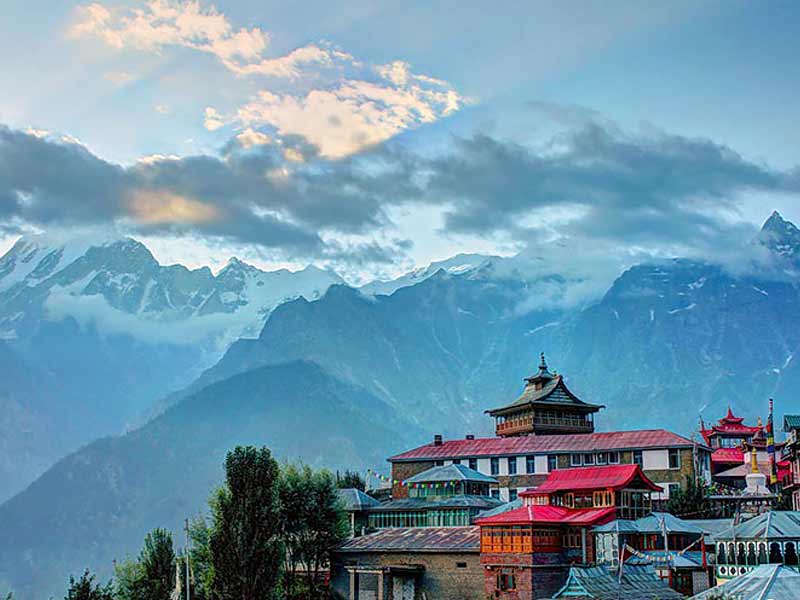 By Air: The nearest airport to Kalpa is Shimla airport which is 275 km from the village. Shimla airport is well connected to all major Indian cities. Once you reach Shimla airport, you can either hire a taxi or take a public bus to Kalpa.
By Train: The nearest railway station is Shimla Railway Station. The distance between Shimla Railway Station and Kalpa is 244 km. Direct taxis for Reckong Peo are available from Shimla station.
By Road: Reckong Peo is well connected to major cities such as Delhi and Chandigarh through road. You can either drive to the destination or take a bus. HRTC buses for Delhi to Reckong Peo and Chandigarh to Reckong Peo are easily available. The journey time from Delhi to Kalpa is around 19 hours.
Top Things To Do
Visiting Kinnaur Kailash: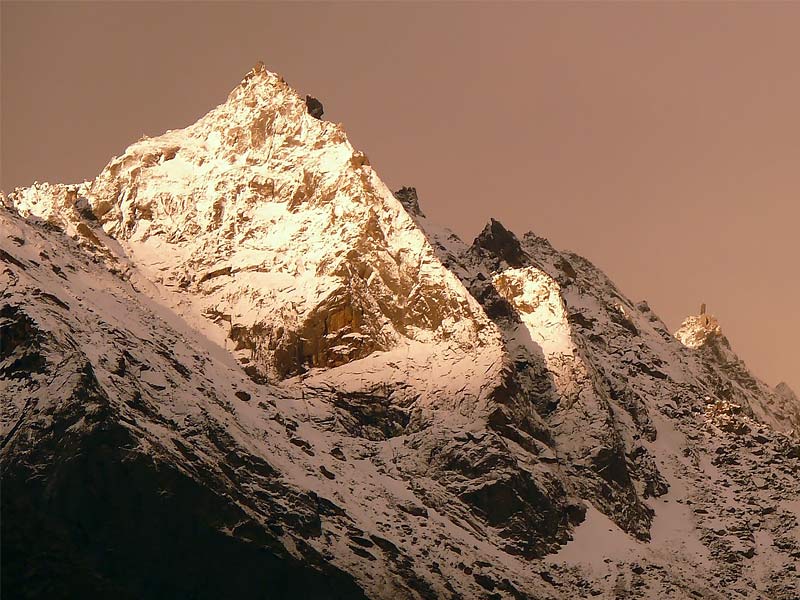 Kinnaur is a mystical place guarded by towering peaks and surrounded by lush green valleys. The place holds a religious significance as it houses a gigantic Shivling right at the top of the trek. Famous for its rich flora and fauna, the tribal district falls on the Hindustan-Tibet road and is one of the most adventurous places in the entire Himachal. With Kinner Kailash being the key attraction that can only be reached after a moderate to difficult trek, Kinnaur is a picture perfect destination for adventure junkies. You can find affordable guesthouses and homestays across Kinnaur for a peaceful stay. You can also set up your own camp in the village.
Suicide Point: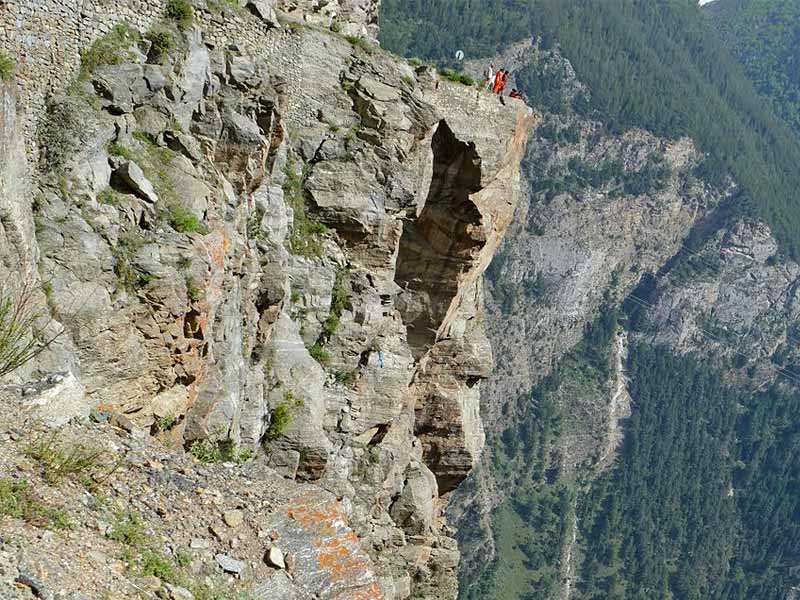 There are few places where you get an adrenaline rush just by looking at them. Suicide Point is one such place. Famous for its vertical slopes and dangerous trench, the appearance of the place does full justice to its name. A walk to the suicide pint will be among the most adventurous moments while in Kalpa. You will come across magnificent apple orchards while walking to the suicide point.
Roghi Village: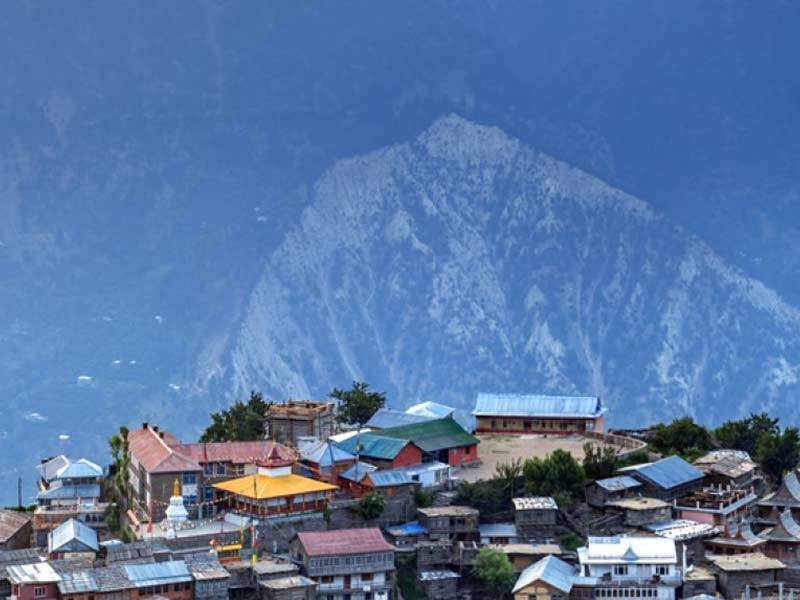 A quiet Himalayan village with Himalayan-style huts and laidback lifestyle. Roghi is a tiny piece of wonder situated 7 km from Kalpa. Gifted with scenic landscapes, Roghi village is a perfect place for a few hours of exploration and one night's stay. Dotted with apple orchards, the village has rich flora and fauna. Situated far from the hustle and bustle of the city, Roghi village will make you forget about all the tensions and stress in life. You should plan at least a day's stay in the village.
Sapni Fort: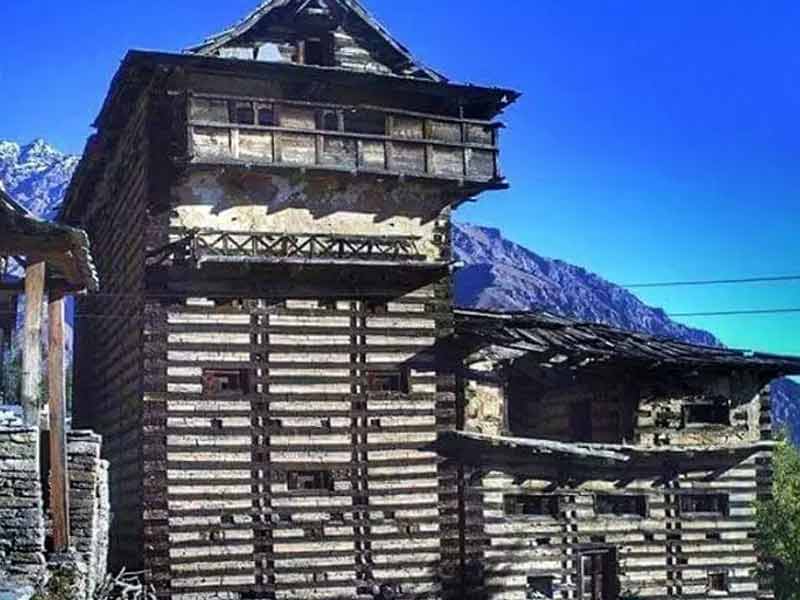 Situated 10 km from the village, Sapni Fort is a work of art. A heaven for art and architecture lovers, the fort boasts of architectural finesse. Situated near Sapni village, it is a 7-storey fort built in traditional Himalayan style. Most of the fort was constructed by King Padam Singh of Rampur. The Wooden carvings and decoration on the walls make the entire structure even more attractive and appealing.