Lamayuru monastery is located 127 kilometres from Leh at a height of 3,510 metres. Lamayuru is easily accessible on a day trip from Leh. Lamayuru is famous for its monastery as well as its "lunar" setting, which is quaintly marketed to tourists as a "Moonscape." The scenery is indeed magnificent, with breathtakingly strange geological formations, but this is not unique to Lamayuru.
The Lamayuru monastery is an old structure carved into the'moonscape.' It features both gorgeous frescoes and terrifying masks. Visitors may also observe the Lama Naropa's glassed-in meditation cave. Lamayuru is located in western Ladakh and is part of the Dri-Gungpa area.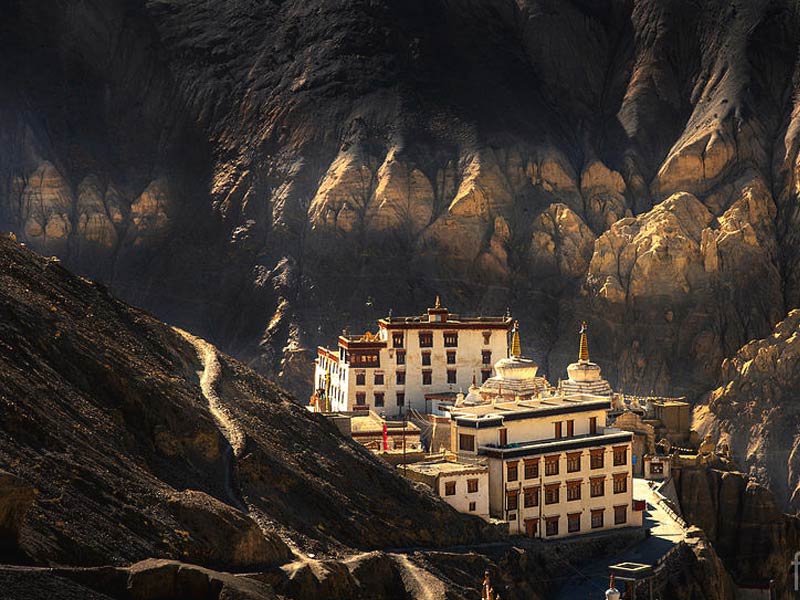 Mahasiddacarya Naropa founded Lamayuru in the 11th century. Lamayuru resembles a cave monastery with a lunar landscape. The construction of Lamayuru, which consisted of five structures, is now in ruins.
The monastery's main attraction is the yearly Yuru Kabgyat festival. The lamas' mask dance is the festival's main attraction. The burning of effigies is another prominent rite practised during the celebration. It represents the annihilation of the ego in every individual. Aside from its monastery, Lamayuru is popular with visitors due to its lunar-like environment.
It's a little town in Ladakh, but it's a fantastic place to halt on the journey from Kargil to Leh. According to legend, this place was formerly a lake that dried up, and it now houses one of Ladakh's oldest monasteries. This little village, which continues to rank high in the Leh tourism rankings, has more to offer than meets the eye.
Lamayuru is famous for its'lunar' beauty and monastery. Interestingly, due to its wonderful yet unusual physical traits, this delightful tiny village is offered to tourists as a "moonscape."
Places to see…
Lamayuru's MoonLand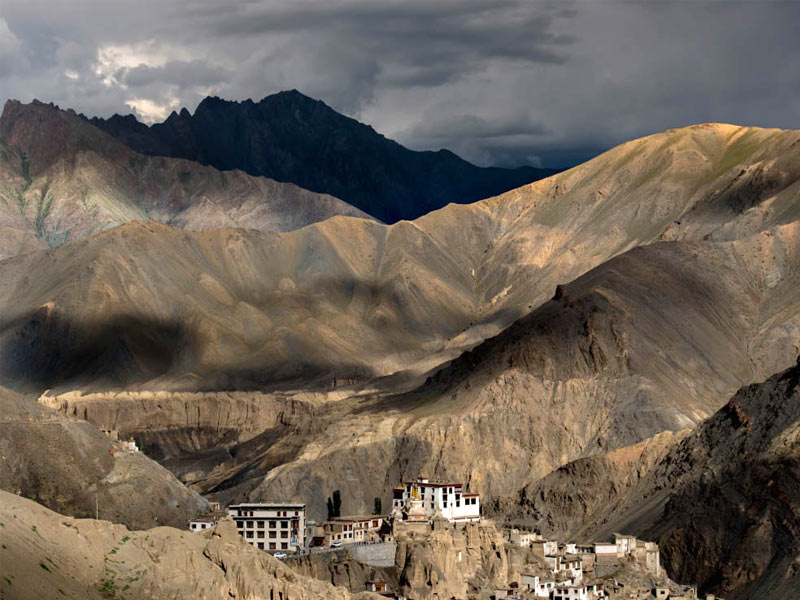 The MoonLand is a strange environment near Lamayuru on the Leh-Kargil Road. It is so named because the sceneries here are thought to resemble those of the moon. It has also been frequently stated that during a full moon night, the location is an astonishing sight to see, something one does not get to witness every day, making it a must-see area of town.
 Lamayuru Monastery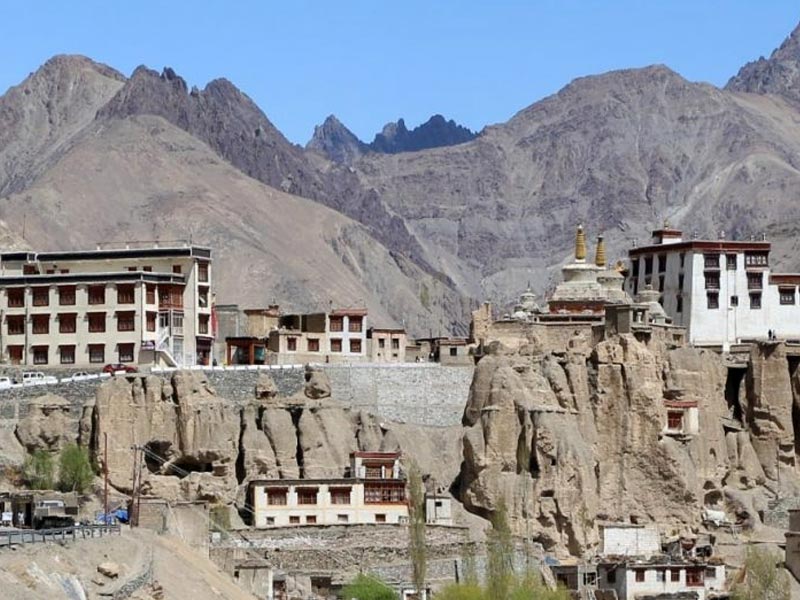 The massive Lamayuru Monastery, the main attraction of the Lamayuru area, is approximately 127 kilometres from Leh. This monastery is noteworthy for its murals, frescoes, and column paintings that depict Buddhist iconography in the Kashmiri style. The monastery also features a modest temple devoted to Avalokiteshwara, the embodiment of all Buddhas' compassion. Lamayuru Monastery has two yearly Mask Dance Festivals, making it one of the greatest occasions to visit.
Monastery of Alchi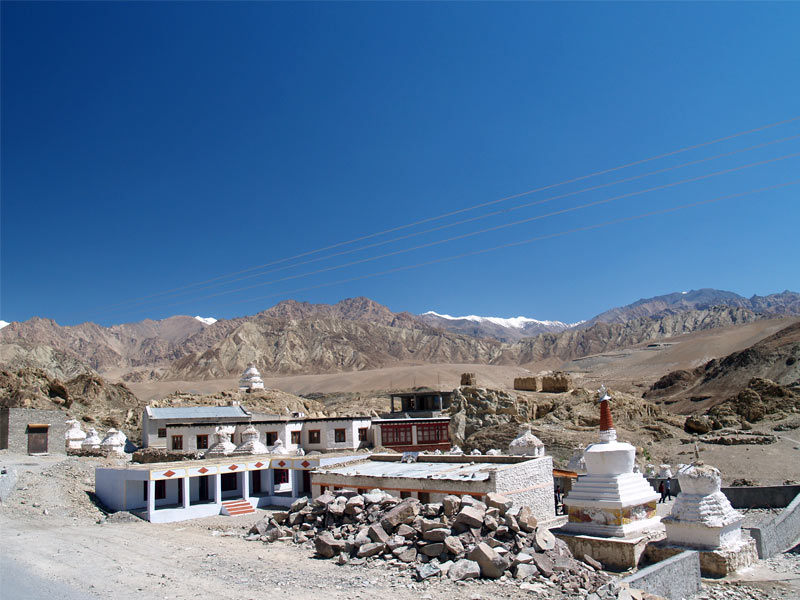 Alchi Monastery, located in Ladakh's Alchi Village, is a complex of Buddist temples, the oldest and most notable of which is Alchi Monastery. Unlike other monasteries in Ladakh, the monastery's traditional architecture is a monastic complex with three different temples known as Dukhang, Sumstek, and the Temple of Manjushri.
Aside from historical and cultural significance, Alchi Monastery is also a destination for adventure seekers. Rafting is a favourite activity among visitors to this monastery because of its proximity to the Zaskar River, which provides an extra benefit for rafters. The monastery was founded in the 10th century by Rinchen Zangpo, a renowned Tibetan scholar.
How to Get to Lamayuru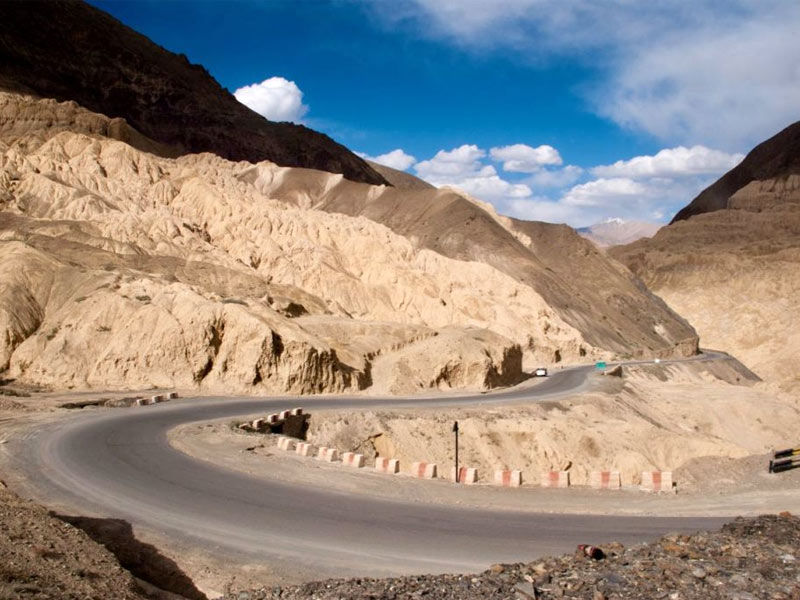 The airport in Leh is the closest. It is about 125 kilometres and a four-hour trip from Lamayuru. Lamayuru does not have its own train station, and the nearest one is in Jammu. Lamayuru is well-connected to the rest of India by road, and you can simply rent a cab or take a bus there.
To say the least, the trip along this stretch is spectacular. The terrain transforms the instant you leave Leh, and believe us when we say you will be captivated throughout the ride. Needless to say, Ladakh is awe-inspiring in every way. Almost every area of Ladakh, like Lamayuru, will give you a boost of energy, entertain you with its beauty, and leave you with memories that last a lifetime.
How to Get to Lamayuru by Plane
Lamayuru does not have its own airport. The closest airport is in Leh, which is just 125 kilometres distant and has frequent flights from the rest of the nation. The Srinagar airport, which is 300 kilometres distant from Lamayuru, is another local option. You may take a taxi or cab from either of these locations, or you can take a bus if you want to save money.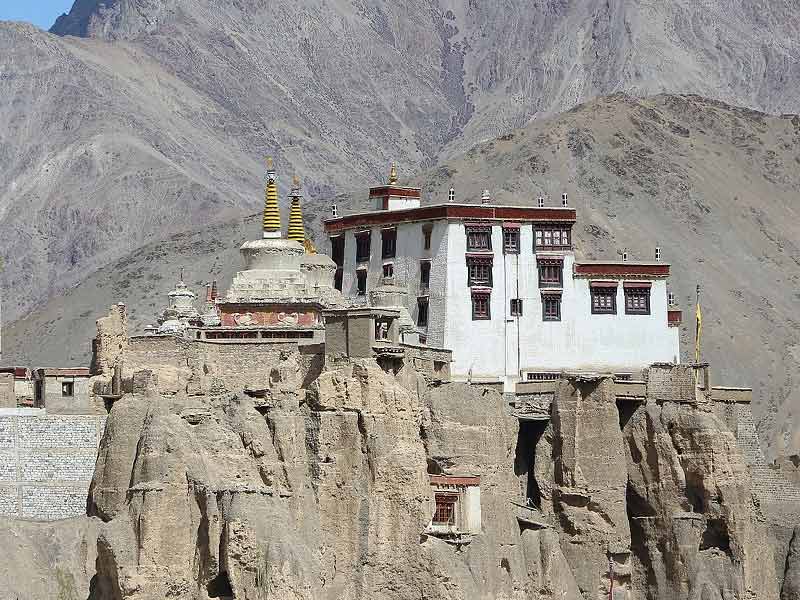 The nearest airport is Leh Airport (IXL), which is 73 kilometres away from Lamayuru.
How to Get to Lamayuru by Car
A good road network connects Lamayuru to the rest of the country. This route is served by regular buses. Regular buses run from cities like as Udhampur, Jammu, Srinagar, and Leh. From these locations, you may also rent a cab.
How to Get to Lamayuru by train 
Lamayuru does not have its own railway station. The nearest train station is in Jammu, and from there you may take a bus or hire a cab to Lamayuru. On the plus side, the route is stunningly gorgeous and scenic, making it an absolute treat.