On the eastern coast of Tamil Nadu, a city has experienced the glory of South India's most successful empire, the Chola Empire. Thanjavur, formerly known as Tanjore, is a veritable traveler's paradise, with several locations to see and discover. The city is home to the "Great Living Chola Temples" (as recognized by UNESCO), which include the Brihadeshwara Temple in Thanjavur, the Gangaikonda Cholapuram Temple, and the Airavatesvara Temple. While some may regard a visit to Thanjavur as a "religious" pilgrimage, those who actually love art are in for a treat! The temples in Thanjavur attract a lot of interest because Dravidian architecture is absolutely out of this world.
Here are the most well-known Thanjavur temples that you should see on your next trip.
1. Brihadeeswara temple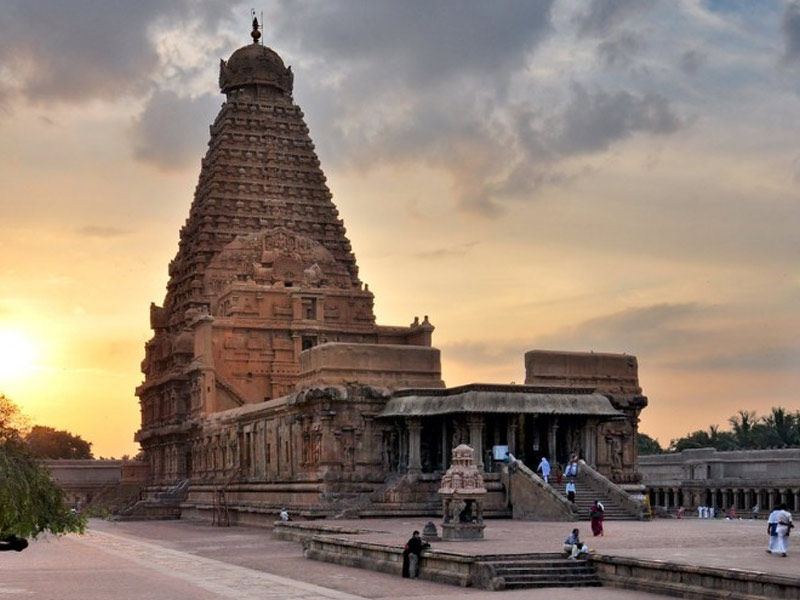 Brihadeeswara temple is a Shiva temple in Thanjavur that has drawn the attention of millions of visitors. It is a remarkable example of Dravidian architecture. It is said to be one of the largest temples in this area of the country. Brihadeeswara or Pragatheeshwar temple in Thanjavur has been related to various mythical stories and folklore. It is located on the southern bank of the Kaveri river. While touring Sri Lanka, Raja Raja Chola I, the king who commissioned the construction of this temple is reported to have had a vision of Brihadeeswara temple in Thanjavur (erstwhile Ceylon).
The plan was to construct a temple that would exhibit the splendor of his reign. The sanctum and Vimana (tower), the Nandi hall, the assembly hall (mukha mandapam), the gathering hall (maha mandapam), and the Prakara are the five main components (pavilion). As one of Thanjavur's most important temples, it is best to devote at least a day to this tourist attraction. Tiruchirapalli International Airport is 60 kilometers distant. Therefore you can take a private cab as soon as you arrive in Thanjavur and visit this temple.
2. Airavatesvara Temple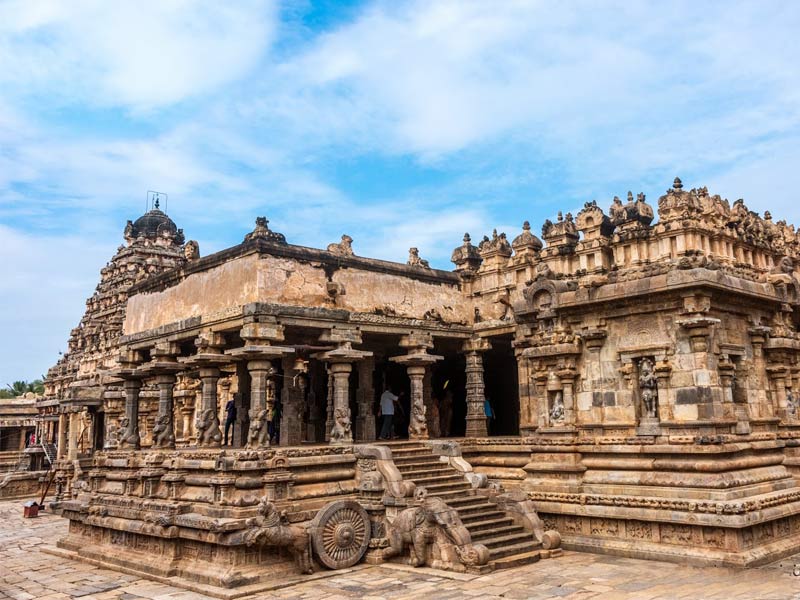 The Airavatesvara Temple is a magnificent masterpiece located in Tamil Nadu's Thanjavur district. This spectacular sanctuary of devotion, built during the reign of the mighty Cholan dynasty, is located at Dharasuram, close to the temple town of Kumbakonam. A temple dedicated to Lord Shiva was established in the 12th century by the monarch Rajaraja Cholan. It was named Airavatesvara after Lord Indra's vehicle, the white elephant.
The elephant is reported to have worshiped Lord Shiva to regain its white hue after being cursed by Sage Durvasa. Furthermore, this is thought to be the area where Lord Yama prayed to the prime deity to free himself of a burning sensation all over his body that he had been cursed with. This gorgeous and quiet spot, with its historical value, is a must-see.
3. Ramaswamy Temple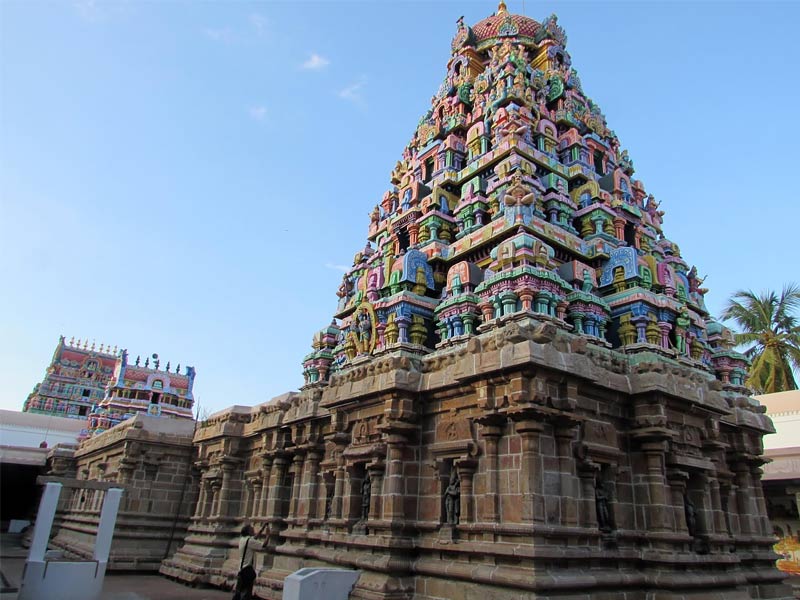 Ramaswamy Temple, which is located near Thanjavur. The construction of this magnificent temple, dedicated to Lord Rama, took place in the 16th century. This occurred during the reign of the Nayakkars, and the building reflects their culture substantially. This temple is distinguished by the fact that it was carved from a single stone. Yes, you read that correctly! The Ramayana episodes are carved on the 64 pillars that surround the main shrine. This temple is about 2 kilometers from the Kumbakonam Railway Station, making it quite easy to reach.
4. Brihadeshwara temple Gangaikonda Cholapuram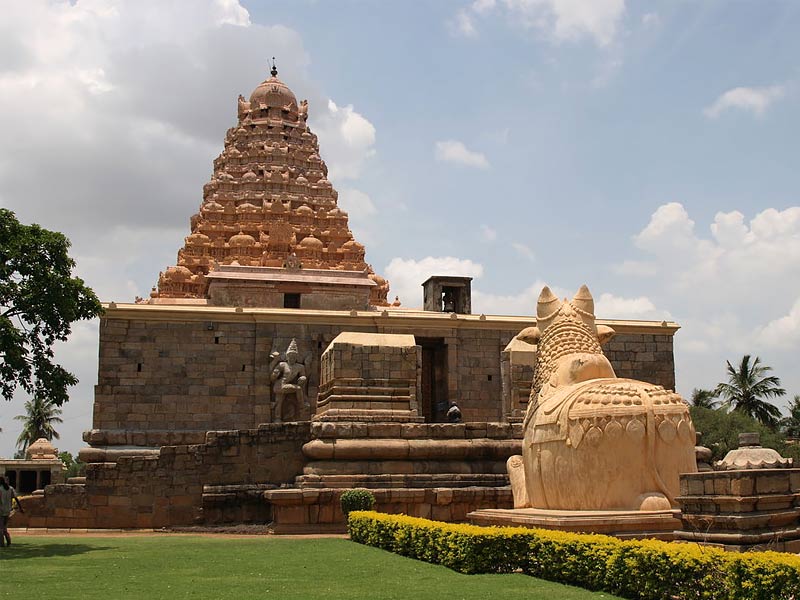 As the namesake of Thanjavur's most famous temple, this Hindu sanctuary is enthralling to visitors. Brihadeshwara or Bruhadeshwar Mandir is located in Gangaikonda Cholapuram, a small village near Thanjavur. The purpose of building this temple was to make it greater than the one in the Cholas' old capital. It was built by the son of Raja Raja Chola and is regarded as the largest temple near Thanjavur, with practically identical construction in the main shrine. As one of the "Great Living Chola Temples," this should be on your agenda as one of the top Thanjavur viewing attractions.
5. Kampaheswarar Temple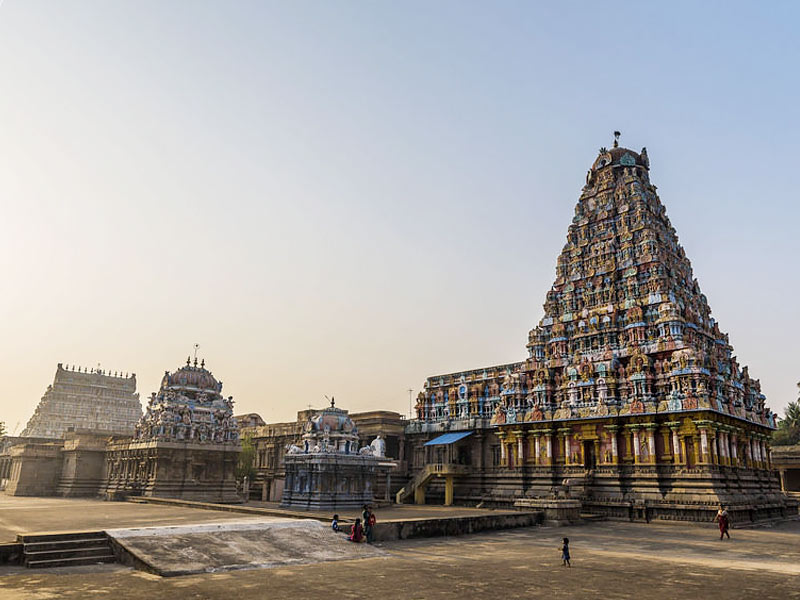 The Kampaheswarar Temple is another wonder built near Thanjavur. It is in the town of Thirubuvanam, which is adjacent to Kumbakonam. If you are planning to visit either of these locations, it is recommended that you visit the temples on the same day. Its architecture, like that of Thanjavur's Brihadeeswara or Rajarajeshwara Temple, is predominantly Dravidian. There is, however, a minor variance. This Shiva temple's Vimana, or tower, is extraordinarily tall, a trait not found in any other shrine.
6. Vellai Vinayakar Koil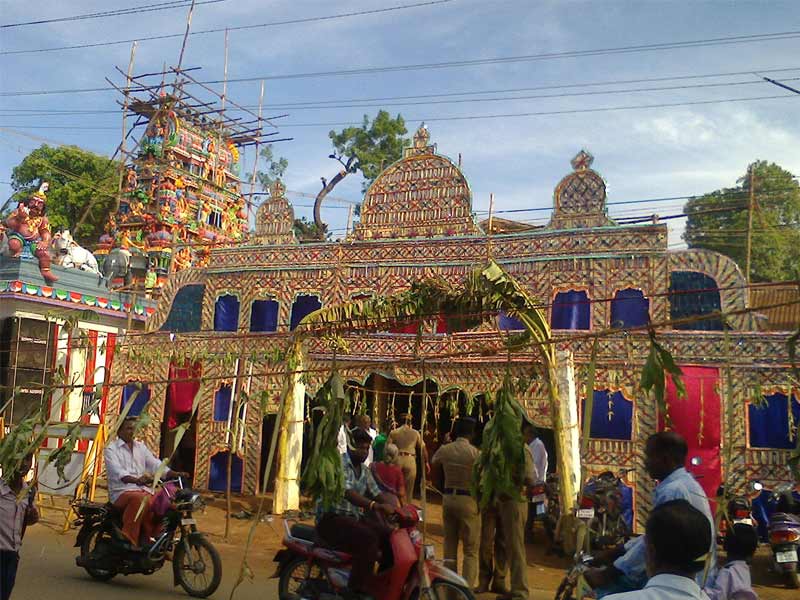 Vellai Vinayakar Koil, also known as Kabartheeswarar Temple, is devoted to Lord Ganesha's avatars. This Hindu temple is located in Thiruvalanchuzhi, a village near Kumbakonam, and is notable for its many shrines. Along with this, there are seven-tiered gateway towers known as gopurams that contribute to the temple's grandeur. According to legend, Lord Indra created Lord Ganesha's white idol out of Kadal Norai, or sea form! Temple ceremonies are held five times a day, so you will almost certainly see at least one of them during your stay. Bring water bottles, caps, and snacks with you because exploring the entire complex can take many hours.
7. Punnainallur Mariamman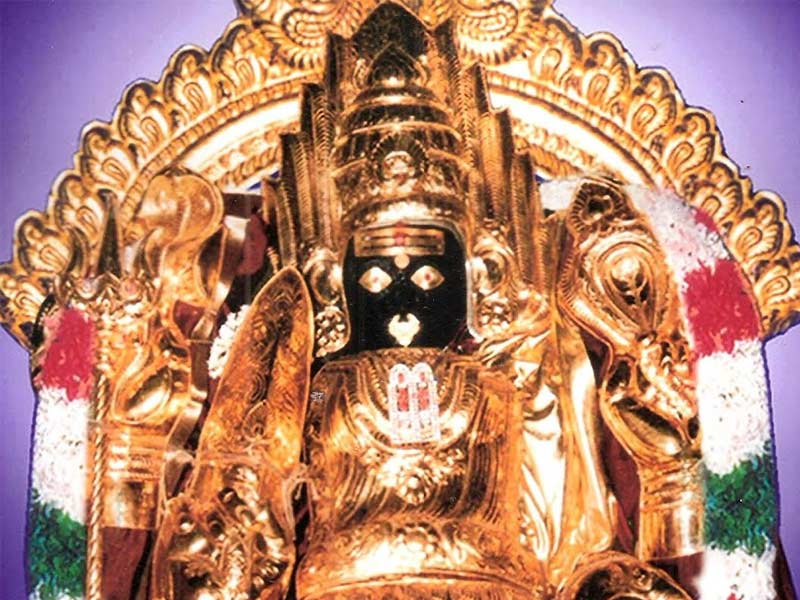 Thanjavur's temple devoted to Goddess Mariamman is a destination you will remember for a long time. This is mostly due to the magnificent god housed within the shrine and the stories behind its construction. While visiting Samayapuram, Venkoji Maharaja Chatrapati, the Maharashtrian king of Tanjore, dreamed of Mariamman, who told him that her idol was lost in a wilderness three kilometers from the capital city. The king has rediscovered this idol and set it in the temple, naming it Punnainallur Mariamman. This temple is located 20 kilometers from the main city; consequently, it is recommended that you hire a taxi or rent a car while enjoying a scenic drive to this temple.
8. Swamimalai Swaminathaswamy Temple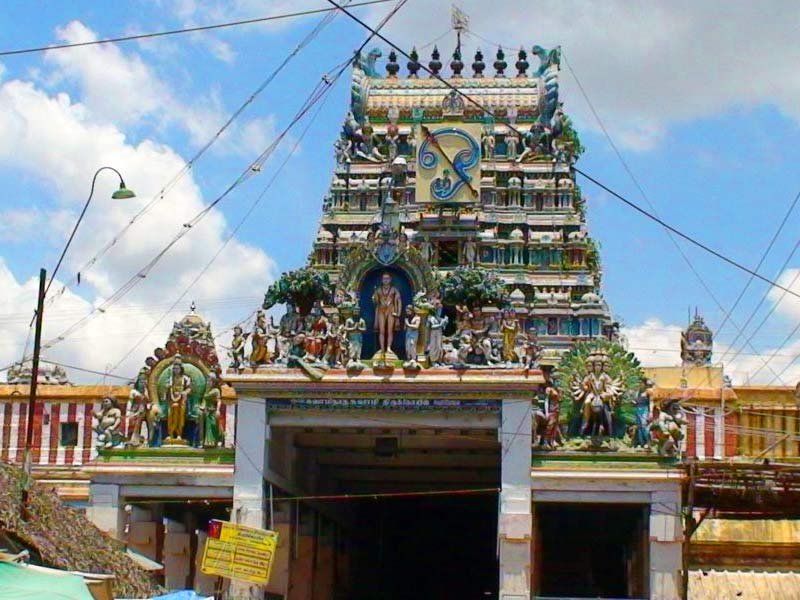 Swamimalai Temple, known as Lord Murugan's fourth home, gathers hundreds of worshippers seeking the blessings of Shiva and Parvati's son. It is one of only two temples that still displays the elephant as the original mount of the deity in its iconography. The idol is situated atop a 60-foot mound with three gateway towers and sixty stairs leading up to the temple, earning it the name Arulmigu Swaminatha Swamy Temple. Visitors are welcome to attend the ceremonies, which are done six times a day.
9. Thyagaraja Temple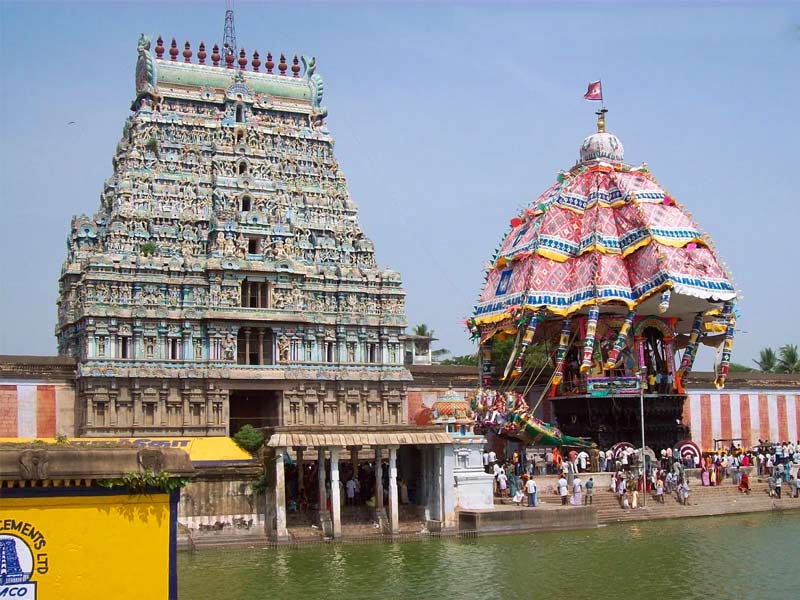 Thyagaraj Temple in Thanjavur is a must-see tourist attraction because it is one of India's largest temples. The Pallavas built this Shiva temple on 30 acres of land in the 7th century. Still, the main development took place during Cholas' reign two centuries later. Several inscriptions may still be seen throughout the temple, which is a dedicated study center. The greatest time to visit the Thyagaraja temple is during the chariot festival, which takes place in April. It is open to the public from 5 a.m. to 12 p.m. during the day and 4 p.m. to 9 p.m. at night.
10. Thanjapureswarar Temple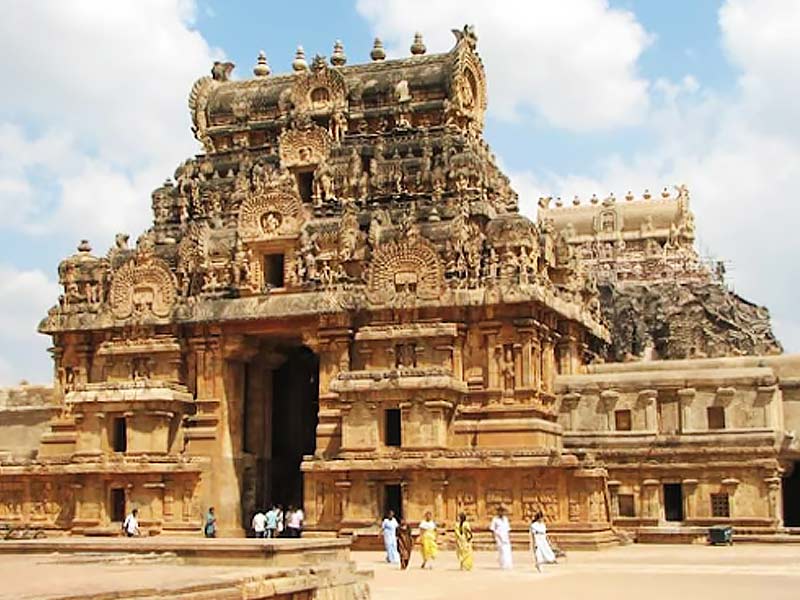 Thanjai Mamani Koil, also known as Thanjapureswarar Temple, is a group of three Hindu temples in Thanjavur. These temples are located on the route that connects Kumbakonam and Thanjavur and is easily accessible via state buses, taxis, and other modes of transportation. These three temples, all dedicated to Lord Vishnu, are within a one-kilometer radius of each other. These temples are significant in Hinduism because they form a group known as a "Divyadesam." This signifies that these temples are part of the 108 Vishnu temples worshipped throughout India. All three temples are open from 7 a.m. to 12 p.m. during the day and from 5 p.m. to 8.50 p.m. at night.
These beautiful temples in Thanjavur showcase the rich heritage of South India. For that reason alone, a trip to this portion of Tamil Nadu can be an eye-opening experience.