Sonamarg is a hill station in Jammu and Kashmir, India, located in the Ganderbal District. It is roughly 62 kilometres (50 miles) northeast of Ganderbal Town and 80 kilometres (50 miles) northeast of Srinagar, the capital city. Sonamarg was historically significant as a crossing point on the ancient Silk Road, which linked Jammu and Kashmir and Tibet. Today, the hill station is a famous tourist destination for anglers and hikers, and also serves as a vital position for the Indian Army following the Kargil War with Pakistan in 1999.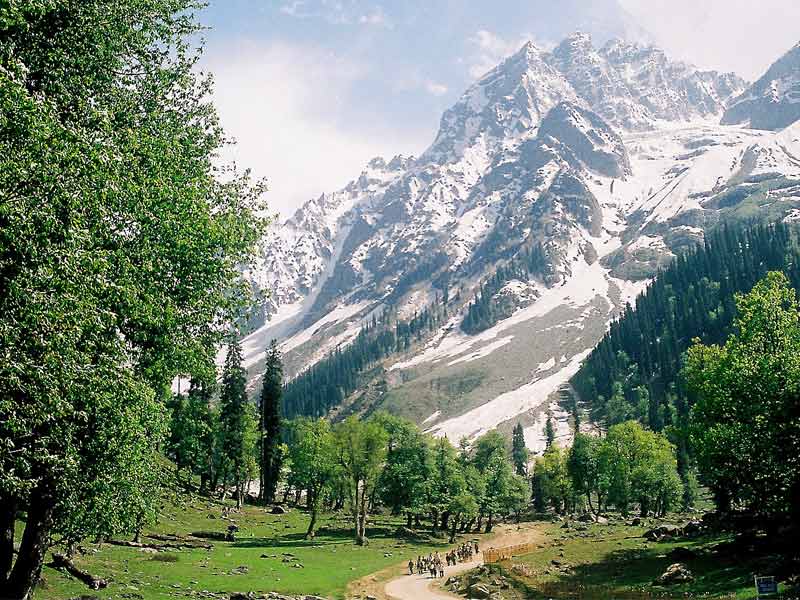 The Machoi Glacier, Sirbal Peak, Kolahoi Peak, Amarnath Peak, and Machoi Peak are located in the Kashmir Valley at an elevation of 2,730 metres (8,960 feet) and are near to some of the valley's highest peaks, including the Machoi Glacier, Sirbal Peak, Kolahoi Peak, Amarnath Peak, and Machoi Peak. Sonamarg is a popular tourist destination in Jammu and Kashmir, featuring alpine meadows that blossom in the summer and rivers and lakes loaded with fish.
The 'Three Sisters,' a collection of rivers (the Lidder, Sind, and Neelum) that flow parallel to each other and act as tributaries to the main Jhelum River that runs through the Kashmir Valley and into Pakistan, are named after Sonamarg.
Sonamarg is the final station in Kashmir before entering the Leh-Srinagar highway. Because of the abundance of mountains, trekking and hiking are very popular here. Sonamarg serves as the gateway to the important mountain hikes and lakes of Vishansar, Kishansar, Gadsar, Satsar, and Gangabal, as well as the Amarnath Cave. It's also known for its pathways, with the 4 kilometre route to Thajiwas, a little valley at the foot of the Glacier covered in pine, fir, and birch trees, being the most popular. There are various camping sites in the Thajiwas range, as well as many waterfalls and the Thajiwas Glacier.
Weather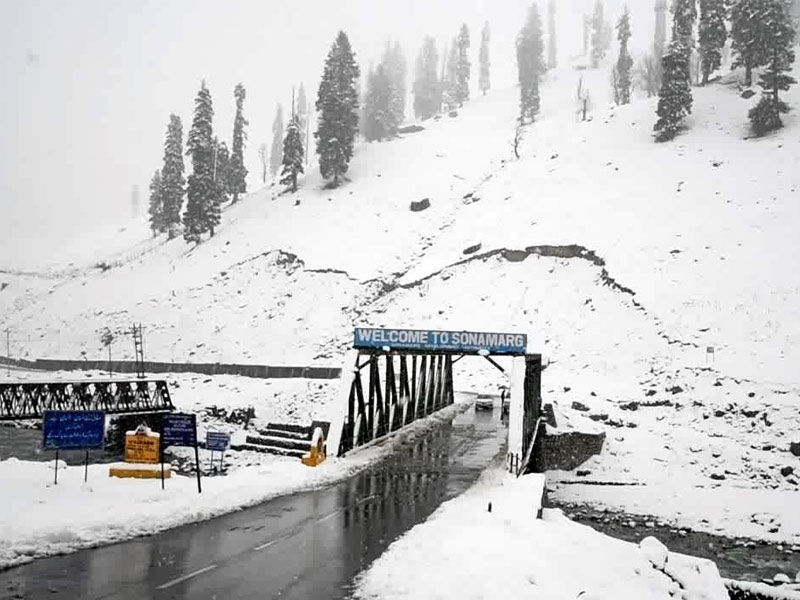 Sonamarg has a regionally unique humid continental climate with heavy rainfall due to its high altitude and mountainous topography.  6.5 °C Sonamurg's average temperature, it receives about  932 millimetres of precipitation each year, also heavy snowfall in winter.
Places to see 
Many sites to explore in the city include the journey to Gadsar Lake, 15 km from Sonamarg, which features snowtrout, Satsar, and alpine flowers, as well as a trip to frozen Satsar Lake or Baltal. The Krishnasar Lake, which is recognised for its pristine and unspoilt surroundings, is another option.
The river, which flows into Bisansar Lake at an elevation of 3801 metres, is known for trout fishing. The Sindh River, which runs through the area, is teeming with trout and mahseer. From the Zoji La pass near Sonamarg, it takes roughly a day to reach the sacred cave of Amarnath.
Gadsar Lake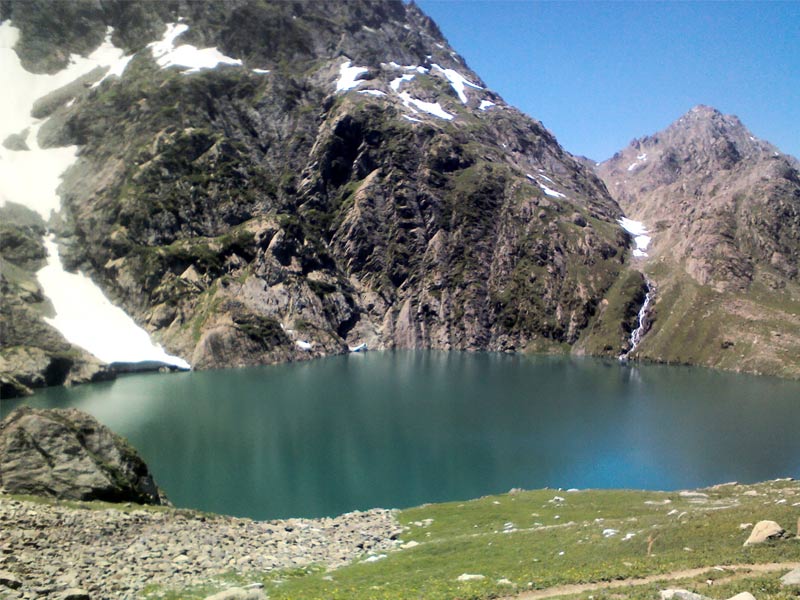 Gadsar Lake is one of the greatest spots to visit in Sonmarg in April for people who wish to witness a frozen wonderland, set at a beautiful height of 5,000 metres with the breathtaking Himalayas in the background. The Yemsar Lake, also known as the Lake of Flowers, literally translates to "lake of fishes" because it is home to not just endangered brown trout but also stunning alpine meadows, wildflowers, and floating icebergs.
Jammu & Kashmir's Kashmir Valley, Ganderbal, and Sonmarg
Gangabal lake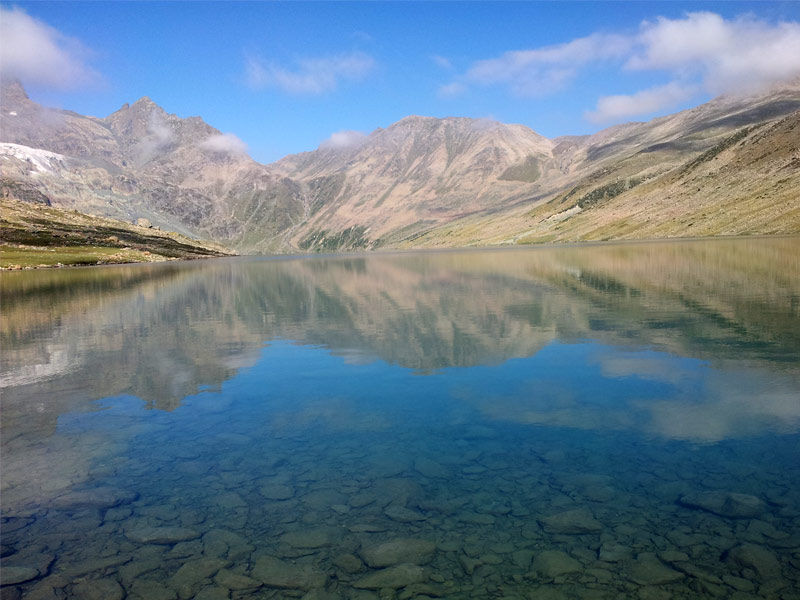 Sonmarg sightseeing is not complete without a visit to the enchanting Gangabal Lake, a cascading river at the foothills of Mount Harmukh. Gangabal Lake, which draws its water from natural springs and glaciers, is one of the greatest spots to visit in Sonmarg in June for those wishing to enjoy some of the best trekking in Kashmir.
Baltal valley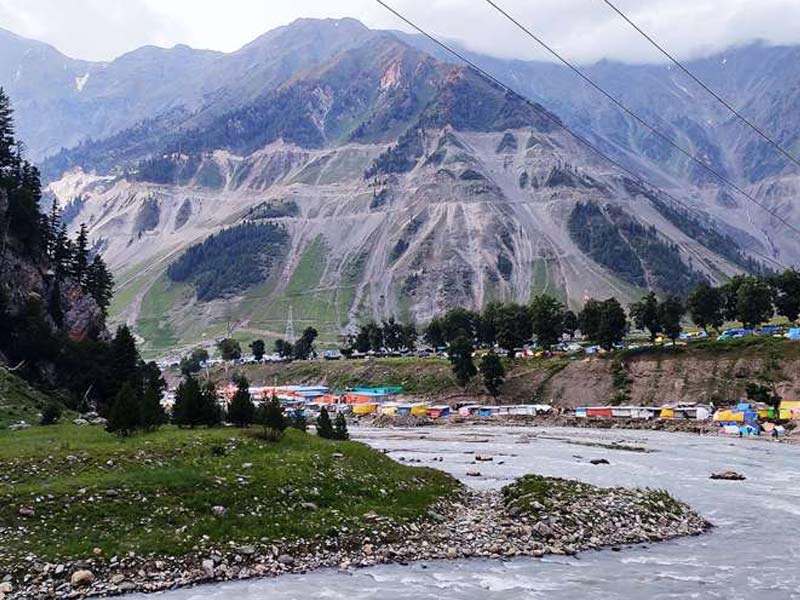 Baltal Valley is one of the nicest sites to visit in Sonmarg, serving as a great starting point for those planning to go on the famous Amarnath Yatra. It is located 15 kilometres from Sonmarg, along the banks of the Sindhi River, and offers beautiful views of the snow-capped mountains.
Location: Sonmarg, Jammu & Kashmir, 191203, near Zoji La Pass
How to reach Sonamurg 
Because of its high altitude and hilly geography, Sonamarg has a distinctive humid continental climate with considerable rainfall. Sonamarg has an average annual temperature of 6.5 degrees Celsius (43.7 degrees Fahrenheit) and receives about 932 millimetres (36.7 inches) of precipitation (not counting the heavy snowfall that falls occasionally in winter).
By Air, how do you go to Sonamarg?
Srinagar International Airport, about 80 kilometres from Sonmarg, is the nearest international airport. Other notable cities served by this airport are Jammu, New Delhi, Mumbai, Leh, Amritsar, and Bangalore.
What is the best way to get to Sonamarg via train?
Srinagar railway station is the closest station to Sonmarg and is well connected by numerous trains. Sonmarg is connected to cities such as Delhi, Mumbai, and Chennai by train.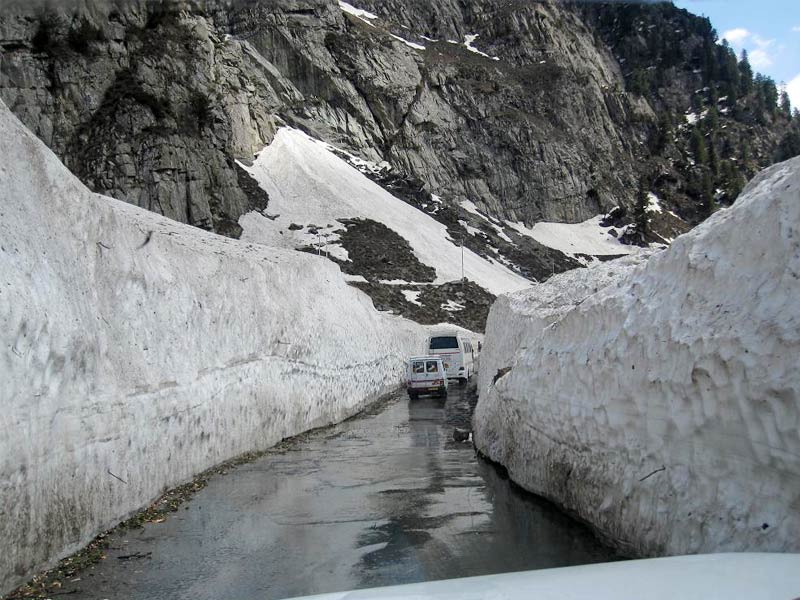 By Road, how do you go to Sonamarg?
Sonamarg is 80 kilometres from Srinagar, 120 kilometres from Gulmarg, 144 kilometres from Achabal, 150 kilometres from Kokernag, and 174 kilometres from Pahalgam, and is served by the Jammu and Kashmir State Road Transport Corporation.