India is the world's sixth largest economy by nominal GDP and third largest by purchasing power parity. Evaluating from 1947 until 1991, India followed protectionist economic policies with regulations and state interventions. The license raj, which is dirigisme a doctrine opposite to laissez-faire but the end of cold war and adoption of liberal policies, made India world largest growing economy outshining even China from 2013 to 2018.
India's growth perspective remained positive because of its young population, but the economy slowed down in the year 2016 and 2017 because of the shocks of ' demonetization' and inception of the Goods and Services tax.
During 2008 global financial crisis, India experienced mild shocks, but stimulus measures were taken to boost economic growth.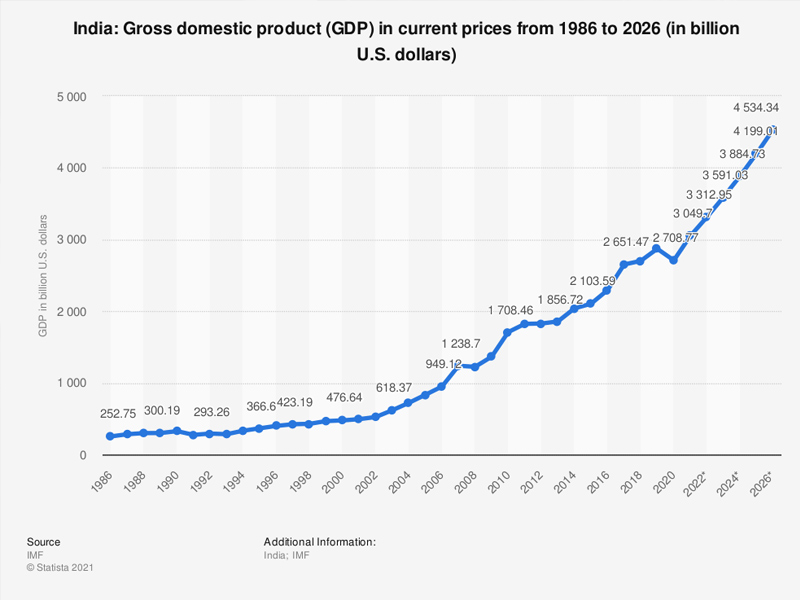 In India service sector is fastest growing sector, which is 50% of the GDP, while the industrial sector and the agricultural sector employ a majority of the labor force. The Bombay Stock Exchange and National Stock Exchange are some of the world's largest stock exchanges.
India's pharmaceutical sector delivered over 50% of the global demand for vaccines. The Indian Information technology industry too is a major exporter of IT services and employs over 4 million people.
1991 Economic Reforms
The 1991 Economic reforms, also known as the economic liberalization of India. Three decades ago, India opened the gates of its economy to the world and broke free from many restrictive economic policies. Similar policy attempts were also made in the year 1966 and during the 1980s and were fruitless, but the attempts made in 1991 were more successful. These reforms handled high economic growth during the 1990s and 2000s.
Before India's independence, economic policies were influenced by colonial government with a focus on import substitution and protectionism. After the Industrial Development Regulation Act of 1951, many industries were nationalized, like telecommunications, water, mining, insurance, etc. Another hindrance was the license raj which included licenses and regulations to set up business in India during 1947 to 1990. Import licensing and high tariffs prevented foreign goods reaching the market. Under the system of license raj, corruption thrived. This also led to a huge public sector, with state-owned enterprises and big losses.
This resulted in economic stagnation during the 1980s. The annual Indian economic growth rate had stagnated around 3.5% from the 1950s to 1980s, at the same time per capita income growth par 1.3%. Around the same period Pakistan grew by 5%, Indonesia by 9%, Thailand by 9%, and South Korea by 10% and Taiwan by 12%.
Current state of the Economy of India
Recently in the World Economic Outlook, the International Monetary Fund (IMF) maintained its forecast for India's growth for FY22 and FY23 at 9.5 percent and 8.5 percent, sequentially. According to the forecast, India would keep the tag of fastest growing economy in the world. The reserve bank of India too projected growth at 9.5%.
As the Covid-19 second wave became less intense, retail and workplaces recovered quickly.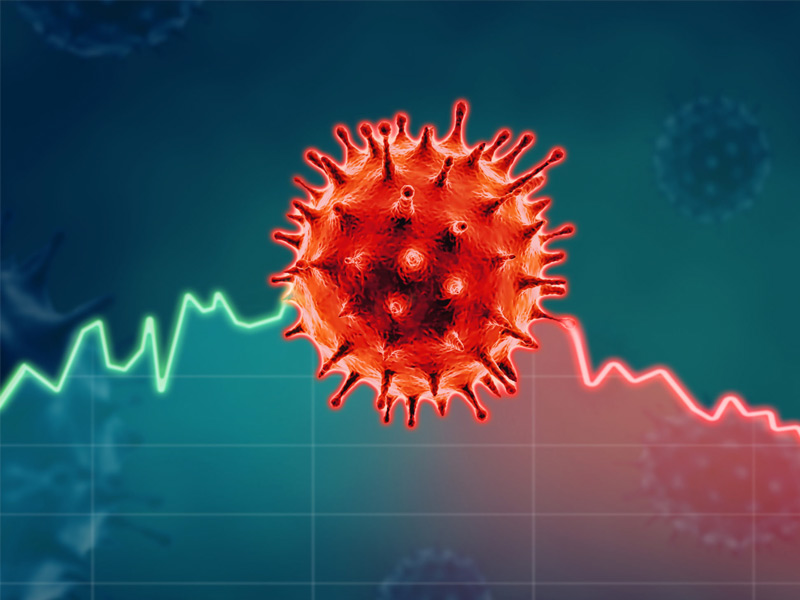 GST collections also bounced back, showing a surge in consumption demand. Other recoveries include consumer and capital goods output, cement production, steel consumption, and freight traffic.
The pace of vaccination also played a crucial role in the speed of recovery. An average of 7.9 million vaccinations were administered every day in September, up from 5.9 million in August and 4.2 million in June-July. This spike pushed the total dose count to 968 million by October and 77 percent of all adults have received the first dose, while 31 percent have received both doses. At this rate, India could vaccinate the adult population by the end of this fiscal.
With vaccination, economic activity is uplifting supported by revenge consumption.
Exports too are good, having increased by 56.9% YoY during H1 FY22 and 23.8% over H1 FY20 levels. This nominal export growth must be understood with caution, as it has a very strong price element to it. According to the World Bank, global energy and non-energy prices have averaged 104.4 percent and 38.8% more during April-September as compared with two years ago levels. That's why India's imports grew rapidly.
Inflation rate is very high all over the world and that also poses a risk to India's growth recovery. The spike commodity prices globally coupled with the pandemic have led to high inflation being more adamant than was expected by central bankers all over the world.