There are many trees in India, many of which are native. With a surface area of 1,269,219 square miles, this lovely and sizable nation ranks seventh in the world in terms of size. This vast area is home to several lakes, tall mountain ranges, and deep woods. Additionally, India has a rich variety of biological species and, for the most part, a tropical climate. The climate in the nation is ideal for cultivating a wide variety of plants, which is perhaps why there are so many healthy native trees.
Gum Arabic Tree (Vachellia nilotica)
The tall tree known as the gum Arabic tree is also referred to as a "weed of national significance" and goes by a variety of other names. Other names for this plant include babul, thorny acacia, Egyptian acacia, and thorn mimosa. The gum Arabic plant is indigenous to Africa, the Middle East, and the Indian subcontinent, even though gum Arabic trees are widespread in Australia and the United States.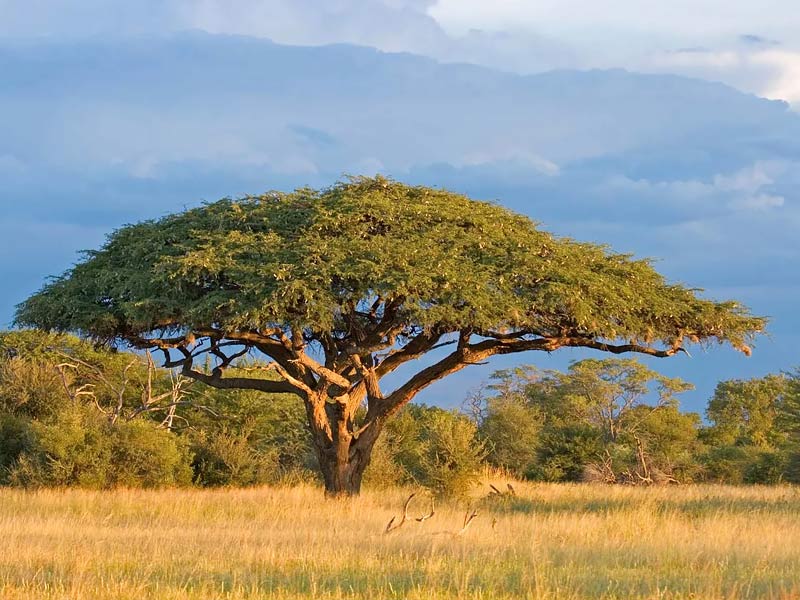 These trees may readily grow to a height of 65 feet. The blooms are well-liked. They bloom in April and are a vivid yellow colour. There are various applications for gum Arabic trees. For example, people have been using the gum from this tree for years in paintings, dyes, and medications. The herb is especially utilised in several recipes in India.
Indian Almond Tree (Terminalia catappa)
Sea almond, tropical almond, fake Kamani, country almond, beach almond, and Malabar almond are other names for Indian almond trees. This lovely tree is indigenous to Madagascar, Seychelles, Australia, Asia, and the Pacific. The Americas have also received these trees.
It has a height limit of 115 feet and bears corky, light fruit. It's interesting to see how this tree ages. Older Indian almond trees have flatter crowns, giving the tree a vase-like appearance. Indian almond trees feature 6 to 10-inch long, glossy, dark green leaves and separate male and female blooms that range in colour from white to green.
Jujube Tree (Ziziphus mauritiana) 
The Jujube tree is the next amazing Indian tree on our list. This enormous tropical tree bears mouthwatering fruit that is also known as Chinese apples, Chinese dates, dunks, or Indian plums. Jujube trees are members of the Rhamnaceae family. They might resemble a medium-sized tree or a short, broad shrub. The branches droop and are prickly. Short leaves and 5-petaled, yellow blooms are produced by jujube trees.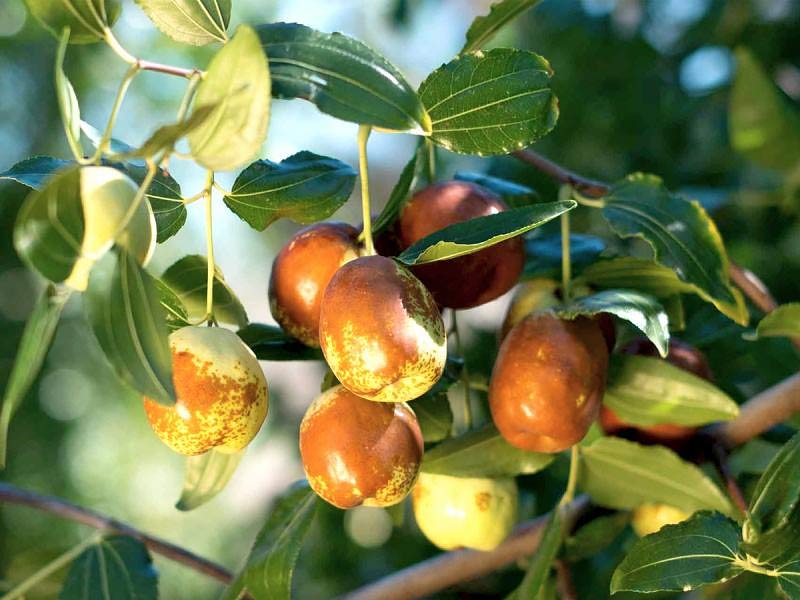 The tree may bear fruit in only three short years. These sweet, juicy, and delicate fruits are highly well-liked in India. Additionally, this plant thrives in Pakistan, Bangladesh, and several regions of Africa. Some of the most productive trees may produce more than 440 pounds of fruit annually. Though the origin of this tree is still up for question, it is generally accepted to have originated in the Indo-Malaysian area of South-East Asia. However, it has been largely naturalised in many regions of the world, including the Pacific Islands, the Middle East, and Australia.
Coconut Palm (Cocos nucifera)
Did you know that the Central Indo-Pacific area between western Southeast Asia and Melanesia is home to the coconut palm tree? However, coconut palms may be found all over the world on sandy beaches and in tropical climates. The Arecaceae family of palm plants, which includes coconut trees, dates back millions of years. According to some of the earliest fossil records, some 15 million years ago, a plant like a coconut thrived in New Zealand.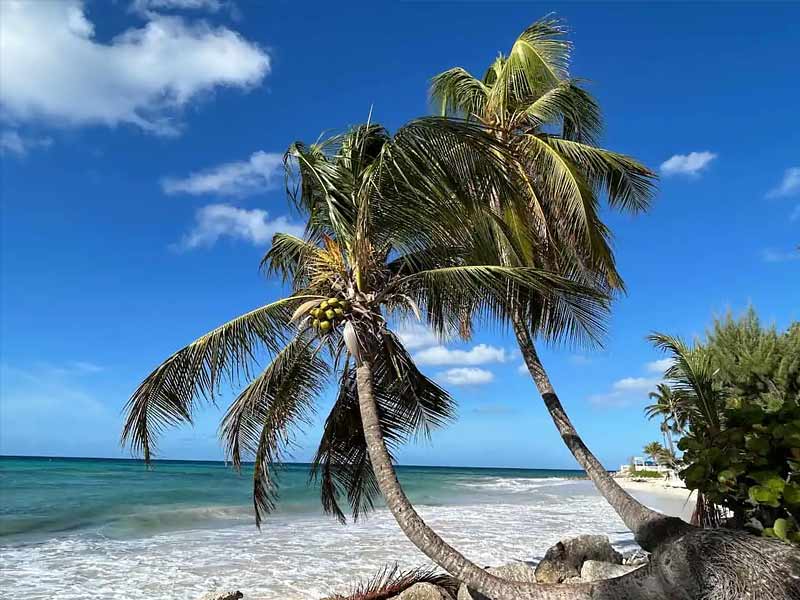 The height of a coconut palm is astounding, rising to 100 feet. The length of the leaves frequently exceeds 13 feet. Coconut palms produce up to 75 fruits per tree. However, mature coconut palm trees typically produce approximately 30 fruit each year. Despite the fruit being a drupe and not a genuine nut, the term "coconut" contains the word "nut." It has an inedible hard outer shell and is exceptionally nutrient-dense. Coconuts have a variety of purposes. For instance, the "coconut meat" or fleshy portion of the seed is edible. It can be consumed raw or added to food as an ingredient. Additionally, the husks and shells are used to make charcoal.
 Acacia Coral (Adenanthera pavonina)
The coral wood and red bead trees are two of the many names for the acacia coral tree. Although these trees may be found in numerous nations, including Brazil, the US, Cuba, Puerto Rico, and Tobago, they are exclusively indigenous to certain regions of China and India. India is where the first acacia coral tree was discovered. This gorgeous tree has clusters of tiny yellow and white blooms. Most people are familiar with this tree due to its vivid red seeds.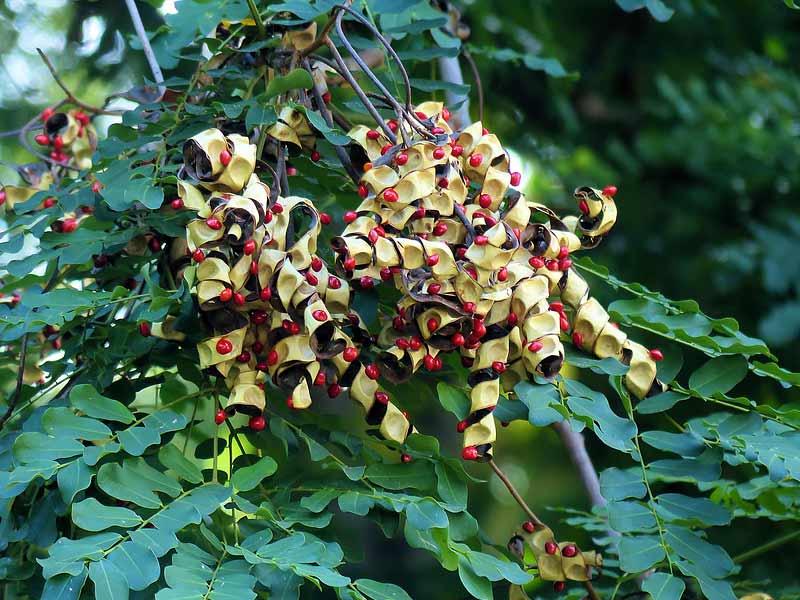 Although it is often used as a medicinal plant, the tree is planted in gardens. The leaves are very nourishing when fresh and prepared. The red seeds are poisonous when consumed raw, but they are edible when cooked. For many years, they have been utilised as red beads in jewellery. These colourful seeds have significance in China. They stand for "mutual love bean" in Chinese and are a symbol of love. These crimson seeds have long been used as weight standards for good gold in India.