Many traditional Indian musical instruments date back hundreds or even thousands of years, as evidenced by ancient statues and paintings found throughout India.
Most westerners are probably familiar with two traditional Indian instruments: the sitar and the tabla, but there are many other wonderful instruments that you may not be familiar with.
Some are becoming extinct, while others have grown in popularity in recent years. Most require a high level of skill to play.
Some of these instruments have made their way into Western music at times, but they are still primarily associated with Indian music and traditions. In this post, we'll go over seventeen traditional Indian musical instruments in greater depth.
Tanpura
The Tanpura, also known as the Tambura, is a four-stringed instrument with a long neck that is plucked to produce a traditional droning sound in Hindustani and Carnatic music systems.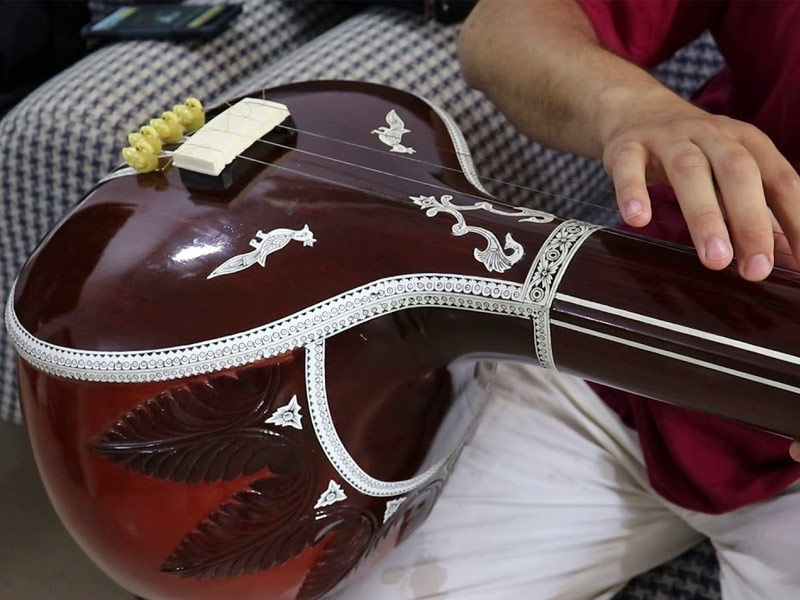 It is not used to play distinct melodies, but rather to provide a continuous sonic backdrop against which the melody is sung or played by another instrument. The Tumba, or body, is hollow and gourd-shaped, similar to the sitar, and the neck is made of tun wood (Spanish Cedar) or teak.
Mridangam
The Mridangam is a double-sided drum used in Carnatic music that is also used in drum ensembles.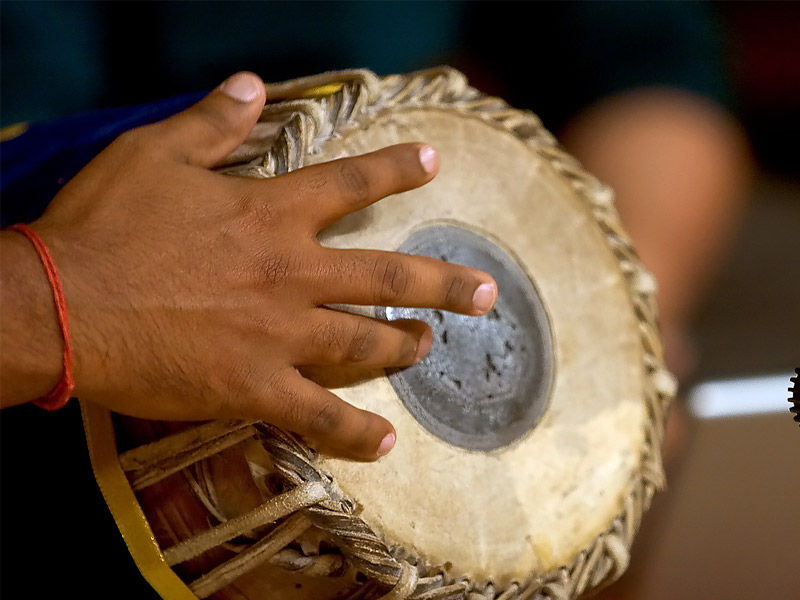 The drumheads are made of goatskin and are secured to the instrument with leather thongs on the sides. The mridangam has a narrower one end than the other, allowing the musician to play both bass and treble sounds.
 Sarangi
The Sarangi is a unique stringed instrument with a very short neck that is played with a bow. Its sound is said to resemble the human voice and is popular in Punjabi, Boro, and Rajasthani folk music.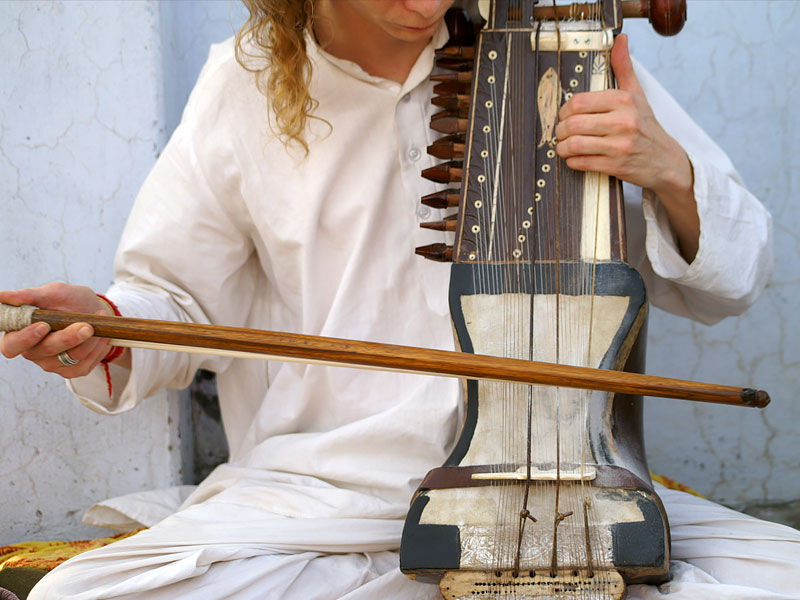 It's about two feet long, with three resonance chambers made of a single piece of red cedar wood, three or four main gut strings, and eleven to thirty-seven sympathetic metal strings.
Shehnai
The Shehnai is a double-reed instrument that is similar to the oboe and is popular in Iran, India, Pakistan, and Bangladesh. It is typically made of wood and has a metal flare or bell at the end. It is used in processions, weddings, temples, and concerts.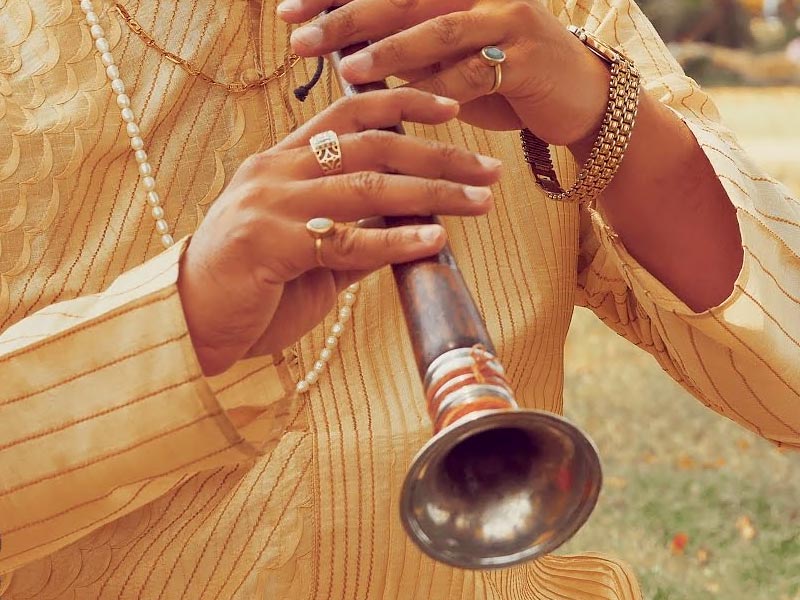 The shehnai was traditionally played in a royal court ensemble of nine instruments and resembles the pungi, an instrument used by snake charmers. Its name translates as "king of flutes" or "king of flutes," and it has eight or nine finger holes.
Sarod
The Sarod is a popular fretless stringed instrument used in Hindustani music with a weighty, deep, thoughtful sound that is a prominent feature in Indian music.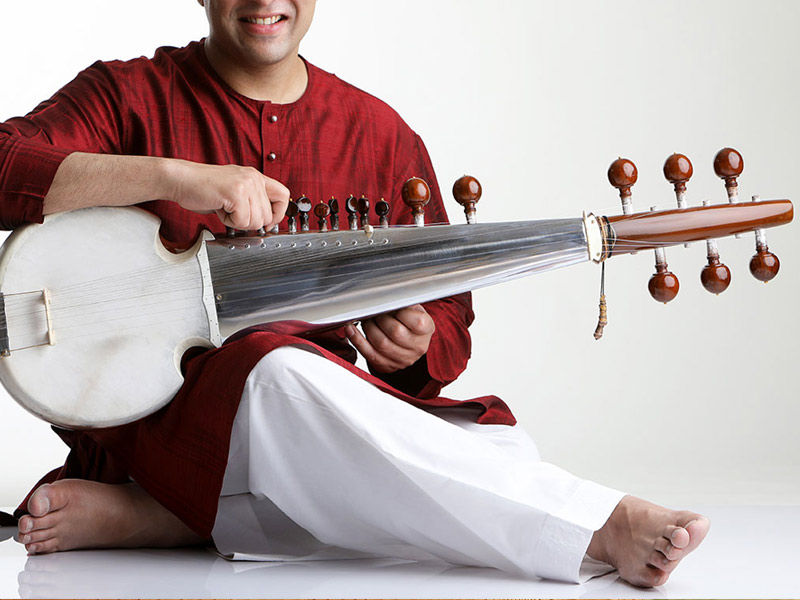 The left-hand presses the strings against the fingerboard with its fingernails or a combination of fingertip and nail. Depending on the player's preferences, there are several different fingering techniques.
Ghatam
The Ghatam is a traditional percussion instrument made of a narrow-mouthed clay pot with no skin covering it. Its pitch varies with size and produces a distinct metallic sound. It is made of clay that contains brass or iron filings and comes in a variety of sizes.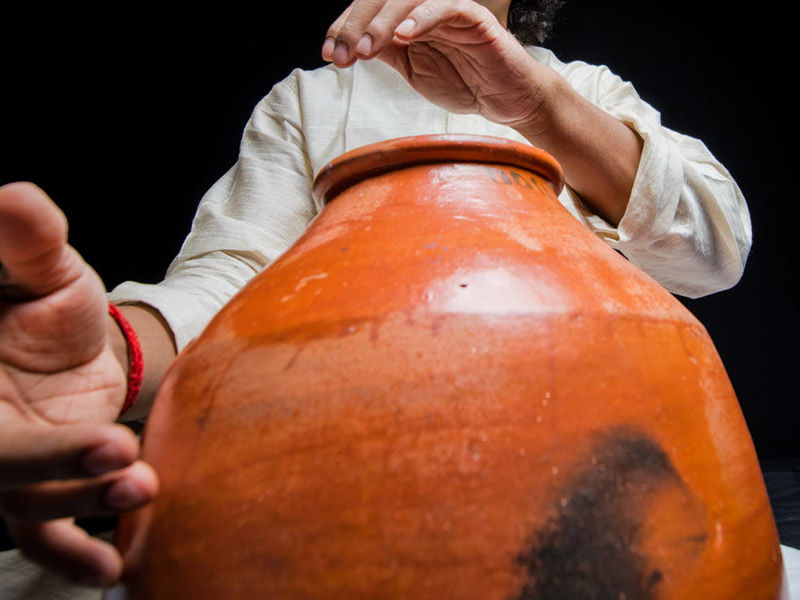 Silver, gold, copper, or aluminum can also be mixed into the clay to give it a sweet tone. It has been featured in international concerts, percussion ensembles, and fusion concerts, and well-known player Vikku Vinayakram has elevated it to prominence.
 Nadaswaram
The Nadaswaram is a powerful double-reed instrument from South India. It is the shehnai's bigger brother and is usually played outside because it is so loud! Originally performed at temple feasts, it was popularised in the West by jazz saxophonist Charlie Mariano.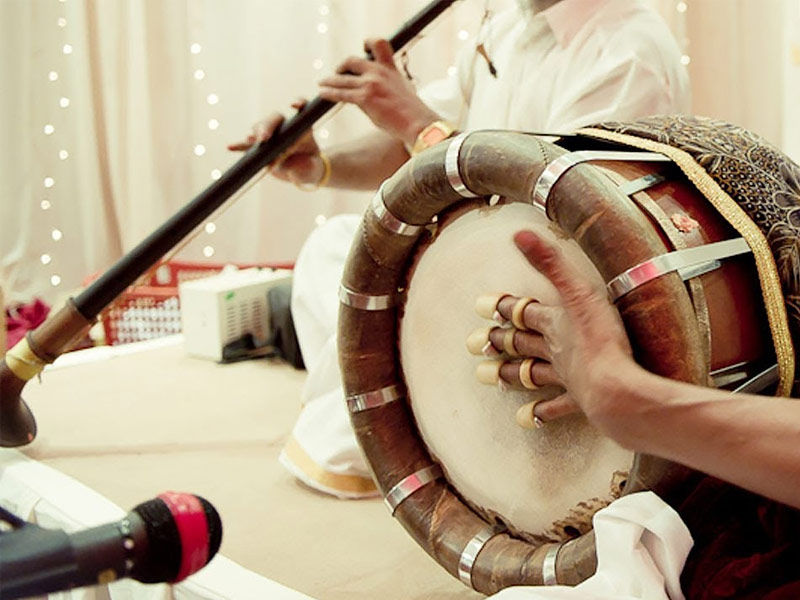 Pakhawaj
The Pakhawaj is an important instrument in north Indian classical music, and it was once the only accompaniment for dhrupad-style singing. It's a drum that's played with the open hand rather than the fingers, and it's used in delicate, emotional music like thumri, khayal, and sitar.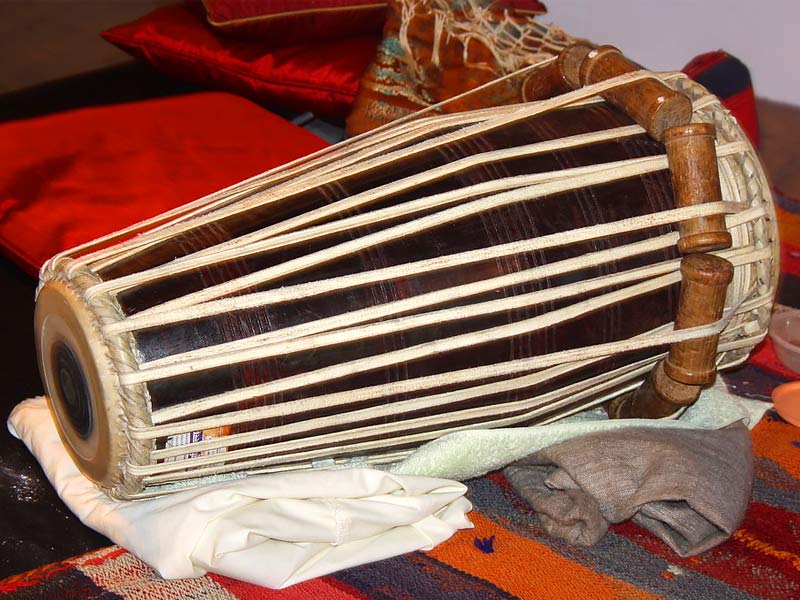 The drum is barley shaped and hollowed out of a single block of wood, which could be red sandalwood, Sheesham, or khair.
 Ravanahatha
The Ravanahatha, an ancient stringed instrument played with a bow, is widely thought to be a forerunner of the violin. The instrument, which dates back to 2500 BCE and is made of a hollowed-out length of bamboo with half a coconut shell on one end, is associated with the Hela civilization. The goatskin is stretched over the coconut shell, with strings made of hair, gut, or steel.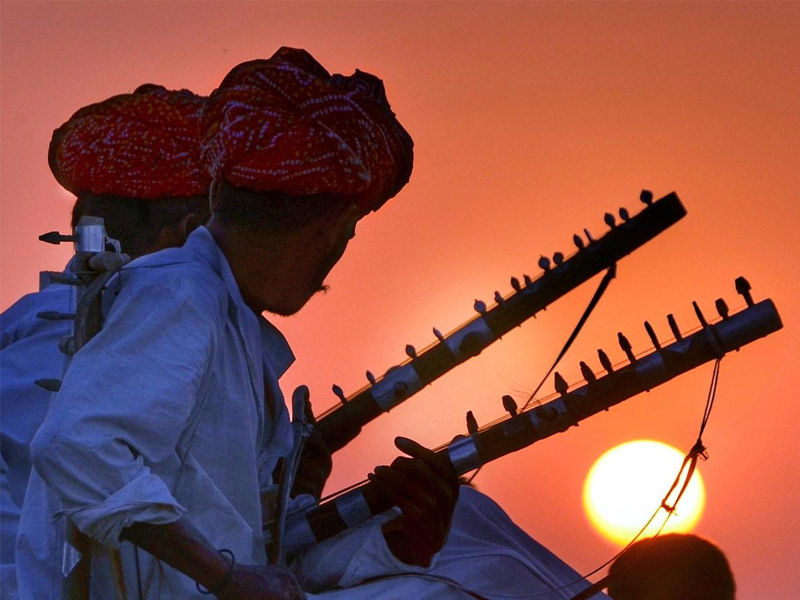 Alghoza
The Alghoza is a pair of flutes that have traditionally been used by Punjabi, Saraiki, Baloch, and Sindhi folk musicians. The melody is played on one flute, while the droning is played on the other. They can be held together by their hands or tied together, with the longer one being the male and the shorter is the female.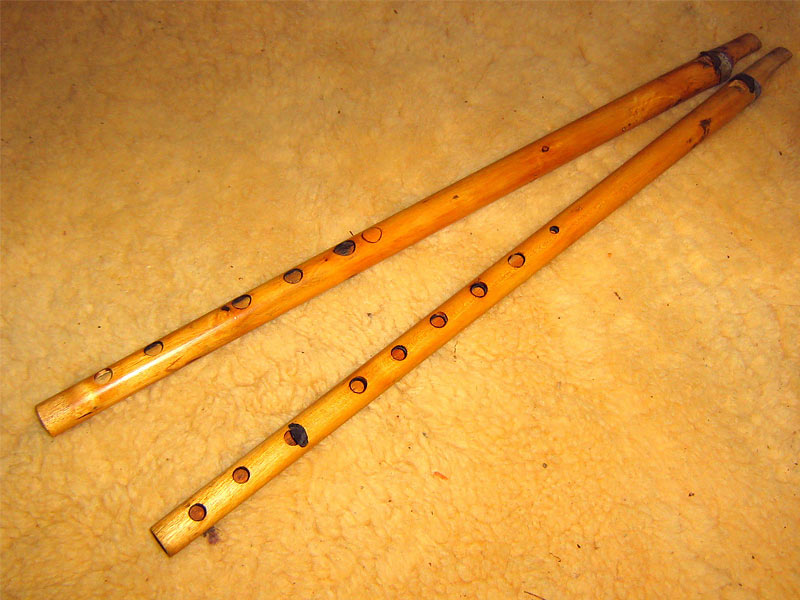 Udukkai
The Udukkai is a small hourglass-shaped two-headed drum popular in southern India. It was traditionally made of fired clay, but nowadays it is usually made from a single hollowed-out block of Jackfruit wood. The ends are cured and dried goatskin, but only one side is used.