The TikTok Book section, or #BookTok, did something that no CoHort (lover of Colleen Hoover novels) could have dreamed, and I can't thank the community enough for it. With 2022's most awaited publication, It Starts With Us, the author has finally released a sequel to the narrative of Lily and Atlas, after being slowed by fan requests. Nobody could have predicted this six years ago. 
It was official that the #1 New York Times Bestselling Author had officially made it and gone worldwide when the first of the two novels, It Ends With Us, went viral on BookTok.
The author concluded the first book with Lily and her infant, and now, six years later, fans have some closure with the sequel It Starts With Us. 
It Ends With Us told the narrative of Lily Bloom for the uninformed. Atlas Corrigan, a 17-year-old homeless kid, was the first person Lily assisted when she was 15. 
Atlas and Lily split up as children due to circumstances, but Lily never allowed Atlas to leave her heart. Even when she discovered love with Ryle, her experience with Atlas predicted her new love. Ryle has had a bad temper for a long time, which he frequently directs at Lily.
Lily, now older and wiser, chooses to divorce her violent husband Ryle for the sake of her daughter Emerson because she experienced her father's domestic abuse on her mother as a youngster. Almost a year after her breakup with Ryle, Lily bumps into her first, and maybe only, love, Atlas.
It Starts With Us narrates the narrative of Lily and Atlas and how fate and circumstance ultimately worked in their favor and brought these two lovers back together in 37 chapters. The novel was released on October 18th, and like any other devoted CoHort, I stayed up all night to finish it – and what a ride it was! 
Colleen's writing style and ability to create the perfect book boyfriends never cease to amaze me. The tale of Lily and Atlas is not a typical CoHo writing style, which means there are no unexpected plot twists that will leave you stunned. There is no unexpected betrayal that will leave you hurt.
The plot is straightforward. Lily adores Atlas but is concerned about her single-parenting arrangement with Ryle. Ryle's own, misdirected troubles are channeled via Lily since she is the only one he can frighten until he can't. Atlas adores Lily, and there is nothing he is certain of more than her. 
With Atlas's help, Lily grows more confident and resolute about her decisions throughout the novel's plot. Ryle becomes increasingly arrogant by the minute, while Atlas, the lovely "Greek God Adonis," has readers swooning at every sentence he says.
When they talk about "Men Written By Women," I'm sure Atlas Corrigan will be at the top of the list since Colleen Hoover made sure the man had no defects. Nothing is wrong with his character, and as a young reader, this is my main complaint with Colleen. How does one go about finding an Atlas in real life? Because we are rather certain that boys like him do not exist! 
Every character in this book was fantastic, whether it was Alyssa, who was always there for Lily even though she was Ryle's sister, or Marshall, who consoled Lily when she urgently needed someone to be there for her.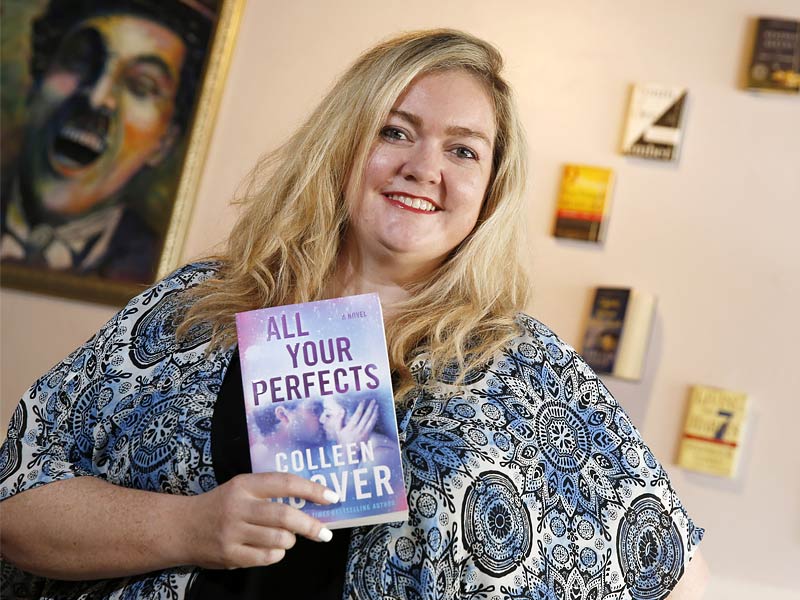 Atlas' buddies were great, and I'm pleased he has young kids like Theo and Josh around him to encourage. My heart belongs entirely to Theo and Josh. I wish there was a universe in which Theo and Josh grew up, went to college, and remained lifelong friends.
Theo's one-liners steal the show in this one, and "I Wish For You To Be My Fish" will be remembered as THE phrase from the novel. The author couldn't send Lily through hell in the new narrative because she had previously said that she had concluded Lily's journey six years ago with It Ends With Us. 
That is why It All Begins With Us is just the narrative of how Lily and Atlas met. We have no clue how things will turn out, but we have faith in Atlas Corrigan. From the butterflies, Lily fell with Atlas to gushing over the attractive Smooth-talker himself and wishing Ryle ill whenever he appeared.
It All Starts With Us is a breezy read with a few intense passages here and there. Atlas Corrigan has and will continue to warm readers' hearts, and he should go down in history as the finest Golden Retriever boy in book-lover history! 
Lily is a strong-willed heroine, but witnessing her experience terror when confronted with Ryle's fury will make you nervous as a reader. I hope that those who are victims of domestic abuse find hope in Lily's narrative, and I admire Colleen Hoover for addressing important themes in each of her novels. It All Starts With Us is an excellent work that is worth reading.