These are the must-try New York City foods while you're in town. While you can get pizza and bagels anywhere, there's no substitute for the real thing in the five boroughs. They're so good that they'll probably ruin you for other versions.
Here is a list of best food of New York that are essential to the diet of New Yorkers.
Pizza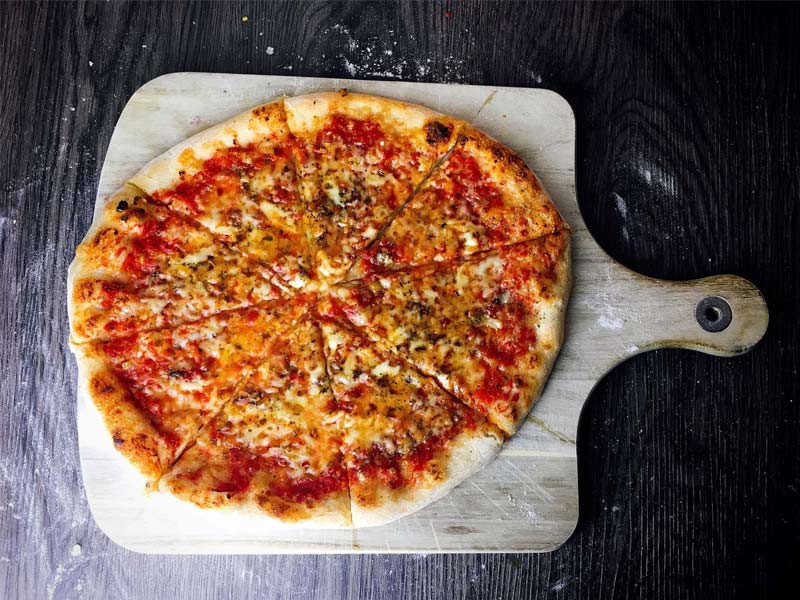 Background on Pizza in New York City: Although pizza can be traced back to Naples, Italy, the distinctly American version we know and love was born in New York City. Neapolitan-immigrant bakers adapted their native Neapolitan-style pizza (small, delicate, soupy-centered pies cooked quickly in ultrahot, wood-fired ovens) to their new ovens in the City in the late 1800s. The coal ovens produced a crisper product, which grew in size over time to better accommodate by-the-slice sales.
Bagel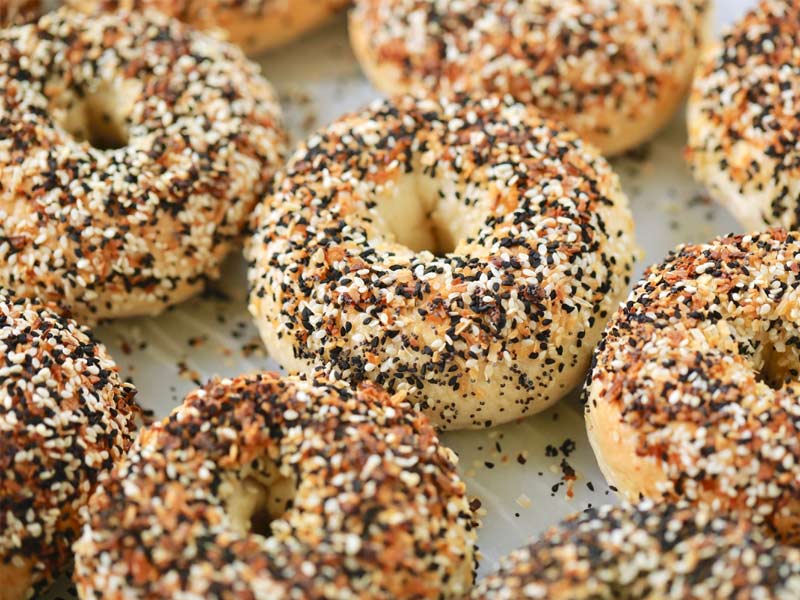 Background on bagels in New York City: Today, bagels can be found in chain restaurants and supermarkets worldwide, and New York City is a big reason for that. By the early twentieth century, Jewish immigrants from Europe had brought the doughnut-shaped breakfast pieces of bread to New York. Bagels are part of the City's appetising tradition and are best enjoyed as part of a morning ritual with accoutrements like cream cheese and lox.
Signature characteristics: Unlike bagels in other cities, which may resemble standard rolls with holes, bagels in New York are boiled and baked to achieve a shiny finish and chewy consistency. Typically, they are lightly sweetened with malt or honey, and some devotees believe they can only be made with NYC water.
Cheesecake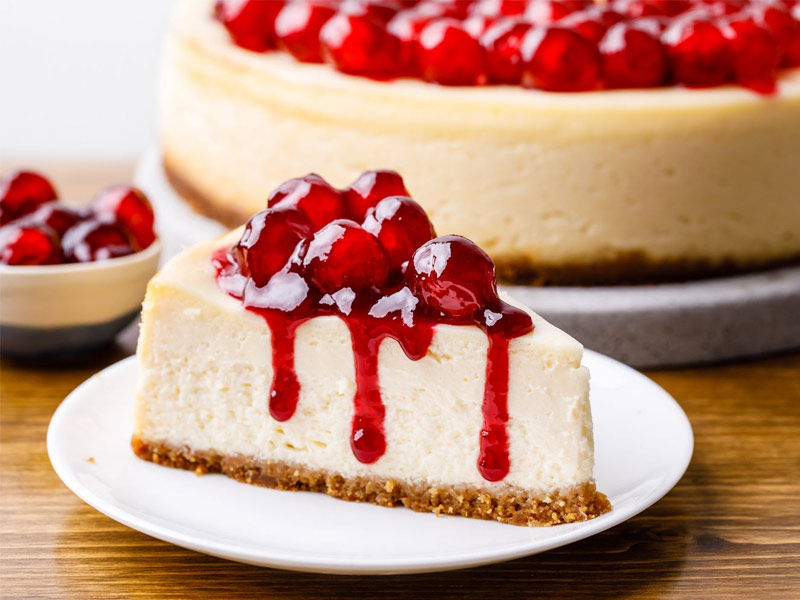 Cheesecake has been around for centuries, but New York City's signature version emerged after cream cheese was invented in the nearby town of Chester, New York, in 1872. Arnold Reuben (famous for the sandwich that bears his name) claimed to have invented the first modern New York cheesecake in 1929, putting it on the menus of his two Midtown restaurants, Reuben's and the Turf. Another contender for credit, at least for popularising the dessert, is the Midtown mobster hangout Lindy's (honoured in Guys and Dolls), which hired Reuben's pastry chef.
Chicken General Tso's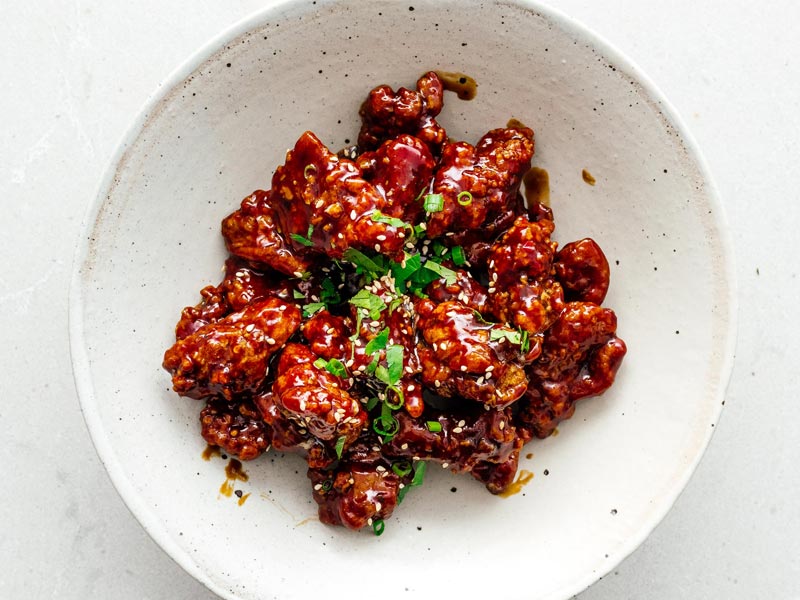 Background in New York: Chinese restaurants—or, more precisely, American-Chinese restaurants—were not always so common. Their popularity grew in the 1960s and 1970s due to New York City and San Francisco restaurateurs experimenting with flavour profiles. We'll give crab Rangoon to our friends on the West Coast, but we'll keep the sticky-sweet, deep-fried General Tso's chicken for ourselves.
Cream of Eggs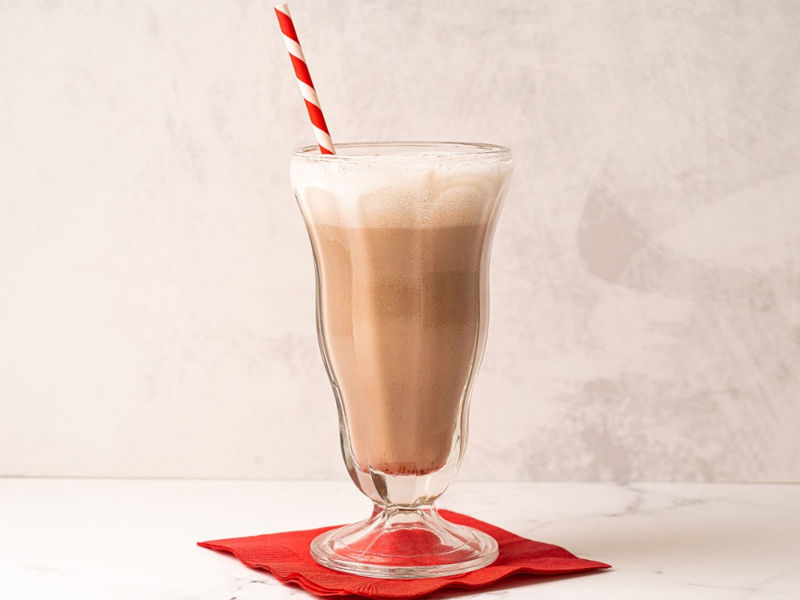 Background on New York City: It's widely assumed that New York City is the birthplace of egg cream, a fizzy, chocolaty drink that's a distant, less well-known cousin of the milkshake. According to the Encyclopedia of New York City, the Lower East Side is the location, and the 1920s are the era, narrowing down the likely inventor to either actor Boris Thomashevsky or candy-store owner Louis Auster.
Corned beef and pastrami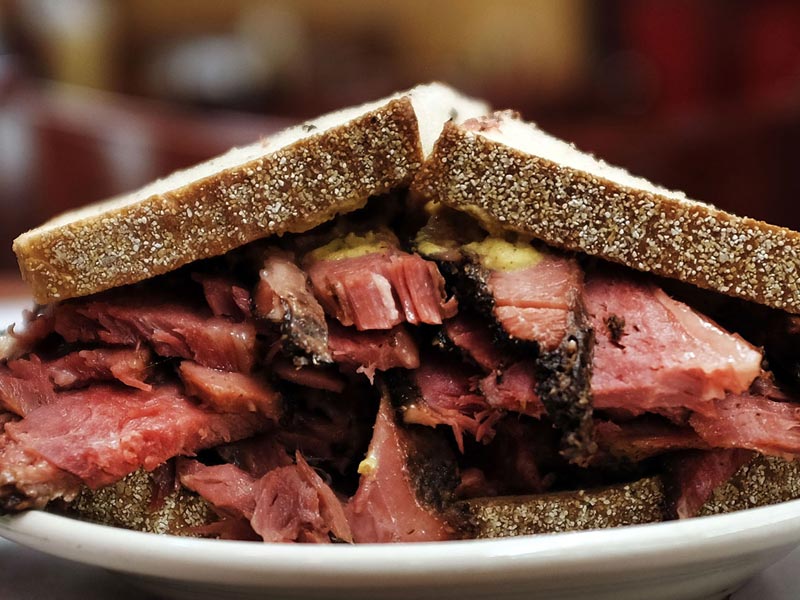 Jewish immigrants from Romania introduced the pastrami to New York City in the second half of the nineteenth century. The corned beef was also brought to New York in the 1800s by Jewish or Irish immigrants. Whatever way these foods arrived in the United States, the New York-style deli is the place to get them.
Street meat
Background on Street Meat in NYC: In recent years, "street meat" has surpassed hot dogs and a slice of pizza as NYC's favourite on-the-go lunchtime meal. Its rise is largely attributed to the Halal Guys, who first set up shop in the early 1990s at 53rd and 6th and became instantly recognisable thanks to their trademark yellow shirts, quickly assembled platters, and simple motto ("We are different"). The cart's Egyptian immigrant founder claims to be the first in the city to sell mobile Halal food, and his company has managed to turn the humble meat-on-rice business into a thriving nationwide franchise.
Cronut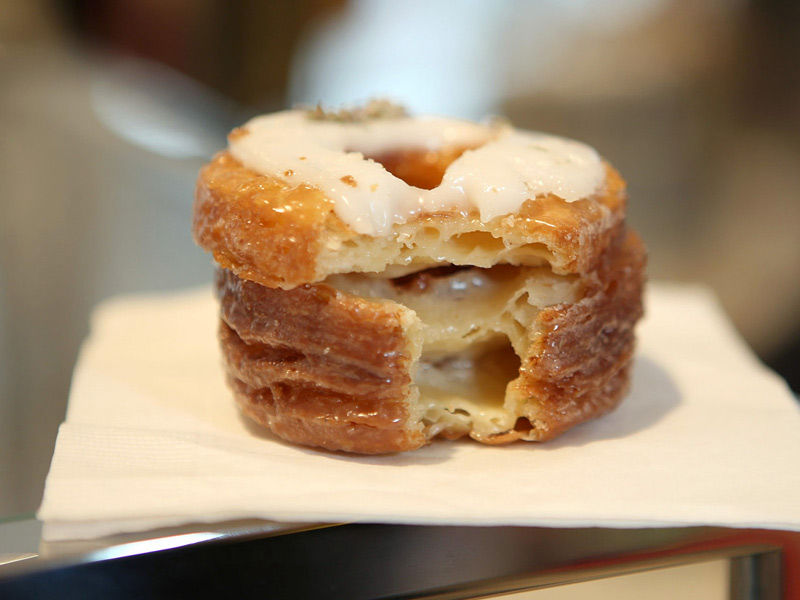 Background in New York: In the spring of 2013, French dessert chef Dominque Ansel's experiment in making a doughnut à la franchise became an overnight sensation as his pastry mash-up (doughnut plus croissant) spawned lines around the block of his SoHo bakery, succeeding cupcakes as the city's latest pastry craze. Cronut impersonators sprang up all over the city, but the term is trademarked, and Ansel's Spring Street location is the only place to get the real thing.
Cookie in Black-and-White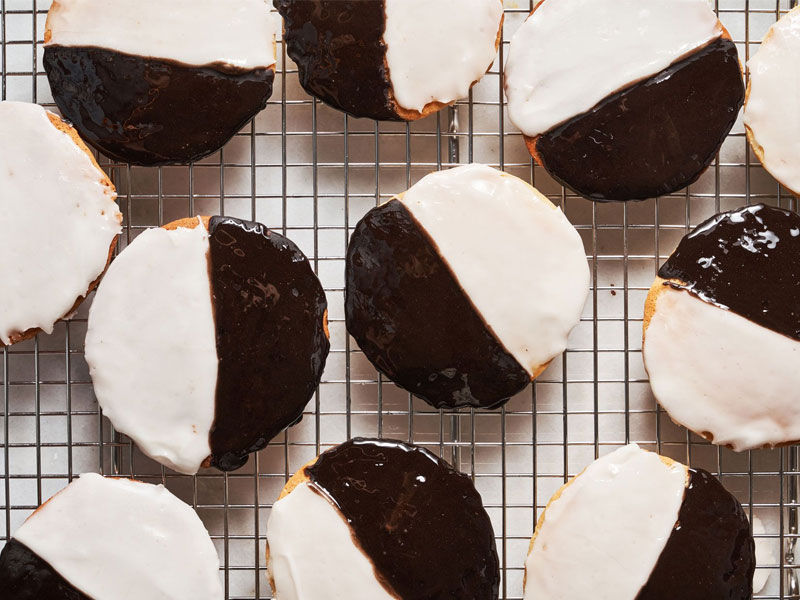 Background in New York: Although the exact origin of the black-and-white cookie is unknown, some historical evidence suggests that the local version was derived from the so-called half-moon cookies invented in Utica, New York, in the early twentieth century. Whatever the case, it's firmly entrenched in the City's food pantheon: who can forget Jerry Seinfeld declaring that we should "look to the cookie" to promote racial harmony and acceptance? After suffering a softball injury in Central Park, Bette Midler demands the famous confection in a later Seinfeld episode.