Brazilian cuisine is a collection of Brazilian cooking methods and traditions influenced by European, Amerindian, African, and, more recently, Asian (mostly Japanese) influences. It varies widely by area, reflecting the country's mix of native and immigrant inhabitants as well as the country's continental size. This has resulted in a national cuisine that preserves regional distinctions.
Cashews, cassava, guaraná, açai, cumaru, and tucupi were among the first ingredients utilised by Brazilian indigenous peoples. From then, the various waves of immigrants brought some of their favourite cuisines, substituting local substitutes for missing elements. For example, European immigrants (mostly from Portugal, Italy, Spain, Germany, the Netherlands, Poland, and Ukraine) were used to eating wheat and added wine, green vegetables, and dairy products to Brazilian cuisine.
When potatoes were unavailable, they devised a way to substitute the native delicious manioc. Enslaved Africans, particularly in the coastal areas, contributed to the development of Brazilian cuisine. Later migration waves were also influenced by foreigners: Japanese immigrants contributed most of the culinary items that Brazilians today identify with Asian cuisine,as well as large-scale agriculture.
Brazilian cuisine has been greatly impacted by the 16th-century Portuguese colonialism, slaves transported from Africa, indigenous peoples, and other European, South American, and Asian countries. Following the abolition of slavery, Brazil attracted Europeans and Japanese immigrants to work on coffee plantations; indeed, Brazil now has the world's biggest group of Japanese descendants outside of Japan, totaling over 1.6 million people.
With the inflow of immigrants came new recipes and culinary influences to the table of classic foods. From the minute you arrive in the nation, you will notice that Brazilian dishes are lovingly made, and meals are more than just plain dinners.
Here is a list of famous dishes from the Brazilian cuisine 
Brigadeiro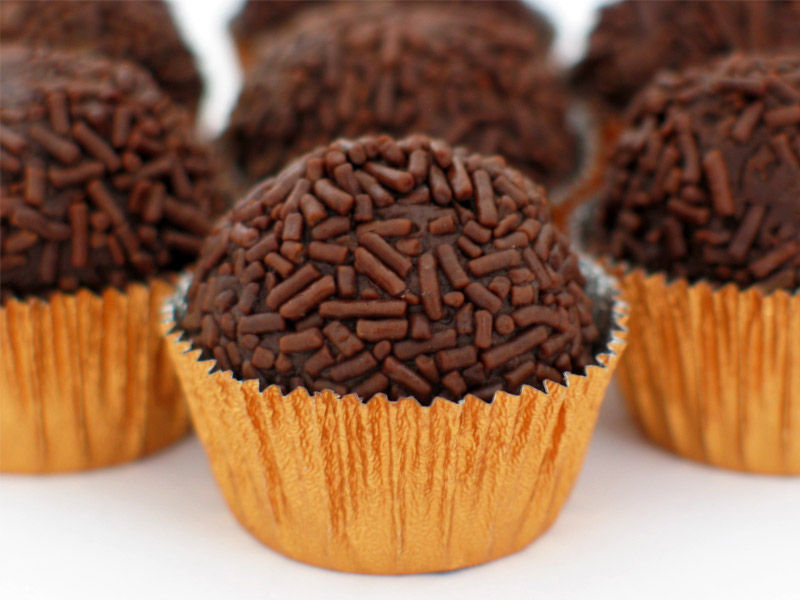 Brigadeiro are tuffles topped in chocolate sprinkles and created with condensed milk. Although milk chocolate is the classic brigadeiro, white chocolate variations are also available. When cooked with a full strawberry in the centre, they become even more delectable.
Canjica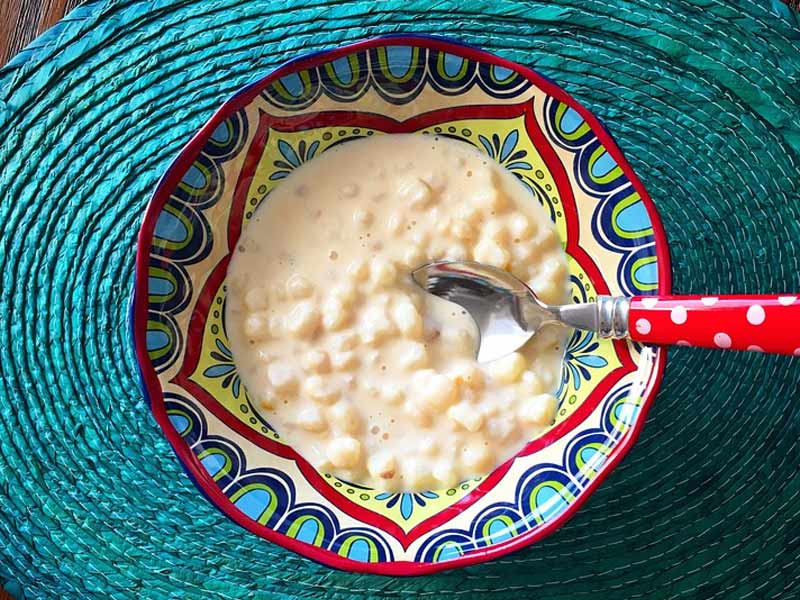 Canjica is a creamy, enticing dessert made with entire bits of white maize, milk, a splash of coconut milk, and condensed milk, with cinnamon sprinkled on top. It's generally served during the June Festival, but because it's too good to store for just once a year, it's available all year.
Açaí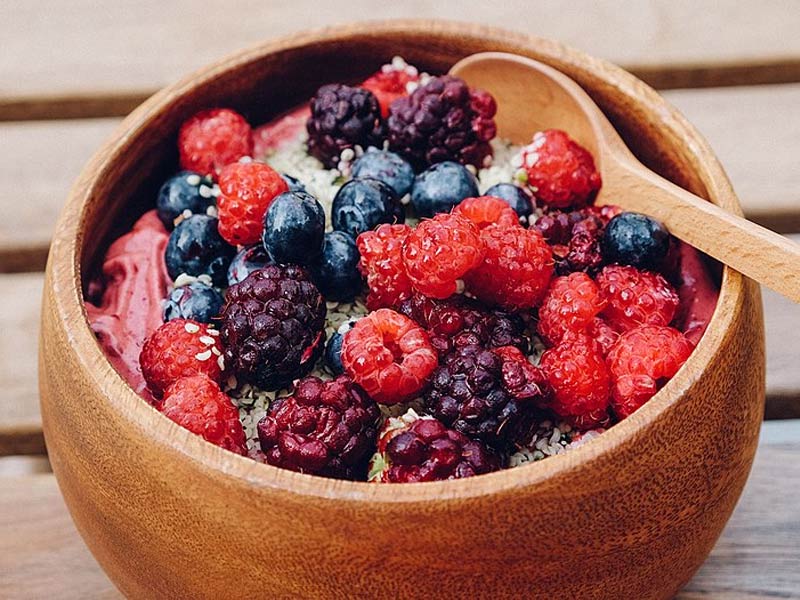 Super-food Aça is a classic Brazilian drink, particularly in coastal areas where it is a popular post-beach snack. Request banana, strawberry, or granola to be added to the sorbet to elevate it to a whole new level of deliciousness. Aça can be obtained as a smoothie, a drink, a powder, or even as a raw berry form that can be added to a main meal.
Pão de Queijo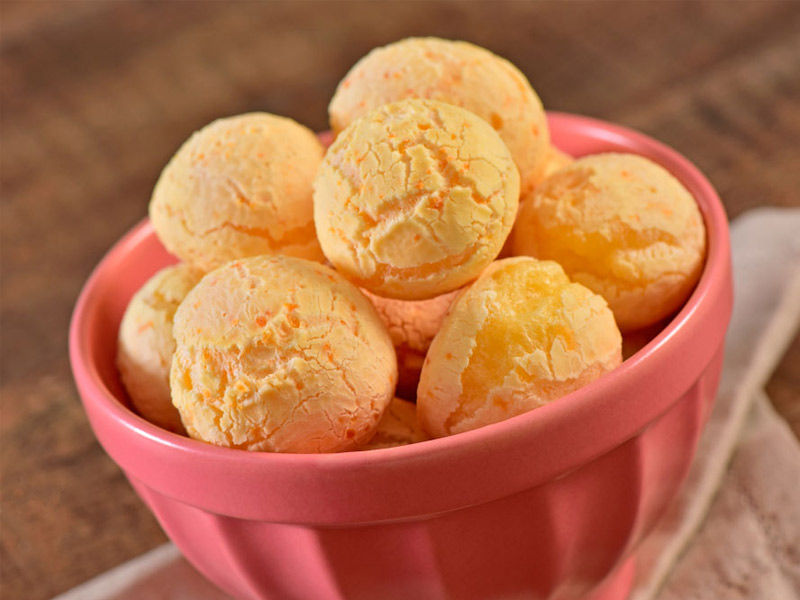 There's a lot more to this than simply cheese bread. These small puffs are crispy on the exterior, squidgy on the inside, and loaded with cheese taste. They're made with cassava flour, so they're gluten-free. They can be marketed as big balls the size of enormous oranges or in packs with little cheese balls within.
Romeu and Julieta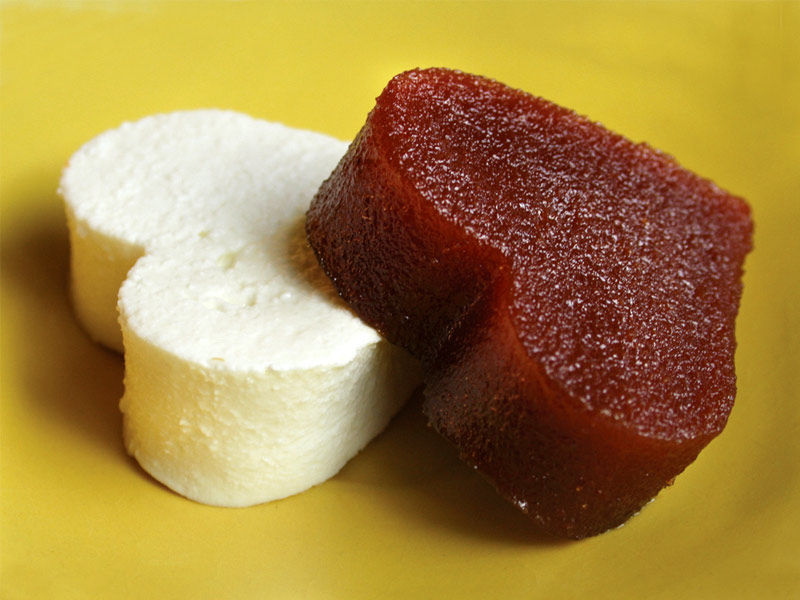 This simple yet powerful combo works on so many levels that it's amazing it hasn't gone viral yet. Guava paste, thick like a jelly, is sandwiched between two slices of mild white cheese. It might be the primary ingredient in a pie, a pastel, a cheesecake, or just guava jelly and cheese.
Feijoada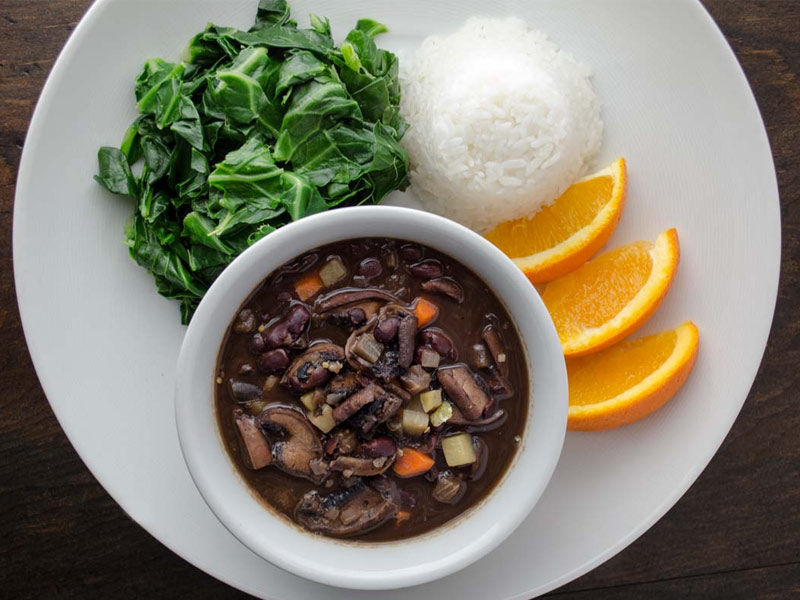 Feijoada is one of the most popular Brazilian main meals, and it is consumed across the country. It's a pot of black beans with bits of pork. However, the genuinely authentic feijoadas use pig's ears, trotters, and other components. It's served with fried kale with bacon pieces, rice, farofa (which absorbs the final vestiges of bean sauce) and a slice of orange for taste.
Camaro Moqueca (Camaro Moqueca)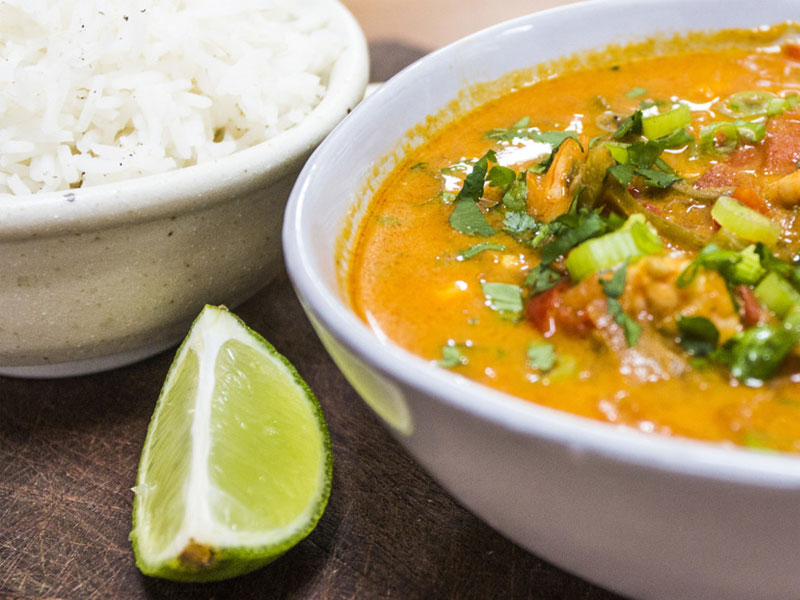 This delectable stew is gradually cooked with prawns, coconut oil, and milk, with veggies added. It is a Bahian specialty, although it is popular across Brazil.
Paçoca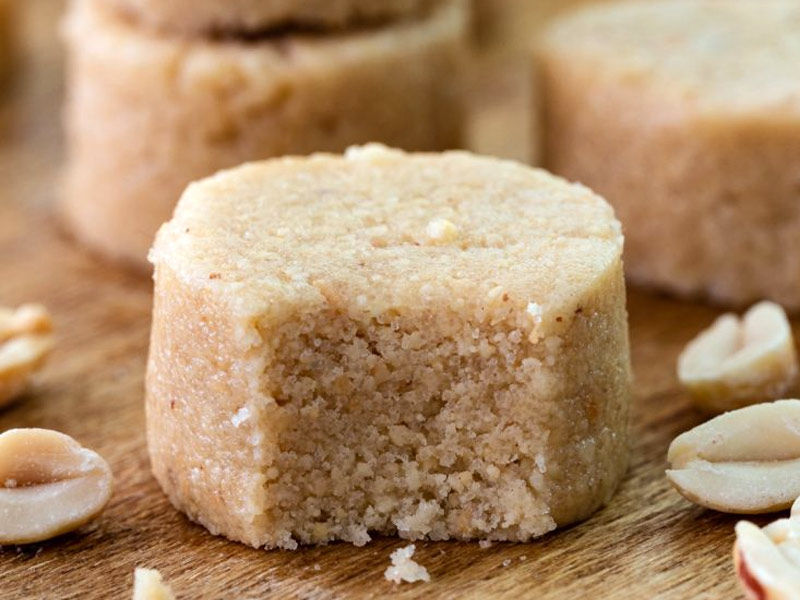 Paçoca is offered as a sweet in the shape of a cyclinder. Think of the peanut filling in Reese's Peanut Butter Cups, and you'll have a good idea of how paçoca tastes.
Quente Misto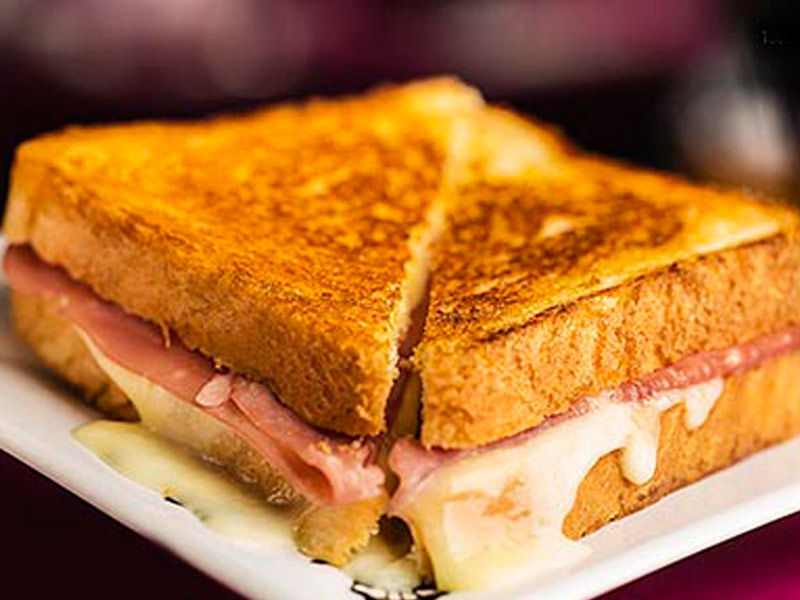 This daily Brazilian snack or light lunch choice consists of half a grilled French baguette with melted cheese and ham inside, and is frequently consumed with fresh fruit juice from street snack kiosks. Mandioca Frita Fried cassava is a popular alternative to chips in Brazil. They're chunky, crispy, and tasty, as well as a healthy alternative to regular french fries.
Joelho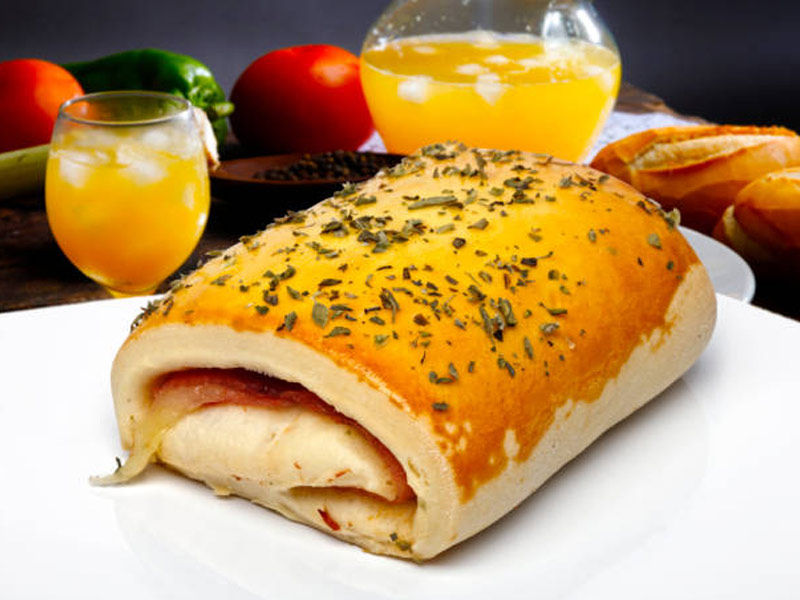 Joelho roughly translates to "knee," but the culinary equivalent is a thick bread pastry with cheese and ham on the interior; it is the ultimate comfort meal.
Quindim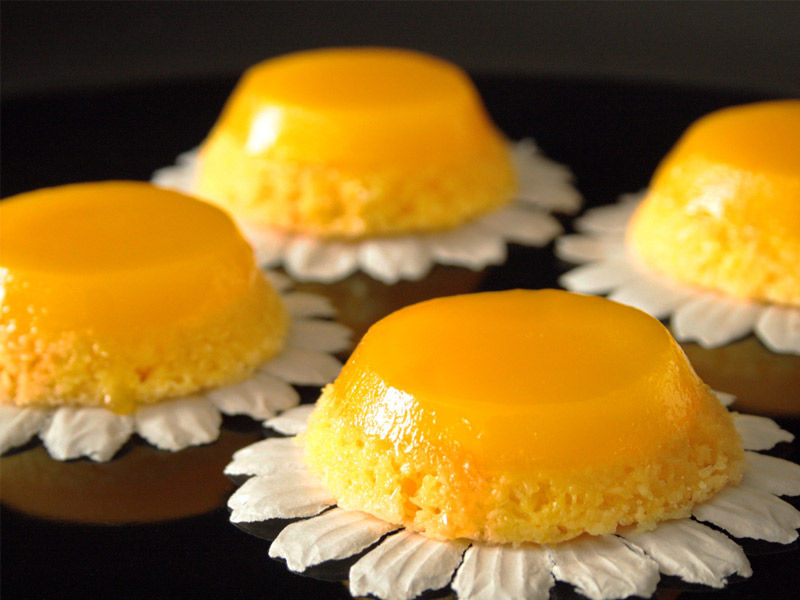 Quindim is just a flan with coconut flakes added. It is either served as a huge cake or in small bite-sized chunks.