Jamaican food is a fusion of culinary techniques, flavours, and spices inspired by the island's diverse population of Amerindians, Africans, Irish, English, French, Portuguese, Spanish, Indians, Chinese, and Middle Easterners. islands from tropical Southeast Asia also have an impact and the crop imports from the place. 
Some Jamaican foods are adaptations of cuisines that were brought to the island from other parts of the world. These are frequently tweaked to include fresh ingredients and spices from the area. Others are unique or hybrid, and they have emerged locally. Curry goat, fried dumplings, ackee, and saltfish are all popular Jamaican food. Popular items include Jamaican patties, pastries, breads, and drinks.
Jerk Chicken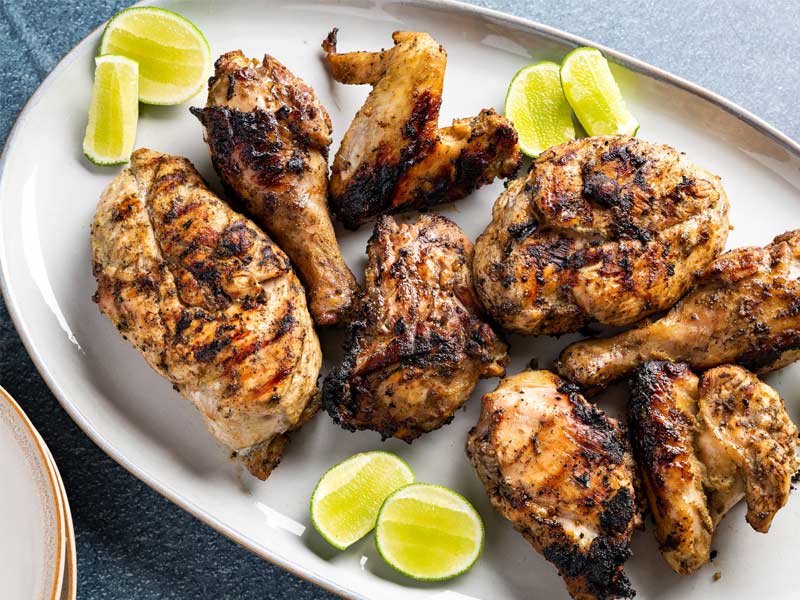 Jerk chicken is something that can be found on almost  every street corner on the island. It is traditional Jamaican food. From roadside stalls to fine dining establishments, this fiery, marinated chicken dish gets its name from the cooking process used to produce it, known as "jerk cooking." The chicken is typically seasoned with a paste composed of allspice, scotch bonnet peppers, cinnamon, nutmeg, clove, ginger, garlic, and thyme. The smoky and charred chicken pieces are served with rice and peas, steaming cabbage, and fried plantain after being slow-smoked over pimento wood in ancient oil barrel drums. Other types of jerk meat available in Jamaica include beef, pig, goat, and fish.
Ackee & Saltfish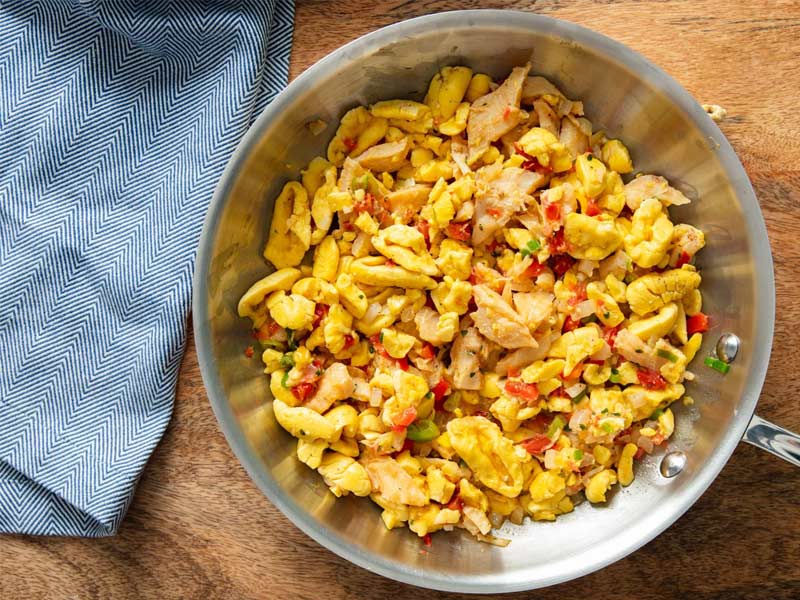 The national dish of Jamaica is a bit of an outlier. Sautéed with salted codfish, onions, tomatoes, chilis, and different spices, this meal is made in part with the yellow flesh of boiling ackee (a round, reddish fruit native to West Africa). It looks like scrambled eggs on a dish and is often served for breakfast, but can also be eaten for dinner, with a side of coleslaw, Jamaican dumplings, or hardo bread. Although some believe ackee and saltfish to be an acquired taste, it is one of the most genuine Jamaican foods available on the island.
Coconut Drops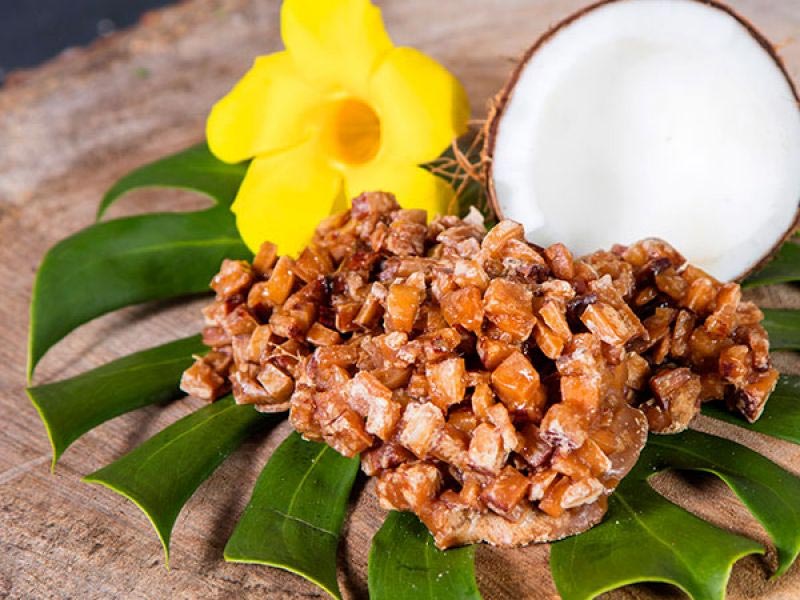 When your sweet craving begins to make demands, sticky, sugary coconut drops are a go-to. Coconut drops, which are about the size of your palm and have the feel of peanut brittle, are frequently prepared and offered for a fast snack in grocery stores, general stores, and marketplaces.
Run down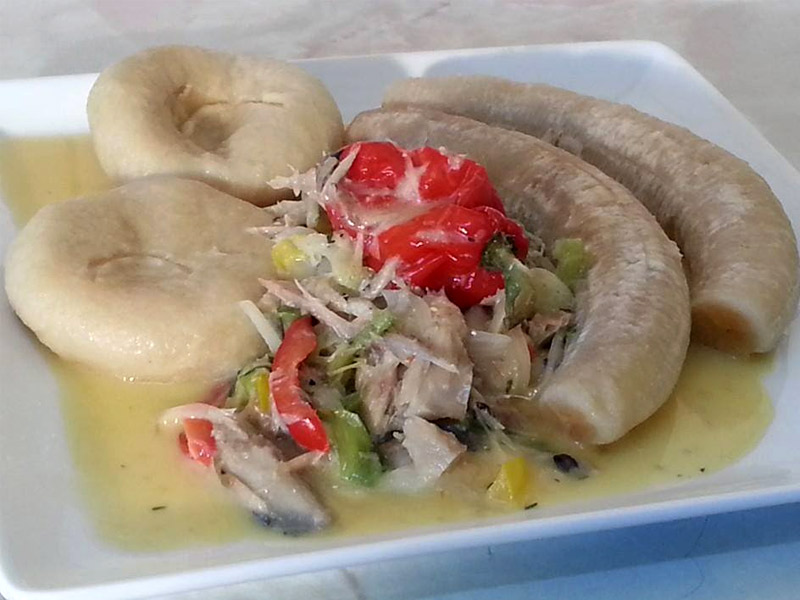 You won't be performing a military exercise after ordering a traditional run. Instead, you'll be served a bowl of savoury, creamy, and aromatic fish stew prepared with huge pieces of cod or mackerel, yams, tomatoes, and onions simmered in coconut milk. The fish meat is cooked until it breaks apart in the bowl, hence the moniker "run down," whilst dip and fall back refers to dipping boiling green banana chunks or dumplings into the soup and leaning your head back as you eat to avoid the liquid running down. Run Down is a warm, pleasant dish that will make any Jamaican exile crave home. It may be eaten at any time.
Curry goat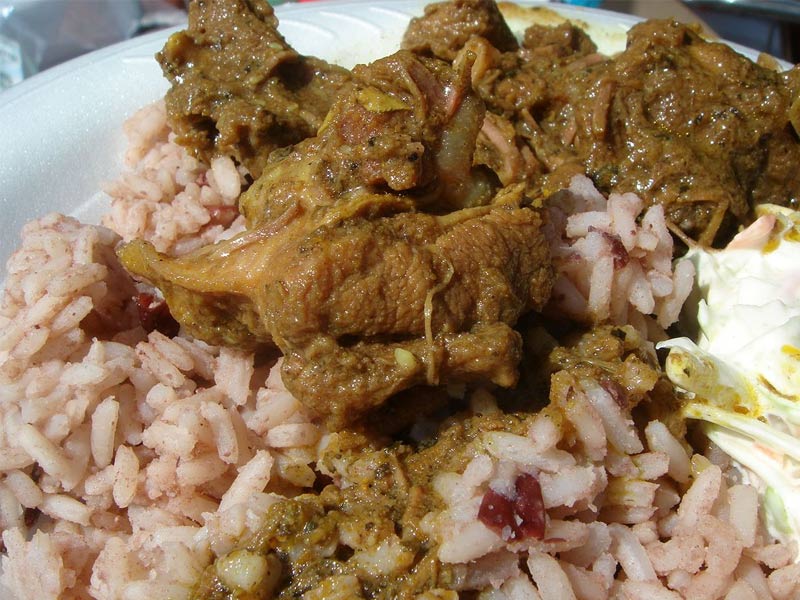 Another well-known Jamaican food that can be found practically anywhere on the island. Indian immigrants who came to work on the sugar estates introduced Curry to Jamaica. It swiftly established itself as an essential element of the country's gastronomic environment. Jamaican curry, unlike regular curry, is high on allspice and throws a fiery punch on the mouth. When long cooked with goat meat, the brisket absorbs the spice fragrance and becomes juicy enough to melt off the bones – a wonderful foil for hot bowls of rice and peas.
Oxtail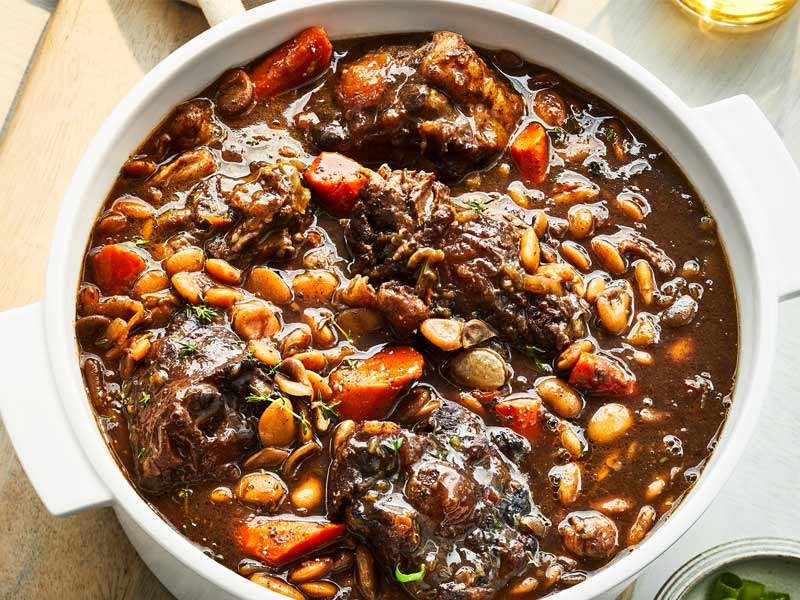 Jamaican oxtail meals are popular among locals, whether stewed or marinated in jerk sauce. Although rich and meaty, oxtails are extremely tough and cartilage-filled. Slow-cooking and patience are essential in getting the beef to the appropriate softness before serving with rice and peas or in a dish with stewed vegetables. Oxtail stew is a rustic and substantial dish where real Jamaican flavours actually shine with a little TLC when cooked with tomatoes, butter beans, black pepper, and spices.
Grizzada
These delectably sweet tarts with a pinched crust, sometimes known as pinch-me-rounds, are filled with shredded coconut and nutmeg. Grizzada is a descendant of the Portuguese classic cheesecake dessert, Queijadas, which was introduced to the island by Portuguese Jews fleeing religious persecution in Europe in the 15th and 16th centuries. Grizzada, on the other hand, is unmistakably Jamaican, with warm and spicy scents of ginger, brown sugar, and cinnamon permeating each taste. With its delicate buttery crust, grizzada is the perfect companion to a cup of freshly brewed Blue Mountain coffee.
Pepper pot
A traditional Creole soup prepared with callaloo, a blend of chopped leafy greens, primarily amaranth. Pepper pot comes in a variety of flavours and can be eaten with or without meat. Traditionally, callaloo is cooked and then diced or pureed before being boiled with chopped yam, cocoyam, okra, pigtails, and salted pork. When in Jamaica, try this soup with dumplings or vegetarian version with sliced avocados as sides. The island's rendition of this traditional soup is unique among Caribbean versions in that it is the only one made with callaloo. You may try a range of authentic local dishes here.