This southern part of India is a calm refuge of backwaters, beaches, unusual animals, and beautiful highlands. It also has its own distinct and colorful cuisine… 
Foreign impact on Kerala food is noticeable, with each faith establishing its cuisine and method of preparation, from Muslims to Syrian Christians. The Malabar area's Moplah cuisine has a particular flavor, influenced by the traders that frequented the region. Coconut, rice, tapioca, and spices like as black pepper, cloves, cinnamon, & ginger are common ingredients in Kerala cuisine.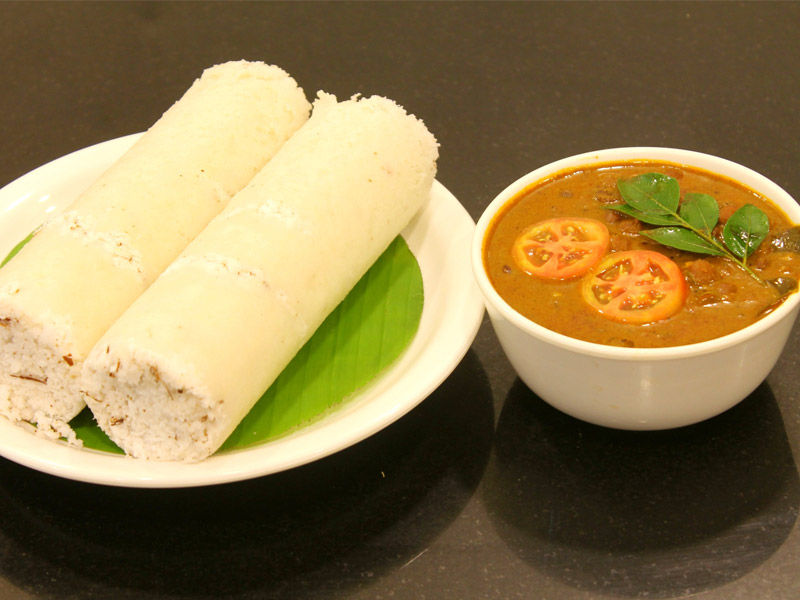 Cassava, which is currently commonly consumed in Kerala, was introduced by the Portuguese. The area is also known for its Sadhya, which is offered during the Hindu holiday Onam and consists of boiling rice and a variety of vegetarian foods served on a banana leaf. Kerala cuisine incorporates a lot of seafood due to its long coastlines, such as fish, prawns, mussels, and crabs.
Puttu and kadala curry
This is a major staple option around the state. Puttu is a steamed rice cake prepared in a mold with shredded coconut. It's typically served with kadala curry, a dish of black chickpeas cooked with shallots, spices, and coconut milk, which can also be accompanied by ripe bananas and shredded coconut.
Appam with stew
Appam is a traditional Keralan dish prepared from fermented rice flour and coconut milk. It's similar to a thin pancake with crunchy edges. These crepe-like bowls are produced with fermented rice flour, coconut milk, coconut water, and a small amount of sugar.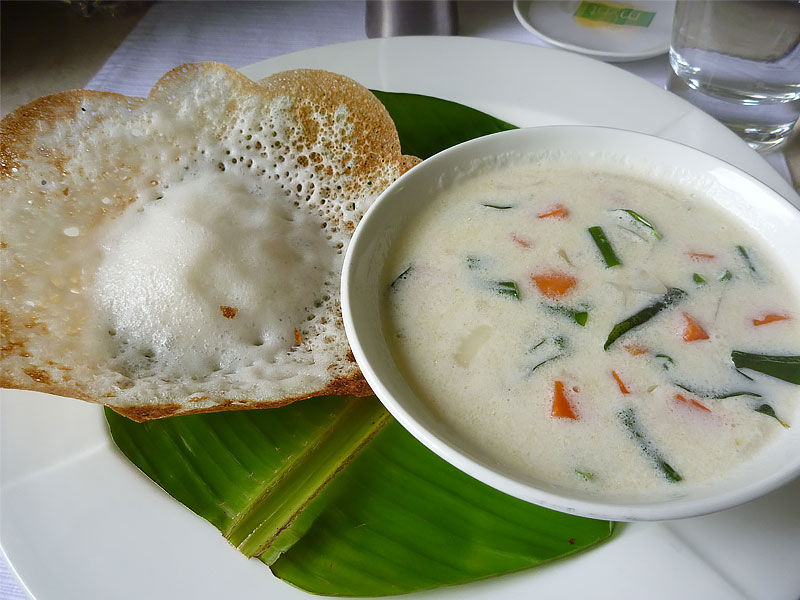 Ishtu, or stew, is a variant of European stew made with coconut milk, cinnamon, cloves, and shallots and served with appams. The stew can also include mango, vegetables, chicken, or lamb. Aromatic whole spices, ginger, and fresh coconut milk complement the natural flavor of the veggies. Fresh coconut milk, which adds a delicious taste, is an essential element.
Karimeen pollichathu (fish)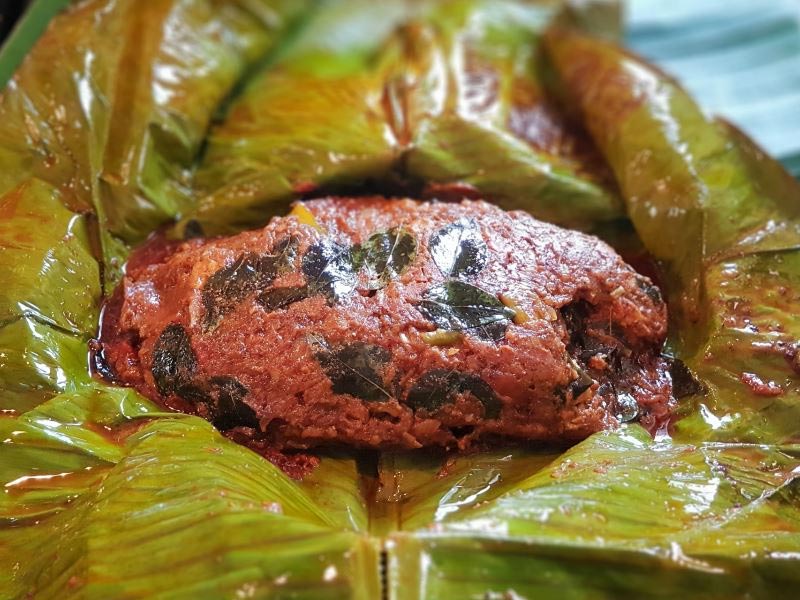 This is a classic Kerala delicacy. Karimeen also referred to as pearl spot fish, is a speckled fish spotted in the backwaters of the state. This is a Syrian Christian dish that has become a part of Kerala's diverse cuisine. Pearl spot fish is marinated in a blend of lemon juice, red chilies, and other spices before being wrapped in plantain leaves and baked to give it a distinct flavor.
Malabar Parotta with Kerala beef curry
Parotta, a layered flatbread from the Malabar area, is created by kneading maida (plain flour), egg (in certain recipes), oil or ghee, and water. The dough is beaten before being fashioned into a thin-layered spiral.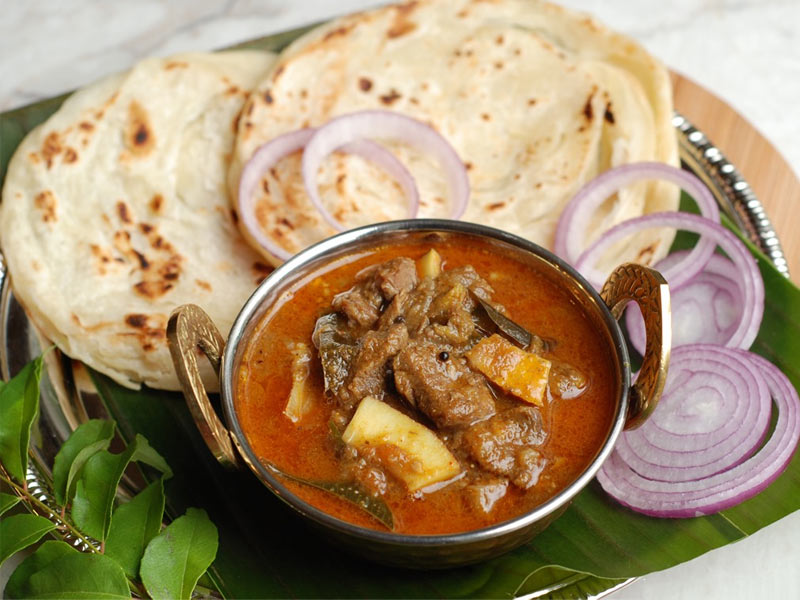 To make a Parotta, the ball is flattened and fried in ghee. This is then served with beef curry, which is cooked with tomatoes, onions, garlic, and spices such as bay leaves, cinnamon, cardamom, cloves, black peppercorns, and star anise.
Erissery or pumpkin and lentil curry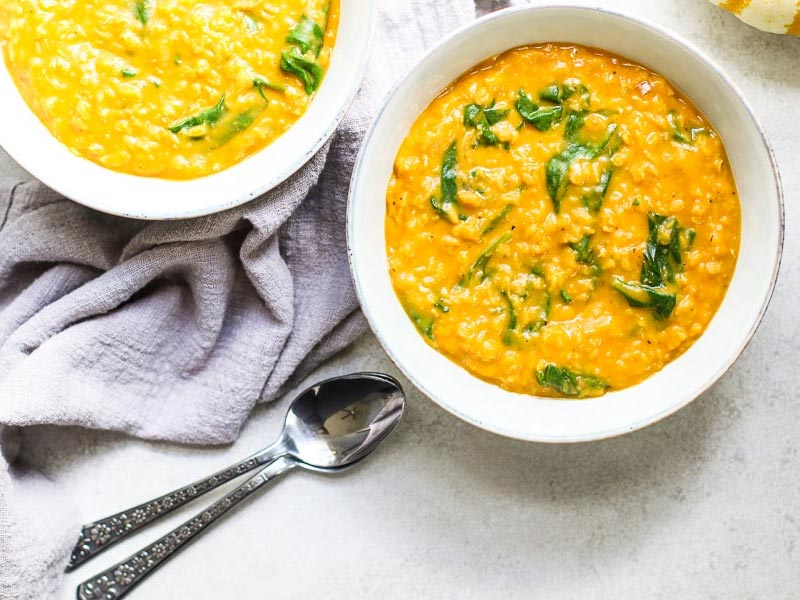 This is a famous Kerala stew cooked with either raw plantains or sliced yams. It is often served over a bed of rice with the somewhat sweet pumpkin that has been simmered in water with salt, chilies, or pepper, dry lentils, shredded coconut, turmeric powder, cumin seeds, and garlic. It is commonly seen on religious holiday dishes such as Onam.
Palada payasam (dessert)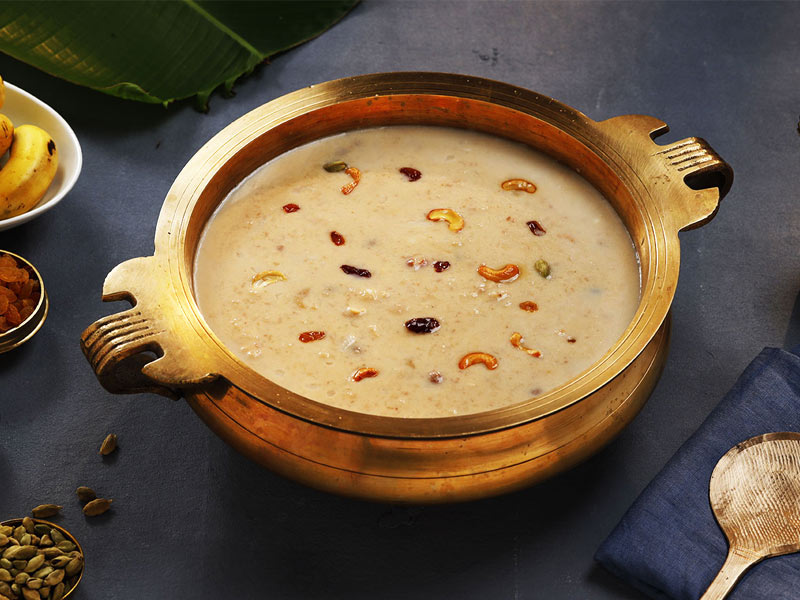 A sweet rice kheer cooked with palada is a delicacy made in practically all Kerala families during the Onam festival and other special occasions. There are several variants, but the classic recipe includes just basic ingredients such as rice ada, milk, sugar, and ghee. Rice ada is widely sold in Indian Kerala supermarkets.
Kerala prawn curry (chemmeen curry)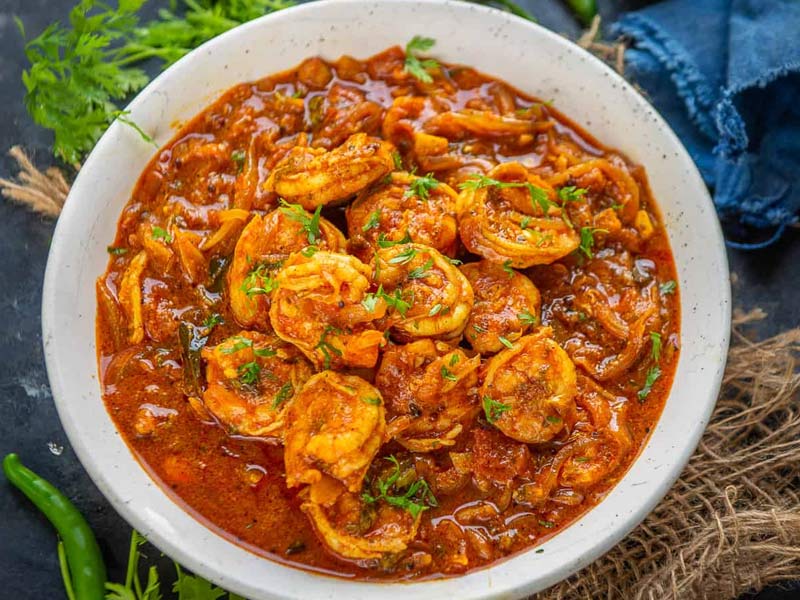 A prawn curry from the Malabar area cooked with fenugreek, black mustard, fennel seeds, coconut milk, and green chili is a hallmark dish of the state. It also contains kudampuli (also known as brindleberry) to give it a sour taste, as well as marinated prawns, drumsticks, and raw mango to give it a spicy, tangy flavor.
Thalassery biriyani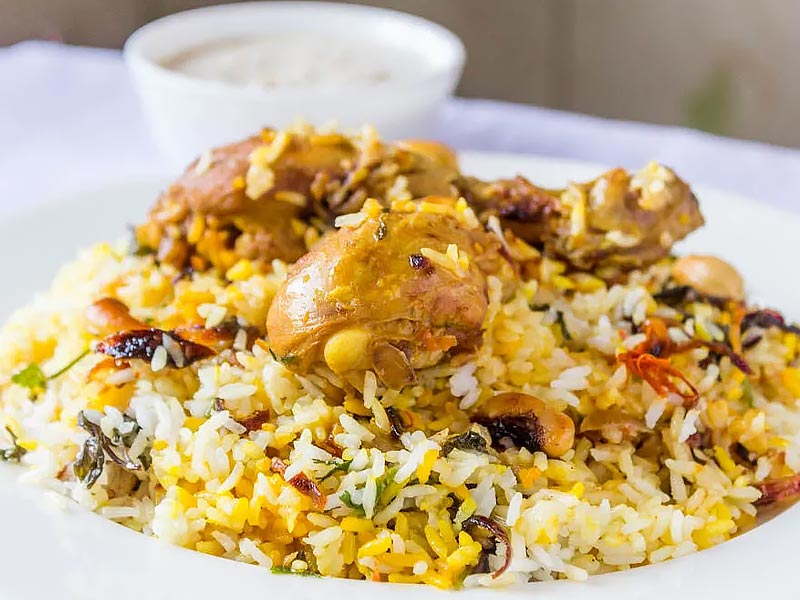 The Muslim community's most popular cuisine is rice biriyani. Thalassery seaport was a spice export hub where European, Arab, and Malabar civilizations collided and impacted cuisine. Thalassery biriyani is made from kaima, a fragrant, small-grained, thin rice type. Inside the dish, layers of biriyani masala and cooked rice are placed. On low heat, the meat is cooked with the masala and stacked with rice before the container's top is sealed with dough. The lid is then put over a fire or charcoal.
Fish moilee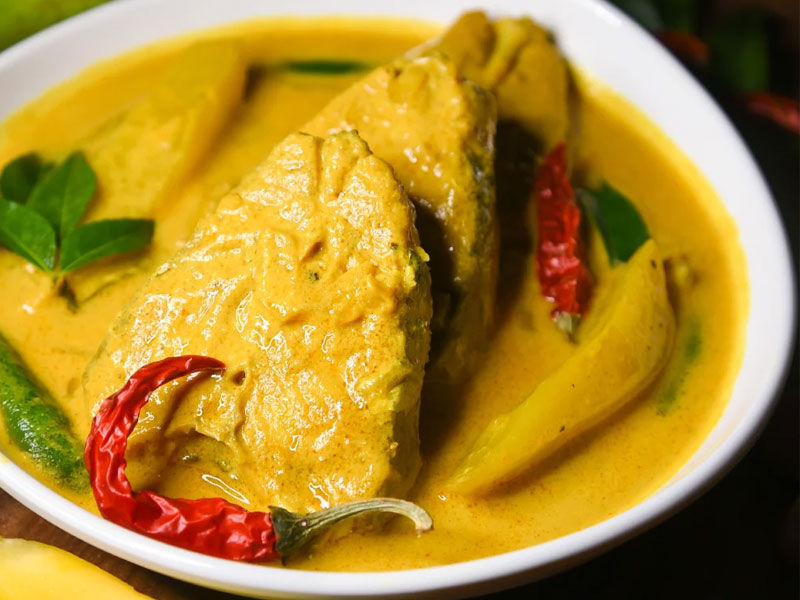 A popular Keralan fish stew prepared with coconut milk is a Syrian Christian delicacy. The curry is often made in a traditional manchatti (earthen pot) and stews gently fried fish in coconut milk, spices such as turmeric, pepper, cinnamon, and cloves, and fresh green chilies to give it a tangy flavor. Before being utilized in the curry, the fish (typically kingfish or seer fish) is marinated for 30 minutes in oil, turmeric, red chili powder, lemon juice, and salt.
Banana fritters (dessert)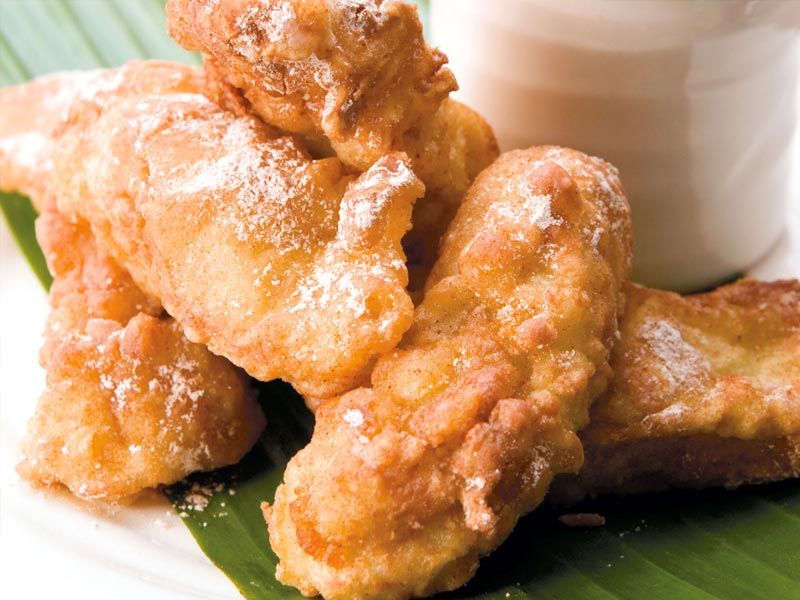 Pazham Pori or Ethakka appam are luscious banana fritters that are popular teatime snacks. They are just ripe bananas covered with plain flour and deep-fried in oil and are available across Kerala.