The government of India established Pachmarhi Biosphere Reserve in 1999 for the conservation and preservation of wildlife. Pachmarhi Biosphere Reserve, located in Madhya Pradesh, is a notable portion of the Satpura Range. The sanctuary as a whole covers an area of 4926 square kilometers and includes three discrete animal sanctuaries.
Bori Sanctuary covers 500 square kilometers of the total 4926 kilometers, Satpura National Park covers 524 square kilometers, and Pachmarhi Sanctuary covers 461 square kilometers.
Aside from a plethora of flora and animals, the Pachmarhi Biosphere Reserve is also home to a diverse tribal community. Pachmarhi Biosphere Reserve also has archaeological value, with various caves discovered in the area that is believed to have been used by the local population at an unknown time. Pachmarhi Biosphere Reserve is sustained by various water bodies found in the forest, fueling the lush greens. Rivers and streams run through the country, but the Tawa reservoir is the most visible water source in the area.
Weather Patterns
Summertime at Pachmarhi Biosphere Reserve is mild, with highs of 35 degrees Celsius. The summer season typically begins in May and lasts through July. Between July and September, the monsoon brings significant rains. The weather is humid at this time of year, and the temperature declines owing to surface cooling. Foggy weather can be enjoyed for an extended period, and animals receive nutrients for renewal. Winters in Pachmarhi are cold, with temperatures dropping to below 4 degrees Celsius at times. The winter season typically lasts from November to February.
Best time to visit
The months of October to March are perfect for visiting Pachmarhi Biosphere Reserve. During this season, the weather improves, and temperatures fall. During the winter, warm clothes are recommended.
How to Get to the National Park?
Airways
Bhopal is the closest airport and is well connected to all of the country's major cities. It is around 200 kilometers from the reserve and has airport transportation available.
Railways
The nearest railway station is 47 kilometers away, at Pipriya. Taxis, buses, and other public transportation are plentiful and can be used to go to the hotel or the sanctuary.
Roadways
The reserve is easily accessible by NH 19, which runs through the heart of Pachmarhi Biosphere Reserve. There are also more connected roads that run through the reserve. The cantonment is close by and well connected to the rest of the neighborhood.
Accommodation options
There are several guest rooms available for rent in the town and the surrounding market region. Several of them are reasonably priced and well-equipped for comfortable lodging and catering. Other higher-end eateries are established around the reserve by Madhya Pradesh Tourism, which offers some incredible rates for guests who arrange their stay ahead of time.
Top places to visit in or near Pachmarhi Biosphere Reserve
1. Pandava Caves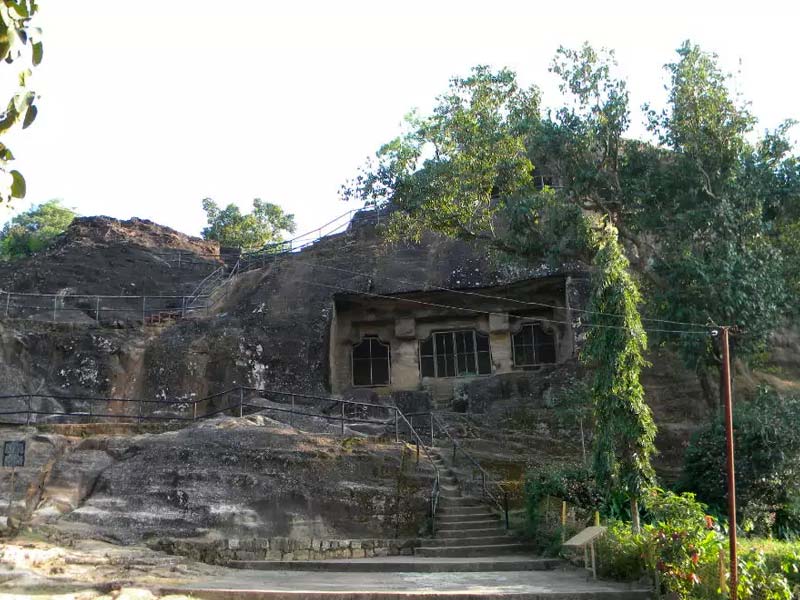 Pandava Caves is one of the top attractions in Pachmarhi. Pandava Cave is a collection of five rock-cut Buddhist monasteries set against the beautiful Satpura hills. According to mythological traditions, these temples were built to provide shelter to the five Pandavas during their exile, hence the name. These temples, which were built in the ninth century, are embellished with exquisite sculptures and decorations.
Hours of operation: 8:00 a.m. to 6:00 p.m.
2. Bee Falls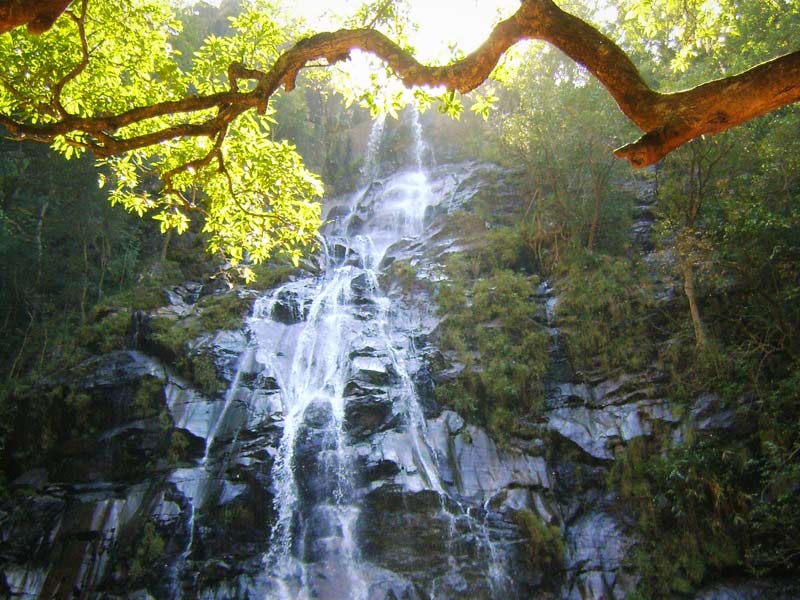 Pachmarhi is gifted with numerous beautiful waterfalls, and Bee Falls is, without a doubt, one of the most beautiful. This is one of the most renowned tourist attractions in Pachmarhi. It is also known as Jamuna Prapat. Furthermore, Bee Falls is well-known for giving water to the entire town of Pachmarhi. It is a popular picnic spot for locals and tourists, and it is mostly visited for swimming. Everyone is taken aback by the sight of the waterfall tumbling down the lush valley.
Pachmarhi, Madhya Pradesh 461881 is the location.

Hours of operation: 9 a.m. to 5 p.m.
3. Dhoopgarh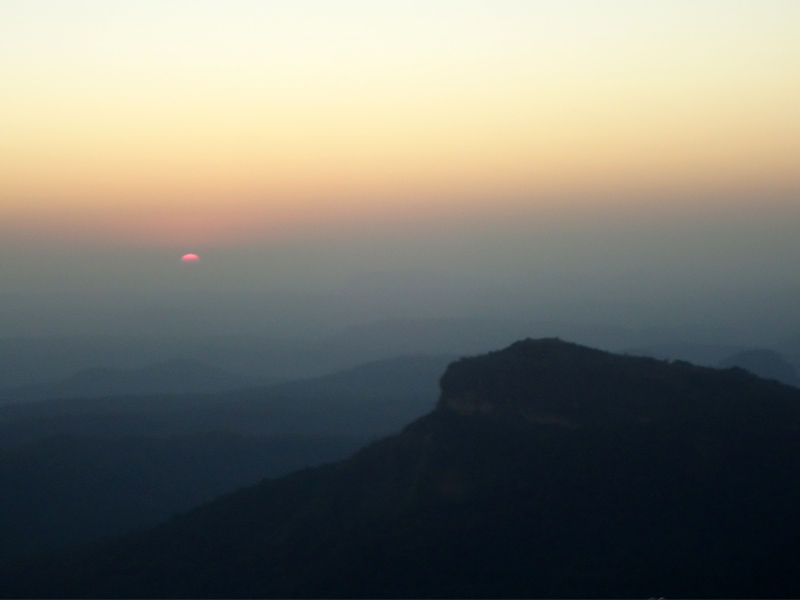 Dhoopgarh is yet another prominent tourist destination in Pachmarhi. This location is the highest point of the Satpura mountains. It is known for its most picturesque sunrise and sunset panoramas. It is located at the height of 1352 meters and is noted for its most photogenic sunrise and sunset vistas. Only a moderately difficult trekking route via waterfalls and valleys can take visitors to the mountaintop.
Pachmarhi is located in the Pipariya tehsil in the Hoshangabad district of Madhya Pradesh, India.
4. Mahadeo Hills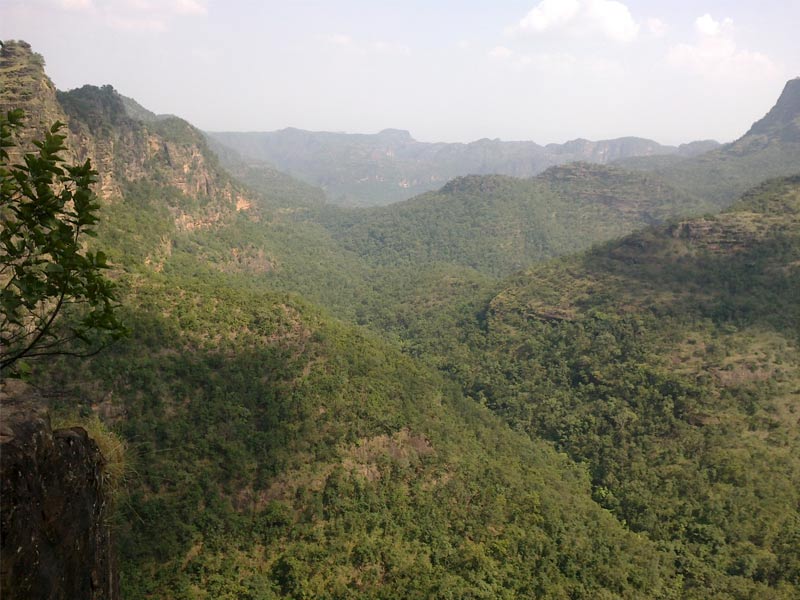 If you are looking for peace and leisure, Mahadeo Hills is the place to go. At an elevation of 1363 meters, Mahadeo is a beautiful sandstone hill that offers breathtaking views of the surrounding forests and valleys. Furthermore, Mahadeo Hills is well-known for an ancient Shiva temple and a few natural caves.
5. Jata Sankar cave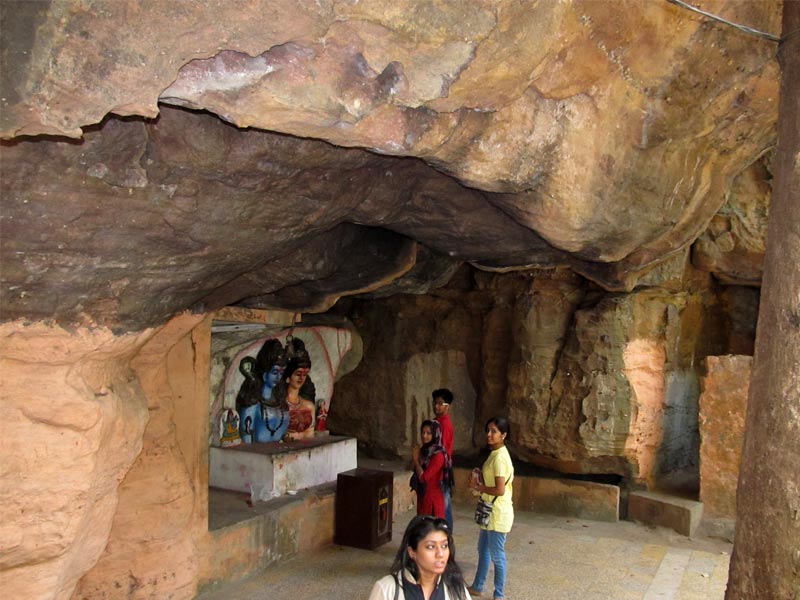 One of the best sites to visit in Pachmarhi is the Jata Sankar cave. According to spiritual accounts, Lord Shiva hid here from Bhashmasur's wrath. This is a lovely limestone cave with stalactites and stalagmites that resemble Lord Shiva's matted hair, hence the name Jata Sankar cave. This location is popular among devotees because it has a genuine shiva lingam and a large rock resembling the 100-headed Sheshnaga.
Pachmarhi, Madhya Pradesh 461881 Jatashankar Rd

Hours of operation: 7:00 a.m. to 7:00 p.m.
6. Duchess Falls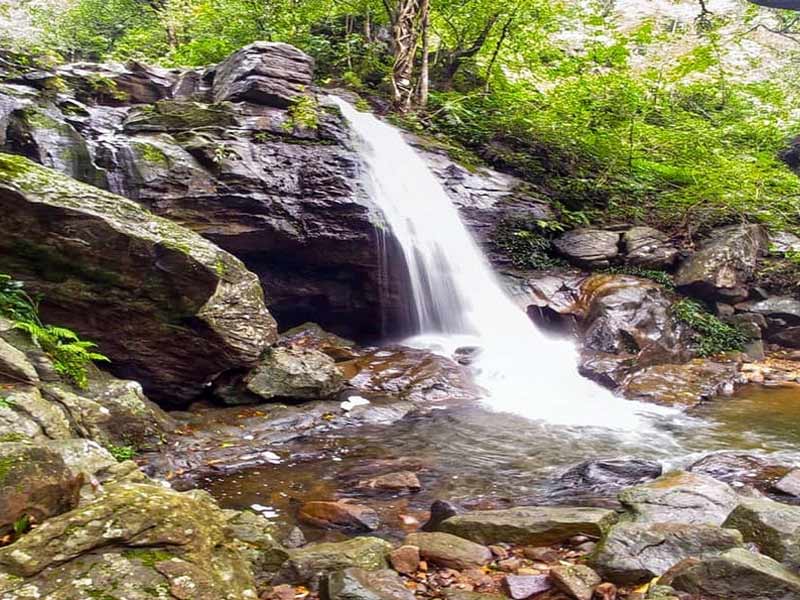 Duchess Falls should not be missed if you are arranging a sightseeing tour in Pachmarhi. This magnificent waterfall cascades down from 100 meters and is located 4 kilometers from the main road. The plunge of the beautiful fall in three layers, combined with the exhilarating sound, makes it a wonder to behold. Without a doubt, this is one of the most interesting locations to see in Pachmarhi.
Pachmarhi, Madhya Pradesh 461881 is the location.
7. Chauragarh Temple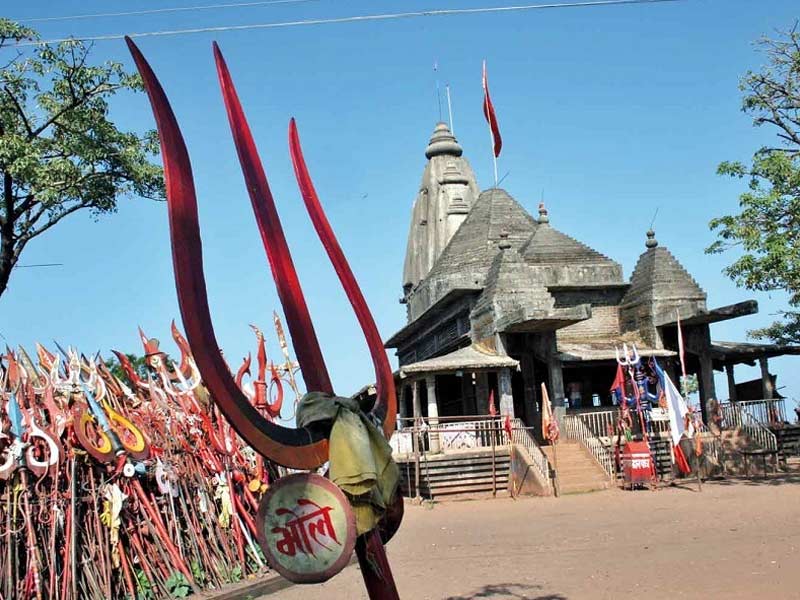 Chauragarh Temple, located at an elevation of 1326 meters, is another holy site to visit in Pachmarhi. This ancient temple is dedicated to Lord Shiva and is surrounded by beautiful hills and green valleys. Devotees must up 1300 stairs to reach this sacred site, including the main temple, a Dharamshala, and a natural pond. Devotees are observed climbing this steep road during the Nag Panchami and Maha Shivratri festivals, carrying heavy Trishuls as part of religious rules.
Hours of operation: 7:00 a.m. to 7:00 p.m.
8. Handi Khoh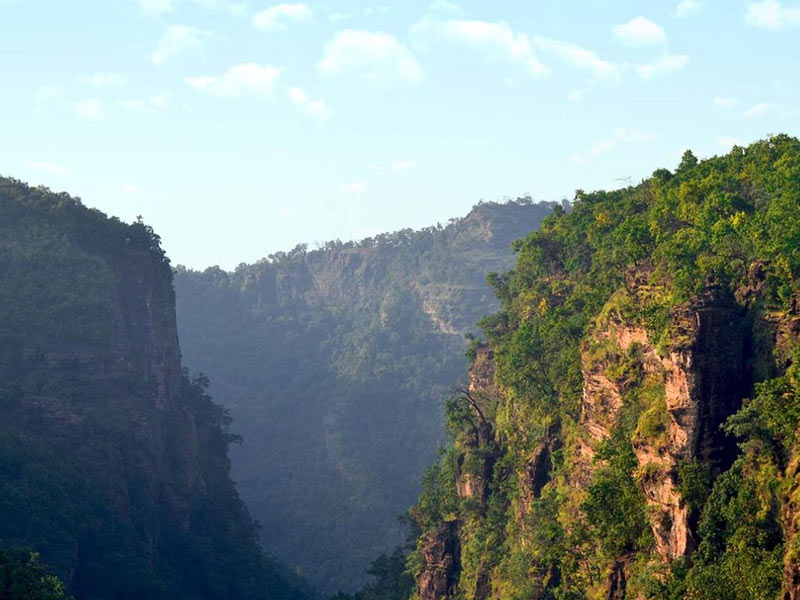 Handi Khoh, surrounded by verdant trees and hills, is another renowned tourist destination in Pachmarhi. This is a 300-foot-deep V-shaped ravine formed by two enormous hills. Locals claim this was once a lake that was dried up by the fury of a massive serpent used to defend the area. Today, this location is well-known for trekking, hiking, photography, and horseback riding.
Pachmarhi Cantt, Madhya Pradesh, 461881

Hours of operation: 7 a.m. to 5 p.m.
9. Gupt Mahadev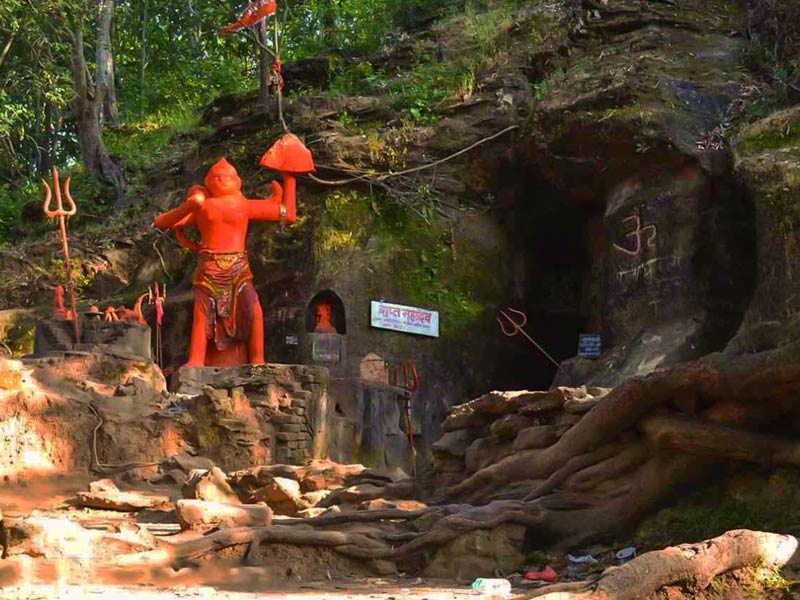 Gupt Mahadev is another temple included on any list of prominent sites to visit in Pachmarhi. This temple is nestled snugly inside a gigantic natural cave and houses temples to Lord Shiva, Lord Ganesha, and Hanuman. This cave temple's entrance is tiny and can only allow up to 8 persons at a time.
Madhya Pradesh 461881 is the location.

Hours of operation: 5:00 a.m. to 7:00 p.m.
10. Satpura National Park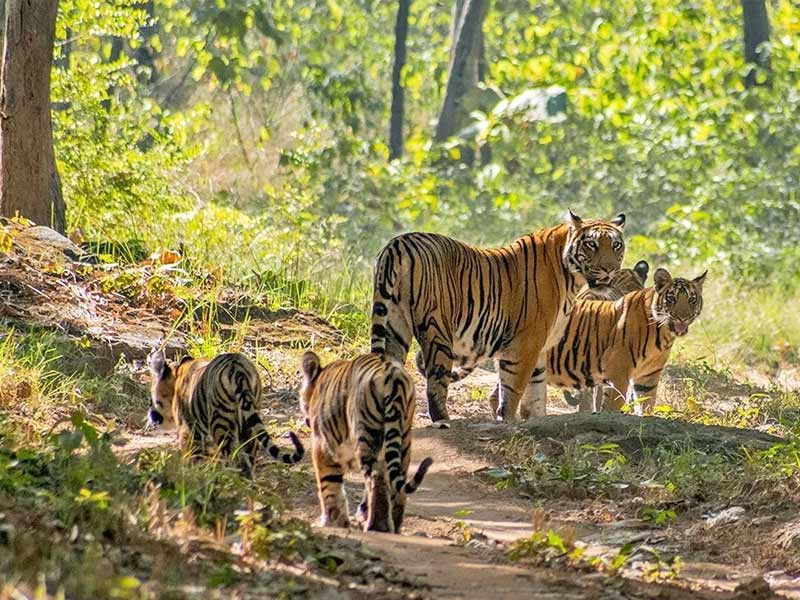 The wildlife park, surrounded by the Satpura Ranges, is one of the most exciting sites to visit near Pachmarhi. It is a massive and pristine national park that spans 202 square kilometers. This national park offers lovely scenery with the Denwa River flowing through it. It boasts Sal, Teak, Tendu, Mahua, and Bel. During the safari, one must cross the river, either in a gypsy or on an elephant. Satpura National Park, a favorite among environment lovers and animal lovers, is one of the most intriguing sites to visit in Pachmarhi.
Bison, spotted deer, elephants, leopards, tigers, sloth bears, four-horned antelopes, and numerous local and migratory birds call the wildlife sanctuary home. Over the years, this reserve has received numerous major honors for its efforts to safeguard endangered and unusual flora and animals.
Madai, Sarangpur, Madhya Pradesh, 461881

Hours of operation: 1st October to 15th June| Summer hours are 5:45 a.m. to 9:30 a.m. and 3 p.m. to 6:30 p.m. Winter hours are 6 a.m. to 10 a.m. and 2:30 p.m. to 5:30 p.m.

Entry costs INR 1250 per person, a gypsy safari costs INR 2100, and a boat costs INR 50 per person.