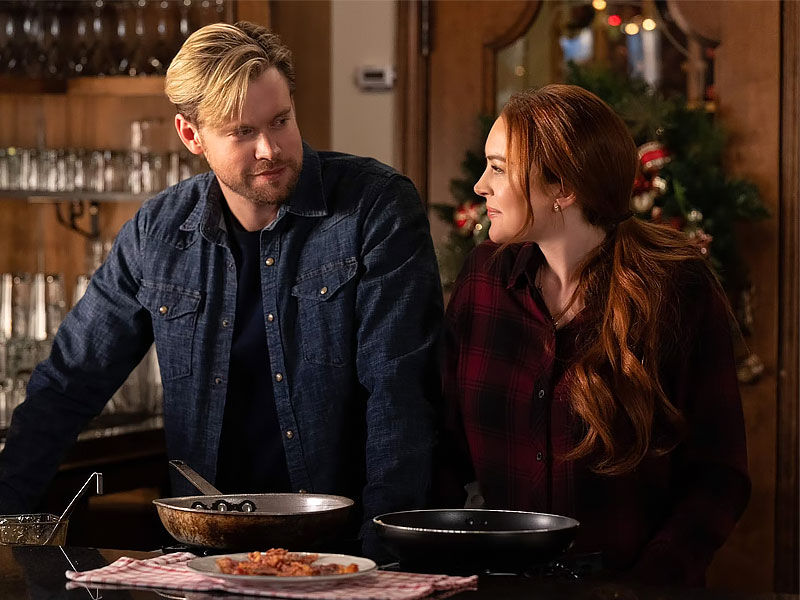 Falling for Christmas, featuring Lindsay Lohan in her big return, kicks off the Christmas release schedule this year. Revolving around hotel heiress Sierra Belmont (Lindsay Lohan), who has been driven up to his luxury ski resort by her father Beauregard (Jack Wagner) on his jet to discuss her new role in his firm as the Vice President of Atmosphere. Sierra, on the other hand, has different plans with her British social media star boyfriend Tad (George Young).
Sierra is assigned a personal assistant (Chase Ramsey) and a glam squad to prepare her for lunch with Daddy, but fate intervenes as Belmont suffers a catastrophic fall, knocking Tad out on one side of the mountain and Sierra out on the other, just as the couple is about to announce their engagement on social media. Sierra is shortly saved by widowed single father Jake Russell (Chord Overstreet), who proceeds to care for her after Sierra suffers from acute amnesia as a result of her accident and forgets her identity.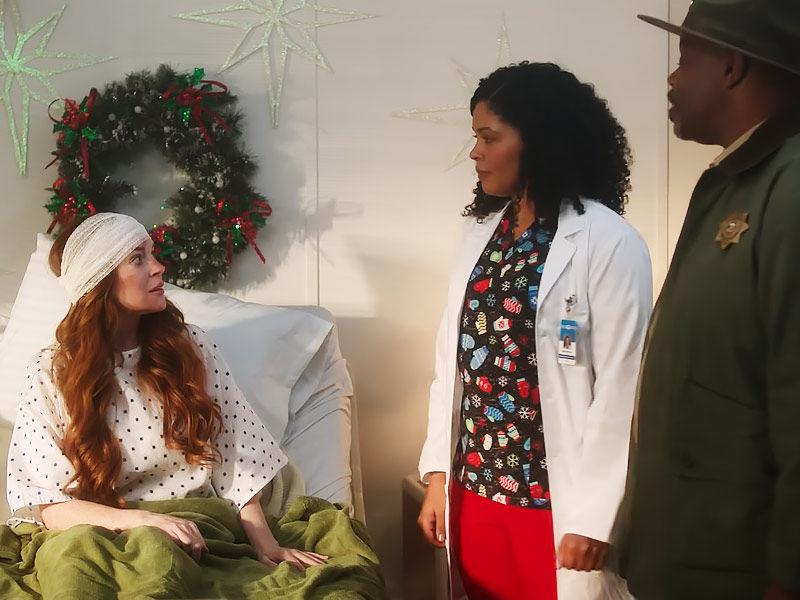 Sierra learns to learn the typical things that she never got the chance to do because of her heiress existence while living at Jake's North Star lodge during her memory loss phase. Sierra grows close to Jake's daughter Avy (Olivia Perez) and his mother-in-law Alejandra as she learns how to make her bed and gains cooking abilities (Alejandra Flores). Sierra, who goes by the name Sarah until she recalls who she is, also offers to help Jake, who is battling to keep his bed and breakfast open while competing with swanky resorts.
Sierra and Jake formed a deep friendship over the holiday season, but will their sentiments remain the same once Belmont remembers her true self?
Advantages include: 
When it comes to holiday classic cliches, Falling for Christmas checks all the boxes. The wintry sceneries are lovely, and the classic Christmas décor will offer you delight from across the screen.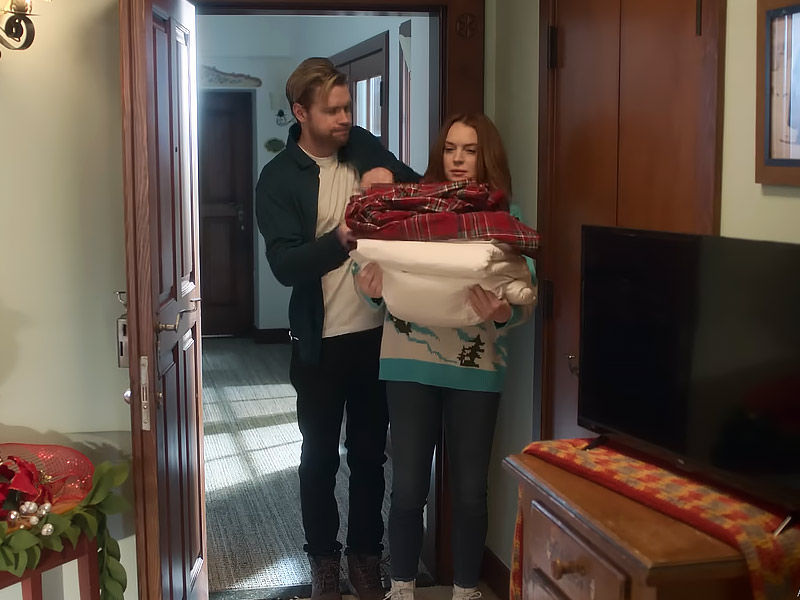 Another essential component of any Christmas rom-com is the presence of great Christmas songs, which Falling for Christmas thankfully does. There are other references to Lohan's previous memorable cinematic performances, including a Mean Girls allusion as she sings Jingle Bell Rock and a recall to Just My Luck as she attempts to do laundry, which once again results in a fairly messy conclusion.
Lindsay's return has been long-awaited, and the start of the "Lohanaissance," as fans name it, has been a good one, as Falling for Christmas turns out to be a pleasant watch for those who appreciate the Yuletide romance genre.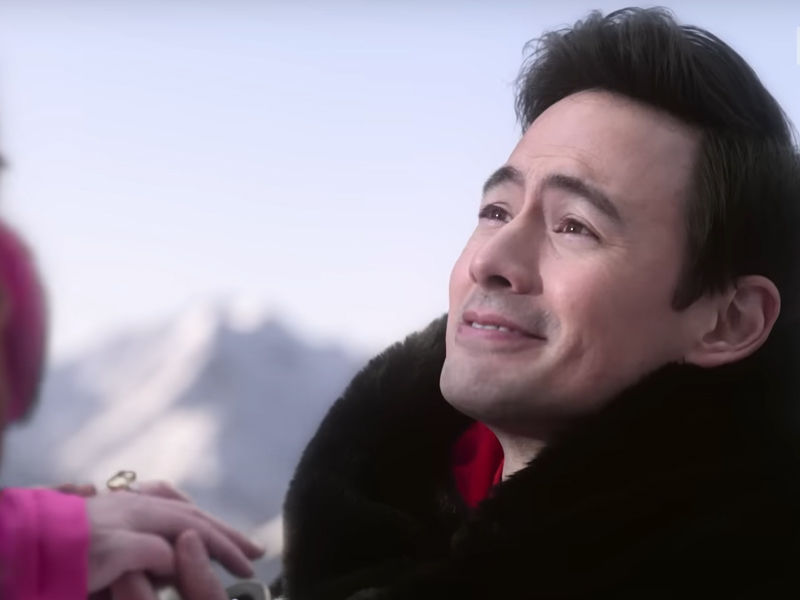 Points deducted: 
Lindsay Lohan's comeback picture is reminiscent of Overboard. One of the film's biggest letdowns is also a forgettable meet cute. For a holiday-themed romance movie, you'd expect the lead duo to have an iconic meet adorable, but instead, we get a very forgettable accidental cocoa spill on Sierra's "Valenyagi."
Another issue in the picture is Tad (George Young), whose influencer chatter becomes tired sooner than you would expect. There's also a last-minute twist involving Tag's character that comes as no surprise.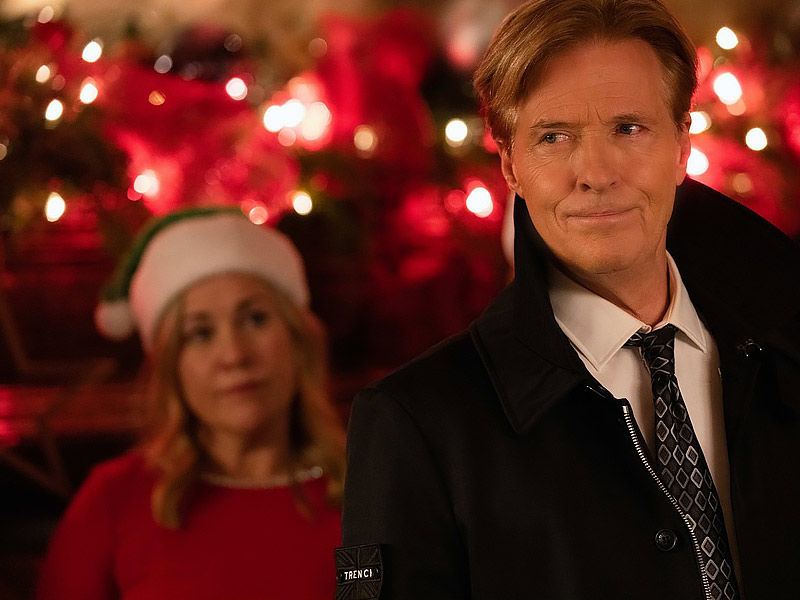 Opinion: 
It is officially the time of year when even the most pessimistic individuals begin to believe in miracles and happy endings. Every Christmas classic has had the allure of ending on a saccharine-filled note that either makes you reach for the tissue box or want to swallow down an entire container of ice cream. Recently, none of the romantic comedies, especially those in the Christmas sub-genre, have given me that emotion.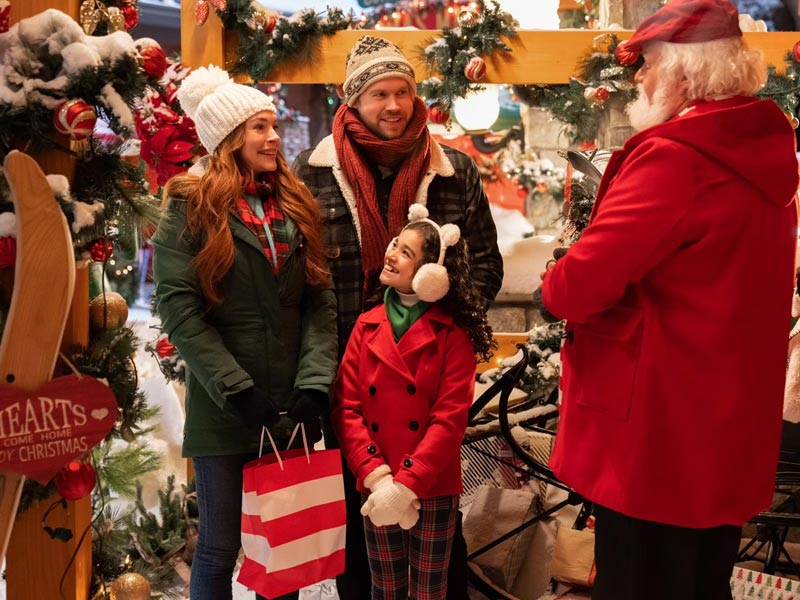 In terms of Lindsay Lohan's recent picture, Falling for Christmas, while it has a fairly basic plot, it suffers from a lack of chemistry. Lohan, who isn't new to the genre of films with popcorn entertainment value, shows off her best side and reminds us that she may have been on a hiatus but she hasn't forgotten about acting, however in her second innings as an actor, I feel she deserves better. 
In terms of plot, Lohan does an excellent job of depicting Sierra's transformation from the caviar-eating, spoiled heiress to finally embracing a more autonomous approach as well as being unselfish when necessary.
The concept that Jake and Sierra bond via their shared pain of losing their wives, while she mourns the death of her mother, is one of the subtle elements that work for the film. As for the apparent flaws in the novel, Sierra only stays with Jake and his family for four days, and the metamorphosis she goes through seems a little hasty, not to mention there's no one seeking Ms. Belmont throughout the time she's constructing her new love story. There are also efforts to incorporate meta aspects, such as Lohan's Sierra waking up to Netflix's Ludum logo tone while A Castle for Christmas plays on her TV when the platform launches.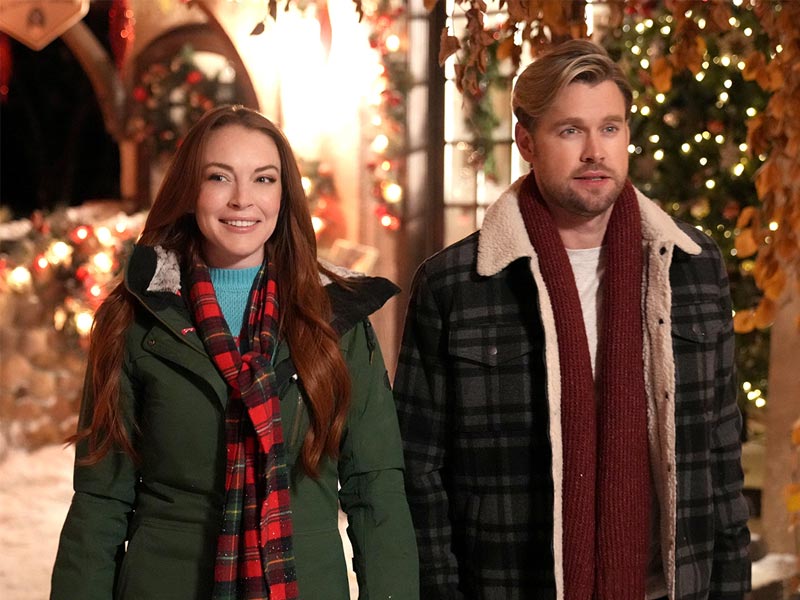 While Lohan does not fail in terms of performance, her co-stars, Chord Overstreet and George Young-do.
Conclusion: 
Falling for Christmas isn't the finest holiday season rom-com out there, as it becomes just another addition to the lengthy list of films that have exploited similar clichés in the past. For Lohan's ardent admirers, the actress's return to the big screen is cause for joy.