Julia Roberts was born on 28th October 1967 in Smyrna, Georgia, U.S.A. She is an actress and producer and is mostly known for her romantic movies. Roberts has received numerous awards, including an Academy Award and three Golden Globe Awards, and is regarded as one of Hollywood's most bankable actresses.
Over 20 of her leading female films grossing at least $100 million at the box office. She established herself as a leading lady in Hollywood after starring in the romantic comedy picture Pretty Woman (1990), which grossed $464 million worldwide. Her films have grossed more than $3.8 billion at the box office worldwide.
This multi-award-winning actress and Lancôme muse is regarded as one of the world's most attractive women. Julia Roberts is an unquestionably renowned figure in the world of film. She has a massive filmography behind her at the age of 52. Julia Roberts has achieved great success in various genres, including romantic comedies, thrillers, and action flicks. 
Here are the best Julia Roberts movies to make you fall for her
1. Notting Hills (1999)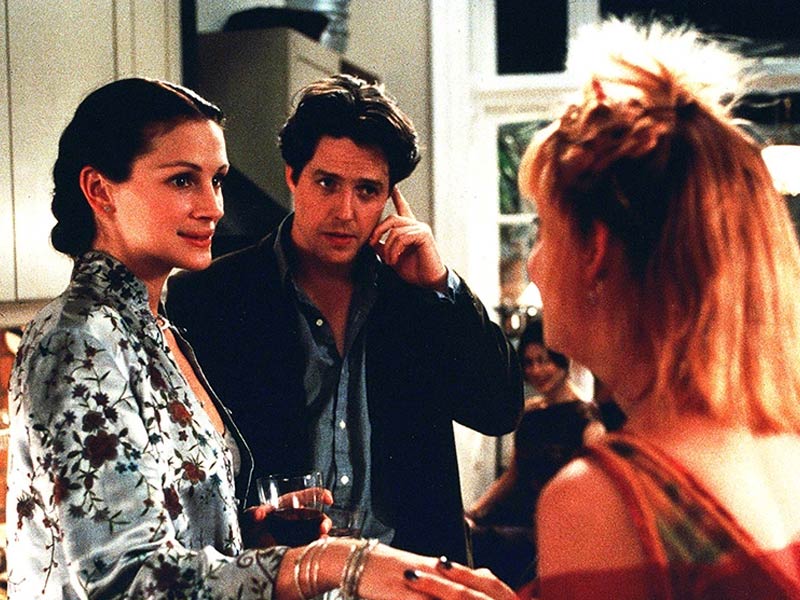 Julia Roberts returns nine years after Pretty Woman in the romantic comedy and cult classic Notting Hill, portraying Anna, a glamorous American actress. The latter meets the extremely English Hugh Grant. The character seems virtually autobiographical in its resemblance to real life. True to her character in the film and in real life, Julia Roberts (and Anna Scott) are the queens of romantic comedies.
In fact, in one scene, a character asks Anna how much she was paid for her most recent film. "$15 million," she replied. This was the actual stipend Roberts received for her participation in Roger Michell's Notting Hill. The picture grossed a total of $364 million. 
2. Ocean's Twelve (2004)
Danny Ocean's gang returns for a new adventure three years after the most spectacular heist in film history. Julia Roberts reprises her role as Tess Ocean. Still, this time she is joined in the cast by another female figure: Catherine Zeta-Jones. Steven Soderbergh, known for combining action and comedy, achieves real invention with the character of Tess. Danny Ocean's accomplice must appear to be… Julia Roberts for this new robbery to succeed.
The farce continues when the phony Julia meets the real Bruce Willis. A very well-executed comedic sequence on screen, but one that required the actress to perform significant theatrical acrobatics.
3. Ocean Eleven (2001)
George Clooney, Brad Pitt, Matt Damon, and Andy Garcia are all aspects of this prominent cast list of male performers. Julia Roberts lends her talents as the intriguing Tess. She is the star of Steven Soderbergh's film, caught between her ex-husband Danny Ocean and Terry Benedict, her new conquest and owner of multiple Las Vegas casinos. To enhance Tess Ocean's character, costume designer Jeffrey Kurland secured permission from New York jeweler Tiffany to adorn Tess Ocean's clothing with magnificent diamonds.
4. Eat Pray Love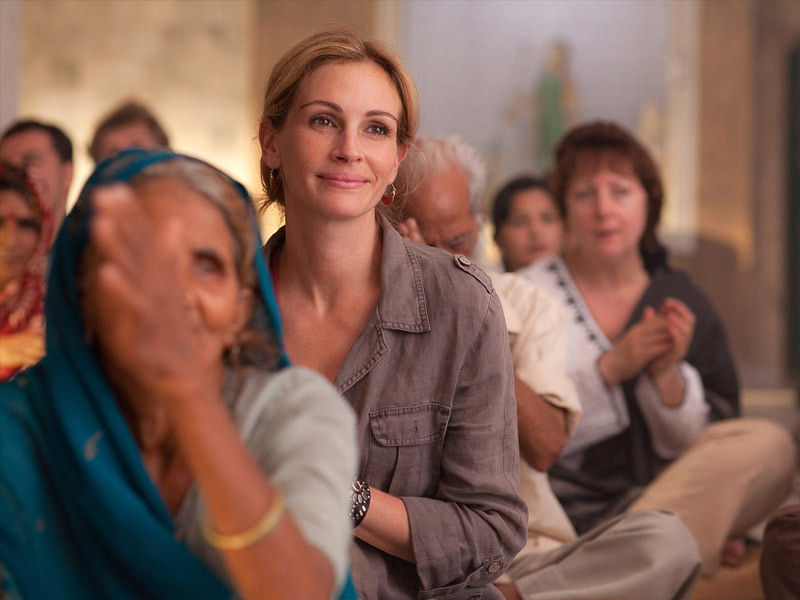 Julia Roberts plays Liz, a young lady in her late thirties who believes her life is falling to pieces when she finds she has forgotten her taste for the better things in life, in the translation of Elizabeth Gilbert's book Eat, Pray, Love. She bids farewell to her hubby, her dream job, and her routine activities in New York. Liz then journeys to Italy, India, and Bali. The film, directed by Ryan Murphy and produced by Brad Pitt, even influenced the Lancôme muse to become a Hindu.
5. Valentine's Day
Julia Roberts appears in Garry Marshall's Valentine's Day alongside Ashton Kutcher, Jessica Biel, and Patrick Dempsey… faces that are well-known. Julia Roberts is simply in a supporting role. Still, the actress is reportedly paid a lot of money for her presence. When her character, Kate Hazeltine, a military officer on vacation in Los Angeles, is being brought home by her vehicle, the driver can be heard asking her whether she's ever finished shopping on Rodeo Drive. She responds with a homage to her iconic phrase from the film Pretty Woman, directed by Garry Marshall, "Big mistake." Big, huge"
6. Pretty Woman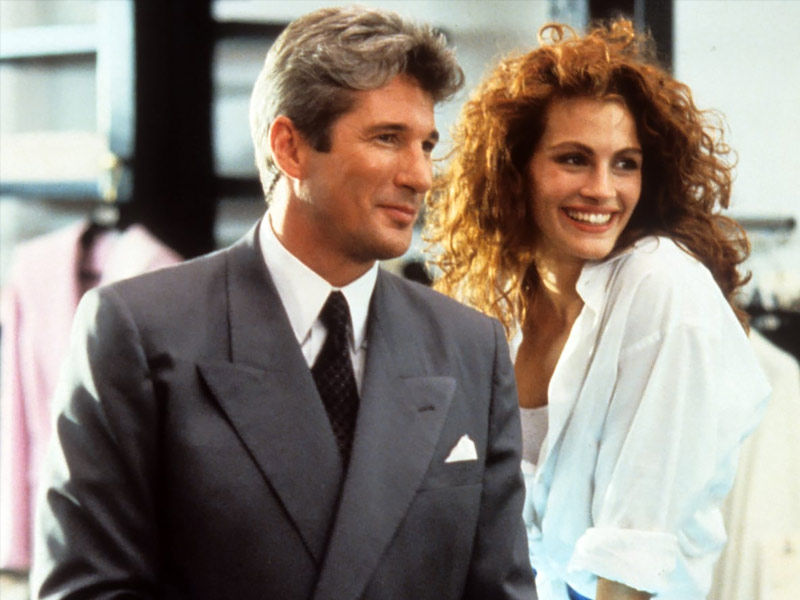 This is Roberts' breakthrough film. She and Richard Gere were cast in a romantic comedy about a man who hires a prostitute off the street and subsequently falls in love. But it wasn't a large error, nor was it a major one. Julia Roberts is sweet, fragile, and oh-so-attractive as a hooker who still believes in fairy tale love stories and never kisses her clients on the lips! Behind her loud and gawky demeanor is a simple girl who wants nothing more than loved and respected.
The connection she has with the exceedingly suave and attractive Richard Gere is legendary, and every romantic encounter between the two warms your heart. 'Pretty Woman' is unquestionably one of, if not the, most beloved romantic comedies of all time!
7. My Best Friend's Wedding 
Long before the expression "friend zone" became so famous on social media, Julia Roberts was the one who got "friend-zoned" in P.J. Hogan's iconic 90s romantic comedy "My Best Friend's Wedding." Her character in this film was not as faultless as she had been in her previous romantic comedies. She portrayed a food critic named 'Julianne Potter,' who wanted to halt her best friend Michael's wedding since she had suddenly learned she had been in love with him all along.
Julianne may easily come across as selfish, envious, and harsh. Still, the way Julia handled it, your heart goes out to her, and you want her to be happy. Her seamless performance earned her a second Golden Globe nomination. Rupert Everett, who plays her gay pal, offers some of the film's funniest one-liners. Overall, 'My Best Friend's Wedding' is a Julia Roberts film. Her star power had a large influence in making it one of 1997's biggest blockbusters.
8. Runaway Bride 
Garry Marshall helmed the 1999 American comedic romantic Hollywood movie Runaway Bride. Sara Parriott and Josann McGibbon wrote the screenplay, which is about a reporter (Gere) who is assigned to write a story about a lady (Roberts) who has left a succession of fiancés at the altar. Gere and Roberts are back, but with a lighter concept than in "Pretty Woman."
"Runaway Bride" stars Julia Roberts as a lady who acquires minor notoriety for her habit of fleeing weddings and abandoning her husband-to-be at the altar. Gere crafts a narrative about her, which brings them together, and he naturally falls for Roberts' Runaway Bride. But will he be able to keep her?