Do you recall the days when you built things out of building blocks? The game has many toddlers interested in building skyscrapers and dwellings of various sizes and designs. Kids used to occasionally compete with one another to build the highest building. But it appears that the game is no longer playable.
Benjamin Crouzier, a domino artist, and his group took their interest in constructing blocks in a new direction in June of this year. With toy wooden blocks, they made the highest skyscraper in the world.  Benjamin and his colleagues were able to add their names to the Guinness World Records as a result of the seemingly unachievable effort.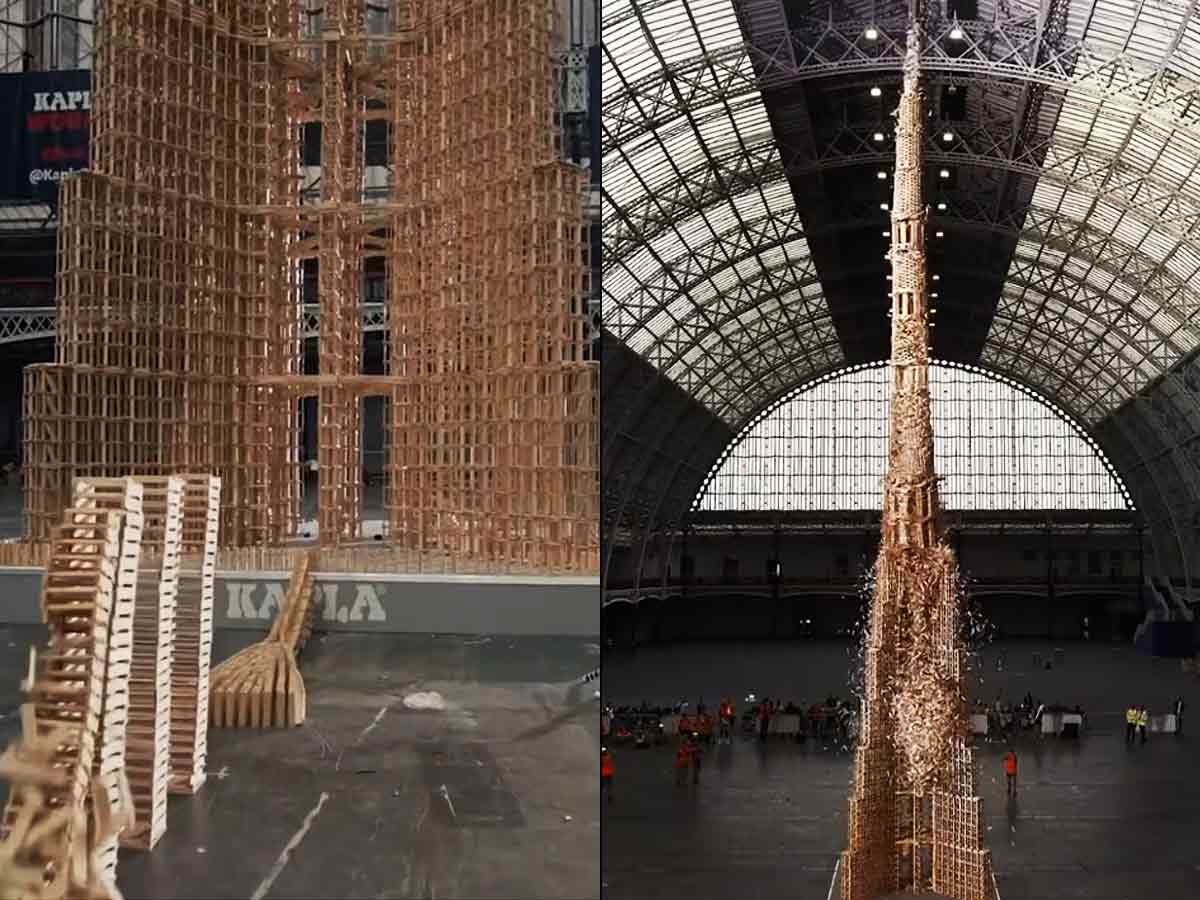 The title of "tallest tower made out of wooden toy blocks" was awarded to Benjamin Crouzier and twenty other domino players on his team by the Guinness Book of World Records. The group expertly built a massive 27.46-foot wooden block tower out of KAPLA hardwood planks.
KAPLA planks are identical-sized building blocks that may be used to make a variety of shapes without the need for clips or glue. The tower was built by the artists at the Olympia Exhibition Centre in London over four days using up to 100,000 KAPLA boards.
Guinness World Records' official Twitter account posted a video of the wooden structure on the site, and users of social media have praised it. Before the domino artists decide to knock down the entire building, the film shows the impressive tower from several perspectives.
A team member poked the lowest plank that was on the ground to start the domino effect, and soon the other planks that were balanced next to each other began to fall one after the other. The enormous 27.46-foot structure was shown to have fallen to the ground towards the end of the video. Excited by their accomplishment, the builders could be seen jumping into the hardwood floor to celebrate.
Twitter users responded to the video in the comments rather quickly. Beautifully made… One of them praised, "I adore it. Another person exclaimed, "That's the craziest Jenga game I've ever seen!" A third person just wrote "Nice."
Lily Hevesh, a Domino artist and YouTuber who was involved in the building posted a photo of the outstanding artists in front of their works on Instagram. She also uploaded a behind-the-scenes (BTS) video of the artisans creating the towering structure to YouTube.