Brad Pitt is one of the most famous actors of all time. The Hollywood A-career listers just began to take off in the 2010s. Here are top-rated Brad Pitt Movies.
Brad Pitt is unquestionably a timeless performer, and he continues to wow us year after year, film after film. Since the late '80s, this A-lister has been stealing our hearts, and he's even gone into producing. However, he will always be remembered as one of our favorite actors. 
While there are plenty of movies to pick from, we thought we'd greet the new decade of 2020 by taking a look back at this man's filmography from 2010. You've arrived at the perfect place if you're seeking your next binge of this diverse and outstanding performer.
Brad Pitt is one of the world's most famous actors, and he has remained so for most of his 30-year career. He was a large and famous figure, but he also provided outstanding, spectacular performances on countless occasions. Pitt appears to be on track to win his first Academy Award for Best Supporting Actor this year. Still, it will be far from his first excellent picture or performance.
Over the years, Pitt has acted in a slew of amazing flicks and played a slew of memorable characters, earning critical praise and popular devotion. Brad Pitt, the recent Golden Globe winner, reigns supreme in Hollywood.
Here are the best Brad Pitt movies, ranging from Se7en to Once Upon a Time in Hollywood.
Fight Club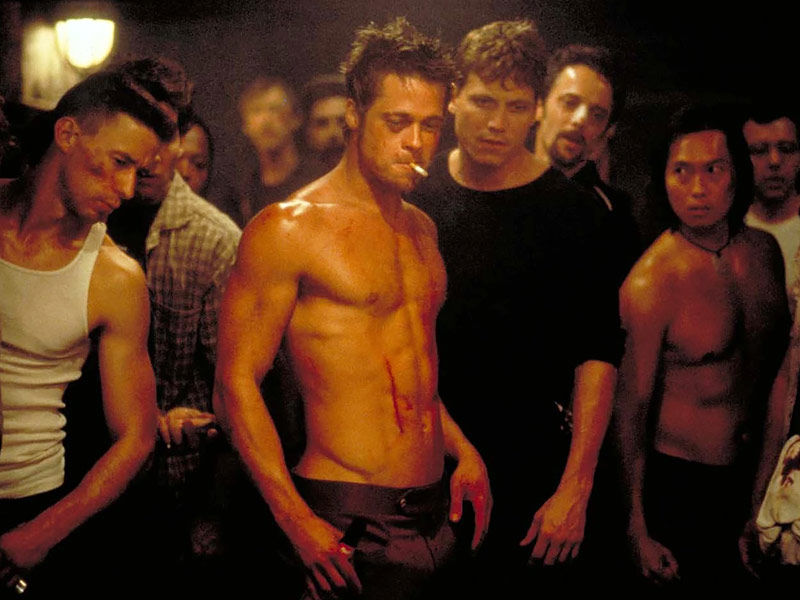 There is no Brad Pitt without the movie that no one wants to speak about. Fight Club is directed by David Fincher and stars Brad Pitt and Edward Norton, both renowned. This drama contains murder, thrills, twists, and romance, all of which make for an unpredictable journey.
It has its absurd and funny moments, but for the most part, it's a really heavy-handed and sad film. It's difficult to praise Pitt without mentioning this film, which is well regarded and completely timeless.
Se7en
Se7en, directed by David Fincher, follows two detectives. They strive to hunt down a serial murderer who appears to be killing people based on each of the seven deadly sins — with twists and turns along the way.
Pitt plays the sensitive, young Detective David Mills, who works with Morgan Freeman's Detective Lt. William Somerset. Sev7en features fantastic performances, a dark, gritty aesthetic, outstanding screenplay and directing, and is one of David Fincher's greatest movies, expertly executing the intriguing idea.
Se7en is one of the great serial killer thrillers of all time, and Brad Pitt's debut part was one that no one could overlook.
This film is a must-see for fans of crime and excitement. While Pitt's egotistical character provides some humorous relief, this violent film is really serious. Fans, like Brad Pitt, are still yelling, "what's in the box?"
Inglorious Bastards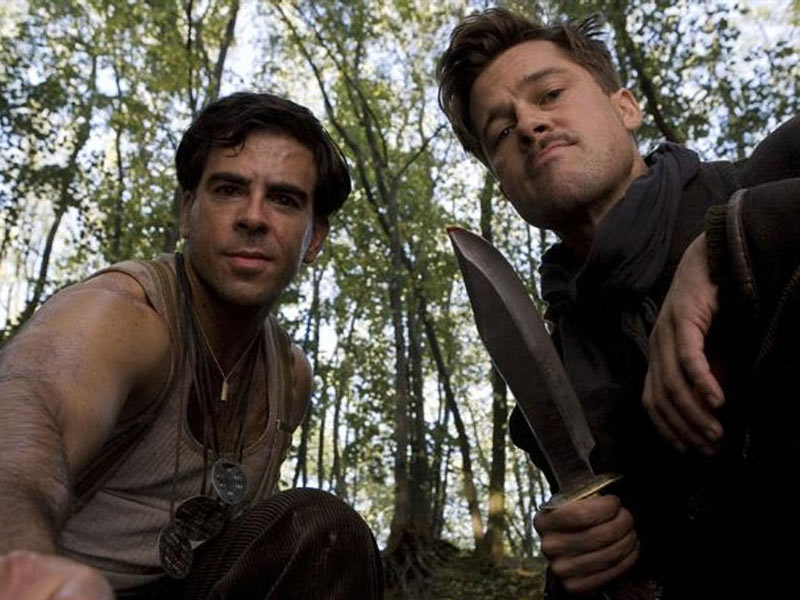 Inglourious Basterds, Quentin Tarantino's alternate reality WWII masterwork, is a… beautiful film. It follows Lt. Aldo Raine (Pitt). He organizes a group of Jewish troops to carry out deadly acts of retaliation against the Nazis.
Pitt gives one of the many great performances, with Christoph Waltz's Col. Hans Landa shining brightly (Waltz his first Oscar). Inglourious Basterds is a well-written, wonderfully made film that may be Tarantino's true masterpiece.
Quentin Tarantino, the director, and writer, maybe the master of combining macabre brutality and hilarious genius, and Inglorious Basterds is no exception.
This film has a lot going on simultaneously, but it's all really entertaining and hilarious.
Once Upon A Time….in Hollywood
Once Upon a Time…, the picture that is certain to win Brad Pitt his first Academy Award… In Hollywood is Quentin Tarantino's most recent film, and it's a fantastic one. It follows elderly actor Rick Dalton (Leonardo DiCaprio) and his stunt double-best buddy Cliff Booth (Pitt) as they negotiate a changing Hollywood, all as the Manson Family and their plot are on the rise.
Fans adored this film, especially the two leads. Their chemistry and banter are absolutely fantastic. Pitt and DiCaprio both bring it, but Pitt's portrayal as Cliff Booth is one of his greatest careers.
DiCaprio is a struggling television actor, and Pitt is his stunt double, attempting to keep both of their professions afloat. In the hopeful age of 1960s Hollywood, this film has all the action, fantastic acting, behind-the-scenes goodies, and a complete action and crime-filled unexpected conclusion.
Brad Pitt is badass and amusing. This is one of our favorite portrayals by this talented actor, which says a lot when considering the Brad Pitt movies on this list.
The Big Short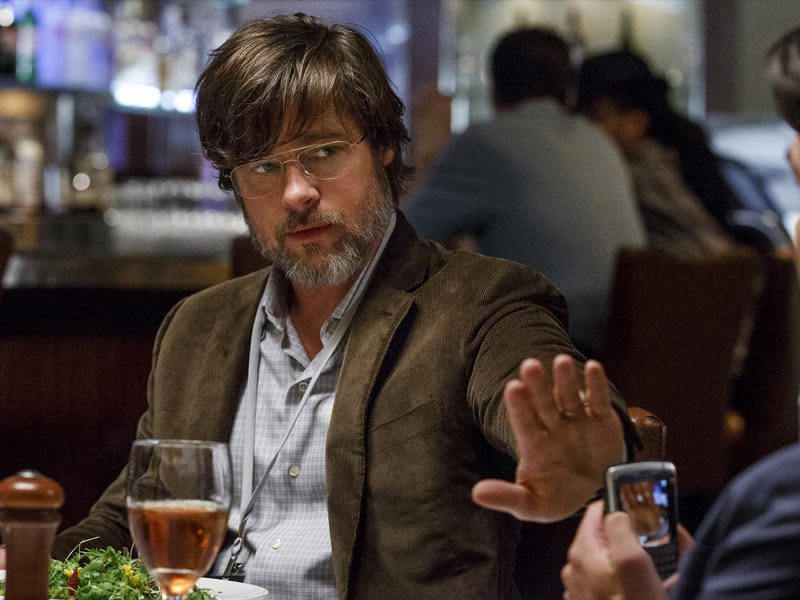 This Greatest Picture candidate boasts one of the best casts we've seen in a film. The Big Short is a biography-drama that depicts the narrative of the mid-2000s housing market meltdown through the eyes of a group of investors. 
This film, directed by Adam McKay, stars Christian Bale, Steve Carell, Ryan Gosling, and our fantastic lead actor, Brad Pitt. To be honest, every one of these personalities is distinct and great, and the acting is superb. We couldn't pick a favorite, although we're guessing this list is heavily skewed toward Pitt.
In case we need to mention anything. Further, this film simplifies difficult financial jargon by using notable celebrity appearances, including Margot Robbie.
Christian Bale plays a crumbling hedge-fund manager, Steve Carell plays a hazardous money manager, Ryan Gosling plays an erratic young buck, and Brad Pitt plays a retired trader that everyone needs. In addition, Margot Robbie narrates it from a bathtub.
Ocean's Eleven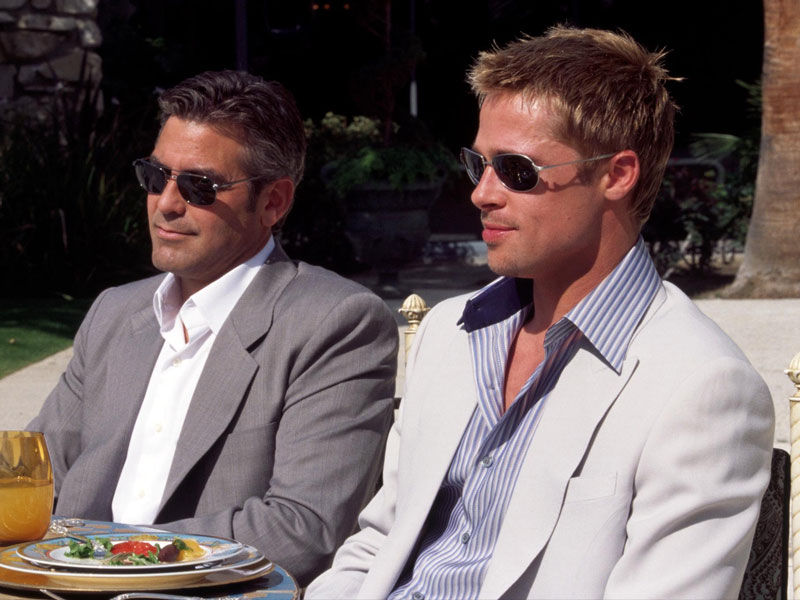 Ocean's Eleven, directed by Steven Soderbergh, had an all-star ensemble, a lot of money, and an entertaining ride filled with dynamic and exciting performances. Ocean's Eleven shifts away from comedy and toward thrills and criminality, with some amusing punchlines thrown in for good measure. 
Everyone is familiar with this well-known series and Danny Ocean, and this film is about robbing Las Vegas casinos. Julia Roberts, Matt Damon, Andy Garcia, and Brad Pitt join George Clooney in the film (Rusty Ryan). Brad Pitt's performance as a con guy in a casino is everything fans never knew they wanted, and it's a decade-defining masterpiece. Pitt's distinctive charisma is on display with cast members like George Clooney, Julia Roberts, and Matt Damon.
Fury
Pitt has been to battle a few times in his career, but Fury may be his most gruesome war picture to yet. Pitt leads an outstanding cast as a close-knit but troubled tank crew that fights to reclaim its humanity as World War II ends.
Pitt plays the grizzled captain of the motley team admirably. Michael Pena and Shia LeBeouf are among the stellar cast members. It's an intriguing new take on a war film, and it's a thrilling trip from start to finish.
Fury is a WWII film that follows a tank commander (Brad Pitt) and his crew as they fight to escape across Germany.
It's not your average war propaganda film, and it will leave you in emotional agony throughout. Shia LaBeouf, Logan Lerman, Jon Bernthal, and many others are among the cast members who work brilliantly together.