"Pobody's Nerfect"
                             – The Good Place
Our sense of humor is one of our most distinguishing characteristics, which might make it difficult to choose a favorite comedy show. But thankfully, Netflix offers a plethora of excellent comedy series, and you're sure to find at least one to add to your list.
Given below are the Top 10 Comedy shows on Netflix
Eleanor Shellstrop (Kristen Bell) finds herself in "the happy place" when her existence ends in this afterlife comedy. Eleanor believes she's a bad person and is only in this utopia due to its architect's (Ted Danson) error, although being told it's because she's lived a wonderful, selfless life. As we see flashbacks of Eleanor's life and the lives of others around her, she strives to learn how to be a better person with the aid of her soulmate Chidi. Meanwhile, Michael, the good place's architect, tries to figure out why everything is going wrong in this paradise. 
Michael Schur (the Director) can take risks and produce a wonderfully funny show while dealing with morality and other philosophical themes thanks to this unlimited, imaginary environment. While the first season is fantastic, a spoiler-filled revelation unlocks the show's potential in the second season. It takes that daring narrative approach to the finish.
2)Community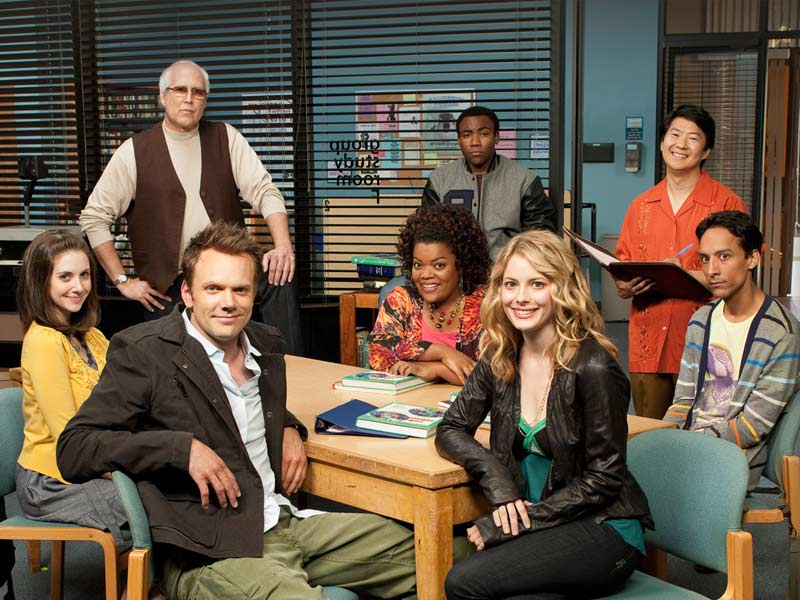 Dan Harmon's Community, one of the great comedy series of the twenty-first century, is an imaginative, emotional act of meta sitcom narrative that resists easy categorization and definition. The main plot follows an odd ensemble of students at Greendale Community College. The study group unites and goes on progressively ludicrous exploits. The genre-bending meta-narratives that made Harmon's animated sci-fi Rick and Morty such a famous success are on full show, and it's a lot funnier, weirder, and more poignant than you'd think.
It's one of the most heartwarming series about finding your people out there, with some of the biggest laugh-a-minute payouts in comedic television. It embraces the full breadth of its superb cast to go from genre to genre without flinching. Now that all six seasons are available on Netflix, it's the ideal moment to catch up.
Fox's sitcom around a quirky woman who moves in with three male roommates swiftly went from a simple idea to one of the finest series on television. Jess, played by Zooey Deschanel, is a teacher who is forced to share a room with three other males, Nick, Schmidt, and Winston, after discovering her boyfriend has been cheating on her. The gang gets closer over the following seven seasons, getting married, having babies, suffering sympathy PMS, and being lost in Mexico, among other mishaps. Even still, the connection between the four main characters is what makes every bizarre episode work. 
The program evolved into a Friends-style relationship comedy, equipped with a prominent element of whether they/won't they pair. And while the improvised technique resulted in some spontaneously unforgettable moments, Max Greenfield is a joy to watch. Also, although the program was arguably a bit too long, it is still a nice show to see if you need to lift your moods.
4)Big Mouth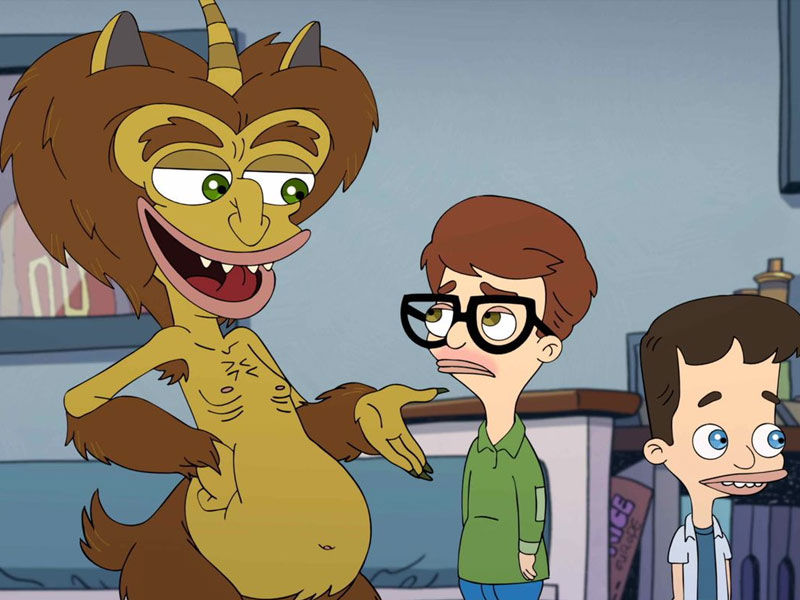 Big Mouth, an animated Netflix original comedy, is both raunchy and endearing at the same time. The show takes an unapologetic look into adolescent life, focusing on the changes that occur around puberty's start. The primary characters are seventh graders who battle with anything from growth spurts to horniness. The latter is embodied by the "Hormone Monster," who appears to lead them through their transition to adolescent life. The program is loosely based on the experiences of the program's writers.
It's outrageously colorful and innovative, as well as really helpful since it doesn't hold back when it comes to talking about taboo topics that all pre-teens will face at some time in their life. As a result, it's a great show to watch with your kids if you're okay with having some really honest conversations about the human body and sexuality.
In this Canadian sitcom starring Eugene Levy and Catherine O'Hara, an affluent family is forced to cut back on their luxurious lifestyle, with amusing repercussions. Johnny Rose, a wealthy video-store entrepreneur, loses his money when his company manager fails to pay his taxes, is played by Levy. Moira, played by O'Hara, is a former soap opera star who, along with her husband and two spoiled children, must relocate to Schitt's Creek. When the family had much more money than they could spend, Johnny purchased the town as a prank, but now the town and its citizens serve as a comic wake-up call for the household.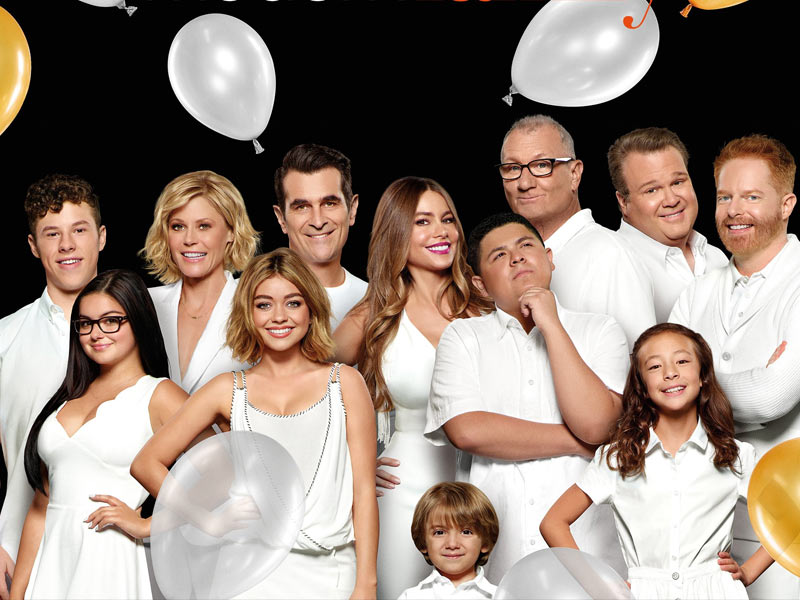 This long-running sitcom, which capitalized on the mockumentary fad of the 2000s, changed the formula to a fresh perspective: the different family set-ups of 21st century America, as the name suggests. Modern Family is one of the most popular sitcoms in recent memory, having aired for 11 seasons and garnering 22 Emmy awards. It combines interview parts from series like The Office with an updated take on the classic family sitcom.
Jay Mitchell and his children with his second wife Gloria, his daughter Claire and her family with husband Phil, and Jay's son Mitchell, who has adopted a kid with spouse Cameron, are featured as the main cast in Modern Family. The show meanders into typical family sitcom settings but with a fresh and contemporary spin.
7)Sex Education
Being a teenager is awkward, bizarre, odd, and puzzling for the majority of individuals. Laurie Nunn's eight-episode Netflix series Sex Education not only recognizes this but embraces it wholeheartedly. Sex Education is extremely straightforward. There are many open and honest conversations about sex and anatomy, as well as complete nudity. The majority of episodes focus on a sort of Case of the Week that is hinted at in the cold open. However, the program uses it to develop its key plots and doesn't always conclude the hour with the problem being solved.
Otis' advice to his pupils mainly focuses on their mental health and aspirations rather than sexual positions. The program takes pains to mainstream a wide range of sexual tastes, including not having any at all. Not everything is fixed right away, and Otis's counsel isn't always reliable. People have grudges, hearts are shattered, and not all unrequited love tales end happily. But it's the wins, the times when things go well, and the repercussions of emotional openness that make Sex Education such a delightful and gratifying film.
8)BoJack Horseman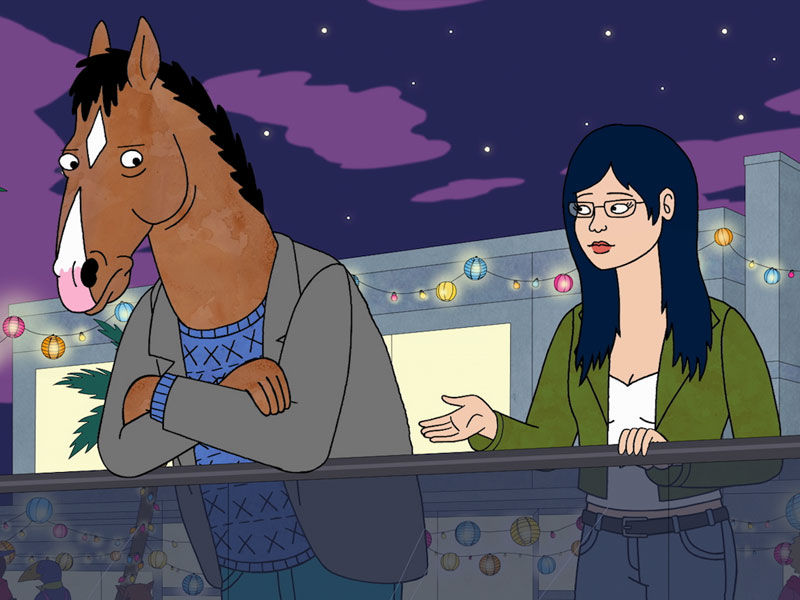 The fictional character of BoJack Horseman, the former star of the 1980s sitcom Horsin' Around, voiced with withering despair and cynicism by Will Arnett, has never seemed quite as potently empathic as it does in the animated character of BoJack Horseman, the former star of the 1980s comedy Horsin' Around. The first two seasons of Netflix's most ambitious series since Orange Is the New Black center on a horseman's effort at a comeback, and creator Raphael Bob-Waksberg turns the horseman's addiction to stardom, attention, and self-involvement into a gloomy image of a draining existence.
The series also serves as a harsh critique of Hollywood and its shallow manipulations. Yet, Bob-Waksberg, along with his authors and animators, combines these dark, troubling themes with a lively animation style and a diverse sense of character design, not to mention a plethora of sarcastic, witty remarks.
9)Derry Girls
This comic series about many rambunctious Catholic school girls living in Northern Ireland during the 1990s is blasphemously undervalued. The girls get themselves into all kinds of mischief, including stealing lipstick from deceased nuns, pranking attractive priests, and kidnapping sacred artifacts, all while fighting in Northern Ireland. It's both amusing and touching, balancing the dread and anguish of living in a war zone with the regular tensions and experiences of adolescence.
10) I'm Alan Patridge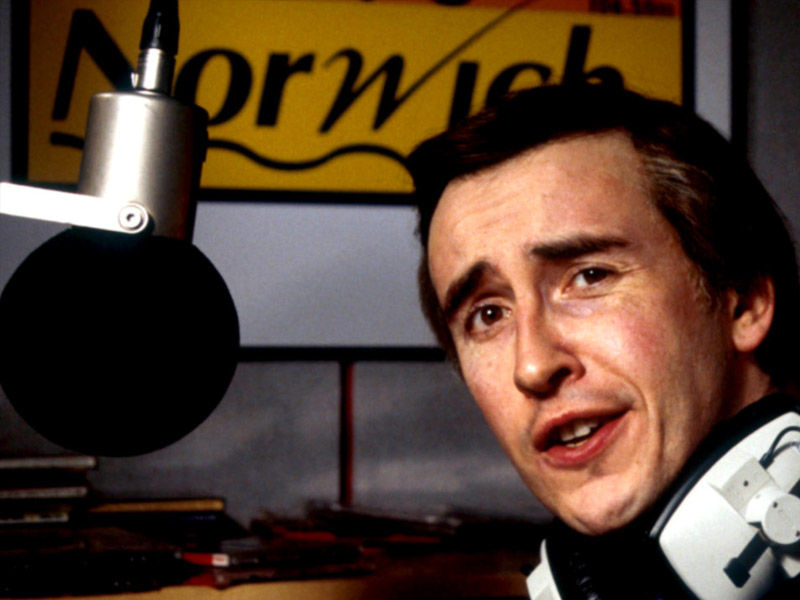 I'm Alan Partridge is a nostalgic chance to watch the incompetent broadcaster in his heyday. Alan Partridge is generally named one of the finest British TV characters ever. I'm Alan Partridge is a nostalgic chance to watch him at his peak. The two-season series earned two BAFTAs, two British Comedy Awards, and a Royal Television Society award and is frequently included alongside Fawlty Towers and Blackadder in discussions about the finest British sitcom.
Even though Steve Coogan's legendary alter, the persona is over thirty years old and still going strong with TV specials, this BBC sitcom first brought the comedic creation to the general public's attention. I'm Alan Partridge, credited for inspiring the birth of cringe humor. See Coogan return to the eponymous role after a successful career parody of current events and talk shows on radio and television. Partridge now divorced and sacked from the BBC. Partridge hosts the nighttime shift on Norwich radio while urgently trying to resurrect his TV career, with predictable humorous results.