An elderly guy, bereaved and inebriated, hacks at a block of wood in his workshop. It's late at night, and a storm has raged outside. Lightning illuminates the man as he chisels and saws. On the table, the shadow of a boy gradually takes shape. Clocks ring, thunderclaps roar through the darkness, and an eyewitness exclaims, "It's a house of horrors!" 
Indeed, Guillermo del Toro's Pinocchio, a stop-motion version of Carlo Collodi's tale The Adventures of Pinocchio, is a success. The elderly gentleman is, in reality, the compassionate Geppetto (David Bradley), who has been crushed by the loss of his son and is frantic to express his grief at the bench.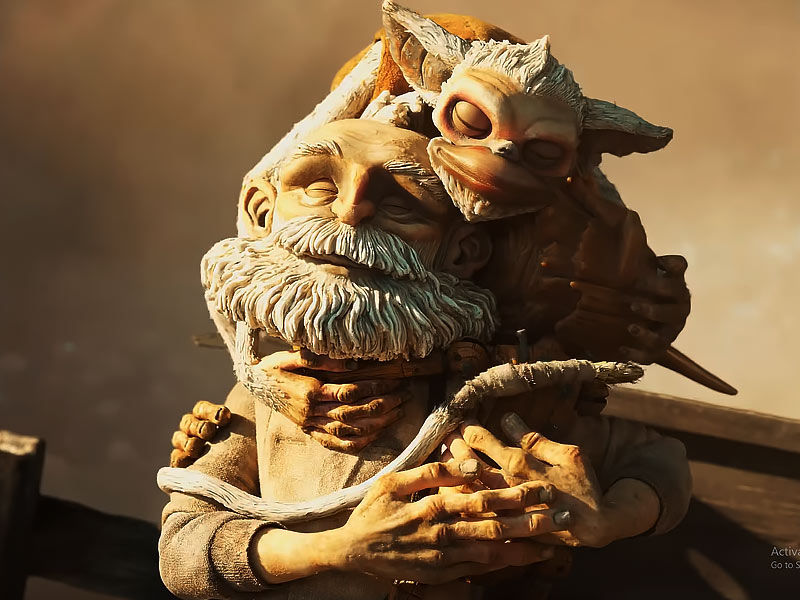 The sequence, however, is set to the same crackling frequency as the one in James Whale's Frankenstein, where the monster is startled into being. Both settings buzz with frenzy, both are infused with a desire to break natural order, and both conceal enigmatic grief. 
The gloom with which del Toro is so frequently associated—and which is all too often planned and polished in other versions of the story, most notably those by Disney—infests the narrative with a welcome abundance.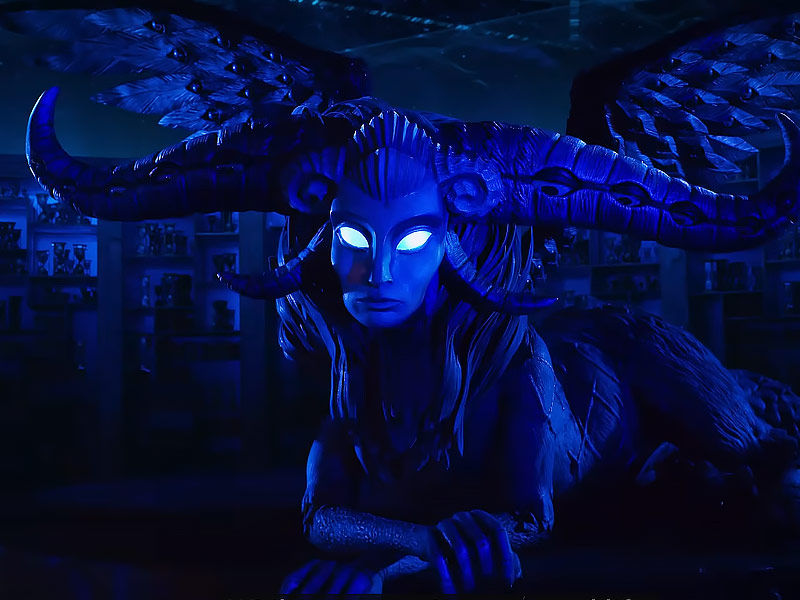 As a result, the Wood Sprite (Tilda Swinton) takes pity on Geppetto and blesses the doll he's created with anima. She's a dead ringer for Doug Jones' Angel of Death from del Toro's Hellboy II: The Golden Army, with her quartet of feathered wings, each jeweled with eyes, and only a blink away from the horrific. 
Her magic emerges as a bright blue fluid that bleeds down the wood grain as she touches the block. It's a lovely scene, partially because its marvels are so twisted; you know the old man's anguish can't be solved, especially by something so bizarre and frightening, yet you want the magic to work if only to temporarily take him out of his pain.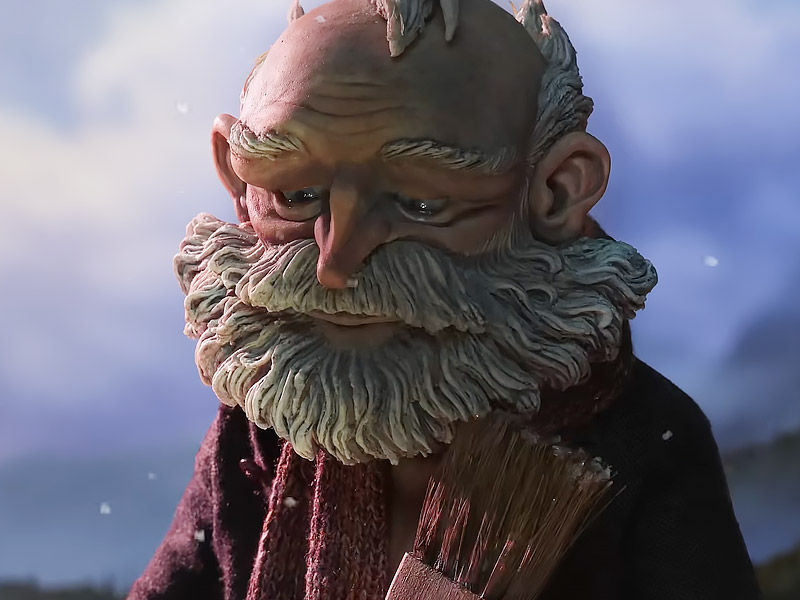 As the lad creaks and clatters into action, the outcome is a kind of frenzied wrongness. It's come to life! 
The storyline of the film is divided into episodic sections. First, Pinocchio (Gregory Mann), who was recently cut from a tree, is curious about his rootless position in the world. By being obedient and attending the local school, he strives to make his creator proud. But it isn't long before he begins to venture out.
On his way to his first session, he is seduced away by Count Volpe (Christoph Waltz), the head of a traveling carnival, who trusses him up in strings and parades him out on stage in front of a frantic audience of youngsters. What's most striking about this picture is that, despite the narrative swerves, it doesn't feel disjointed, as it rewards your attentive attention.
Count Volpe's snout is as long and as sharp as a dagger, honed by years of deception. Spazzaturra, a puppeteering monkey (voiced, or rather squawked, by Cate Blanchett), is also in Volpe's firm. The name is Italian for "trash," which hints at the creature's status in the Count's eyes. However, it also has the echoes of another word: sprezzatura, which has no specific translation but alludes to a practiced nonchalance—the intentional hiding of one's craft to look natural, and easy. There is no better way to describe the weird forces of this peculiar picture, in which del Toro's career-long obsessions have congregated.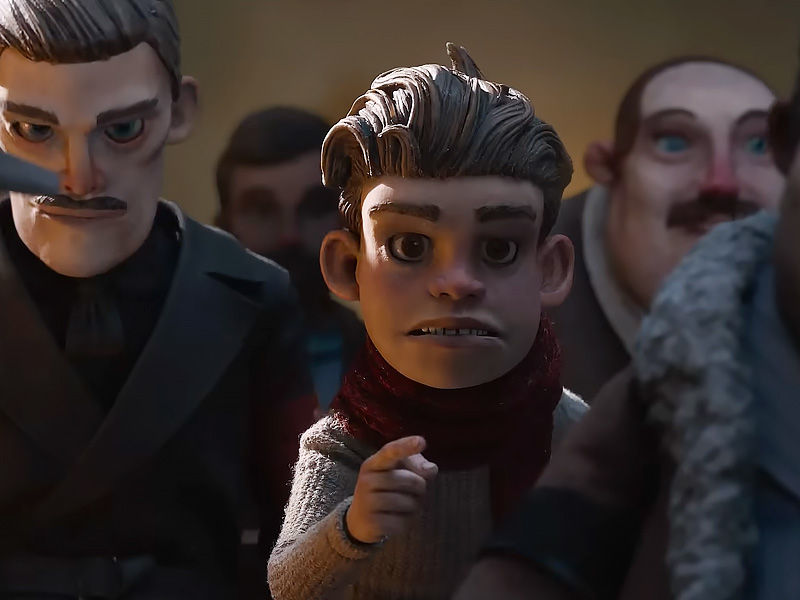 We've been planted in fascist soil, like in Pan's Labyrinth. That picture, an outstanding representation of imagination as a tool for solving our problems, is set in 1944 Spain, with Franco hunting the countryside for rebels. Pinocchio is clambering through Mussolini's Italy in this one. Fascism, once again, is the ideal foil for del Toro's creations; its desire for purity and order contrasts with the deeply dirty tangle of his stories. The local Podestà (Ron Perlman) visits Gepetto's residence at one point, concerned about the old man's new creation. He's dressed like a Jean-Pierre Melville figure—hat, tie, trench coat, neatly groomed mustache—and he asks the gathering guests to examine his son's teeth.
Compare that sense of austere order to Pinocchio's maculate softness. He's got a pumpkin head, a crooked grin, and a crack down the center of his chest. And there will be much more chaos. His signature feature, the lie-boosted extension of his nose, makes a huge mess. The smooth, glittering extension of the Disney animation has vanished, replaced with a startling explosion of twisted boughs as if dishonesty could sneeze its way out. If del Toro is a master of monsters, it's partly because he looks sympathetically at their flaws—the fangs, claws, and curled horns—and depicts them as outcropping human imperfection.
All of this is significant because the Pinocchio narrative, to be honest, lacked stakes. His desire to be a genuine boy was always sweet, and the benefits of his condition were plentiful: no body discomfort, totally interchangeable limbs, and, perhaps most importantly, no death. His physical appearance isn't bad, but his bark is worse than his situation. It's encouraging to see del Toro and co-director Mark Gustafson explore the fable's possibilities.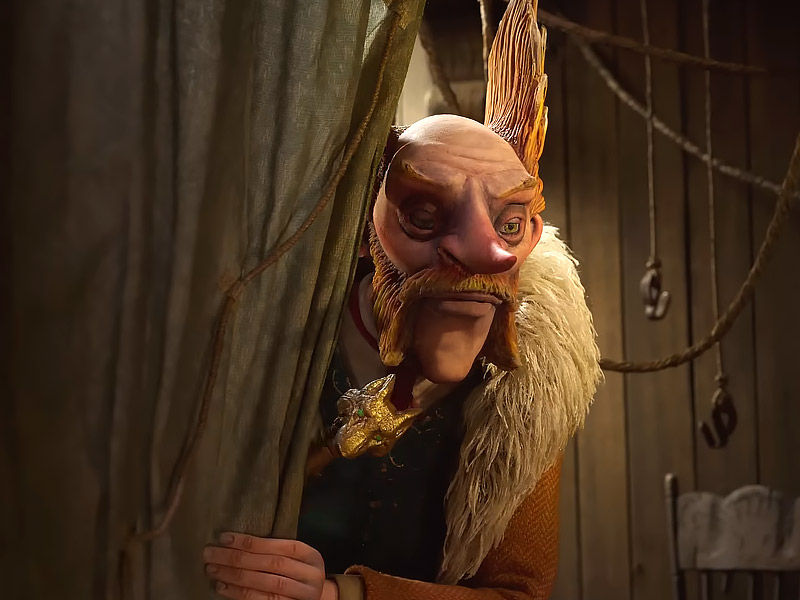 When Pinocchio dies, he is carried away by a swarm of bunnies to a world of wooden coffins and hourglasses. He is allowed to return to the waking world after a time of stasis. This is fantastic news for Podestà, who believes he has found the perfect soldier, one who can be rebooted indefinitely and wishes to conscript the deathless youngster into the army. 
In reality, this late section of Guillermo del Toro's Pinocchio, which takes place in a Nazi training camp, drags a touch. An air of the procedural pervades, and while the picture pays homage to the rhythms of Collodi's novel, anxiety seeps out. You're not holding your breath when Pinocchio, Gepetto, and Sebastian J. Cricket (Ewan McGregor) are devoured by a Dogfish.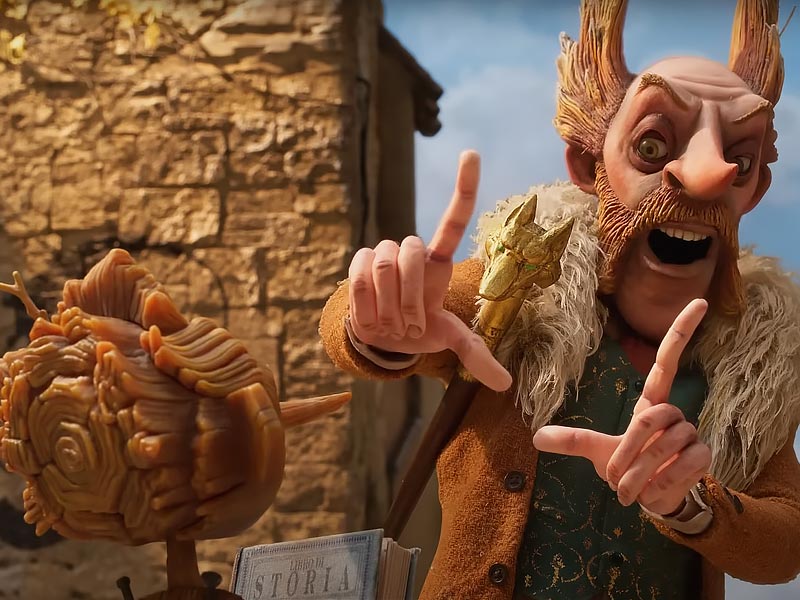 Nonetheless, del Toro has created a memorable picture. What sticks with you days afterward are its wild bursts of innovation, all the result of patient skill and commitment. Try shaking the vision of Gepetto's human kid at a church, minutes before his flaming end, panicked looking at a wooden figure of Christ on the cross.
Or of Pinocchio diving into the sea and flailing his limbs to save his dying father. Del Toro hasn't sewed his distinct design onto familiar material. Rather, he's realized the promise that it's always held and begun to sculpt. As a result, Gepetto is shown wrestling with Volpe over the kid and wailing, "I made him!" "I discovered him!" comes the powerful response back.