Ryan Reynolds is a fascinating figure in Hollywood. The Canadian-born actor made his film debut in National Lampoon's Van Wilder. Here is a list of the best Ryan Reynolds movies, not in order of importance.
Ryan Reynolds is one of Hollywood's most intriguing faces. After beginning his career in a small-time TV series called Two Guys, a Girl, and a Pizza Place, the Canadian-born actor got his breakthrough with the 2002 comedy National Lampoon's Van Wilder. But what fascinates me about Ryan Reynolds is his very constant on- and off-screen demeanor. Ryan Reynolds plays Deadpool in nearly every film, interview, and social media engagement.
It's easy to get parts of Ryan Reynolds' filmography mixed up since it's rife with snark and dick jokes. Despite this, he's become one of the most beloved performers of the 2000s, with his entire career culminating in the innovative Deadpool trilogy. Even while we know him best as a loudmouth with a golden heart, he's stepped outside of his comfort zone and created some outstanding films as a result. Join us as we rank every Ryan Reynolds film that has ever been made.
However, although Deadpool catapulted him to prominence, he has many films under his credit. Here are the top 10 Ryan Reynolds movies of all time…
Hitman's Bodyguard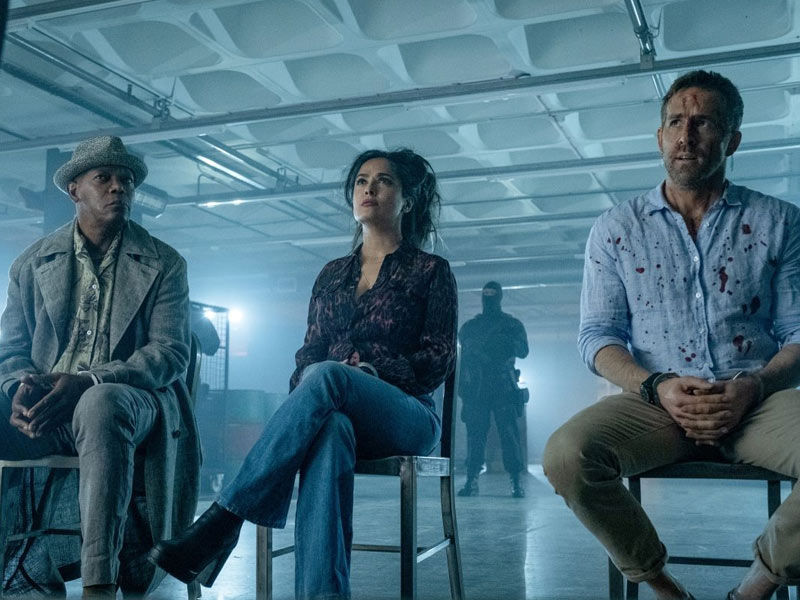 One of the world's best killers is played by Samuel L. Jackson, the maestro of Tarantino films and the legendary one-eyed Avenger's commander. Ryan Reynolds, the merc with a tongue, portrays the leader of one of the world's most powerful security organizations. The two men had spent years on opposite ends of a gunshot; to Reynolds' chagrin (and Jackson's delight), the agency is called upon to safeguard the arrested assassin, ensuring that he may testify.
Things rapidly go wrong when a mercenary gang begins to seek Jackson. The two adversaries are brought together in a violent and deadly chase and become unusual allies. It's hardly Reynolds' finest film, but it's still enjoyable.
Amityville Horror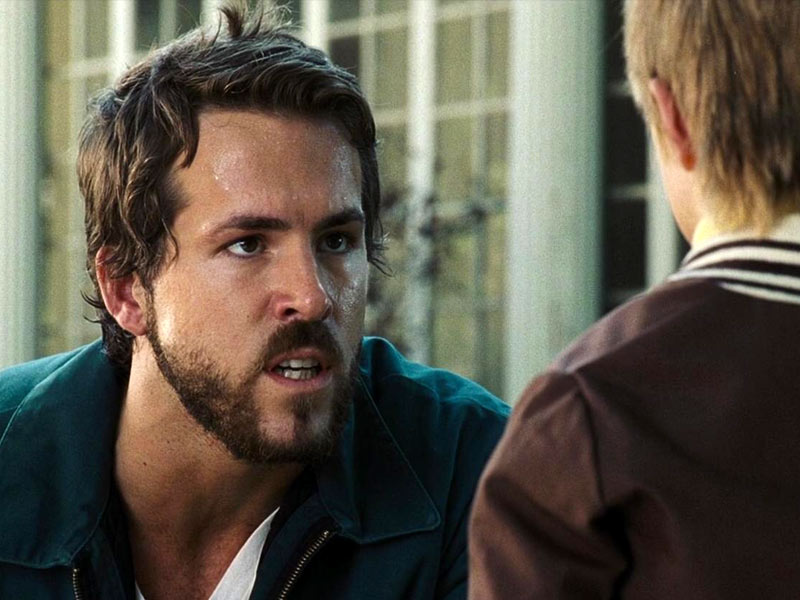 This film remakes the original 1979 version, which featured James Brolin, Margot Kidder, and Rod Steiger. It is based on a reportedly real story of a family in Amityville, New York. The plot revolves around a family who moves into a house and hears voices asking them to "go out." Nearly a dozen films have been based on the Amityville tale. Still, Reynolds' version was the first remake of the original.
In this economy, dealing with demons and murders is worth it at such a low price on a lovely piece of property.
Van Wilder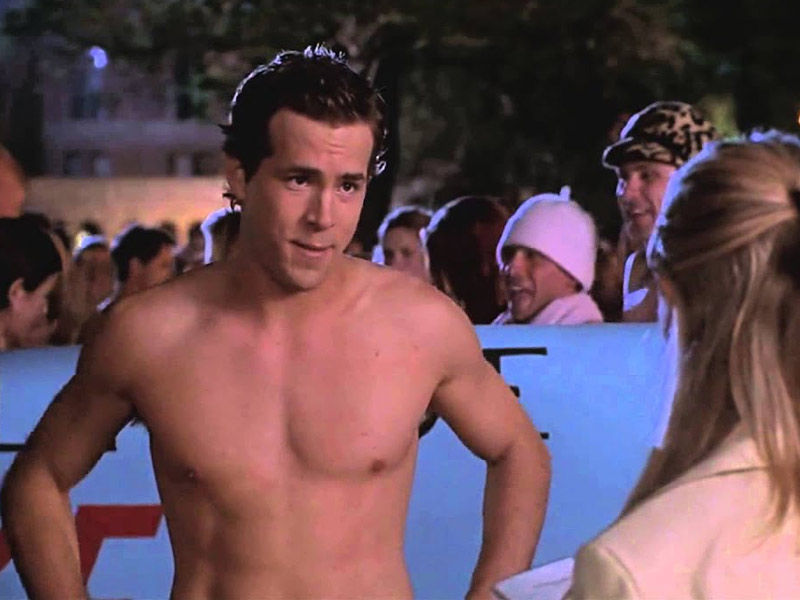 Van Wilder's obvious racism, misogyny, and body shaming were awful at the time, and it hasn't gotten any better.
While the picture didn't exactly wow reviewers, it was a watershed moment for Reynolds, helping him move from comedy star to cinematic actor. Reynolds portrays a college student who has been enrolled for seven years but has yet to graduate. Rather than pursuing studies, he has primarily been renowned for his party. His wild partying has earned him somewhat of a legend among his college friends. When his father (played by "Animal House" party animal Tim Matheson) threatens to quit funding his tuition, his position as a perpetual student is jeopardized.
The In-Laws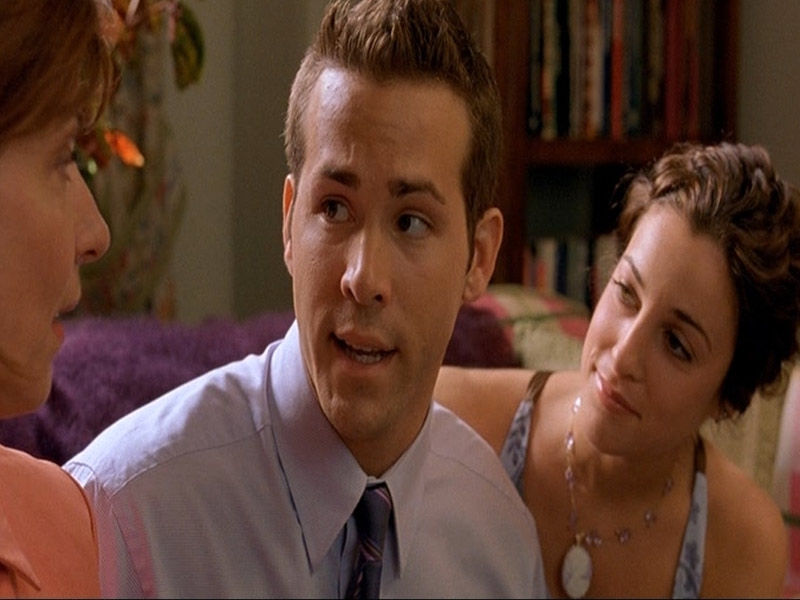 This is not a film about Blake Lively's parents.
The original 1979 picture, starring Peter Falk and Alan Arkin, is a beloved cult classic. In this version, Reynolds portrays Michael Douglas's son, an undercover CIA agent who accidentally gets his in-law (Albert Brooks) engaged in a battle well beyond his tolerance threshold.
A mild-mannered foot doctor finds his prospective son-in-law's father is a free-wheeling international spy just before his daughter's wedding.
Deadpool Series
Every superhero must have an origin tale. Ryan Reynolds finally got his goal in 2016, with the comic-accurate version of the merc with a mouth, Deadpool, after years of attempting and a catastrophic first attempt in X-Men Origins. When mercenary Wade Wilson is diagnosed with cancer, he volunteers to participate in a series of trials that might save his life. These experiments have resulted in a hideous facial deformity, regenerative ability, and a hunger for vengeance.
Deadpool transformed the superhero picture business by making a filthy, violent, and R-rated film, thereby transforming a genre that was previously mostly aimed at children into an adult niche.
The creation of a sequel was just a matter of time after the first Deadpool's tremendous popularity. Reynolds dons the tight red leather once more like the anti-hero Deadpool in this narrative. Though he is now a little more experienced in the realm of crime-fighting, Deadpool is facing one of his most difficult confrontations as the young mutant Russel gets a little too powerful, resulting in his detention by authorities.
Deadpool is arrested with the youngster to help him until the time-traveling soldier, Cable, comes, bent on murdering Russel as a child before becoming the monster he is in the future. While not as fantastic as the original, Deadpool 2 is nonetheless funny, engaging, and enjoyable.
Safe House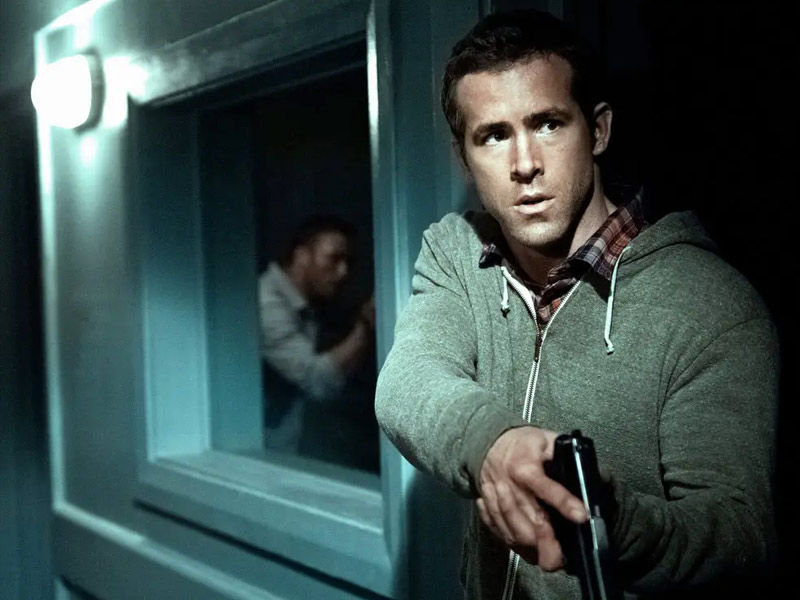 You can never waterboard Denzel Washington. 
In this 2012 thriller, Reynolds plays CIA agent Matt Weston. The latter was assigned to the relatively calm South African position with a desire to prove himself. When the rogue agent Tobin Frost (Denzel Washington) is apprehended for debriefing in the safe house, he inadvertently leads a gang of mercenaries directly to them.
Weston and Frost escape with their lives, but the chase is on; they must discover who is attempting to murder them before he succeeds. Safe House is a relatively successful, if not tremendously popular, film. It is not the finest film, but Washington and Reynolds really pull it off.
Life
Reynolds co-stars with Jake Gyllenhall and Rebecca Ferguson in the 2017 sci-fi/thriller Life as astronauts on the cusp of discovering a momentous discovery: life on Mars. This rapidly becomes considerably scarier than anyone could have imagined since the creature is far more clever than they could ever aspire to be.
Reynolds takes on his regular role as the crew's casual, quick-witted cowboy. And, at the very least, he succeeds. The film as a whole is a touch underwhelming, but not for lack of effort.
Reynolds provides an unforgettably terrifying sequence that elevates the film to its terror potential, aided by a collection of outstanding performers and dedication to the genre. With some dubious physics and weak characters, this film isn't on any list of the finest sci-fi movies, but it will make you look around the darkroom you're watching it in.
The Proposal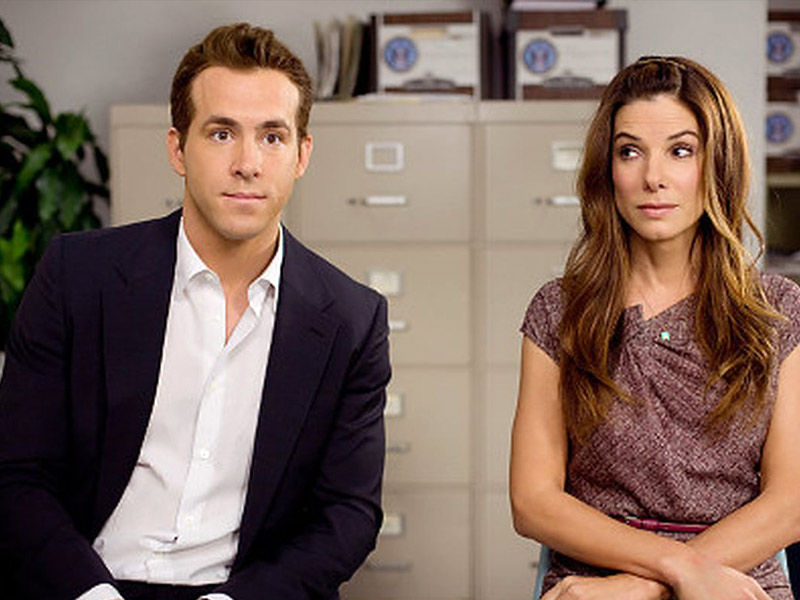 Here's a highly realistic scenario that would definitely happen precisely as it did in the film, with no narrative flaws or ridiculous leaps in logic.
Andrew Paxton has been working as an assistant to Margaret Tate, a hard-working editor at a New York publisher, for three years. When Margaret, a Canadian, risks deportation due to an expired visa, she plans to marry Andrew if she promises a promotion. A suspicious INS agent promises to put the couple to the test the following Monday. 
Andrew had planned to go home that weekend for his grandmother's 90th birthday, so Margaret joins him – to Sitka, Alaska, where mum, dad, and grandparents await. Family issues take over: conflicts between Andrew and his father, an ex-girlfriend, Andrew's hatred of Margaret, and her history all color the following few days, as the INS prepares to prosecute Andrew with fraud.
In this comedy, Reynolds portrays the put-upon secretary to a strong professional lady, winning Bullock a Golden Globe nomination. Bullock compels her assistant to marry her after learning that her visa may be canceled and she may be deported back to Canada. The film was also significant in rekindling interest in Betty White's career.
Definitely Maybe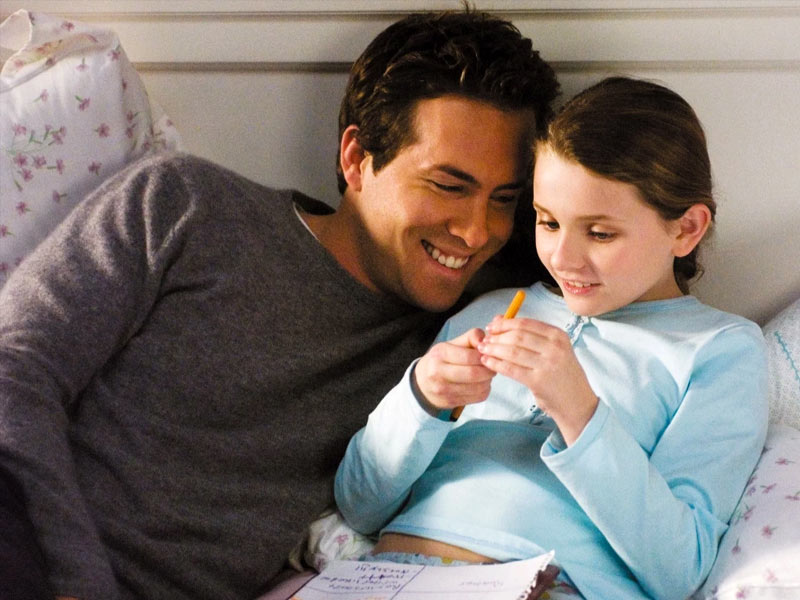 This late-2000s "romantic mystery" is simply How I Met Your Mother. Only Ryan Reynolds has to describe what a threesome is to a 10-year-old.
Reynolds plays a divorcee who attempts to explain his little daughter how he got to where he is. The girl becomes curious about how her parents met and how her political consultant father became the way he is. Reynolds and the film were both well-received.
It's a straight-up rom-com, a position Reynolds nailed long before becoming famous as the foul-mouthed mutant in Deadpool. Definitely Maybe is a lovely and hilarious picture, and it is one of Reynolds' greatest to date.
Dishonorable Mention
Green Lantern 
The film is so terrible that Deadpool went back in time to assassinate Ryan Reynolds before he even saw the screenplay.
Reynolds' movie office disaster "Green Lantern" came as a surprise. Despite the character's lengthy popularity, the film barely earned its money back due to its large budget. Since the 1940s, the character has been a mainstay of DC Comics.
For millennia, the Green Lantern Corps, an elite defensive force of peace and justice, has existed in a strange realm. When reckless test pilot Hal Jordan is selected by the Ring, the willpower-fed source of strength, he gains superhuman abilities. After the death of Abin Sur, the greatest Green Lantern, he reluctantly accepts the task.