Sidakdeep Singh Chahal, a 15-year-old boy from Uttar Pradesh, India, has made news all around the world by accomplishing a spectacular achievement. With hair that measures an incredible 146 cm (4 ft 9.5 in), Sidak, also known as Sidak, has broken the previous record for having the most extended hair among male youths.
His commitment to this exceptional accomplishment has won him global acclaim while honoring a long-standing Sikh custom.
Sidak puts a lot of love into maintaining his opulent mane. He spends an hour, twice a week, methodically washing, drying, and brushing his hair. If my mother hadn't helped, it would have taken all day, Sidak told Guinness World Records. Support from his family has been essential to his remarkable journey.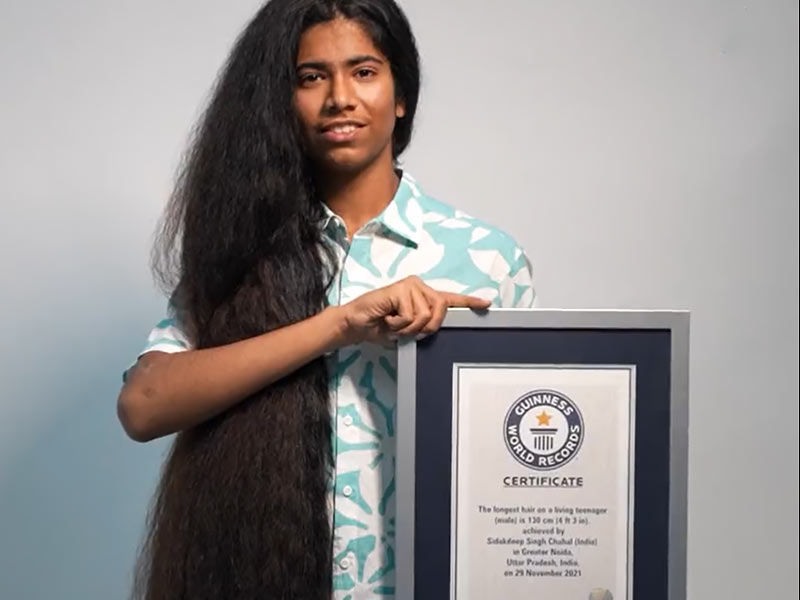 Sidak has a large Sikh family and large Sikh acquaintances, yet none of them have hair as long as his. Sidak recalled, "Many of my relatives were shocked to see how long it was," noting that some initially thought he was joking when he said he had set a world record. He added jokingly, "They believed I was pulling their leg, and it required a little bit of proof to convince them.
Sidak shares a place alongside other people who have performed incredible accomplishments in the Guinness World Records 2024 book, where his extraordinary achievement has been officially recognized. Sidak expressed his genuine delight at receiving such much acclaim by saying, "I was over the moon when I learned that I would be featured."
While Sidak's hair is unquestionably amazing, it's important to remember that Nilanshi Patel, an Indian, holds the record for the longest hair on a teenager ever. Nilanshi Patel's hair measured an astounding 200 cm (6 ft 6 in). She did, however, decide to cut her hair in 2021 and donate it to a museum.